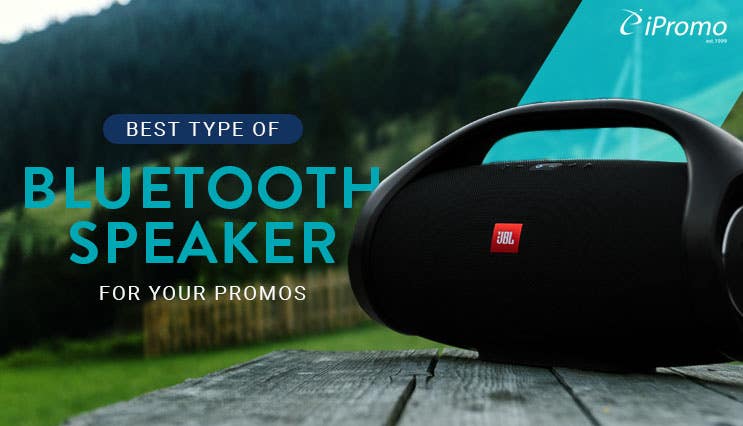 Best Type Of Bluetooth Speaker For Your Promos
Bluetooth speakers are one of the hottest giveaways of 2023 for a reason: They combine the allure of a hot tech product with awesome sound and a slick appearance. In this guide, we'll break down the nine reasons why speakers are the perfect promotional item, then highlight 10 of the top-selling custom Bluetooth speakers on the iPromo website right now.
Why Bluetooth Speakers Make a Great Giveaway
Not convinced yet that a custom mini speaker should be your next promotional item? Here are nine reasons why you should pick a Bluetooth speaker for your next customer giveaway or employee appreciation gift:
Anyone with a smartphone can use them.
Unlike some other giveaway items, Bluetooth speakers can be used by basically anyone with a smartphone. They can also be connected to phones, TVs, and other devices as well, so you're basically guaranteeing that anyone you give the speaker to will be able to use it. Furthermore, any device with Bluetooth 5.0 technology or later can be linked to multiple speakers at the same time, so even if they already own a Bluetooth speaker, they will be able to make use of another to create a surround sound experience.
They are extremely versatile.
Bluetooth speakers can be used in many different contexts, yet another advantage that makes them one of the more popular giveaways. No matter someone's interests or hobbies, they can make use of a Bluetooth speaker as long as they enjoy listening to music and/or podcasts (and who doesn't love listening to music?). Whether your recipient is throwing an indoor house party or out camping in the woods, having a Bluetooth speaker will come in handy. They also come in a bunch of different styles, from Bluetooth speaker power banks to Bluetooth speaker tumblers in bulk.
You don't have to worry about size or fit.
Bluetooth speakers also simplify the buying process since they are one size fits all, unlike most apparel. This really comes in handy when you are looking for a promotional item to give a lot of people, such as an end-of-year appreciation gift for all of your employees. Most Bluetooth speakers also come in one color only (typically black/gray) which simplifies the selection process further. Simply decide which speaker model you want, and you're all done!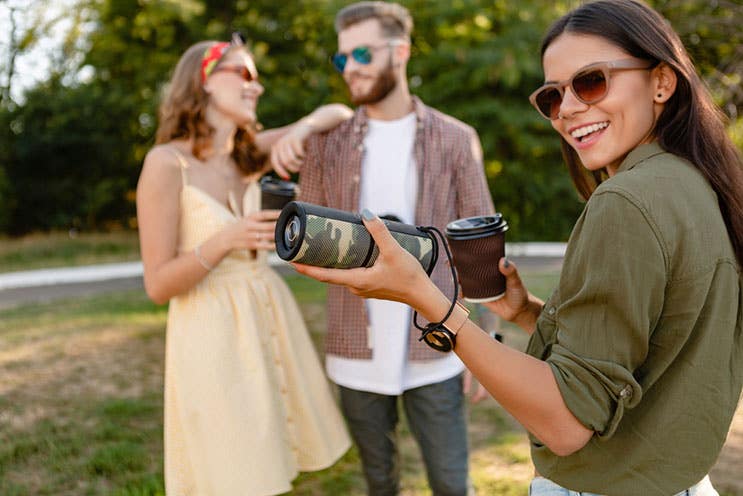 They are portable.
One of the major benefits of a Bluetooth speaker is that they are extremely portable. Even the largest custom mini speakers are small enough that they can be carried outside, put in the car, or even placed in a suitcase for travel. Unlike a stationary speaker system, this greatly increases its utility and means that your recipient will get a lot of use out of it.
They don't require a power connection.
Part of the reason why Bluetooth speakers are so portable is that they don't require an electrical power connection to work. Instead, they can be charged ahead of time (usually with a standard charging cable) and then taken anywhere from the patio to the pool to a picnic table. This makes them more flexible than a different tech product that has to be plugged into the wall to use.
They are usually water resistant.
Most Bluetooth speakers are at least somewhat resistant, which sets them apart from some other tech products. This means that they are protected from accidental spills and splashes, which helps them to last for years to come. This gives your recipients the confidence to take the speakers on adventures and trips when they leave their other more delicate tech at home.
Many retail brands are available to customize.
Lots of our customers are interested in products from major retail brands that they can customize for a truly impressive promotional item. When it comes to Bluetooth speakers, we offer models from many different audio retail brands, including Bose, Sony, Anker, JBL, and more, so you can choose the one that works best for your needs.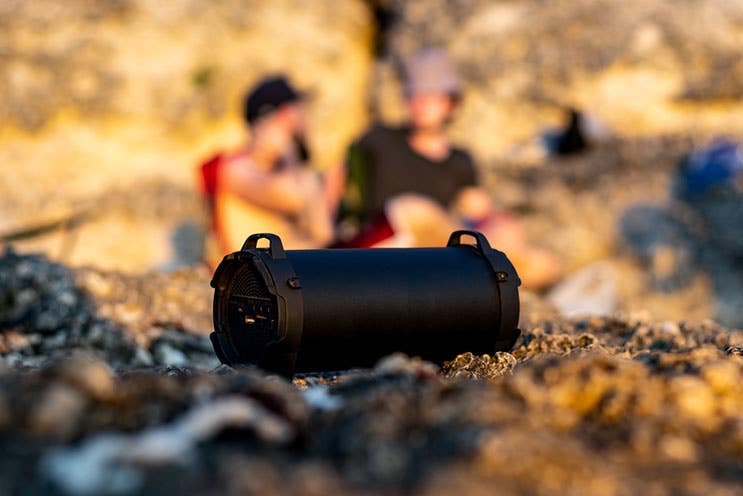 They are available at multiple price points.
While Bluetooth speakers can certainly get expensive (especially if you pick a top-of-the-line retail brand) there are also plenty of affordable options in the $20 to $50 range. If you're looking to give away some Bluetooth speakers but you're on more of a budget, don't let that deter you from choosing this as your promotional item!
Speakers are in high demand.
Along with other tech products like wireless headphones and tablets, Bluetooth speakers are one of the most popular wishlist items. This high demand means that Bluetooth speakers are sure to be a coveted giveaway item whether you are presenting them to employees, clients, customers, or all of these.
Best Types of Bluetooth Speakers for Promos
Not sure how to choose the best types of Bluetooth speakers for your giveaways? Here are 10 standout options available on the iPromo store right now:
JBL Flip 5 Portable Waterproof Speaker
The JBL Flip 5 is one of the most popular types of Bluetooth speakers, and with good reason. It boasts up to 12 hours of play time when fully charged and can be stood vertically or horizontally. It also features an IPX7 waterproof rating, which means that it can be submerged up to three feet deep. The PartyBoost function allows you to pair two JBL PartyBoost-compatible speakers together for stereo sound. It comes in several different colors so you can choose the one that suits your brand the best, and the front can be pad printed with a large image of your business logo.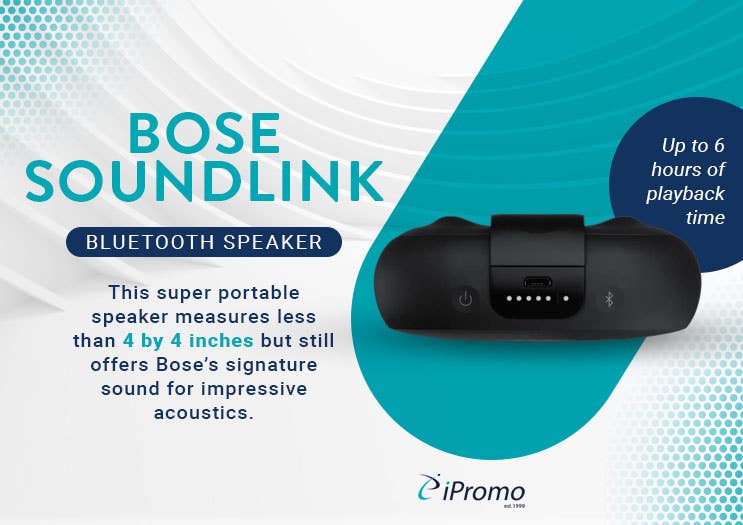 Bose Soundlink Micro Bluetooth® Speaker
For a truly outstanding custom mini speaker, consider the Bose Soundlink Micro Bluetooth® Speaker. This super portable speaker measures less than 4 by 4 inches but still offers Bose's signature sound for impressive acoustics. It features a durable silicone rubber exterior to protect the speaker from knocks and a carrying strap to make it easy to transport. The speaker comes with an IPX7 Waterproof Rating for protection and offers up to six hours of playback time when fully charged, despite its small size. Your logo will be pad printed on the strap on the back for a prominent logo placement.
Outdoor Waterproof Bluetooth Speaker with Lights
If you are looking for an alternative to a premium retail brand speaker, consider this outdoor waterproof bluetooth speaker with lights. Each speaker driver is surrounded with lights that can be changed to red, green, or blue depending on preference. The 5-watt speaker charges in just two hours and offers up to seven hours of playback time at max volume. It also features an IPX6 water-resistant rating to protect it from splashes and spills. Practically the entire front grille can be customized with a screen printed graphic of your design for a memorable promotional item.
Sony SRS-XB13 Bluetooth Speaker
We had to include the Sony SRS-XB13 Bluetooth® Speaker on this list for its impressive 16 hours of playback on a single charge. The speaker also features built-in music controls, microphones, a Type-C charging cable, and a passive radiator to give the bass sound a boost. The speaker has IP67 rating to protect against water and dust and prolong the life of the speaker. It even comes in a two-piece gift box for an impressive presentation that is sure to wow your recipients. The Sony speaker also features a generous imprint area that takes up basically the entire front of the speaker and can be screen printed with a logo or graphic of your choosing.
Outdoor Waterproof Bluetooth Speaker
Not only is this small but mighty outdoor waterproof Bluetooth speaker one of our most affordable options, it also offers the ability to screen print a full color graphic across the entire front of the speaker! The speaker measures 3 inches by 3 inches by 1 inch, a compact size that makes it easy to transport. It even comes with a carabiner so it can be clipped to the outside of a backpack or bag. The 3-watt speaker comes with a built-in microphone and music controls and also offers a Bluetooth range up to 10 meters (33 feet). It fully charges in 1.5 hours and offers up to two hours of music playback at maximum volume.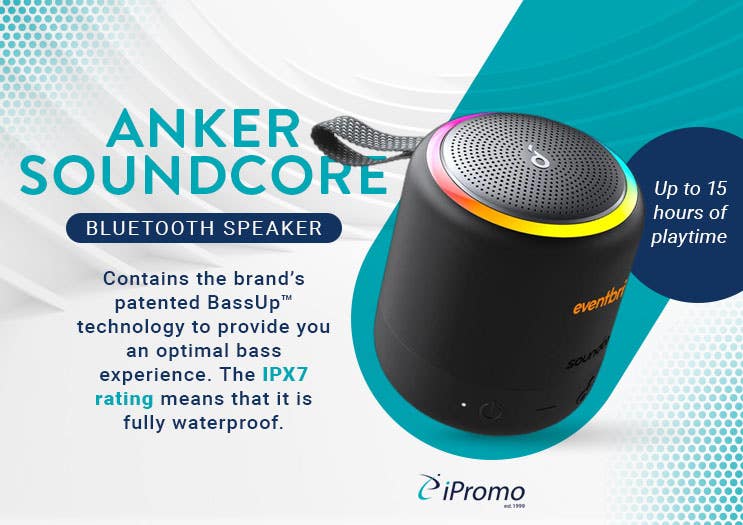 Anker® Soundcore Mini 3 Pro Bluetooth® Speaker
Anker made a name for itself in the smartphone accessory market and has since expanded to other tech products, including Bluetooth speakers. The Anker® Soundcore Mini 3 Pro Bluetooth® Speaker contains the brand's patented BassUp™ technology to provide you an optimal bass experience. The IPX7 rating means that it is fully waterproof, while the LEDs on top create a dazzling display of lights that sync up to the beat. The speaker syncs to the Souncore app so the recipient can tune it to their liking, and it offers up to 15 hours of playtime on a full charge. Screen print your logo on the front panel for a custom mini speaker they will use for years to come.
Cement and Bamboo Speaker
If you are looking for a unique and affordable option, consider this cement and bamboo speaker. This tiny but powerful speaker is roughly a 3-inch square cube and features a unique cement finish that will make it stand out from other giveaways. The speaker has a bamboo plate inset into the top that can be laser engraved with a logo, graphic, or business name of your choice. The end result is a classy and eye-catching speaker that makes for a unique giveaway or appreciation gift.
Koozie® Fabric Waterproof Bluetooth® Speaker
This Koozie® branded Bluetooth® speaker stands out, thanks to its unique shape and compact size. The IP66 rating means that it is dust, sand, and water resistant, making it the perfect party companion for the beach or the pool. The Bluetooth® 5.0 technology connects wirelessly from over 30 feet away, while the battery provides up to four hours of playback at maximum volume. Choose from multiple colors to suit your branding palette, and then screen print your logo on the front-and-center button for a can't-miss branding opportunity.
Powerstick Mini Bluetooth Speaker and Earbud Combo
If you can't decide between wireless headphones and Bluetooth speakers, then consider this combination of a mini 5-watt Bluetooth speaker and wireless earbuds from PowerStick. The earbuds can be stored and charged in a compartment in the speaker for easy transportation and use. The wireless earbuds offer noise isolation functionality, voice assistant capabilities, and up to six hours of continuous audio playback. The base price includes a full-color process imprint on two sides of the speaker; an imprint on the earbuds is available for an additional fee as well. PowerStick has partnered with One Tree Planted so whenever you purchase a PowerStick product, they will plant one tree for every order received! Also be sure to check out the Powerstick Mini Wireless Surround Sound Speakers.
JBL Clip 4 Ultra-Portable Waterproof Speaker
We know we already included one speaker from JBL, but we couldn't complete this list without this unique custom mini speaker, the JBL Clip 4. The design incorporates the carabiner attachment into the speaker itself, and the oval shape fits easily into the hand for portability. The dustproof and waterproof speaker offers up to 10 hours of playtime on a full charge. The speaker comes in multiple fashion-forward colors, and the front can be screen printed with a logo of your choice right in the middle.
Want to browse our other custom Bluetooth speakers? Visit iPromo.com to see your options.
Image Credits
EMPTYGLASS/Shutterstock.com
mxsbmbrg/Shutterstock.com
Ayman alakhras/Shutterstock.com
Maria Markevich/Shutterstock.com
Suleyman Delil Karakurt/Shutterstock.com