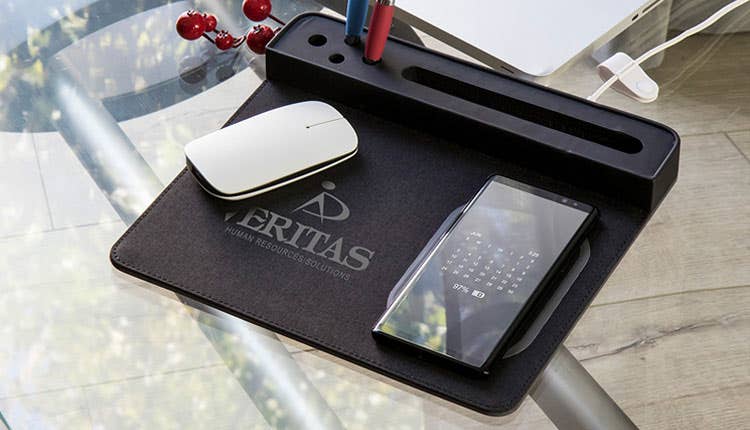 Best Custom Wireless Charging Mouse Pads Reviewed
Custom mouse pads are a great high-quality gift that can entice others to contact your business. Not only are they super functional, but wireless mouse pads are the perfect way to gain attention from potential clients or buyers. We have all been there, working away at our desks and our computer's mouse begins to drag, this is where a promotional mouse pad can come in handy.
Not only will it allow a computer mouse to glide effortlessly, it will also be able to charge any device with QI enabled wireless charging. Those features are very useful to have around the home or office, and with a branded wireless mouse pad, those who are using your generous gift will never forget your company.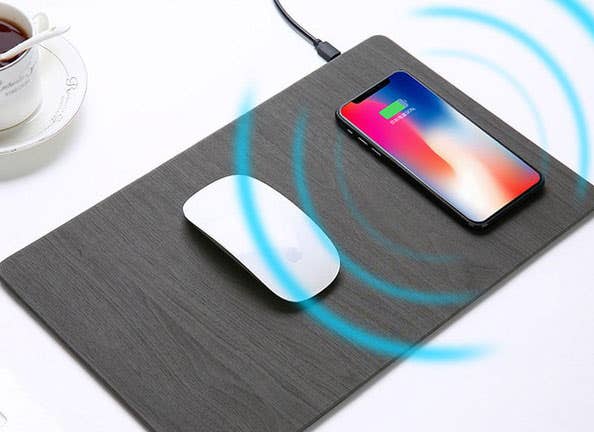 What is Qi Wireless Charging?
Gifting a high-quality wireless charging enabled mouse pad is something to be proud of, especially since it is not one that is often seen as a promotional merchandise. So, before you slap your brand onto one and give them, it is best you know how it differs from traditional mouse pads.
First off, Qi is pronounced as "chee" – just so we can avoid any anxious feelings about saying it out loud! Basically, this is a piece of technology that is in most smartphones these days; almost every android, newer iPhones, and now in smartwatches. It is a charging method that is cordless. You simply lay down your device and it will do it's thing. No need to mess around or look for a charging cable! It is very useful to have a branded wireless mouse pad on your desk for ultimate convenience.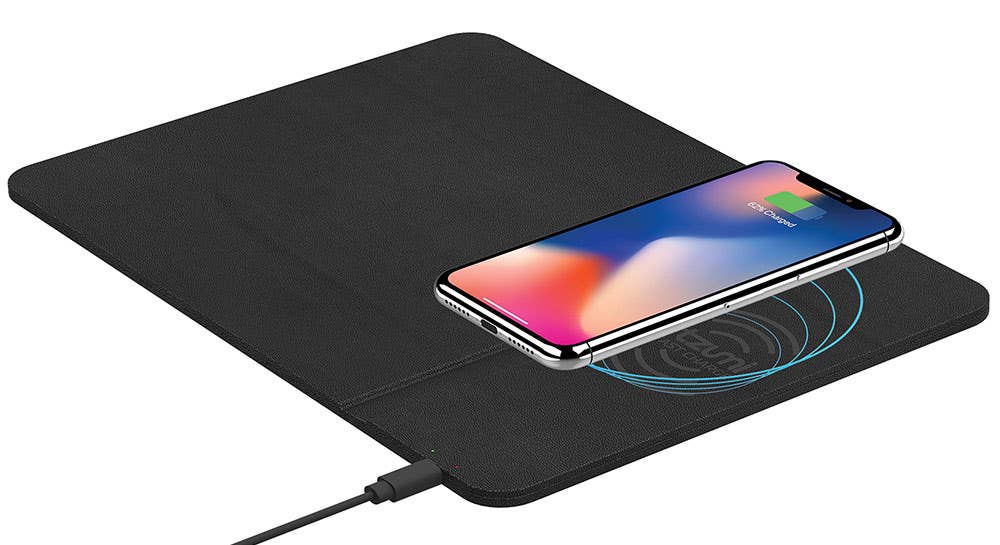 Why wireless charging is a game changer
Did you know that wireless charging is more eco-friendly compared to traditional ways? Studies have shown that the areas where people mostly charge their devices are: at home, work desk, and at restaurants. Through understanding charging environments, companies can streamline wireless tech to be a more user-friendly experience. This also means you should get on board too with custom mouse pads that has wireless charging features.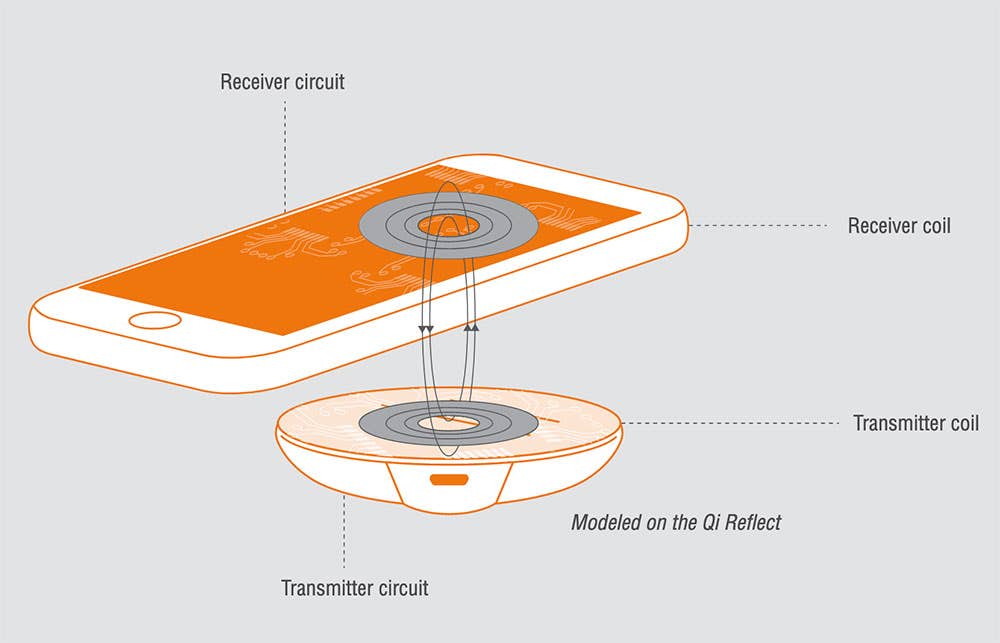 Custom Mouse Pads for Functionality
Did you know that mouse pads were invented so the small wheels inside a mouse can move and send signals to the computer when your cursor glides across your screen? These days, mice are made using an optical sensor, omitting the tiny wheels. However, a mouse pad is still relevant today. The sensor inside modern mice can actually detect the surface and direction it is moving across. If your computer mouse is being used on a reflective surface or a rough desk, a mouse pad is still needed.
Home, office, and anywhere else..
If you are working long hours at your desk, or playing your favorite computer game at home, a branded wireless mouse pad can be very useful. Not only will it allow your mouse to coast freely, it can actually do wonders for your wrist. Spending too much time with your hand on a mouse may cause pain and numbness in your hand, or even lead to Carpal Tunnel Syndrome. Using a pad to cushion the base of your palm can decrease and even eliminate this problem!
Maybe a mouse pad is not needed for your lifestyle, but dont think its functionality ends there. There are many creative ways it can be used outside its intended purpose. They can be used to cushion a chair, under plants, and even to rest hot plates or beverages.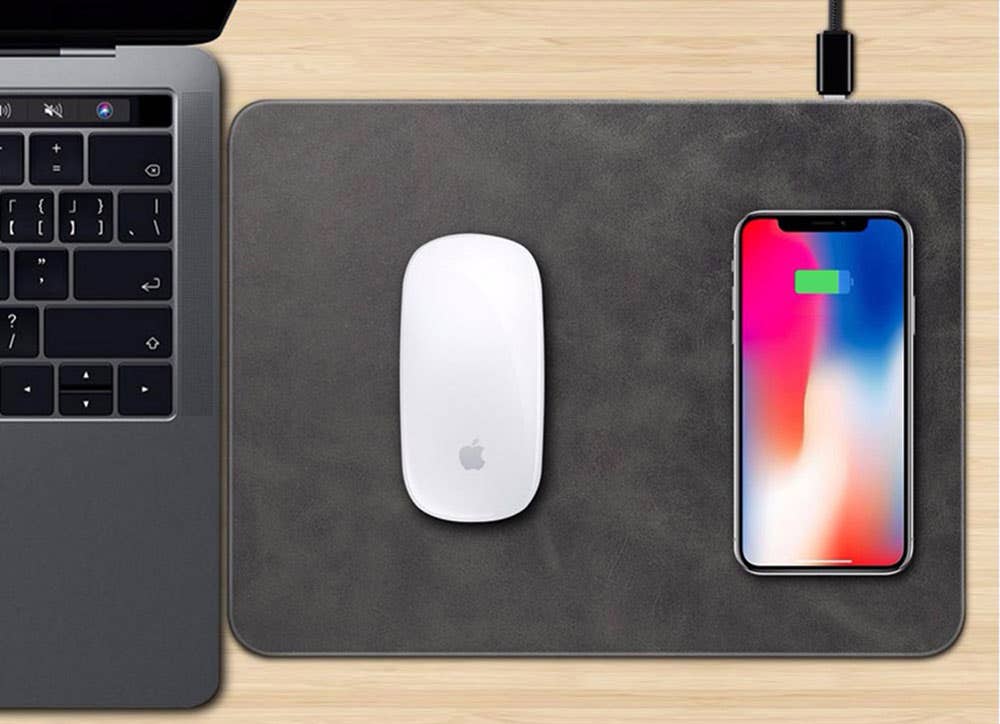 The Best Selection
Here is an interesting fact: the global wireless charging market was valued at $6.9 billion in 2018 and it has only been going up since then! There is over a 35% increase due to consumer demand and that is a great way to capitalize on the growing trend through branded wireless mouse pads. Let's take a look at the best ones iPromo has to offer.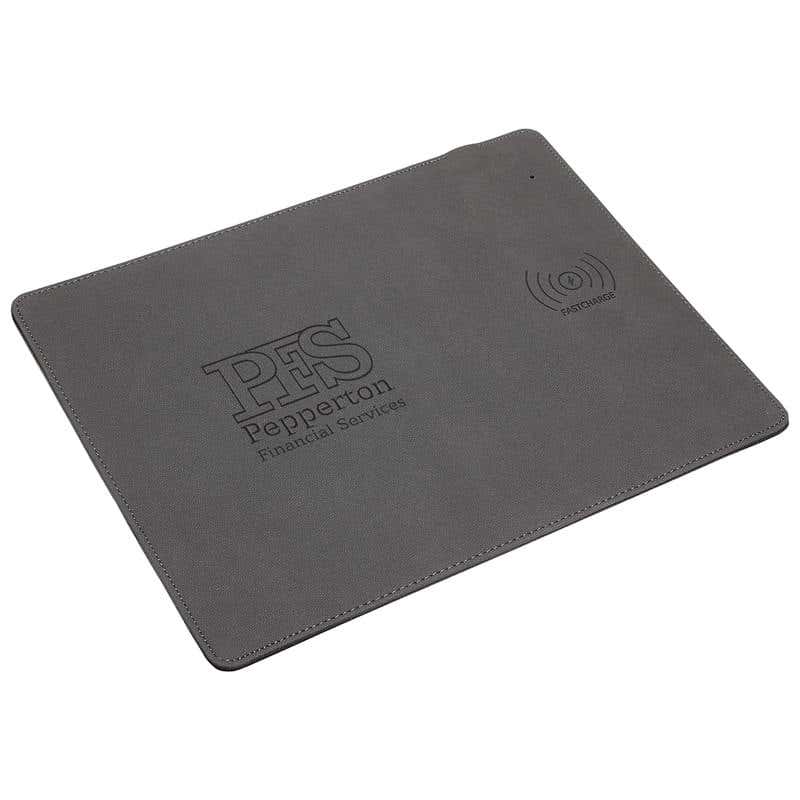 Affinity Mouse Pad
The Affinity mouse pad features 10W fast charge, which can also be found in most high-end smartphones as well. This is a high-efficiency and high-speed wireless charging chip set that can charge any device as fast as possible. It's soft-to-the-touch material is made from faux leatherette for ultimate luxury. As promotional mouse pads go, you can have your brand or any type or graphic and lettering heat pressed into the material. Its sleek and minimal design makes this the perfect gift. In addition, this product comes with a gift box, along with instructions.
Qi Vegan Leather Mouse Pad Charger
Looking for a custom mouse pad that offers a lot of space to promote your brand? This is the one! On account of its large dimensions you will have all the room you need for printing on most of the top left side; perfect for large logos. This functional, Qi enabled product is made from vegan leather with a choice of black and gray. Because of its material, it is one of the eco-friendly options since there are no toxic tanning or dyes used, making it a great addition to anyone's work space.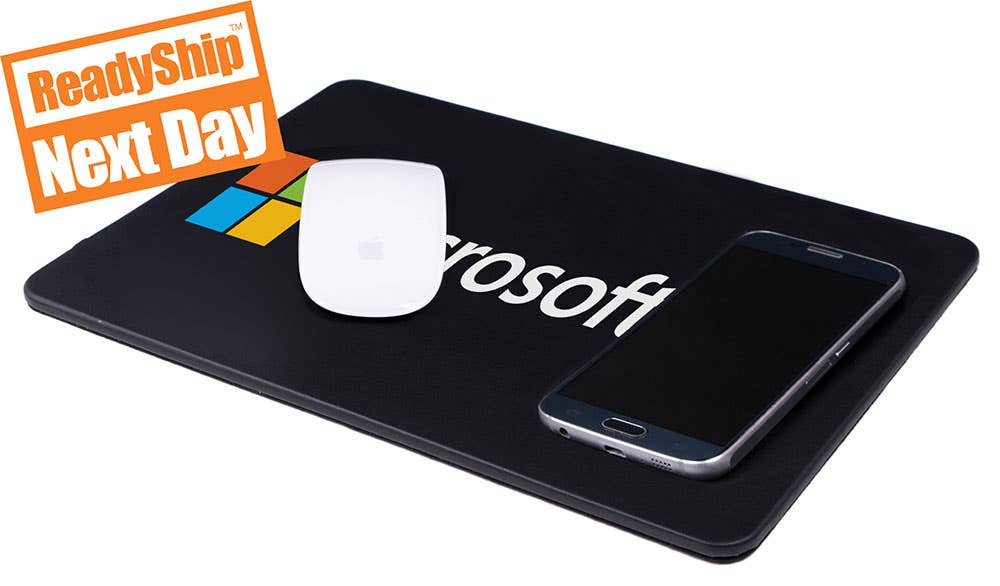 Wireless Charging Mouse Pad With Phone Stand
This one puts an interesting spin on the typical charging mouse pads. The Wireless Charging Mouse Pad With Phone Stand is a super multi-functional product. Using a precision printing press, your brand or logo can be placed on the bottom front that is right in the middle so your business never goes unseen. Because this pad can be used horizontally or vertically, you can decide which way to place the image. This product is made of thick faux leather for extra durability because it also includes a phone stand! It can be flipped up to be used so your phone can be sitting at an angle, or it can be laid down so it is flat on your desk. The thread trim around the edges gives this pad a very elegant look that would complement any office.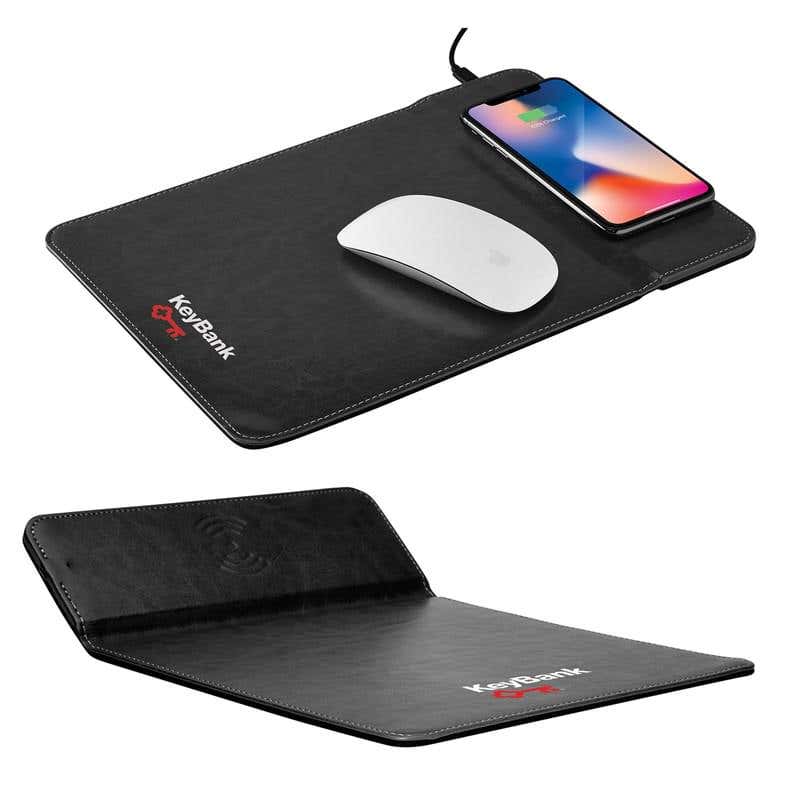 Wireless Charging Mouse Pad with Phone and Pen Stand
Just when you think it can't get any more functional, this product combines all the great features already listed into one package. Let's dive into all of its features! Included is wireless charging, USB port for charging cables, four pen holders, and a phone stand that can also be used for tablets due to its large size. Options are not lacking in these custom mouse pads; your image can be placed at the bottom left if you don't want your brand to take up much space, or you can have it placed in the middle left, which is perfect for large images.
Made from woven polyester with a sleek trim around the border, there is even a design to show you where to place your wireless charging device. The charcoal black pad pairs nicely with the solid black pen and phone stand, making this easy to match with anything else in your home or office. You can even free up space since you will no longer need to have a clunky pen cup on your desk. At only $37.19 for a minimum of 25 units or more, this is a great, affordable gift for the quality.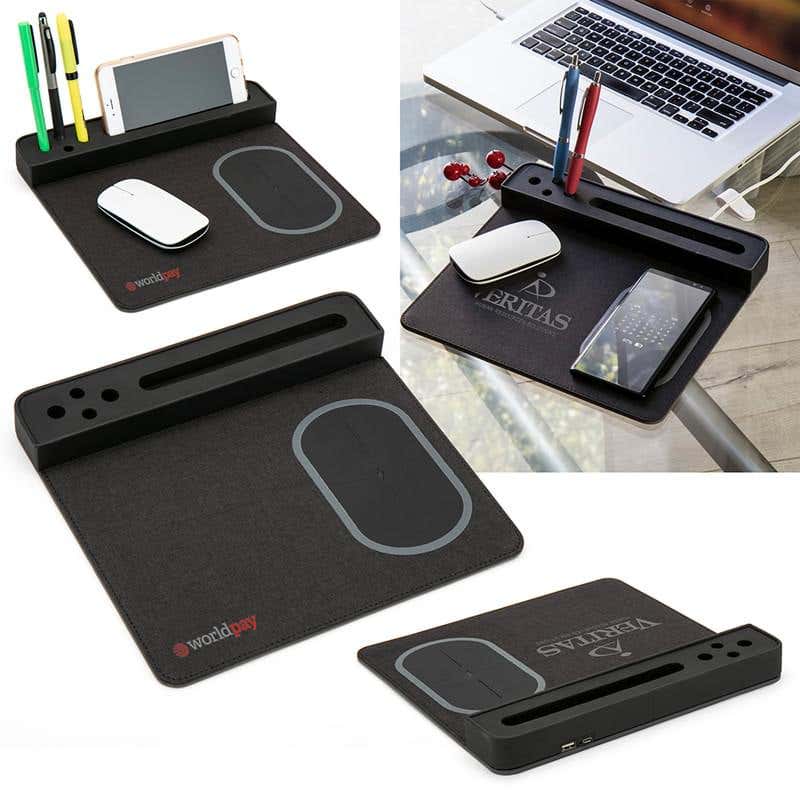 What you didn't know about promotional mouse pads
When you think of a mouse pad, you probably don't amount it much else than what it's function serves, but there are actually some really interesting facts about its origins and even what statistics show about them being used as a promotional product.
Did you know that in the early stages of development, a mouse was actually named after a different animal? It was originally supposed to be referred to as a turtle. Because of the cord older models had, the product resembled more of a mouse and that is how it got its new name! Today, we could be using a "turtle pad"
Desk accessories – which includes mouse pads – are kept by potential clients and buyers longer than shirts, bags, and headwear. They are even kept one month longer than mobile power banks. Can you only imagine how long it your promotional gift will be kept if it had the combination of the two? You will want your branded product to have value in everyday life, something that individuals need to reach for everyday.
"Promotional products are the most high-impact, cost-effective advertising medium around for their clients" – Advertising Specialty Institute. One of the most influential products around the globe includes power banks. This is a result of how in demand charging sources are. Everyone has a smartphone and always looking to charge it when the next change arises. Sitting down at your desk to means you have your phone in hand or close by, if it is going to be laying down somewhere, it may as well be laid down on a surface that will give it power!
If you are looking for more information about custom wireless charging mouse pads and what they can do for you, contact us at iPromo today.