Get Your Brand Adventure-Ready with These 7 Camping Promotional Items
Camping is one of the most popular American pastimes, and even people who aren't super outdoorsy often go camping in the warmer months. This means that camping promotional items are one of the best options for summer corporate gifts. If you're not sure where to get started, here are seven camping promotional items that you should check out:
Wholesale Lanterns and Flashlights
Lanterns and flashlights are a must-have for any kind of camping; ideally, everyone needs to have their own flashlight or headlamp, and every tent needs at least one lantern. This is why wholesale lanterns and flashlights make for an awesome camping promotional item. At iPromo, we stock everything from a tiny travel flashlight that takes up hardly any room to a large camping lantern that can illuminate a whole tent. Each lantern or flashlight can be printed with your logo or business name for a camping promotional item that will make your company shine (literally).
Wholesale Coolers
Coolers are absolutely essential for camping, since they keep food and beverages cool even when you're far away from a fridge. At iPromo, we offer the option to customize both hard and soft coolers from popular brands like YETI, Orca, and Patriot, as well as plenty of generic coolers at an affordable price point. We stock dozens of options so that you can find the perfect wholesale cooler for your camping giveaway needs. Whether you want a name brand hard cooler or an innovative backpack cooler chair, we've got you covered with our custom cooler option!
Portable Grill
Speaking of food, portable gas-powered grills are another must-have camping item for cooking up meat, vegetables, and other delicious meals. Believe it or not, you can totally get portable grills from Cuisinart and other major brands laser engraved with your business logo. The end result will be a durable camping promotional item that the recipients can use for years to come, and that will broadcast your brand to everyone else at the campsite.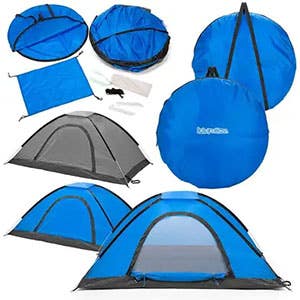 Branded Tent
There's no camping without a tent, so why not give the gift of a tent branded with your company logo? Our Basecamp® Water-Resistant Camping Tent features a double layer zip-open door, fiberglass pipe frame, four ropes, eight stakes, and a convenient carry case that can be screen printed with your company logo. Choose from blue or gray tents, whichever color suits your branding the best. Not only will you get a great camping promotional item, but Basecamp® will also donate money to support Wounded Warrior Project's mission to honor and empower wounded veterans, making this corporate camping gift a win-win.
Personalized Hammock
One of the true joys of camping is taking a nap in a hammock slung between two trees, which is why we also offer the Basecamp® Portable Travel Hammock. Choose from four colors — olive camo, black and gray, blue and navy, or red — depending on which one suits your branding more. The hammock also includes hanging rope and carabiner attachments for easy set up and features a packable pouch (attached to the hammock) that will be screen printed with your logo or graphic. Like the tent, purchases of this hammock benefit the Wounded Warrior Project as well.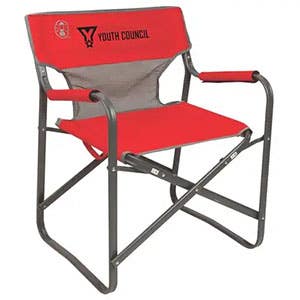 Custom Camp Chairs and Stools
While hammocks are awesome, they do require trees or a freestanding hammock in order to set it up. If you want a more versatile camping promotional item, then consider a customized camp chair or stool, which works not just for camping but also music festivals, picnics, and more. At iPromo, we offer lots of custom folding chairs from brands like Coleman that are perfect for any outdoor event. Each of them offer a generous, very visible imprint area that can be customized with your logo for the perfect camping promotional item.
Outdoor Bluetooth Speaker
A great playlist elevates the entire camping experience, which is why many people like to pack along a Bluetooth outdoor speaker whenever they go camping. Outdoor speakers can also be used for picnics, cookouts, pool parties, and more, making them a versatile corporate gift that will impress techies and camping enthusiasts alike. We offer multiple models of outdoor speakers that can be customized, including speakers from major brands like Bose, Sony, and JBL.
Want to check out our other camping promotional items, like custom bug spray and sunscreen? Browse more outdoor corporate gifts at iPromo.com.