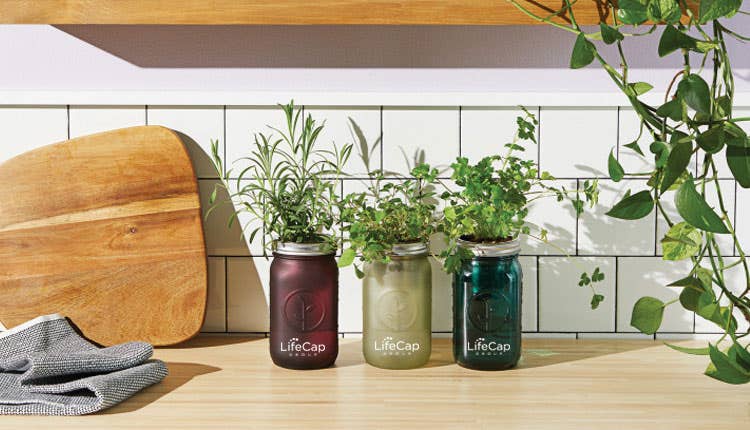 Branding with a Purpose: Modern Sprout Gives Back to the Earth With Every Order
It's all too easy to take nature for granted, but we rely on plants and trees to keep the earth healthy and the air clean. To combat the disconnect between people and the planet, one company is creating innovative ways to bring people closer to nature—one Tree Kit at a time.
Modern Sprout is based out of Chicago and is approaching a decade of doing business. For millions of people who live in apartments and urban environments, indoor gardening is the only way to get get hands-on experience with growing things. From herb-growing sets to tree kits that give back, this company offers a great selection of items to delight tree-lovers and community-minded people alike.
How Modern Sprout Started
Founded in 2013, Modern Sprout is the brainchild of husband and wife team, Sarah and Nick. They started off with a mandate to make it easy for people to grow their own plants. In the course of their research, they explored innovative gardening solutions that could make the process straightforward for amateur gardeners. Two principles guided their process: simplicity and sustainability.
Now, Modern Sprout is commonly known as the brand that "uncomplicates indoor gardening." The company sells well-designed, eco-friendly products that combine the techniques of hydroponics with space-savvy design. From plant kits to gorgeous containers, Modern Sprout has blossomed into the epitome of Nick and Sarah's original dream: to provide gardening supplies that are great for people and great for the planet.
How Modern Sprout gives back to the earth
It's impossible to become a gardener without appreciating the interconnectedness of all things. People, plants, and the planet are part of one complex ecosystem. Since its founding, Modern Sprout has built sustainable production and philanthropy practices into the very fabric of the company.
The first way that Modern Sprout gives back is by donating a percentage of proceeds to help the bees. Bees are the keystone species for life on earth. Without them, we'd struggle to feed humanity. Modern Sprout donates to the Pollinator Partnership, which operates programs to protect ecosystems and defend pollinators. 
How Modern Sprout gives back to communities
Protecting the bees is a great strategy for saving the planet, but people need protection, too. Modern Sprout has two avenues for giving back to communities in need. All purchases of Modern Sprout products contribute to these programs, completing the people-planet loop.
The Heartland Alliance in Chicago (the home base of the Modern Sprout company) is a beneficiary. It partners with the Pollinator Partnership to provide employment for some of the city's most marginalized citizens. Bringing people closer to the earth is a major passion for Nick and Sarah, and they've found a way to do it through their products as well as their philanthropy. 
Modern Sprout's Vision to "Reforest the Future"
In a century when the climate crisis is threatening the very existence of the planet, Modern Sprout has a bold vision: "Reforest the future." The team has created a direct alignment between kits purchased and tree donations. In other words, whenever someone purchases one of Modern Sprout's Tree Kits, a donation is made to plant another tree somewhere else. How's that for return on investment?
Trees are a long-term growth plan, and it's exciting to think about how many trees the company will have had a direct hand in nurturing in the near future. Don't be fooled by how easy the process sounds. It required meticulous research to create Modern Sprout's Tree Kits. After all, anyone in any region of the United States could purchase a kit. 
Custom Tree Kits include seeds that have been carefully selected to thrive in almost every part of the country, so that Americans everywhere can confidently participate in the great reforesting of the future. Seeds are shipped in a Made in the USA container made out of upcycled cow manure. The whole process is 100% biodegradable, and the manure-based containers actually help heal soil that's nutrient-deficient.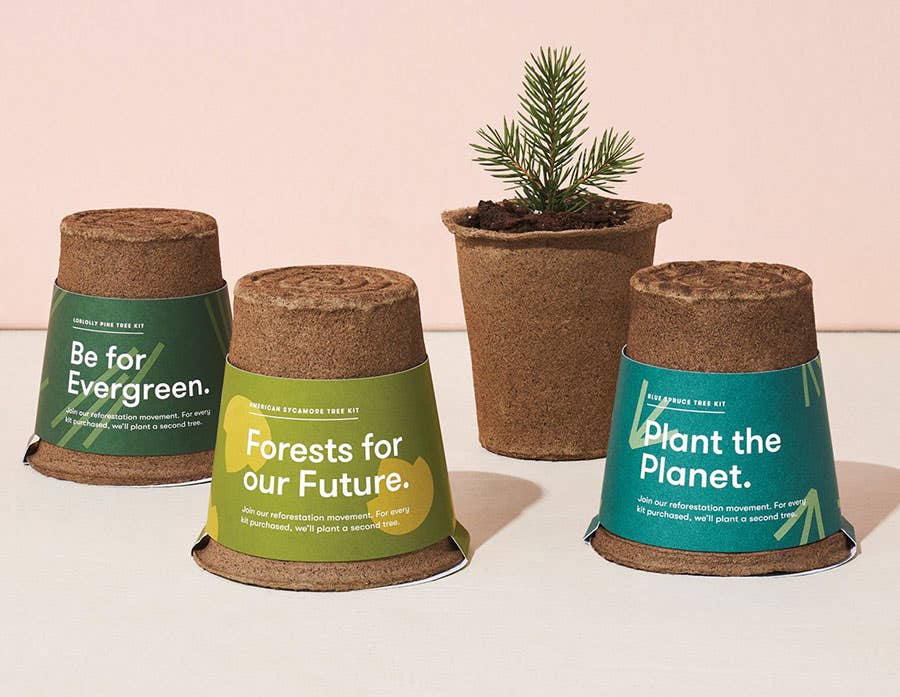 Why indoor gardening kits are a thoughtful gift, no matter the recipient 
Finding the right gift can be downright painful sometimes. How can you make sure they'll like it? What if you get them something they can't eat or it doesn't fit them? Thankfully, some types of gifts help relieve that pressure so that you can enjoy gift-giving again. Ultimately, giving a gift should be pleasurable and relaxing.
Indoor gardening kits are a gift that everyone can enjoy. They don't require much counter space, so it's easy for a recipient to create a small area for the low-footprint Glow & Grow Live Well gift set. Modern Sprout's kits come with simple instructions and require minimal maintenance. 
Even busy folks with no previous gardening experience can still enjoy the benefits of growing plants indoors. Studies show that just the appearance of greenery is a mood-booster. Green thumb or no, anyone and everyone can enjoy a thoughtful Modern Sprout gift like the Indoor Herb Garden Kit.
The strategic wisdom of gifting a growing thing
Aside from the psychological benefits of having fresh plants around, it's a smart business decision to give plants as gifts. Whether you're gifting employees or vendors, plant kits offer a surprising amount of personalization options. You could get your logo printed on an attractive mesh bag or even imprinted directly on the ceramic pot.
Your company can enjoy increased brand recognition by giving a plant. Plants require regular care. If you give a baby basil plant, it needs frequent watering and monitoring. The recipient has high motivation (delicious herbs!) to keep the plant alive, which means that they'll spend extra time in front of your branded pot while maintaining the plants and awaiting their spoils.
Here are a few specific items to get you started. Depending on the interests of your intended recipients, you'll find a perfect Modern Sprout gift for them among this list.
Gift Tip:
Choose This for the Foodies & the Eco-Conscious 
This self-watering Indoor Herb Garden kit is a thoughtful gift. It uses the principles of hydroponics and a technique called "wicking" to deliver water to roots. This means that you can't over-water or under-water it. If someone gets caught up in their workday, or forgets the time tinkering in the garage, this herb kit won't let them down.
This particular item arrives with a vintage-style Mason jar and a sustainable, coco pith disk to nourish the plant. Choose between three different seed (and color) options. The blue jar has mint seeds, perfect for Mediterranean cooking or garnishing a drink. The emerald jar has cilantro seeds, a great choice for anyone who loves Mexican food. Get the teal jar for the perennial favorite, basil. Fresh basil is great for pizza, pasta, or simply a mid-afternoon snack.
Gift Tip: Choose This for Sprucing Up the Home Office
The Glow & Grow Live Well gift kit is the perfect choice for those working from home or just wanting to spruce up their workspace. This is our favorite pick on this list because it's actually two gifts in one. First, you select a gorgeous, glazed ceramic pot with your logo on the side. Once you've chosen the color, Modern Sprout fills the pot with a soy-blend candle that has a light and pleasing scent. 
Here's the fun part! You also get to select one of three non-GMO plant options, which come in an accompanying packet. Once the candle burns down, the recipient can plant either basil seeds, aloe seeds, or daisy seeds into the now-empty pot. The gift kit includes everything they need to make gardening easy, including plant food, a coconut husk disk, and a soilless grow medium.
Gift Tip: Choose The Tree Kit for Those Who Love the Outdoors 
There's nothing like hitting a big milestone at work. Perhaps you're celebrating a group of people who have reached the 10-year mark and it's time to acknowledge their contributions to the company. There may be a few vendors that have made your business grow exponentially, thanks to their great service and cheerful attitude. 
Modern Sprout's One-for-One Tree Kit is the absolute best way to express your thanks for these long-term partnerships or those employees who simply love the outdoors! The kit contains either a spruce or sycamore seed, along with a 100% biodegradable cow manure pot and coconut husk grow medium. All the recipient needs to do is combine the pot and the seed and plant it into the ground.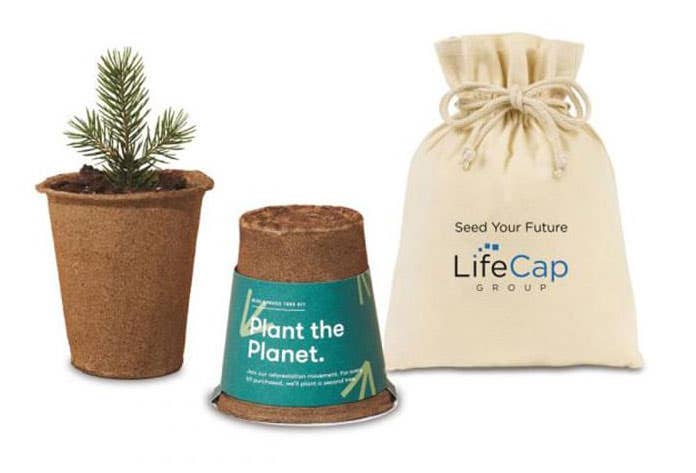 Plus, for every tree kit purchased, Modern Sprout donates to plant another tree somewhere else. Your gift is not only a thoughtful acknowledgment for the recipient, but it's also reforesting the future. Since 18.7 million acres of forest are lost each year, this gift kit is a powerful way to express your gratitude and hope for a better future.
You can find other eco-friendly, custom gifts that give back through iPromo to make your corporate gifting process easy and rewarding. Enjoy our selection, and please reach out to us if you have any questions.