Custom BIC Lighters Will Ignite Your Brand
Unlike a lot of throw-away promotional merchandise that companies give out, lighters are a well-received promotional gift. We'll be diving into why custom BIC lighters in particular delight customers and create a memorable act of reciprocity.
We'll also be discussing how you can create a positive association between your brand using our BIC range. With this information you'll be able to utilize a highly effective form of brand recognition.
Why BIC?

BIC is a high-quality brand, one that's worth the investment. People understand them to be reliable and that's why they hold the #1 spot as top-selling lighter in America. Whoever receives your complimentary gifts will associate your brand with BIC. You can piggyback off their success and take on the longstanding reputation of a superior business.
Every BIC lighter undergoes more than 50 separate, automatic quality checks during the manufacturing process. It's a good idea to purchase not necessarily expensive promotional goodies, but definitely, ones that are of a high quality.
If a potential customer receives a lighter that breaks two weeks in, they're probably going to have doubts about the quality of your product. We've been around the block since 1999, and have learned in that time the brands and ranges that convert customers, and BIC is a firm favorite in our store.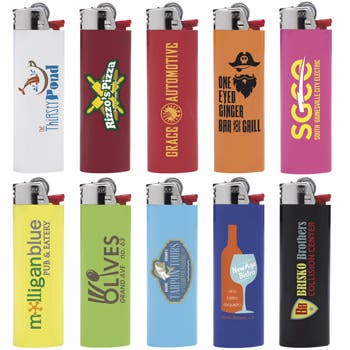 Why are lighters an effective marketing tool?
If you want to engage with people on a professional level, you have to look beyond their title or what they can do for you. A great promotional product is more often than not something they will enjoy at home or one that slots into their lifestyle rather than something that's office-related.
You see, marketing is all about brand association. By injecting your brand with personality and giving your customers goodwill gestures that they find useful, you're seen as current and likeable. It's a lot easier to make sales when this is the reputation that precedes you.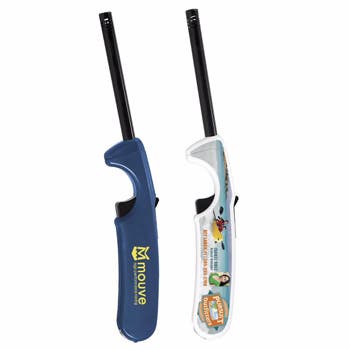 Another point that needs to be made is that lighters are not singularly associated with smoking anymore. Custom BIC lighters have plenty of super functional uses from lighting candles before a yoga practice, starting a fire on a camping trip, lighting birthday and creating a toasty fire on a chilly winter's evening. And each time someone engages in one of these activities, they will be using a custom designed lighter that reflects your brand.
So how does this affect my business?
Establishes customer trust
Customers love freebies. The same goes for prospective customers, so promo items are often the final push to convert a lead into a buyer. Although it can seem like an unimportant act of kindness, it shows customers that you care and that you're not only about the bottom line.
The fact that this gesture isn't necessary, unlike a post-purchase thank you email, holds more meaning.
Seth Godin is a marketing genius, an entrepreneur and an author of eighteen books largely most of which discuss the best marketing tactics of the digital age.
And here's what he has to say about freebies:
"In the digital world, the more free samples you give away, the better you do. The miserly mindset that afflicts the merchant watching inventory walk out the door at the market is counterproductive in the digital world."
A customer is so used to receiving 10% off here, and free shipping there, that there's now an onus for businesses to provide bells and whistles outside of simply providing your product or service.
Skimping on the customer experience can damage customers' opinion of you. So although, you may have doubts such as:
We don't have enough in our marketing budget to cater to customers' whims.
There's no guarantee that this cost will ever give any form of return.
Providing freebies will cheapen my brand.
You need to keep your vision on the long-term. Providing freebies allows you to pull customers along the sales funnel rather than aggressively pushing them down. It's very easy to aggravate a customer with advertising and over-consumption.
Receiving free products is a form of marketing that people actually like and enjoy! It's the most secure way of creating a rapport between your brand and your audience. So, it really is a wise investment.
Introduce your brand to a new audience
Customer acquisition is a skill, an art form and a science.
We've all experienced when someone hands you a free food sample at a market stall. It's not that people are obligated to make a purchase because that's an act centered around guilt.
Instead, the person is grateful for the good deed and wishes to support the company that provided this ray of sunshine in their day.
And something as simple as personalized BIC lighters can kick-start this process and help you acquire customers.
It also means that customers are more likely to become your brand ambassadors. And word of mouth, both literally and digitally, is the marketing route to success.
Boosts customer retention
Customer retention also gets a boost in these giveaways. 68% of millennials will remain loyal to a business that offers the most rewards – including freebies. This technique also doesn't "overspend to delight". A lot of companies invest in lavish hampers that will never achieve ROI. Lighters are the optimum blend of utility, enjoyment and cost.
The psychologist, Nobart Schwartz, found that just 10 cents create reciprocity between two people. So it's not the price tag of the gift, but the thought behind it and, it's practicality that matters.
We're in the era of personalization. The more valued and appreciated your customer feels the more likely they are to support your business. Take for instance the results of a recent study, where waiters and waitresses were able to increase their tips by 23% by simply handing out a second set of mints.
You couldn't make this up!
However, it's the perfect example of how we as humans, and yes even in our professional lives, appreciate when we are spotted out of from the crowd and given a personalized experience. So make sure that you offer an extra round of mints in your business to show people that your company cares!
Where can I give out my custom BIC lighters?
There are plenty of opportunities to avail of when increasing brand awareness. When attending a convention in your industry, you can use your giveaways to spark up a conversation with future clients. Or you can give potential customers your branded BIC lighters when they sign up your fortnightly newsletter, which is a great way to build your mailing list.
Creativity is the name of the game here when rewarding customer loyalty or intriguing leads to your brand!
The most important piece of advice we can give here is to make the design memorable. You want your investment to make an impact and that all comes down to how you brand this item. Use eye-catching colors, an engaging or entertaining slogan or even images to grab attention.
Create different tiers for loyalty
Although all of our custom BIC lighters are durable and high-quality, we provide different product ranges so you can differentiate between customers. By giving your loyal, valued customers an augmented gift, shows that you appreciate their business. Our electronic lighter is a premium version that creates a memorable gesture of goodwill.
It's clever to avoid the one-size-fits-all approach to marketing and instead use different tiers to converts at each stage of your sales funnel.
Our most affordable, mini lighter still provides twice the lighting time as the next leading brand. This means more moments where your promotional product is working to achieve brand recognition. Also given that 81% of consumers keep promotional goodies for more than one year, you're getting a lot of repeat exposure. Even better is that 8 out of 10 people hand on their freebie if they themselves have no use for it.
When a stranger receives a passed-on freebie, especially one that they have use for, it spring opens the box of reciprocity. As we spoke about before this creates a subconscious feeling of trust and ignites the need to repay your business in the future.
What better way to be introduced to a brand than to receive a customized product that you could actually use?
Mix it up
Another great technique is to mix and match your promotional items to provide maximum visibility. We offer promotional items that fit every lifestyle. An excellent method of capturing an audience is to give them a choice of freebies. This doesn't mean you have to blow your marketing budget, but next time your business is at an expo, consider purchasing a range of promotional items rather than larger order of a single product. This can be custom lighters, flash drives, pens, or any combination of our promotional range.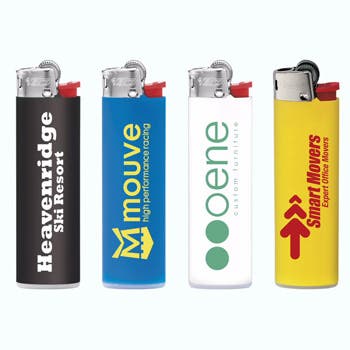 This comes with the added bonus of getting some A/B testing done. You might find that people are particularly interested and grateful to receive a certain product. Refining your marketing plan is best done through trial and error.
Personalizing your marketing campaign is a really smart move coming in 2019 as consumer demand for experiential shopping is steadily rising. As much as 96 percent of marketers believe that personalization advances customer relationships. Our BIC lighters achieve that connection with your customers.
They will also give you the upper hand to retain customers, increase brand recognition and give your customers a positive outlook on your business. You can dress up our customizable BIC lighters now by adding images, logos and text and start increasing conversions today.