Company giveaways can be an awesome way to raise brand awareness and gain more followers, but they can also be complicated to run, and they involve a lot of rules behind the scenes. Today, we're walking you through corporate giveaway 101 to teach how to run a stress-free, 100% legal giveaway that can boost your marketing efforts while giving people the chance to win some awesome promotional products.
FYI, giveaways are a little bit different from contests, where winners are chosen based on merits or skills. Company giveaways, technically called sweepstakes, involve randomly drawing winners based solely on luck. The laws for contests differ slightly from those for giveaways, which is what we're focusing on in this guide, so if you want to run a contest, then familiarize yourself with national, state, and local laws first.
Select your marketing goal.
There are many different reasons to potentially run a giveaway, and you need to choose one or more of them before you proceed. Maybe you want to increase your follower account on social media, get more subscribers for your email newsletter, revise awareness for a new product launch, or encourage user-generated content. You might even have multiple goals for your giveaway! Your goals will shape all of your decisions, so you need to decide on those at the outset in order to host a successful corporate giveaway.
Choose your giveaway platform.
Next, you need to choose your giveaway platform or platforms. Usually it is easier to run your giveaway on one platform only since cross-referencing entries across platforms can be difficult and time-consuming. However, you will still want to promote your giveaway on other platforms in order to increase your reach.
For instance, if you are running a giveaway on Instagram, you can still totally promote it on your Facebook and Twitter accounts in order to raise awareness and generate more engagement. And if you are running a giveaway via your newsletter, then you will definitely want to promote it on social media so that it can reach participants beyond your current subscribers.
Understand US giveaway laws.
Assuming that you are a U.S.-based company running a giveaway for U.S. participants, there are some laws that you need to follow. For starters, you need to clearly announce the dates for the opening and closing of entries, as well as when prizes will be awarded. You must also disclose when and how winners will be selected and follow through on contacting winning entrants and sending them the promised prize.
If you are running a sweepstakes that allows people to enter via making a purchase, then you might also provide an alternate means of entry that is free (a.k.a. The "no purchase necessary" laws). Following these rules is essential for running an above-board contest that won't get you into legal trouble.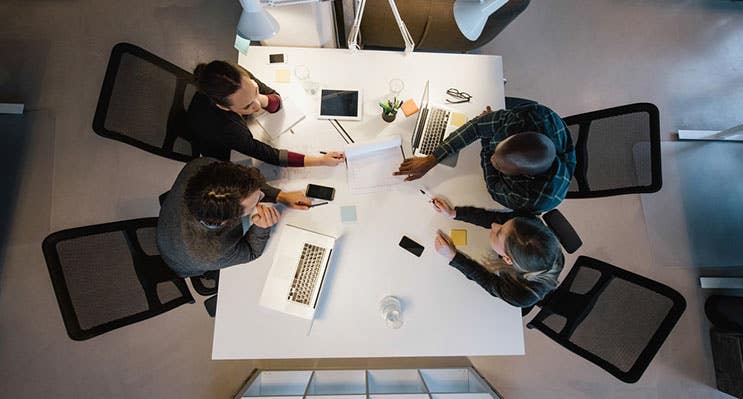 Know the additional laws in your state.
In certain states, there are additional rules that you must follow when hosting a corporate giveaway or contest. For example, in Rhode Island, you must register the promotion with the state if your prize pool is valued over $500 and is being offered at a retail location. In Massachusetts, Michigan, and Virginia, all tobacco-related sweepstakes are prohibited. You should know the sweepstakes and contests laws for the state that you are based in and confirm any additional rules that you may need to follow beyond the national laws.
Examine any widgets you are using.
There are many widgets and tools available that make it a snap to run a company giveaway, even if you have never done one before. However, not all of these widgets are 100% compliant with all federal and state laws for giveaways. Some of these tools also collect and sell entrant data without being upfront about it. Before using any sort of third-party tool for your giveaway, be sure to examine the fine print to ensure that it follows all applicable laws, whether that's for giveaways or data privacy.
Determine any restrictions.
Due to contest laws and other factors, there may be certain restrictions that you want to put on the giveaway. Limiting entries to your home country is one of the most popular, but you might want to keep it in-state as well, or otherwise impose some other kind of limitation. International giveaways are possible, but they require compliance with more laws, not to mention global shipping logistics, so make sure you know what you're getting into before you commit to one.
Collaborate with an influencer.
If one of your goals for your company giveaway is to get more followers on your social media accounts, then you might be wondering what good it will do to promote your giveaway on said platforms. If you feel like you don't have the reach to boost your giveaway in the way that you want to, consider partnering with an influencer who makes content in your sphere and has a larger, more engaged following than you. You will need to set aside a budget for this, but it can be a fantastic way to get your giveaway in front of new eyes and gain some quality followers.
Partner with other brands.
You can also partner with other brands to create a joint giveaway with a prize package that showcases all of your goods. Most of these take the form of a loop giveaway, where you must follow all the brands in the custom gift box in order to enter the giveaway. Keep the number of brands to a reasonable figure, because otherwise potentially participants might get annoyed at all the accounts they have to follow and decide the giveaway isn't worth the hassle. Choose quality over quantity here!
Pick out your contest prize(s).
Now that you've decided whether or not you'll be partnering with other brands, it's time to pick out your contest prizes. Generally speaking, the cash value of the giveaways should be directly related to the scope and length. If you want to get more followers and run the giveaway for a longer period of time, then choose a bigger prize. Bigger prizes usually generate more followers, but sometimes those followers aren't really your target customer, so it may be better to run a smaller giveaway more directly targeted to your niche.
Decide on your entry method(s).
The standard entry for social media giveaways is to like the post, follow the account(s), and tag at least one friend in the comments. For email giveaways, usually you have to get other people to sign up via a special referral link. However, there are many different entry methods that you can choose for your giveaways. Bonus entries are a great way to get creative and think outside the box; for instance, you could give people three extra entries if they share the post to their Instagram story.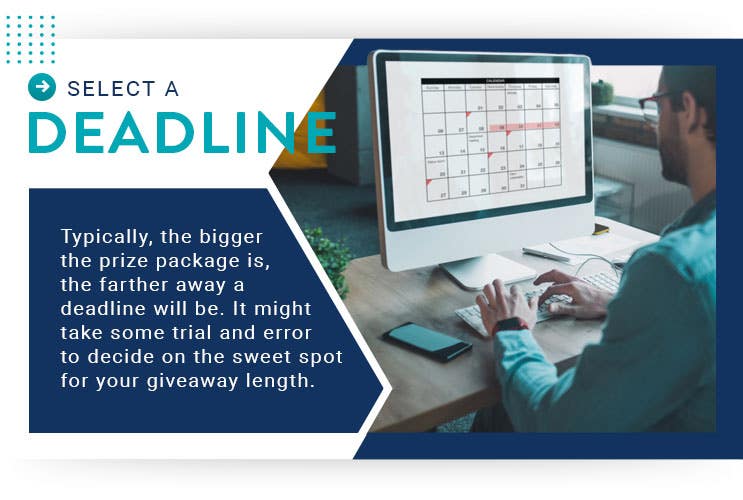 Select a deadline.
Choosing a deadline for your company giveaway is both an art and a science. You want to run the giveaway for long enough that people have a chance to hear about it before the deadline passes, but not so long that the buzz dies down and people are no longer interested. Typically, the bigger the prize package is, the farther away a deadline will be. A small giveaway might only be open for 24 or 48 hours, while a bigger giveaway might run for two or even four weeks long. It might take some trial and error to decide on the sweet spot for your giveaway length, so don't be afraid to experiment.
Create your marketing assets.
You should create marketing assets specifically for your giveaway campaign. Try not to recycle old stuff; you want the content to be new and eye-catching so it generates as much engagement as possible. You should also choose a unique hashtag that you can use for this giveaway (and for future giveaways, if you plan on doing more). Encourage people to use the hashtag when they reshare the posts and use the hashtag to track the engagement that your event is getting online.
Promote your giveaway.
Once you've got your marketing assets ready to go, start promoting your giveaway on every channel possible: Instagram, Facebook, Twitter, Pinterest, TikTok, YouTube, your email newsletters, wherever possible. Remember to use the captions to encourage people to share the posts and link the action to bonus entries if possible. If you have the budget for it, consider boosting your posts or even purchasing ads to promote it. This will help your giveaway reach even more people and generate more engagement for your campaign.
Send reminders.
You shouldn't just post about the company giveaway once and then not promote again until you announce a winner. Keep sending out reminders for it, increasing the frequency the closer you get to the deadline. Obviously, you shouldn't be obnoxious about it, so make sure that you're posting other content to your social media as well. But, at the same time, you want to give people as many opportunities as possible to enter so that they don't miss out on your awesome giveaway.
Track your participation.
Before you start your giveaway, take a snapshot of your baseline levels of followers and engagement across all your platforms. You should also determine what KPIs you want to use to track engagement with your contest and set those up to be tracked. Make detailed notes about when and how you promote the contest and keep an eye on your engagement as the contest progresses; this information will prove helpful whenever you decide to run another giveaway.
Follow up with participants.
When the deadline passes, you should randomly select a winner from all the entries, notify them, and announce that the giveaway is closed and a winner has been selected. You should also follow up with contest participants who didn't win and try to leave them with a positive experience. Giving them a coupon for your product or service is a great consolation prize that will leave them with a positive impression of your brand.
If you have any other giveaway coming up, you can also tease that in your announcement post to start hyping up buzz for it and encourage people to stick around for another chance at winning a prize.
Continue tracking your giveaway performance.
Your giveaway doesn't end when the contest deadline passes. Hopefully, you saw a spike in engagement and followers during the giveaway, and now you will experience an inevitable dip as some of them unfollow you or stop engaging with your account.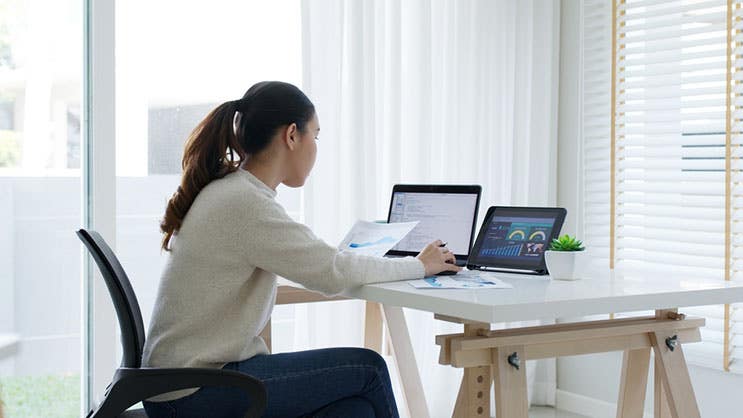 Monitor your performance to determine how big the drop-off is and how many followers you retain. After all, the point of a giveaway isn't to get a bunch of low-quality followers who immediately unfollow you; it's to get high-quality followers who stick around. If you notice a huge drop-off, try to figure out what caused it and what you can do better next time.
Need an awesome prize for your company giveaway? At iPromo, we offer literally hundreds of corporate gifts for clients to suit every budget and need, from bulk promo items under $5 to custom AirPod Pros. We have tons of gift guides to help you pick the perfect item, and our customer service staff is also happy to help you make a selection for your next giveaway or company event. Contact us today to get a quote or design proof started for your next corporate giveaway.
Image Credits
Sujhon Sharma/Shutterstock.com
fizkes/Shutterstock.com
Dmytro Zinkevych/Shutterstock.com
Arnav Pratap Singh/Shutterstock.com
Zivica Kerkez/Shutterstock.com
Jacob Lund/Shutterstock.com
Prostock-studio/Shutterstock.com
Chaay_Tee/Shutterstock.com