May 15, 2023
Custom Hydro Flask Water Bottles Are The Ultimate On-The-Go Drinkware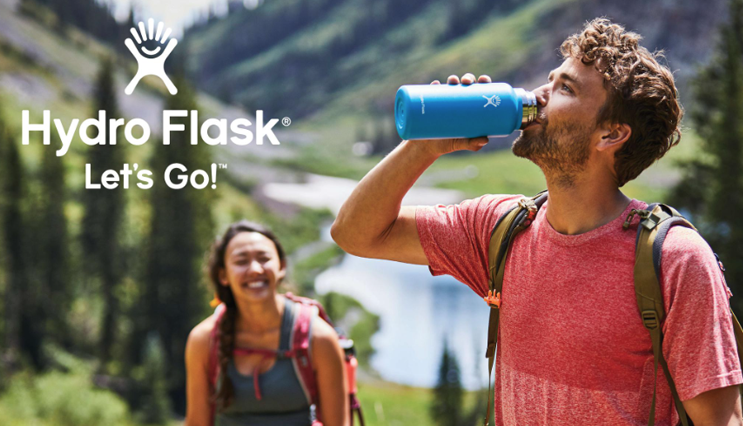 The Hydro Flask brand has gained a constant following over the years due to its reputation for creating durable, quality products that are designed to be environmentally friendly, keep your food or water hot or cold for an extended time, and are easy to use outdoors. From tumblers to coolers and incubated water bottles, you will certainly find something suited to your need.
"What if I want my water bottle a little extra?" You have nothing to worry about. We know everyone has their unique style and that it is important to express your style in your daily life. This is why Hydro Flask has introduced a way to customize your hydration product to your taste. You not only get quality water bottles or mugs that can last a lifetime, but you also get a one-of-a-kind product uniquely tailored to your interests and personality.
If you're a small business or large organization looking for a simple way to promote your brand, you can create a memorable corporate gift with custom Hydro Flask that your clients and employees will love. These custom bottles are also thoughtful and stylish ideas for corporate gifting. With lots of styles and colors to pick from, there are endless possibilities of what you can achieve with this personalized drinkware.
With such a large selection of hydration products, how do you decide which one is suited to your needs? This is where we come in. If you are ready to get started with customizing your Hydro Flasks, we'll explore a few popular products from the company that can help you and your business stand out.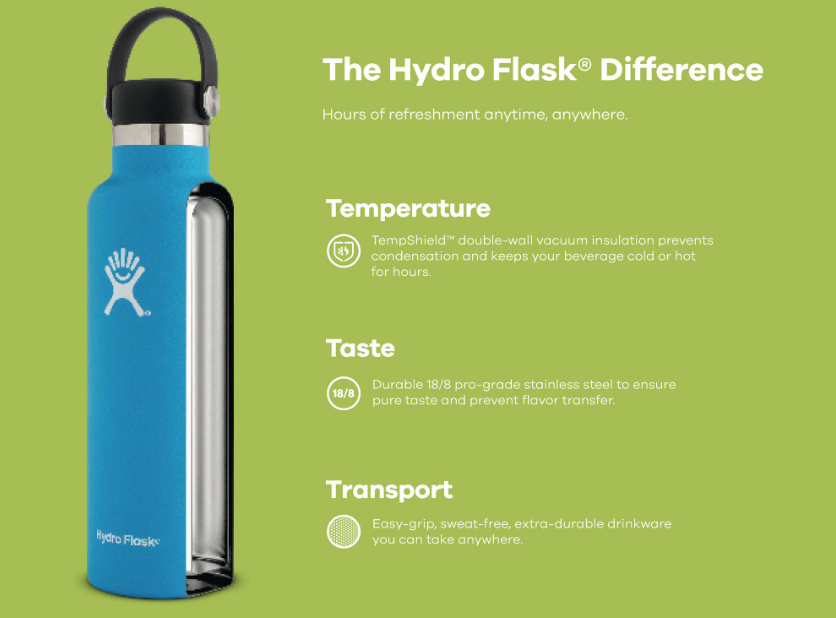 Staying Hydrated in Style: Why You Should Consider a Custom Hydro Flask
Hydro Flask Wide Mouth With Flex Cap
The Wide Mouth with Flex Cap is a best seller for obvious reasons. Its Flex Cap is flexible and features a leak-proof cap, making it easy to use on the go. The wide mouth opening lets you clean the bottle easily and fill it with fruits or ice cubes.
This versatile flask comes in sizes from 20 to 32 oz, large enough to keep you hydrated while on the trail, in the office, or at the gym. The flask is sizable enough to keep you hydrated but compact enough to slip into a backpack easily, weighing just 0.45 kg.
With its Tempshield vacuum-insulated design, liquids are guaranteed to stay hot for close to 12 hours and cold for up to 24 hours. This technology makes it suitable for long hikes on a hot summer afternoon or meetings on a cold winter morning. It also fits most backcountry water filters.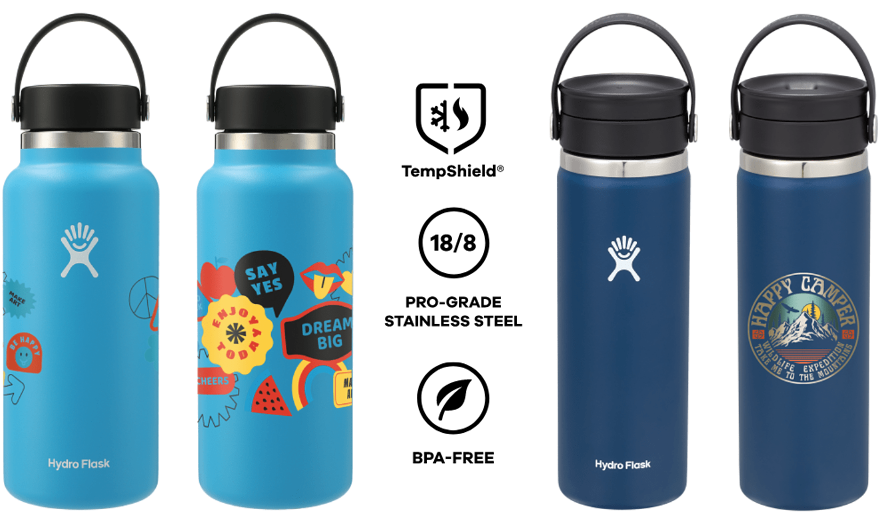 Another feature to be excited about is the comfortable Flex strap which allows you to transport the bottle easily with one hand and without strain. In addition, the strap is removable so that you can customize the handling with or without it. Let's not forget that this metal water bottle is constructed from highly durable, eco-friendly materials like premium stainless steel that prevents rust and any residual odor or flavor after cleaning and BPA-free plastic.
Speaking of cleaning, this bottle is made with the Color Last Powder Coat, allowing it to retain its vibrancy and making it safe for dishwasher use. This powdery finish gives you a better grip, ensuring it doesn't get slippery when wet.
This coat comes in 16 colors, allowing you customize your Hydro Flask using laser engraving, debossing, and color or digital printing methods. 
Hydro Flask Standard Mouth With Flex Cap
Another popular choice among outdoor enthusiasts and everyday users is the Standard Mouth with Flex Cap. This Hydro Flask is an excellent choice for those constantly on the go, such as students, gym goers, and outdoor enthusiasts. From its lightweight to its portable size, the bottle is compatible with car cup holders and fits snugly in the side pocket of your backpack or shoulder bag.
The Flex Cap is suited for those who prefer drinking directly from the bottle and is also easy to use, prevents spillage, and features a flexible strap, making it easy to carry around. The strap is removable if you don't want it, and the bottle fits the hand so that even children can carry it comfortably without weighing them down.
The Standard Mouth also features Tempshield double-walled vacuum insulation to keep your fluids hot or cold throughout the day. This bottle guarantees durability and rust resistance as it is constructed from high-grade stainless steel. This material also prevents flavor or odor transfer after use.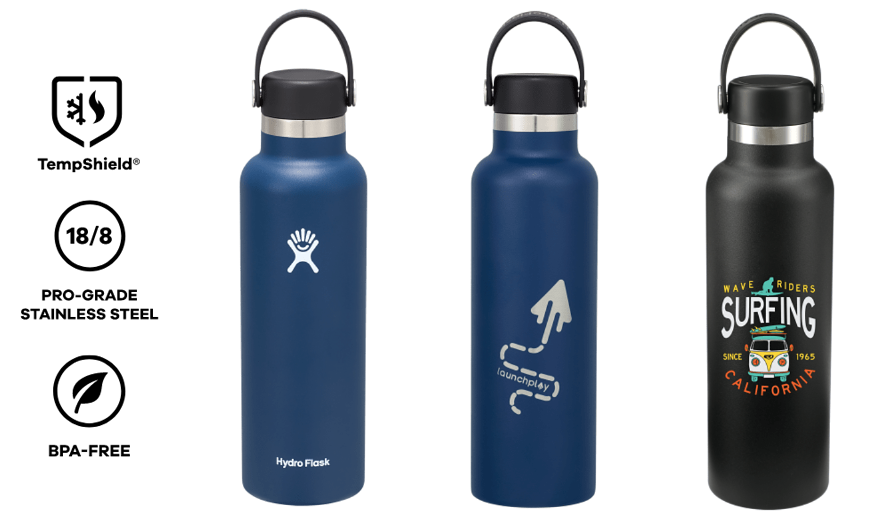 One incredible feature of the Hydro Flask Standard mouth is its compatibility with other Hydro Flask accessories, such as the Standard Mouth Insulated Sport Cap. Its versatility allows it to be customized easily. Additionally, the bottle comes in capacities from 18, 21, and 24 oz, so there's plenty of room to load ice cubes and other condiments.
What we love most about the Standard Mouth with Flex Cap is that it is made with a Color Last powder coat for easy grip, slip-free handling, and dishwasher safety. The powder coat makes it easy to deboss, sublimate, print, or engrave your bottle as it comes in about 18 unique colors, providing a wide range of high-impact designs to choose from when personalizing.
Hydro Flask All Round Tumbler
Are you a drink lover who dislikes seeing the end of the bottle? The Hydro Flask All Around Tumbler is just what you need to keep sipping on your drinks throughout the day. This tumbler gives "Go big or go home" considering it comes in a range of sizes from 12 to 28 oz, perfect for any activity or destination. In addition, it is compatible with any medium closeable press-in lid.
Its double-wall vacuum insulation keeps your drinks hot for up to 6 hours and cold for 24 hours. And it features a closeable press-in lid to prevent spillage and lock in the temperature for a reasonable time, but opens wide enough to allow you to use a straw or sip conveniently on the move. The tumbler has a tapered design for a firm, comfortable grip and fits any cup holder. It is dishwasher safe, and its color coat remains vibrant for years.
Luckily, you also have about the many colors you can choose from to customize it to your taste. You can even customize it in multiple colors, tailored to your brand's hues.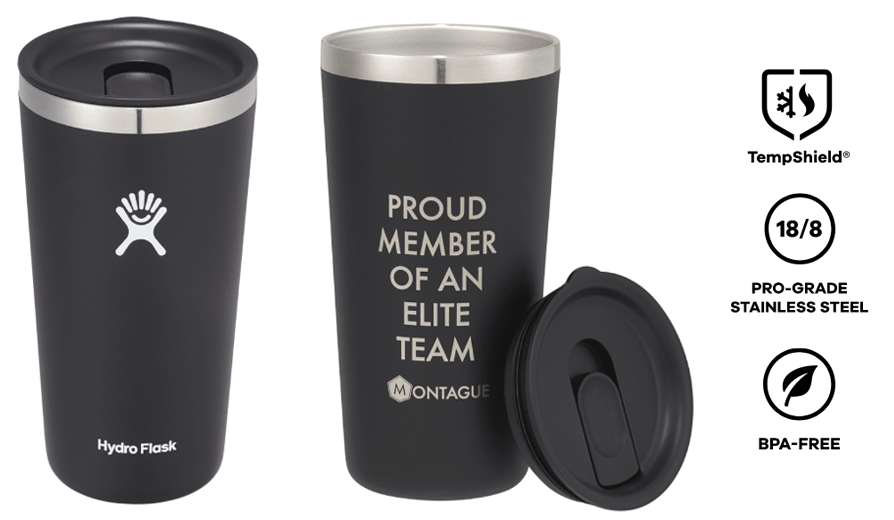 Hydro Flask Coffee Mug
With the Hydro Flask Coffee Mug, you can enjoy a steaming cup of coffee or your favorite beverage anytime, whether you're having a slow day or an early start. This cup will quickly become your favorite coffee mug as it keeps liquid hot for up to 6 hours and cold throughout the day thanks to its double-wall vacuum insulation.
Another feature that does it for us is the soft-touch material of its exterior, providing a comfortable grip and easy feel in your hands while sipping hot liquids. The press-in lid provides insulation and temperature retention and easily slides open or close for easy sipping, preventing spills and straw use. To ensure durability and prolonged daily use, the mug is made from top-quality stainless steel, making it lightweight and easy to clean.
The coffee mug comes in over ten colors and three sizes, including 6, 12, and 24 oz, to suit your needs and style. If you want your chosen design to have a unique, more natural appearance on the bottle, you can have them 3D raised, embroidered, sublimated, debossed, or applied digitally to the material.
You would be thrilled to know that all materials used to manufacture and customize this mug are environmentally friendly as they are toxin and BPA-free. Hence, by using one of these coffee mugs, you'll be helping to reduce the amount of carbon waste generated by the use of disposable cups.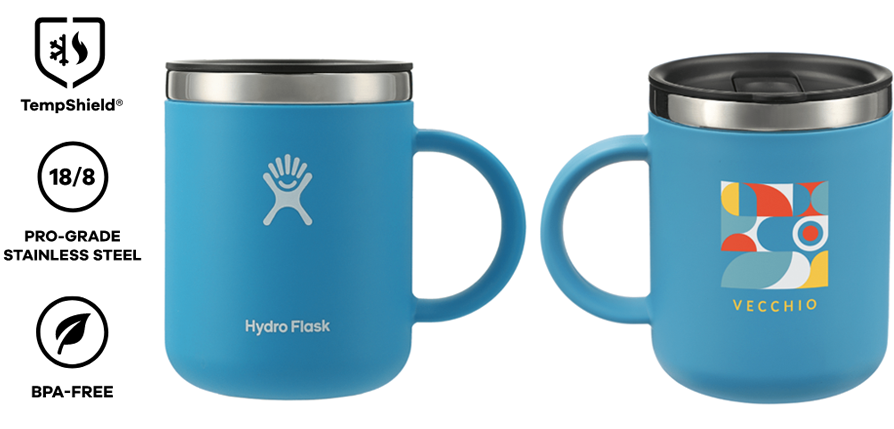 NEW Hydro Flask Carry Out Soft Cooler
Owning a few water bottles to keep your liquids at optimal temperature is great. But nothing beats having a cooler to store your drinks all at once and keep them chilled throughout the day. Hydro Flask's Carry Out Soft Cooler is the perfect product for keeping your food and drinks chilled while going about your daily activities.
This cooler is excellent for road trips, picnics, camping, hiking, beach trips, casual hangouts with family and friends, or a trip to the farmer's market if you don't intend to go straight home. Its versatility in terms of usage and customization knows no bounds. With several options for you to choose from including laser printing, embroidery, debossing, 3D raised and laser printing, you're sure to give your clients or employees a gift to remember.
The soft cooler comes in black, blue, and yellow, as well as two sizes you can choose from depending on your needs; a 12-liter size, which can hold up to 20 water or drink cans, and a 20-liter capacity which can hold more than 30. You might wonder how convenient it'll be to carry around a 20-liter cooler filled with food or drinks. However, you won't have anything to worry about because this cooler is equipped with lightweight insulation, a compression molded lid, and a base for stability while moving. It also has a flexible design with removable crossbody straps that conform to different sizes.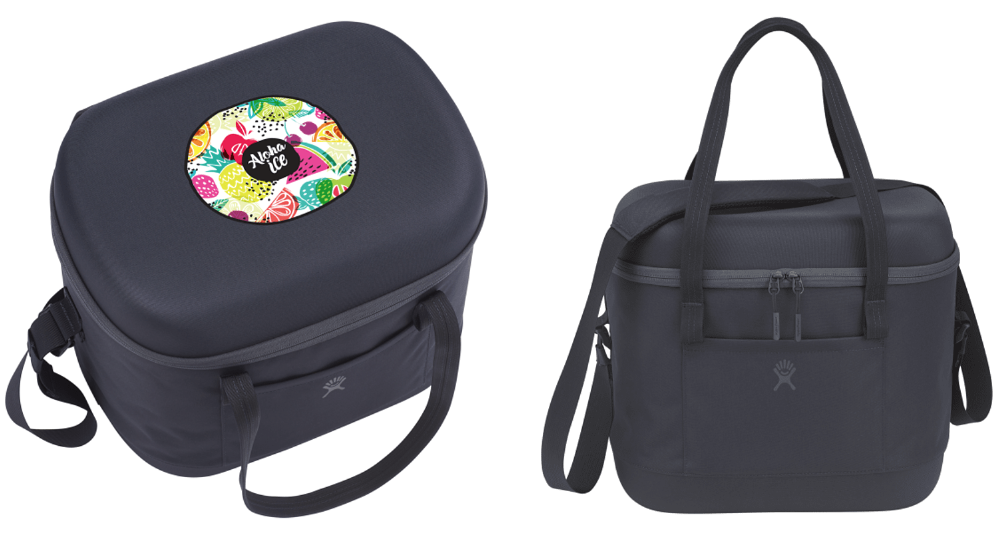 The cooler is made with highly durable and water-resistant fabric that can withstand rough conditions and allows easy cleaning. It also has exterior pockets for extra storage. The cooler's interior is made from closed-cell foam with thicker insulation at the bottom for optimal temperature retention and to keep your food and drinks fresh and chilled for up to 24 hours. This material also helps prevent mold or mildew from growing.
Hydro Flasks also lined this cooler's interior with top-grade BPA-free material with seams that prevent splashes and keep leakages confined. Additionally, the cooler has a large, wide-mouth opening, making loading, unloading, and cleaning the cooler seamless.
Make A Lasting Impression With Custom Hydro Flask
Convenience, versatility, and long-lasting quality were undoubtedly Hydro Flask's watchword when creating this line of bottles, tumblers, and now coolers. Not only are they perfect for everyday use, camping trips, hiking, and other outdoor adventures, but your recipients will use and enjoy them for years to come. There really is no doubt why a custom Hydro Flask is an excellent investment. Reach out today for a quick quote and free preview of your logo or design on any of the Hydro Flask line of products.