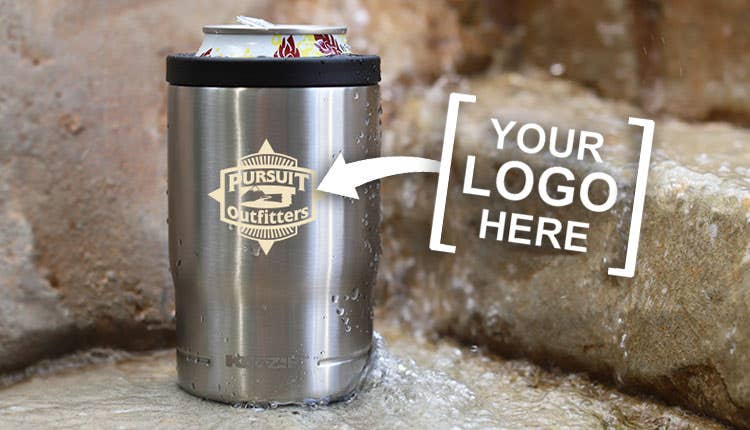 Custom Koozies® – A Guide To The Best Personalized Can Coolers
From neoprene koozies to cheap fast koozies for weddings, we'll help you keep your logo around your clients' & co-workers' favorite drinks
Koozies are a ubiquitous feature of outdoor hangouts. They are a great way to maintain the cold temperature of a beverage, and they can also offer a little kitschy fun. If you've ever been to a tailgate, barbecue, or any general outdoor get-together you have probably come into contact with a few custom Koozies.
These items have been adorning soda and beer cans since the 1980s and have come in a variety of names, including:
Beverage sleeves
Stubby holders (in Australia)
Coolies
Beer sleeves
Beer cozies
Koozies are also a popular promotional product, and you don't have to take our word for it. The Advertising Specialty Institute noted that Koozies were among the top 20 in terms of the "most searched" promotional items in 2018.
People love to use kitschy items that actually serve a purpose. So, if your logo is on a bunch of personalized Koozies, then you are sure to get some free advertising out of it. At iPromo, you can find a variety of custom beer koozies. Let's discuss a few things you should know about these products.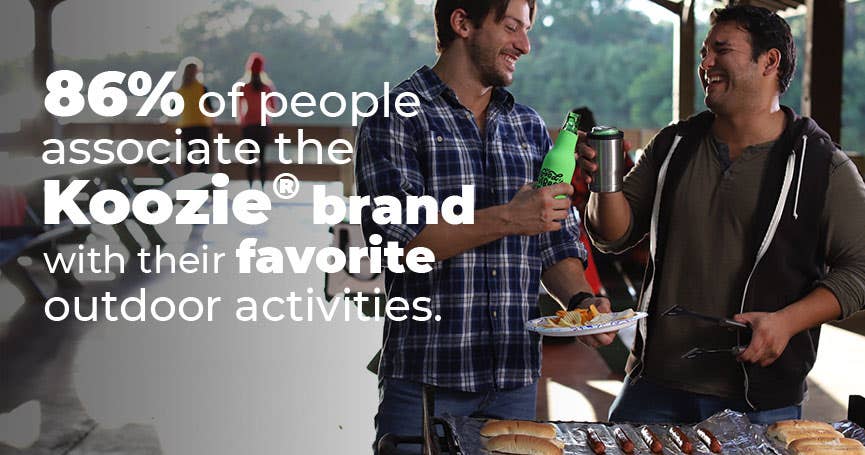 A Brief History of Koozies
There is only one company that holds the actual trademark to the term "Koozie." Interestingly enough, the Radio Cap Company (a manufacturer of hats) first received the trademark in 1980.
Koozies were originally designed to insulate beverages in aluminum cans, but their product line has since expanded to include versions for plastic water bottles, glass bottles, and even wine bottles.
There are also a variety of other brands that produce their own beverage sleeve products. At iPromo, we have both officially branded Koozie products and a variety of other options to ensure that you get the best selection and to fit your budget needs.
Do Koozies Keep Beverages Cool?
Of course, we may be skipping over the most important question involved with Koozies: do they actually work? It certainly seems like they keep the can and its contents cooler, but does slapping a neoprene sheath around a container really keep it that much colder?
To answer this question, we only have to look at science. Researchers from the University of Washington actually studied the functionality of Koozies in 2013, and found that they are indeed very useful at maintaining cold temperatures, but it might not be in the way you expect.
The researchers discovered that condensation on a can will increase the liquid's temperature by as much as 6 degrees Fahrenheit in 5 minutes on hot, humid days. A Koozie can keep that condensation from forming, thus locking in the frigid temperatures from the ice chest or refrigerator.
That's a pretty neat scientific discovery, and it also means that you don't have to worry about giving away a junk product with your logo on it. Koozies do work, and your prospective customers (or whoever) will be happy to use them.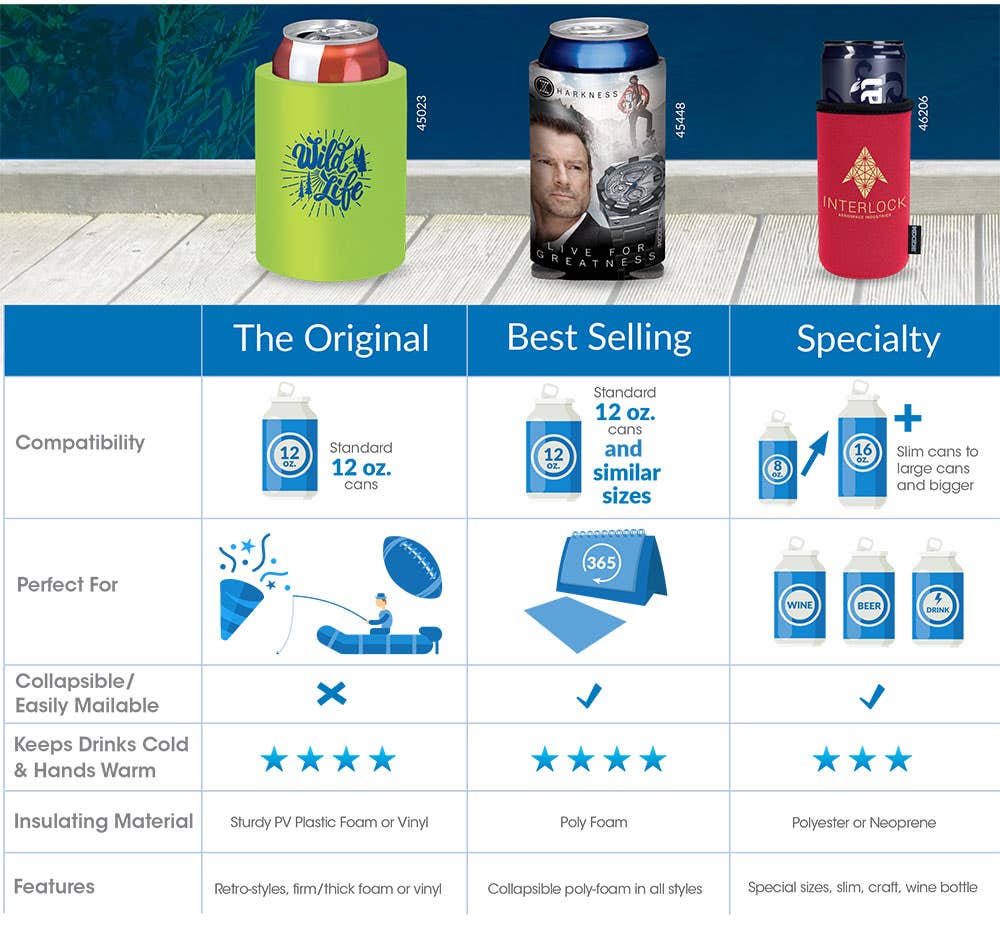 Types of Custom Koozies
There are literally dozens of different types of custom can Koozies with unique styles, color schemes, and sizes. Each Koozie's print area (the area where your logo goes) is determined largely by its size, but most Koozies offer about 2.5 inches by 2.5 inches or more. Some Koozies even allow you to imprint your logo on both sides and the bottom of the sleeve. That's plenty of space to get your message out.
Again, there are actual branded Koozies that have the official trademark, but you can also find a huge selection of other beverage sleeves. Let's take a look at some of the Koozie categories below.
---
Standard Koozies
You are probably most familiar with the standard Koozie design. For the most part, 12-ounce cans fit perfectly inside the sleeve area providing the insulation and temperature control everyone wants. Most standard Koozies are made from durable neoprene to ensure that they last a long time.
Some Koozies are non-collapsible, meaning that they have a sturdy base, always maintain their shape, and you can just drop a can right in them. Others are collapsible, meaning that they are designed to fold and flatten themselves when they are not in use. This is obviously great for portability and storage because they take up much less space when not in use.
Many Koozie-branded sleeves are actually collapsible. They typically have little cuts made in the base of the sleeve to make them more malleable. It's hard to go wrong with any of the standard personalized can koozies. but what if your audience might like a larger koozie for larger cans?
---
Koozies for Larger Cans
If you're looking for Koozies that can adequately cover 16 or 24 ounce canned beverages, we have you covered there, too. Obviously, these Koozies won't work with the standard 8 ounce aluminum can, but they do offer a larger print area. These Koozies are obviously ideal for those who like to drink a little extra. You may even want to provide both larger Koozie and standard Koozie options when you give these away.
At iPromo, we have 16 ounce and 24 ounce Koozies to choose from.
---
Full Color Koozies
We also offer full color screen printing on Koozies ranging from 8 ounces to 24 ounces. That means you can add a full color image or design to your Koozie to really pique someone's interest.
Most Koozies have pre-made designs or color schemes, but with full color Koozies you can basically make it look however you want. For example, if you run a bookstore and you wanted to give away Koozies, you could add a full color image of books that would wrap around the entire sleeve. Obviously, your logo would still be there and any other identifying text you'd want, as well.
---
Koozies with Unique External Designs
With this category, we are not necessarily talking about the color scheme, as you can change the color scheme with just about every Koozie option. Instead, we're talking about Koozies that really offer something interesting with the external design.
This can be as simple as a "Fancy Edge" or as complex as a "Puffy Can Holder" that resembles the look and feel of a puffy jacket. We also offer color-changing Koozies that change their hue when touched. If you really want to surprise your recipients, these might be your best bet.
---
Koozies with Extra Features and Add-Ons
Continuing the unique Koozie trend, let's discuss custom Koozies that have additional features beyond the standard insulation and temperature control. We offer numerous Koozies with add-ons that make them even more functional. For starters, how about a Koozie with a handle strap to make carrying it around a lot safer and easier?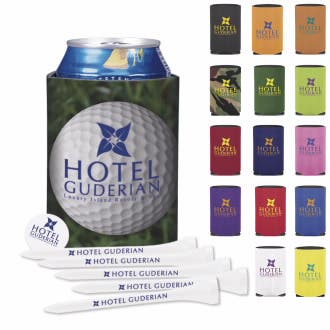 There is also a Koozie with a carabiner to ensure that you can tote it around with you conveniently even when it's not in use. Other Koozies with extra features include:
Obviously, the caped Koozie is a little kitschy, but all of these other Koozies actually improve the functionality.
---
Bottle Koozies
In addition to Koozies for cans, we also offer Koozies for bottles. These are good for a wide variety of bottles and still offer the same basic function as a custom can Koozie. We offer Koozies for:
Basically, all of your favorite drink containers can be insulated with a handy little Koozie. But, how do you actually make use of these Koozies as a company or individual?
---
What to Do with Promotional Koozies?
Like most promotional products, Koozies are often included in giveaways. You can offer them as free gifts to a variety of people including:
Current customers
Prospective customers (particularly at a trade show or other similar event)
Employees (as part of an onboarding package or just to show appreciation)
The general public (particularly at an event of some type)
You can be sure that these Koozies will be used by your recipients, ensuring that your brand gets some exposure. This is particularly true if you hand out these items at an outdoor event where canned or bottled beverages are prevalent.
You can also hand out Koozies at private events to provide a personal memento of the occasion. Custom wedding Koozies are a unique and useful gift to let your guests remember your big day. But, they can also be useful at birthday parties, anniversary parties, graduation parties, and more.
In Conclusion
Koozies are a cheap and easy way to show your appreciation and get your brand's name out there. They are the perfect summer accessory, and now is a great time to have a personalized Koozie. If you are interested in starting a campaign with custom Koozies, drop us a line today.