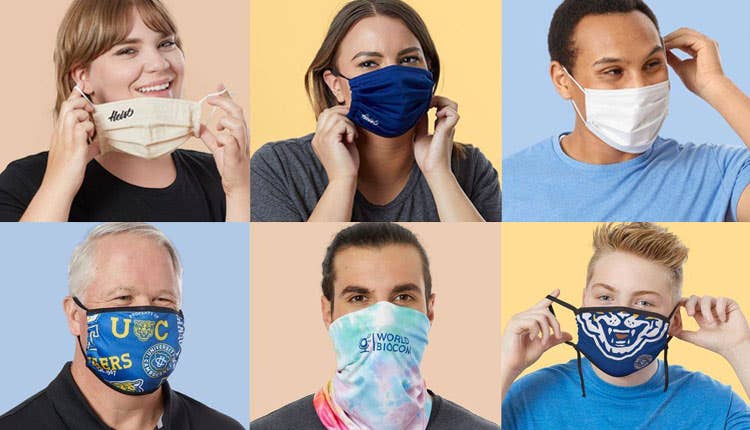 No one imagined that face masks would become an integral item in our daily lives. But companies quickly adjusted and custom reusable cloth masks quickly became a must-have to protect their employees and customers. Businesses have found that a reusable mask presents a unique branding opportunity with ample imprinting real estate across the front of the mask.
They are also more comfortable than typical medical grade masks, but still close-fitting worn over the nose and mouth for reducing your risk for inhaling airborne bacteria that spread viruses such as COVID-19.  Masks are no longer only for people who have weakened immune systems, chronic lung conditions, and seasonal allergies. Now, everyone is required to wear them when entering most public spaces. 
Custom reusable face masks offer a wide range of benefits to the wearer, from preventing the spread of viruses for the user and those around them. For a face mask to be effective, it needs to fit well and be worn correctly—something that can be tricky for people who wear glasses or have facial hair. Typically, reusable face masks are made of cloth and are kept in place on the face with elastic or adjustable straps that hang on the ears. 
So, how do you know the features of each mask and which one is best for your business? This guide will help you by going over specific options for facemasks under each category, including full panel, center seam, filters, gaiters, plus useful mask accessories. 
Full Panel Face Masks
These are the most common types of face masks you will see out there. The face mask covering is a single panel that can be customized and decorated, including all-over printing.
If you think your employees might not want to compromise their style with a mask, this custom face mask is for them. Our cotton 3-ply mask made with 95% 150 GSM cotton and 5% spandex is a comfortable, soft mask to cover the face. They are also highly customizable, with four color process artwork sublimated over the entire outside layer of the mask is available for your branding. These masks are great on their own or can be customized with your logo or message.
If you're looking for a simpler face mask with great value, these are affordable masks to order for your team. It's made with 100% cotton, which makes it very comfortable to wear. Plus, add your company's logo in the center with screen printing for a subtle branding touch.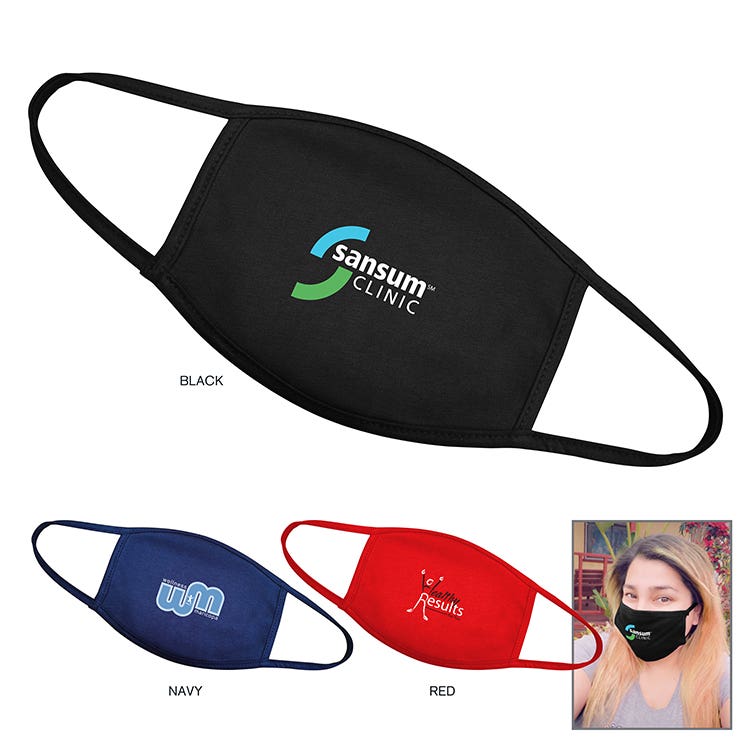 Select the color, decoration technique, or fashion pattern for this mask. The outside layer is made of 100% cotton, and the inside layer is made with mostly cotton and some spandex for a smoother feel. The mask features an integrated metal nose frame to adjust to make sure the mask sits properly on the face.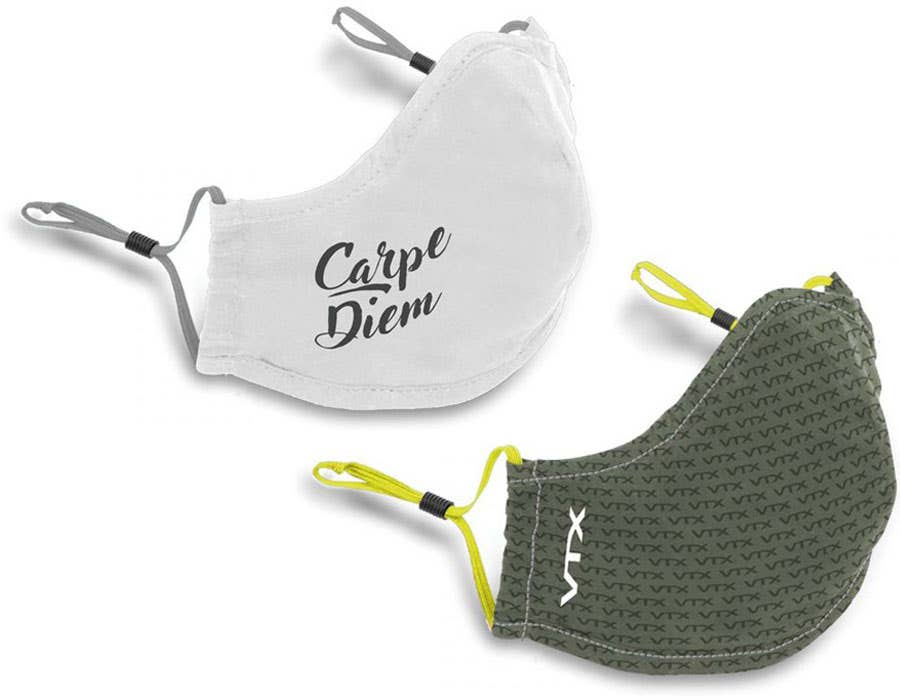 ---
Center Seam Face Masks
Similar to the full panel mask but with a seam in the middle, the fold allows for the mask to contour the face. Depending on your design needs, you'll want to account for the seam in the middle, which might split the image or design printed.
This center seam face mask folds in the middle so it can be worn more comfortably over your nose. Add your business's logo to the side with screen printing or full color printing to complete the look.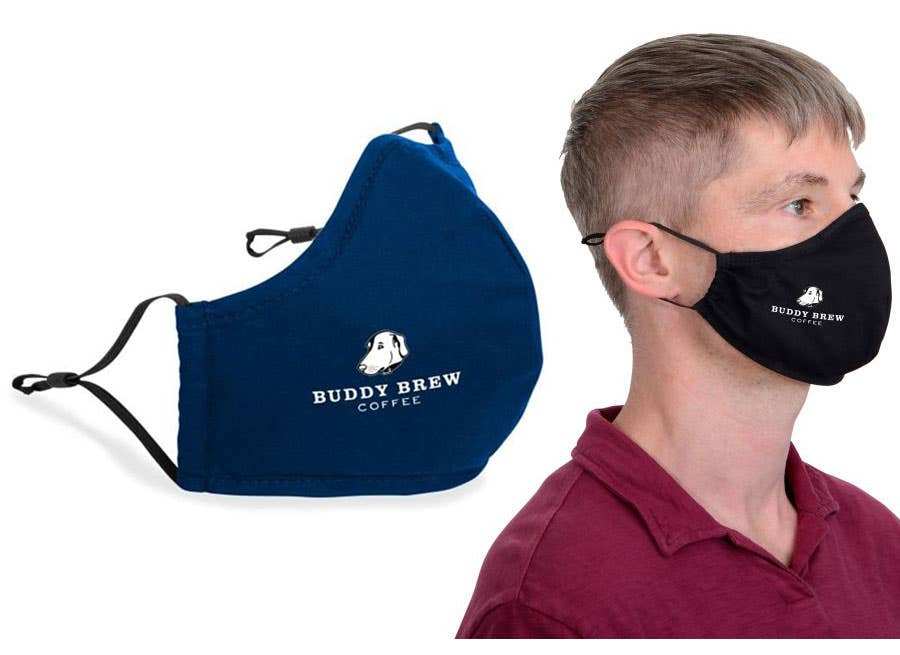 Your employees might appreciate a mask that comes with a travel pouch to make it easier to hold onto. This mask is also incredibly easy to wash due to the microfiber material. It can be cleaned simply by running under cold water. Add a branded element with screen printing or full color printing.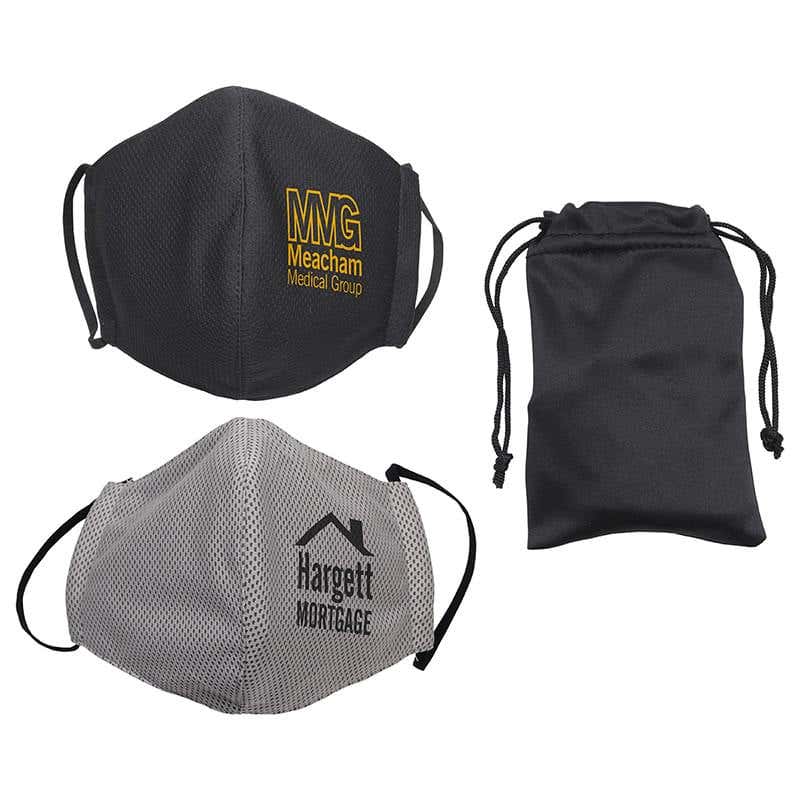 Kids want to look good in their masks, too. This polyester face mask is a super cute and comfortable option for children. Adult sized masks might slide off of a kid's face, so these smaller masks accommodate those tinier faces. You can also promote your business by adding your brand logo with sublimation.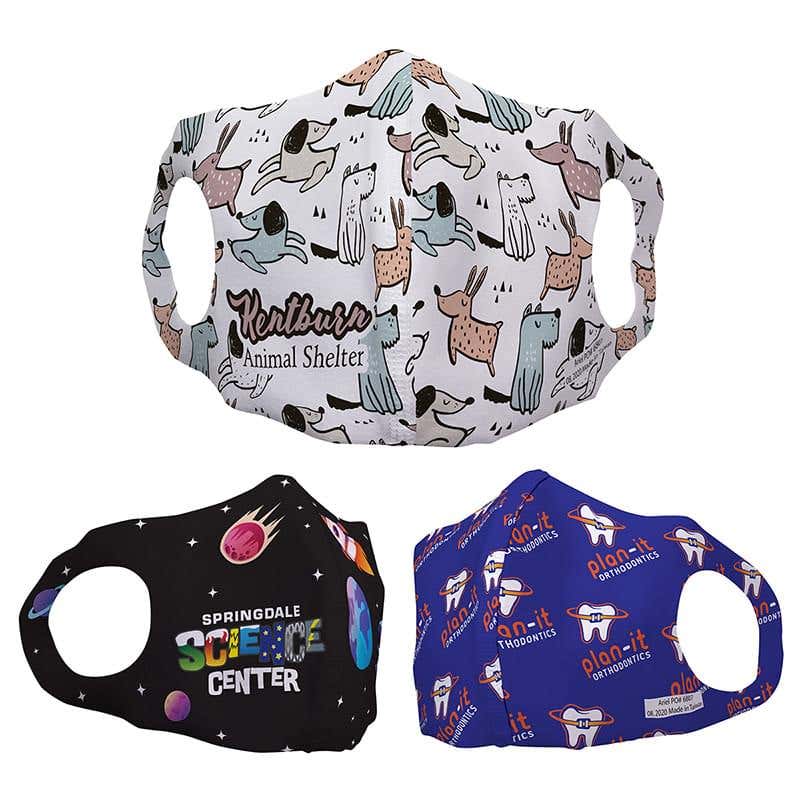 ---
Masks With Filters
Not all masks have filters, but a filter adds an extra layer of protection by trapping small infectious particles. While these masks are not typically mandatory in public settings, they are a good option for those looking for added protection.
Need masks with filters immediately for your employees? This respirator face mask can be shipped to your business in under 24 hours. This mask features a tip-shaped hanging ear design to keep the mask properly adjusted on the face. It's made of lightweight material and offers solid protection, making it a smart choice. While the other filtered masks below can have your logo printed on them, the KN95 mask is uncustomizable.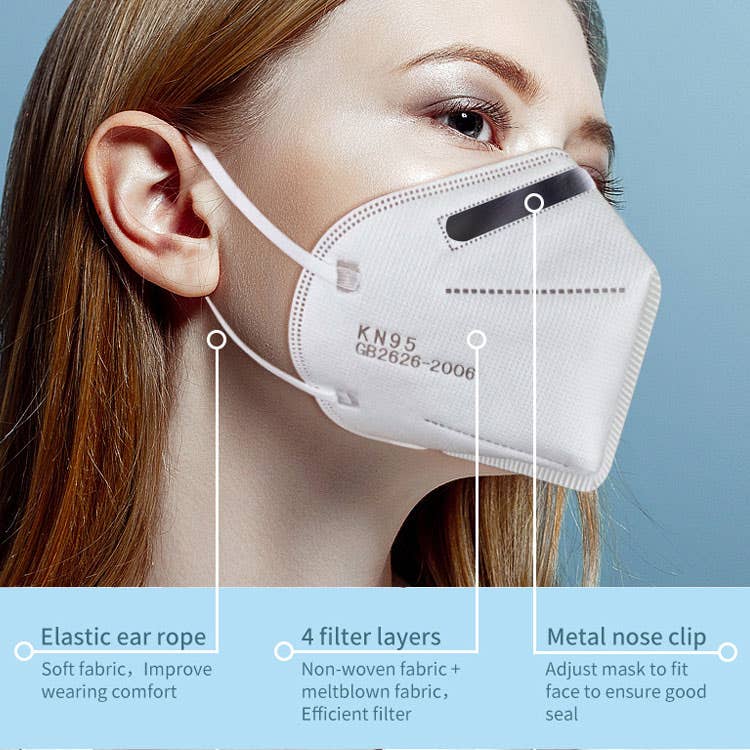 A gaiter can come with a filter, too. This gaiter is made of 95% cotton and 5% spandex that can be worn as a face mask or a bandana, so your employees don't need to compromise style for safety. Consider making these truly customized by adding brand artwork with screen printing or full color printing.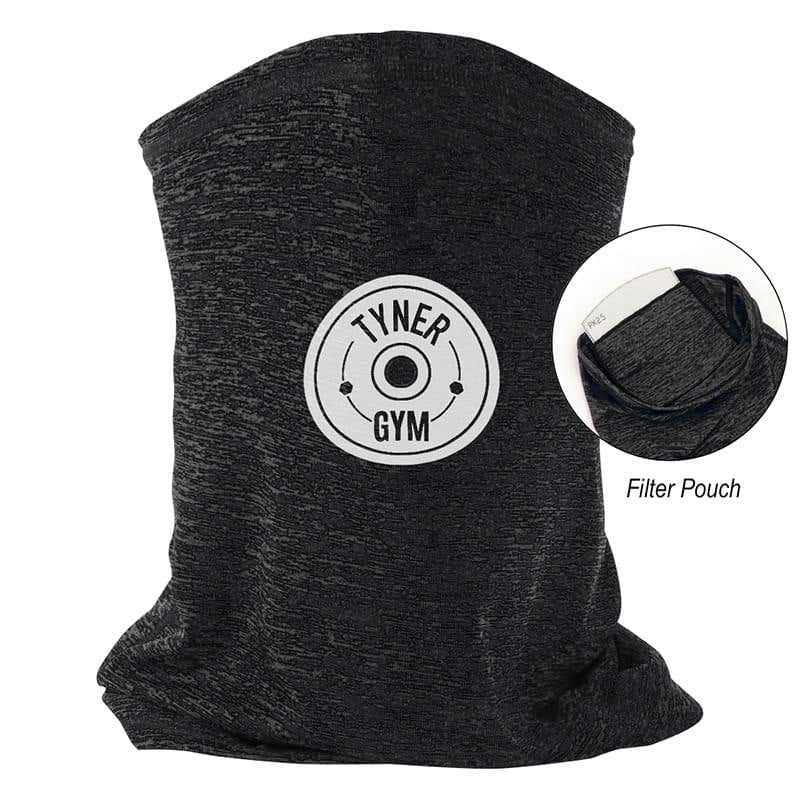 This reusable mask comes with two removable filters that can easily be replaced. The removable filters work as dust respirators to keep safe from harmful bacteria. The mask also has adjustable earloops to fit the face perfectly and can be customized with your logo using screen printing.
---
Neck Gaiters
Wearing a neck gaiter can keep the neck warm and cozy, but it can also help protect against the coronavirus. In fact, a neck gaiter can save you from any cold or flu virus that tries to contaminate your employees. A more stylish face mask that also provides a bit of warmth, neck gaiters can be worn around the neck when they are not covering the face. All the neck gaiters on this list can be customized with your business's logo with screen printing.
This bandana scarf protects from more than just dust and particles—it also works to protect from the sun and wind. With a versatile gaiter like this, it can be worn during sports and outdoor activities.
Another stylish gaiter, this one comes in multiple attractive colors for style. The soft polyester makes it comfortable to wear as a neck warmer, but you won't overheat while wearing it because of the cooling material.
This gaiter is meant for those who want a nice, clean look completed with a neutral color. The natural colors made it blend with any outfit and can be worn as a headband or neckerchief. Customize the front side of the gaiter with your logo or artwork.
---
Mask Accessories
There are plenty of accessories to go around to keep your employees' masks easily accessible and looking fresh. For example, a Full Color Double-Ended 1″ Lanyard will make sure that they never lose their mask. We've all been there—sometimes masks go missing or fall out of pockets. Attaching a mask on a lanyard to wear around the neck will help make sure no one misplaces their mask. Also included, is full color printing along the lanyard to promote your brand vibrantly.
Sometimes, wearing a mask can be uncomfortable. Some people might find that their mask irritates the area behind their ears. If that's the case, add your business's logo with screen printing to this Face Mask Ear Saver that has notches that allow for adjustability and a proper fit. The face mask ear saver will make it easy to forget that you are even wearing a mask. 
Suppose your employees are sitting at their socially distanced desks and want to remove their masks while working. In that case, there is the option of using this Custom PPE Mask Holder so that they can keep their face masks easily accessible without worrying about misplacing them. So the next time an employee heads to the washroom or walks around the office, they won't have to waste time searching for their mask when it is hanging on the holder right next to them. Add your logo to the arm of the holder for a small, but impactful branding touch.
---
PPE Kits with Cloth Masks
Custom PPE Kits are perfect for welcoming your team back to the office with safety the main priority. This Reusable Stretch Face Masks (2 pack) and Hand Sanitizer Kit comes with two reusable stretch face masks so that you can swap to another mask halfway through the day. It also comes with a pouch for storage and a hand sanitizer to make sure you are public space ready. Both the pouch and masks can be customized with screen printing, full color printing, or embroidery. Similarly, this Ready to Go Reusable Stretch Face Mask PPE Kit comes with a mini backpack for storing your accessories beyond your mask. If you really want to be well-equipped when heading into work, there's also the Concierge Essentials Kit that contains all your office essentials, including two masks, a pen, a bottle opener, and hand sanitizer. The best part is that pricing includes imprinting your logo on most of the items included in each kit.
It shouldn't be hard to find custom face masks and accessories that work for you. While we might not think of wearing a custom reusable face mask as an opportunity to showcase your style, it's true that masks are here to stay, so we might as well get creative with face mask designs. For example, you can personalize your face mask with your logo with any of the above face masks. Or you can overlay a custom face mask with any of our more protective disposable masks to provide over 90% protection.
Of course, the main benefit of wearing a face mask is to protect yourself and others. But, again, that doesn't mean they can't look nice.  And, with all the custom reusable face masks mentioned above, you're sure to find they are not only comfortable, but also can fit your branding need. If you want to see what other custom face coverings are available, visit iPromo today and reach out for a quick quote and free virtual preview of your design on any of our reusable masks.