10 Best Eco-Friendly Promotional Products For a Healthy Lifestyle
While eco-friendly promotional products are great for environmentally-focused businesses and non-profit organizations, they are also a great way for any business to show their priority in sustainability, as polls show strong support for environmentally friendly business practices.
Finding the right eco-friendly products isn't always easy, but with nearly a third of customers preferring sustainable brands, eco-friendly products are a force to be reckoned with. If you want to get the most from your promotional items, you might want to consider going green with your marketing. Going green might sound time-consuming and expensive, but it's actually easier than you might think.
What Does Eco-Friendly Actually Mean?
Eco-friendly promotional products are those that have been designed to be the least damaging to the environment. There are different categories of eco-friendly items: recycled or compostable plastics are two common categories. Another is products made with locally-sourced component materials, as local production is known to reduce transportation costs. Reducing the number of parts and the amount of packaging are two easy ways to "green" almost any product.
An increasing number of green or eco-friendly products are being offered. But tossing about the terms "eco-friendly" and "sustainable" has become so common that there's even a term for branding products and businesses with those terms but not actually following through on them: greenwashing. It is absolutely worth spending a bit of extra time and effort to ensure that you are using the right, genuinely eco-friendly promotional products so that your brand stays honest about where it stands. To help, we've put together this guide to get your company started on your green promotional strategy.
Why Eco-Friendly Promotional Products Are A Great Value
Eco-friendly products are not just great for the environment; they're also great value for your business. Nearly half of consumers surveyed said they would look more favorably on businesses that gave out environmentally-friendly promotional products. When you combine that statistic with the fact that branded item giveaways are a low-cost, high impression marketing strategy, there's no reason why you shouldn't order some custom eco-friendly promotional items. 
Below we've compiled a list of some of the most popular eco-friendly products that are a perfect giveaway for promoting your company's wellness program or a neat way to signal to existing or potential clients about your business's eco-friendly values. 
For People Who Like Staying Active
It's no surprise that staying healthy and concern for the environment go hand in hand. Many consumers who care about the environment are also health-conscious. Products like these are great giveaways for any fitness or exercise brand and a great way to help clients and employees alike reach their fitness and health goals.
Reusable Eco Face Masks in Bulk – Packs of 48
The Adult Eco Face Mask is affordable, stylish, and useful. The fact that they're washable and reusable means they are great for the environment too. A great way to get your brand's name out there for people to see as well as help people stay safe at the same time. The Eco Comes in Black, White, and Grey and is sure to match any color scheme. They come in packs of 48, so you're sure to have spares for anyone that forgets theirs at home. This item ships in 7 to 10 business days. 
Allbirds Wool Runners
The AllBirds Wool Runners are made with all-natural materials. Allbirds are naturally soft and cozy. The upper is a unique formulation made from superfine merino wool. But don't worry, it's soft and itch-free on the inside, but durable on the outside and comfortable all over. The nautically inspired laces are made from 100% post-consumer, i.e., recycled plastic bottles. The Allbirds also have moisture-wicking and odor-reducing insoles. The soles are made from castor bean oil, rather than petroleum-based foam, so by putting on a pair of Allbirds you're helping to lower carbon emissions. The soles also have a proprietary low-density blend that is designed t mimic the natural flexibility of your feet while also helping with cushioning and friction control.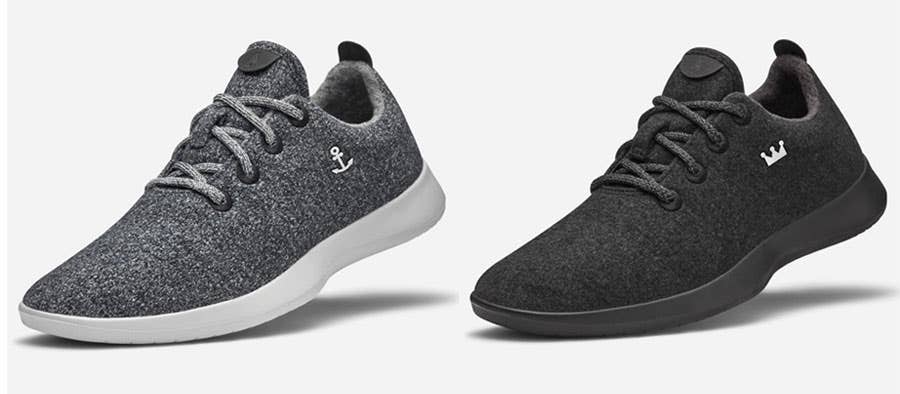 ---
Environmentally-Friendly Products That Give Back 
One of the easiest ways to support eco-friendly causes is through your shopping habits. More and more brands are partner with non-profit organizations to give back and donate to worthy causes. These environmentally friendly products are great gift options are a great way to win environmentally conscious consumers as well as helping out worthy causes. 
RPET Eco Fitness Towels
For your next promotional giveaway, consider ordering some RPET Eco Fitness Towels. Through their partnership with 1% For The Planet, one percent of RPETs sales of EcoSmart® products are donated to nonprofits dedicated to protecting the planet. The Eco Fitness Towel is also 100% recycled PET, meaning it is made from recycled plastics such as water bottles.
Parkland Peak Duffel Bag
The Parkland Peak 21.5 Duffel Bag is another great eco-friendly giveaway. The exterior of the Parkland bag is made with 100% recycled water bottles. The Parkland Peak Duffle upgrades the typical gym bag by adding flair and increased functionality. It features a large top-loading main compartment and a water-resistant base. Hitting the gym in style, and saving the planet, just got a lot easier with the Peak Duffle.
CamelBak Eco-Arete 18L Backpack
The lightweight and reversible CamelBak Eco-Arete 18L Backpack is one of the best packs on the market and great for the environment like the RPET. One percent of the sales are donated to nonprofits fighting to protect the environment. Add your logo in full color right on the outside of the main flap and your brand will go wherever they go.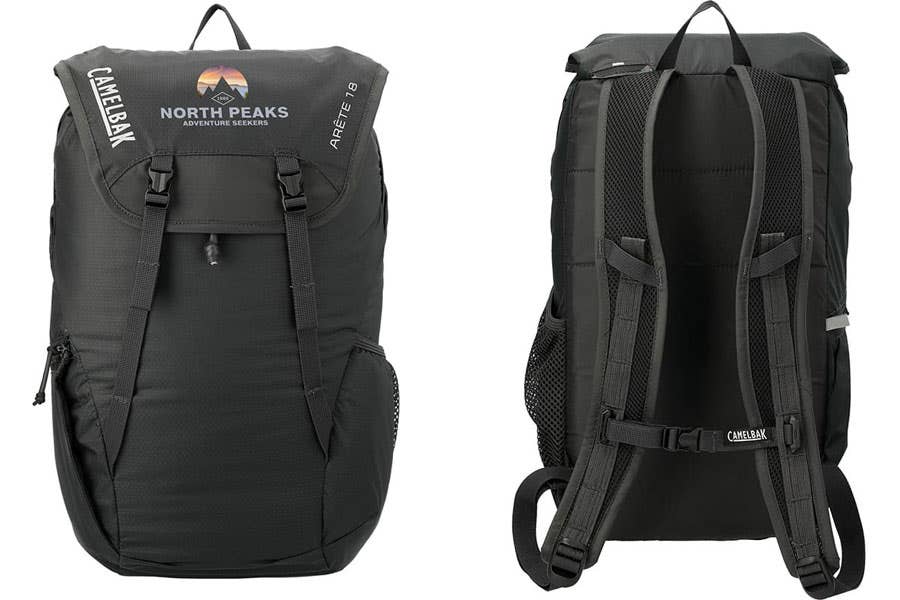 ---
Stylish Eco-Friendly Water Bottles to Stay Hydrated
This category is a natural one, as staying hydrated is one of the key components of staying healthy. Drinkware is one of the most popular types of promotional products, with nearly 4 in 5 adults having at least one such item. These eco-friendly water bottles are sure to be a hit with clients and employees alike and will keep countless disposable plastic bottles out of the landfill. They also have a wealth of custom branding options.
Welly Traveler Copper Vacuum Bottle 18 oz
Each Welly® Traveler Copper Vacuum Bottle 18oz has a unique natural bamboo wrap, so no two are alike! The Traveler also has tough double-wall stainless steel exterior and copper insulation, ensuring your drink will stay chilled for up to 48 hours or hot for 12. It also comes with a durable stainless steel infuser, so you can add whatever natural flavors to add some variety to your hydration regimen. The Welly's neck is wide enough for you to add ice cubes, and it fits snugly in most car cup holders. 
W&P Porter 20 oz Water Bottle
The W&P Porter 20 oz Water Bottle is another great eco-friendly water bottle. Its hardy yet lightweight glass will save on countless disposable plastic bottles, and its sleek silicone wrapping will protect it even if you knock it over.  It's also dishwasher safe and BPA free.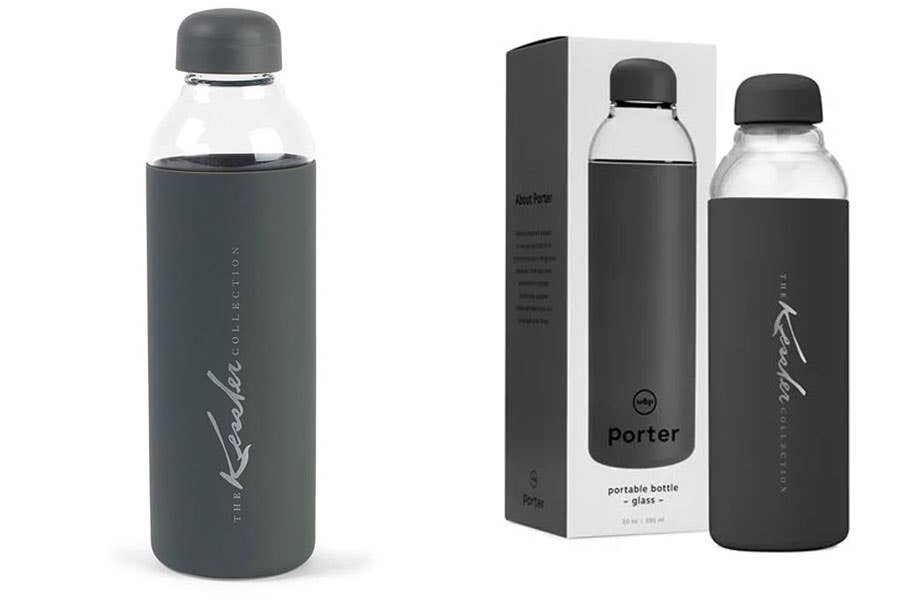 ---
Stay Green in the Break Room
Branded reusable lunch ware is not only an evergreen (no pun intended) way to promote your business – after all, everyone has to eat, but it is also a great way to reduce waste by cutting down on food waste and packaging, like burger wrappers and Styrofoam cups. The items below will help the recipient's ditch disposable plastics and eat healthy home-cooked meals whenever they are on the go. 
Bamboo Fiber Lunch Box With Cutting Board Lid
The Bamboo Fiber Lunch Box With Cutting Board Lid is a novel food storage piece whose bamboo lid doubles as a cutting board, so you can make your lunch at work fresh. Made from 50% bamboo fiber, 40% resin, and 20% corn flour, it's 100% eco-friendly.
Eco-Friendly Utensil Set
The Eco-Friendly Utensil Set is also a great option: made from 40% plant fibers, it's a green but inexpensive giveaway. Pair it with the Bamboo Lunch Box for maximum impact.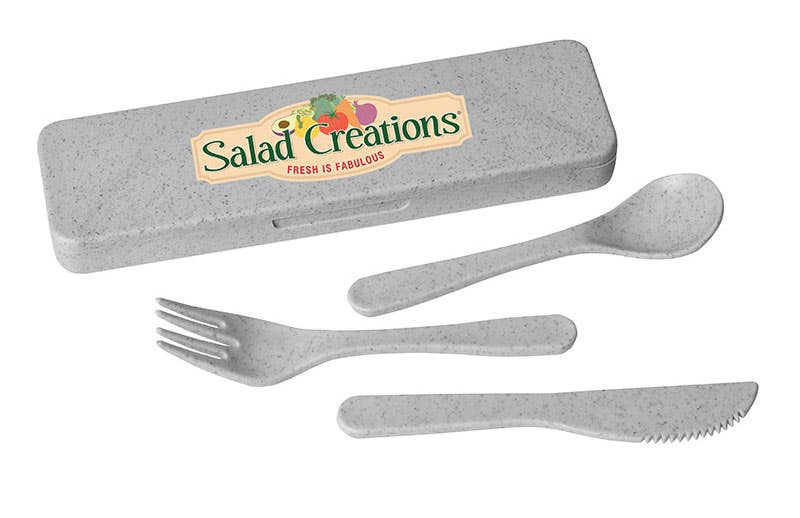 Midori Bamboo Tote
The Midori Bamboo Tote is an eco-friendly tote made with bamboo fiber fabric, which is all-natural and sustainable. Bamboo grows quickly and can thrive without fertilizers or pesticides, making it a perfect resource to harvest over and over again without hurting the environment. The Midori's interior print illustrates the Midori's sustainable bamboo harvesting story.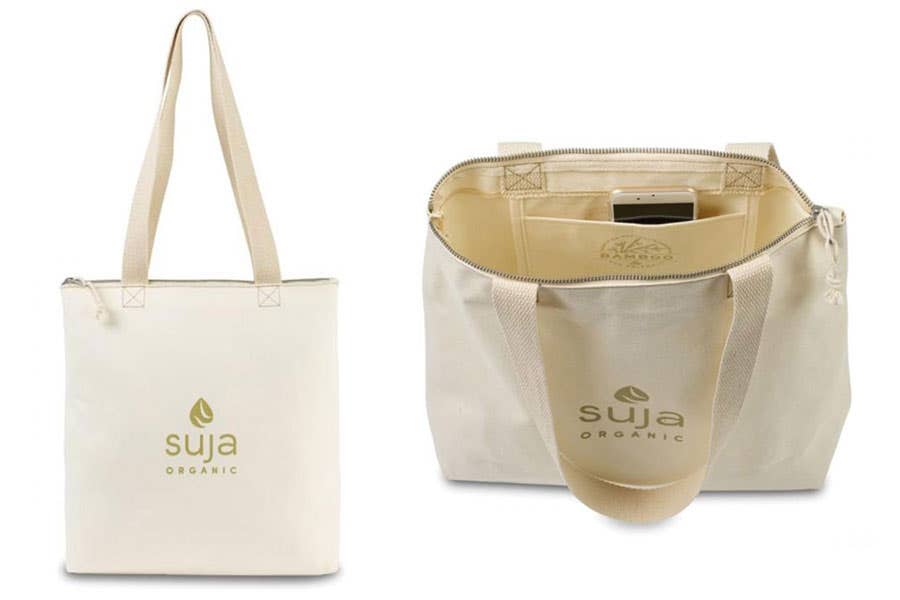 So, if you are thinking of going eco-friendly for your next promotion, we have everything from recycled-cotton totes to ultra-comfy apparel in our Eco-Friendly collection. It is your one-stop-shop for sustainable styles that foster healthy living. We can also send you a free digital mock-up of any of the sustainable products with your logo on it, and we offer regular and rush turnaround times. Contact us to get your green on today.