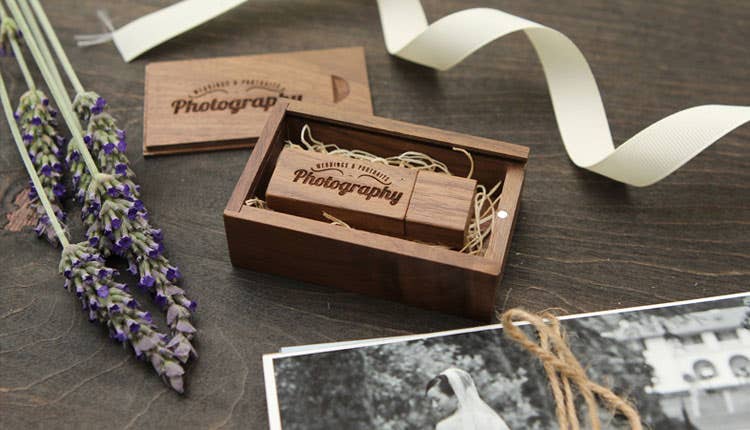 Custom Wood USB Flash Drives – An Elegant Choice for Wedding Photographers
Wooden USB Drives deliver that extra touch of class to an event
A wedding day is one of the most important events in anyone's life. Weddings are a great way to bring a lot of people together and for friends and family to have a ton of fun with each other. As such, it's not uncommon for brides, grooms, and family members to want to immortalize every moment of their big day.
That's where photographers come in. If you are a wedding photographer, you have probably considered using custom wood USB flash drives to deliver all those lovely pictures to your clients.
Indeed, there is no more elegant way to offer a gorgeous memento that encapsulates the bride and groom's joy. But, it's also a great way to ensure that they never forget your name or lose your number. While you might not think of custom wood flash drives as inherently promotional, they can certainly serve a dual purpose.
In addition to being a sophisticated opportunity to promote your photography business, wood flash drives are also decidedly convenient. They don't take a lot of expertise to use, and you can carry them around with you anywhere.
Of course, there are many great reasons to use a custom wooden flash drive, and we'll discuss a few of them below.
Types of Custom Wood USB Flash Drives
But, first, let's discuss some of the types of custom wooden flash drives you can use. First of all, you have a few different customization options at your disposal. At iPromo, you can choose between redwood, maple, walnut, and bamboo color finishes. This, of course, ensures that you get the look you need.
You can also have your logo or name either screen printed in color onto the drive or have it laser engraved directly into the device. Both options have their merits. Having your personal branding in color on the flash drive can really make it shine. But, an engraving provides a classic and elegant look.
You can also choose the capacity of the drive ranging from 256 megabytes to 4 gigabytes. You may even want to dress it up a little with a key ring attachment or lanyard. We also offer 4 distinct flash drive designs:
Berkley – The Berkley is a sleek option with a uniform wood finish on both the body and the cap of the device.
Carver – Similar to the Berkley, the Carver also contains a fabric necklace that allows it to be worn comfortably by the user.
Eco-Cork – The Eco mimics the cork of a wine bottle and is called the "Eco" because its production harms no trees.
Timber – The Timber is a unique design that doesn't have a traditional cap because it can swivel in and out of a base.
All of these promotional wood USB flash drives are perfect for wedding photographers because they provide the precise mixture of convenience and class. But, what else can they give you?
Flash Drives are Eminently Convenient
Most people getting married these days are going to have a computer of some kind. But, not all modern computers (especially laptops) have CD or DVD drives. Yes, what was once a brand new technology not all that long ago is now being outmoded by flash drives.
While photographers have used CDs or DVDs to hand out wedding photos for many years, there are obvious limitations. First of all, CDs are far bulkier than flash drives and not particularly easy to carry around. They also tend to have a limited amount of storage available.
On top of that, no CD can beat the stylish design of custom wood flash drives. And, while you can technically add branding to a CD, do you really want to when you can just as easily use a flash drive?
Flash drives are small, portable, and user-friendly. They can hold a wide variety of pictures and can easily be shared across different computers and platforms. It is no wonder that many photographers are ditching CDs for the obviously more convenient option.
A flash drive's user-friendliness is very important. Virtually everyone knows how to insert a USB drive into a computer. Your clients will certainly thank you for the ease with which they can view their wedding photos.
Durability and Usability are Key
While physical wedding photos are great (and probably still expected), they will always be susceptible to the ravages of time. Branded wooden flash drives, on the other hand, are safe and self-contained in their caps and will last for many anniversaries to come.
Likewise, CDs aren't the most convenient digital devices to keep safe. They can be more easily damaged and require more protection to keep safe than flash drives do.
Flash drives will survive many years beyond the initial wedding day. With custom wood USB flash drives, you're also giving your clients something nice to look at even before they plug the device into the drive.
So, even at the happy couple's 10th, 25th, and 50th wedding anniversaries, they'll still get a kick out of their custom wooden flash drive. And they'll also be reminded of what a good photographer you are.
Branded Wooden Flash Drives Have a Ceremonial Vibe
Although there are many other types of terrific custom flash drives available, they might not reflect the gravity of the occasion. Marriages are very formal affairs memorializing a couple's eternal love, and many flash drives simply don't have that vibe.
Wooden ones do. They have the right combination of minimalist pomp and utilitarian convenience that any wedding party is sure to enjoy.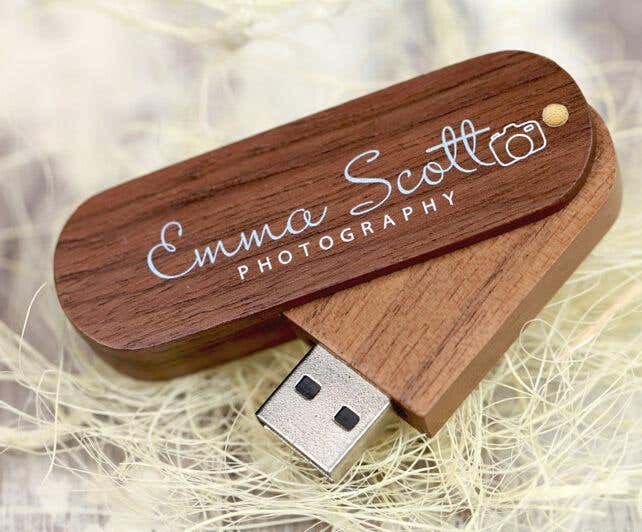 You can also take it one step further by delivering your drives with matching custom USB presentation boxes. These keepsakes will be cherished as much as the photos themselves and will keep the flash drives safe and sound.
Just think about it. When retrieving your wedding photos, would you rather grab a generic-looking USB flash drive from the closet or a nice, tailored box with an elegantly designed USB drive? Most people will opt for the latter. Indeed, either option is better than pulling out a CD in a paper sleeve.
It is important to provide an experience that meets the lofty standard of a wedding. There are very few USB flash drive options that can do that.
Promotional without Being Overbearing
Your name (or your company's name) will be front and center on these flash drives. That might seem like you're inserting yourself into an otherwise personal moment, but it will likely only serve as a pleasant reminder to the happy couple of what a good job you did. You may even want to add personalized information such as the bride and groom's names and/or the date of their wedding.
These drives are also likely going to go to more people than just the bride and groom. Family, friends, and loved ones may also want their own flash drives to commemorate the moment. With your branding on the devices, you're sure to drum up some extra business in the future.
On top of that, word of mouth spreads. Even if people don't ever lay eyes on your crafty little promotional wood USB flash drives, they may hear about you from friends and family who received one.
Online reviews can also go a long way. A wedding photographer who is lauded for their attention to detail and classy USB drives while likely be able to find more new clients in the future.
Even if you're not exclusively a wedding photographer, you can still earn new customers. And you can also continue the tradition of using custom wooden USB flash drives with your new clients if you so choose.
Surprisingly Affordable
Although you might think you would be priced out of using classy USB drives, you would probably be wrong. Costs in this case are not prohibitive. Even if you are expecting to hand out 100 individual flash drives, most photographers will be able to manage.
Of course, you will probably add that expense to some degree into the final bill anyway. So, really, if you want it to be, these flash drives can be cost-neutral. This even goes for the added cost of the presentation boxes you may choose to use.
On top of that, the recognition and praise you will earn is a great return on your investment. The opportunity to impress new clientele who know the bride and groom along with anyone who hears about your exemplary service is payment enough for many photographers.
The recognition and praise you will earn is a great return on your investment.
As a general tip, if you plan on giving out numerous flash drives for a single wedding, consider putting more personalized information like the bride and groom's names. If you're unsure how many flash drives you plan to give out, then stick with your own branding so that you can use any excess drives for future jobs.
In Conclusion
Clearly, photographers are beginning to realize the benefits of USB flash drives. Custom wood USB flash drives are ideal for many different events but most importantly weddings. You're never going to find another photo delivery method as elegant, convenient, and easy to use as a wooden flash drive.
Additionally, branding is always important. Would you rather have your name attached to a CD in a cheap paper sleeve or a custom wooden flash drive possibly in a chic presentation box? If you want to learn more, just talk to an iPromo promotions specialist. We can help you get the most out of any wedding experience.