Everything is Branded: Creative Swag For Your Office
Branding is everywhere, from the billboards on the side of the highway to the office of every Fortune 500 CEO. When we think of branding, we often have the consumer in mind. What do they think about the brand and how are their opinions shaping their interaction with it?
But, it's also important to look at internal branding. What do your employees think of your brand and how do they interact with it? If your office is just a blank canvas with no discernible corporate branding, then employees may have no real connection to the company at large.
It may also keep good candidates from joining your team and staying for the long haul. In fact, Gallup's 2017 State of the American Workforce study showed that 36% of job seekers identify branding and a company's reputation as "very important" when considering employment.
So, how do you reinforce the high-quality nature of your brand within the office? The answer may be to get creative swag with everything branded by your logo and color scheme. At first, this might seem like a purely cosmetic solution, but it can have real benefits to the overall cohesion and morale of the company.
So, how do you get everything branded and what type of creative swag is best for your office? Continue reading to find out.
The Benefits of Branding Everything
You might wonder why it's important to have branding on your products in the office. After all, slapping a logo on something doesn't necessarily create an effective company culture. But, good internal branding is major component of employee retention and overall morale.
Indeed, branding products around the office can foster a sense of connection with your company. It's hard to feel like a team if you have no sense of cohesion and togetherness. If the items around you are blank or hold no special significance, then you may feel as if you're working toward no common goal.
Colleges do a great job of branding their institutions by decking everything out in school colors and providing ample merchandise that allows students to show their pride. The same concept works in a corporate environment. Employees want to feel pride in their company, and branded products can facilitate that.
Having ample branded items around the office also keeps nondescript products or even products featuring other corporate branding out of your workplace. You don't want to come to work and see someone with a water bottle that has a competitor's logo. But, if you don't foster a sense of keeping everything branded, you risk your employees developing apathy toward your brand.
Feeling like you're part of a team also helps with productivity. You're naturally going to be more upbeat and motivated when you're in an environment that reminds you of your company's goals and values at every turn.
Most importantly, that sense of cohesion doesn't have to exist only in the office. In fact, many employees will end up taking promotional products to their homes, on their daily travels, and to business meetings with clients. Those items can continue the positive brand awareness for the employee while also fostering engagement with others.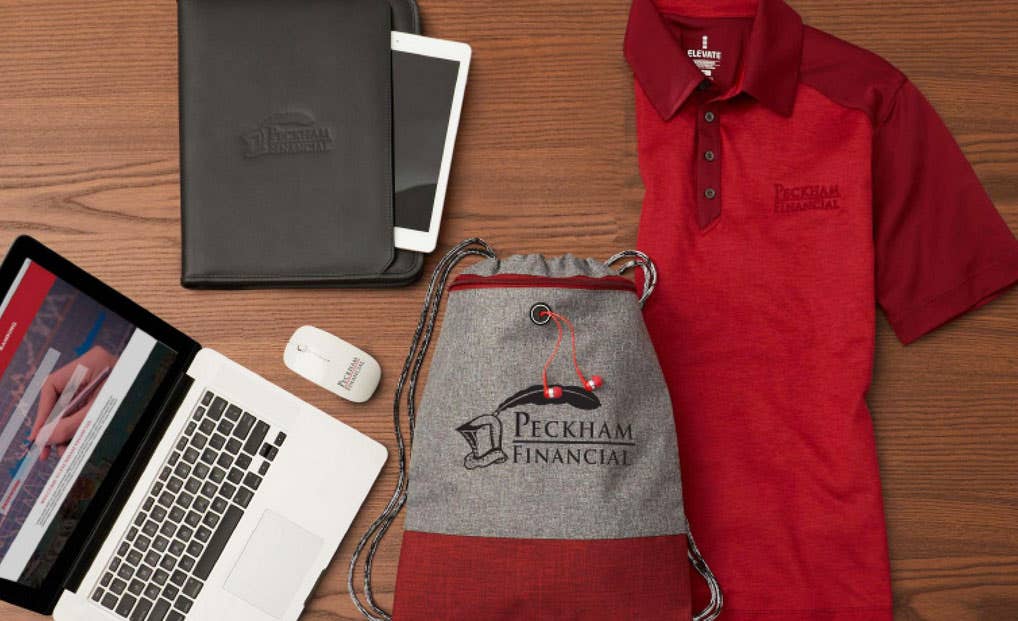 What Creative Swag Should You Get for Your Office?
There are countless products on which you could put your own creative branding. Obviously, part of your decision process depends on the nature of your workplace. A combination of functional and fun products is usually the best route. At the end of the day, you want your office to be full of branded products that foster cohesion.
On top of that, you can also use creative promotional products for corporate gifts outside of the office. You don't need to limit the branded items to the stuff you keep in the office. That's part of what we mean by keeping everything branded. Anything you use or give away should at least have your logo to keep your company fresh in the recipient's mind.
Office Supplies
Many companies opt to forgo any special branding on their standard office supplies. After all, you can buy a box of pens at a department store and simply go on with your day. But, there is nothing particularly interesting about a blank collection of pens. If you end up getting all your accessories at a department store, you're missing an opportunity to build your brand.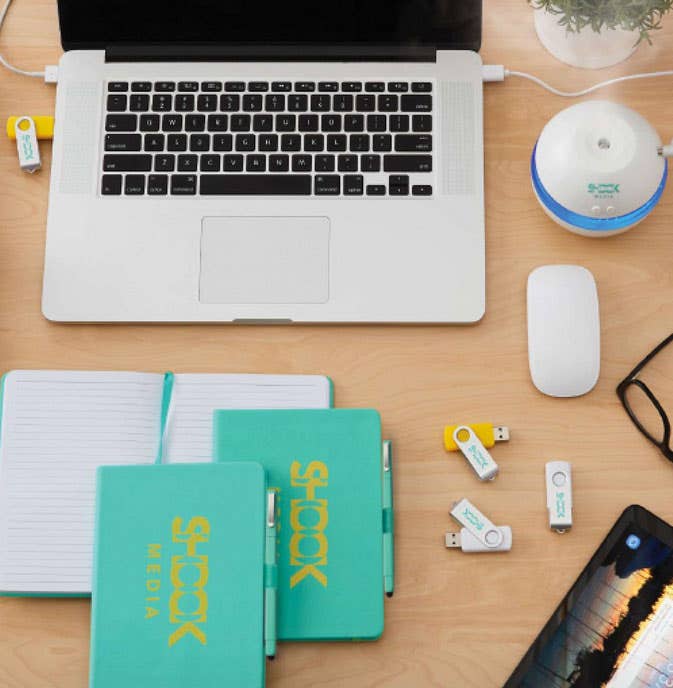 In addition to pens, some other office supplies that can be both functional and creative include:
The best part about many of these items is that you can be as creative as you want with the designs. For instance, you don't have to limit yourself to having just your logo on a mouse pad. You can put a design that is aesthetically cool and brand appropriate. Even less integral office tools like stress balls or business card holders can feature your unique branding.
Creative Clothing
Branded clothing is a great way to give your employees a de facto uniform that they can wear inside and outside the office. Again, you can let your imagination run wild with the designs on your apparel. Anything that fosters engagement and inclusion with your employees and potential clients is a great move.
Shirts are usually the first apparel item that many companies look to giveaway to their employees or prospective clients. But, you can also with something a little warmer like heavyweight fleece sweatshirts or even jackets.
If you really want to associate your brand with quality, you can even opt to put your logo design on some of the best brands in the apparel industry. Nike, Under Armour, and Carhartt are just a few major brands available. They can really give your branded clothing a boost.
Get with Tech
Tech products in the office are a must have, and those products might as well feature your branding. Items like USB flash drives can be used for a number of different purposes both in the office and as marketing tools aimed at customers.
Likewise, power banks are increasingly becoming an important accessory in any office. Obviously, employees aren't always in the office where plugs are ample, and a power bank can help keep them connected to the day's business no matter where they're at. A branded power bank also works as a great gift that can boost morale and foster brand connection.
Headphones are also a great tech item that can often be seen in the office. Workers frequently need headphones when communicating with clients (perhaps on a video chat). You can even go with a fancy brand like Bose to really get the best audio quality.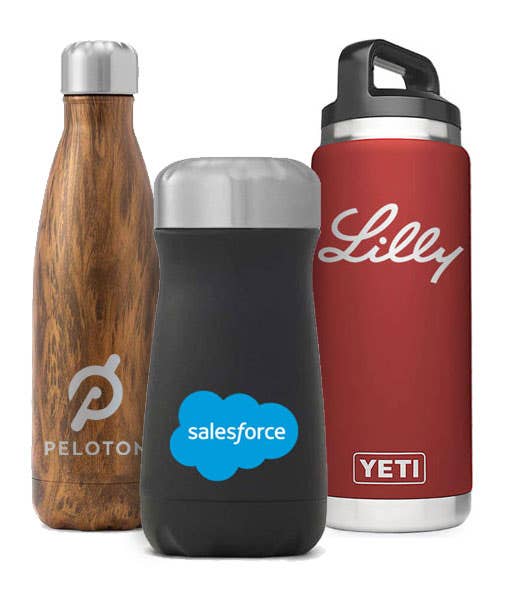 Let Your Employees Drink in Style
The office is often full of drinkware. If you want to get everything branded, it's important to fill your office with drinkware that features your logo and designs. One of the more ever-present drink holders is the classic coffee mug. Your office's break room is probably full of them, and some branded cups can really enliven the mix.
Many people also like to comfortably bring their drinks around with them, which makes water bottles an ideal option as a promotional product. Employees are likely going to be bringing water bottles to work anyway. So, you might as well have a new, branded option available to them. Water bottles are also good gifts for giveaways to both clients and employees.
What's one step up from a water bottle? A tumbler! Tumblers are designed to keep drink hot drinks hot and cold drinks cold. They are also frequently used in an office setting by individuals who want to bring their own coffee or other drink to work.
What Else Can You Brand in the Office?
Company branding doesn't have to stop at the essentials. There are countless other products and items that you can put your corporate stamp on if you so choose. For instance, does your company have an on-site gym? Why not offer branded yoga mats or other exercise equipment to your employees?
Of course, not every company has a fitness center on campus. But, it's almost certain that every company can make use of bags, backpacks, briefcases, or other assorted carriers in some way. Almost every employee needs to carry something to work and you can help them feel like they are a part of the team with a branded backpack.
Think about it. What is going to make an employee feel more connected to their workplace: a laptop bag they bought at Target or a laptop bag their employer gave them with the logo prominently stitched on? It's almost certainly the latter.
Final Thoughts
There are endless options when it comes to branding products for the office. The point of all of this is to ensure that your company culture and the pride associated with it stay in the forefront of your employees' minds when they are at the office, on the go, or at meetings with clients. If you want to work toward getting everything branded while also selecting some creative swag, contact us today to get started right away.