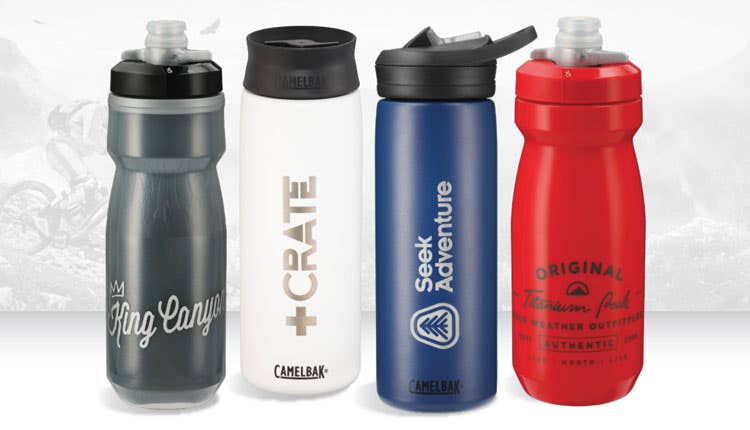 Your Personalized Guide to The Best Custom Water Bottles
Reusable water bottles have seen a huge rise in popularity as they continue to replace plastic water bottles. More and more people are seeing the detrimental results that plastic has on the environment. A single plastic water bottle can take up to 1,000 years to break down. Even if everyone recycled their plastic bottles, over 100 million are used each day. That number contributes to the over 8 million tons of plastic being dumped into our oceans each year.
---
---
Water bottles are a great reminder and motivator to get you to drink the recommended eight glasses of water each day. Human beings are composed of around 60 percent water, which proves just how important water is to our everyday lives. 
Custom water bottles aren't just efficient, affordable, and great for the environment—they're also something to show off! Lots of people have a favorite water bottle that they toss in their backpack every morning for the day ahead. 
It's also worth mentioning that if people are bringing reusable water bottles with them everywhere they go, that's a great marketing opportunity you don't want to miss out on! Supply your employees and clients with custom water bottles so your brand gets visibility every time one of your associates takes a sip! 
The Different Materials of Water Bottles
Custom water bottles can be made from a variety of different materials. Stainless steel, glass, aluminum, and plastic are the most popular types of bottle materials, each having their own pros and cons. However, the only thing you definitely don't want in the makeup of your water bottle's components is BPA. BPA is a chemical commonly found in disposable bottles and can interfere with your body's hormones (which is another great reason to go reusable).
---
---
Stainless Steel: is durable, long-lasting, and can be recycled once you feel it's time to get a replacement. Most are dishwasher safe unless stated otherwise. Stainless steel bottles are great insulators, meaning warm drinks will stay hot and cold drinks will stay cool. They're great for those who like spending time outdoors on a regular basis. The only con is that they're often heavier than aluminum or plastic.
Glass bottles: can hold both hot and cold liquids with ease. They won't absorb color or taste, regardless of the number of times you've used it for iced coffee. They are almost always dishwater safe. Glass water bottles are great options for those that are less active. The cons of these bottles are that they're often breakable, heavier, and pricier than all the other options.
Aluminum: is lightweight and recyclable once you need a replacement. The cons of aluminum bottles is that they dent easily and will heat up in hot temperatures.
Plastic: is the most affordable option on the market. They're easy to clean, lightweight, recyclable, and can usually be placed in the freezer. These are the perfect bottles for children because they are unlikely to crack or shatter.
The Ultimate Guide to Custom Water Bottles
This list is filled with custom water bottles that are on-trend this year. They include bright colors, reliable brands, and multi-function water bottles that will ensure your company keeps up with the latest and greatest.
S'well 12oz Stainless Steel Travel Mug
Looking for the perfect travel water bottle? The S'well 12oz Stainless Steel Travel Mug is just the right size to bring with you on the go. The wide mouth is optimal for stirring and adding ice cubes to your favorite drinks. S'well is an extremely reliable brand and provides vacuum insulated bottles that are 18/8 stainless steel. Their bottles are also BPA-free and condensation-free, meaning the exterior of the bottle will remain dry, even during drastic temperature changes.
These logo water bottles can be easily customized to suit your brand's needs. The logo can be screen-printed or laser-engraved onto the side opposite of the S'well logo. Production time for these is around 15 to 20 days to print your logo and ship. Available colors include on trend onyx and teakwood.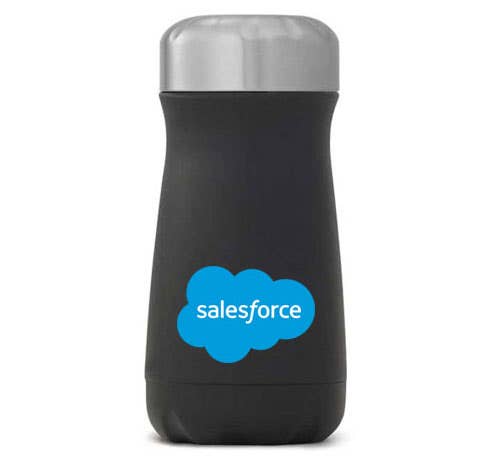 ---
20oz H2Go Relay
Another reliable brand, H2Go offers the 20oz H2Go Relay. This stainless steel thermal bottle comes copper vacuum insulated with a matching threaded lid and spout. The loop at the top makes the bottle easier to carry. The great thing about these bottles is that they come in a wide variety of trendy colors. These include white, red, orange, lime, aqua, navy, and black, each with a matte finish.
These water bottles in bulk can be customized to your liking. Your logo is screen-printed onto the side of the bottle or wrapped around the entire surface. It's recommended to hand wash these bottles to ensure the finish stays intact.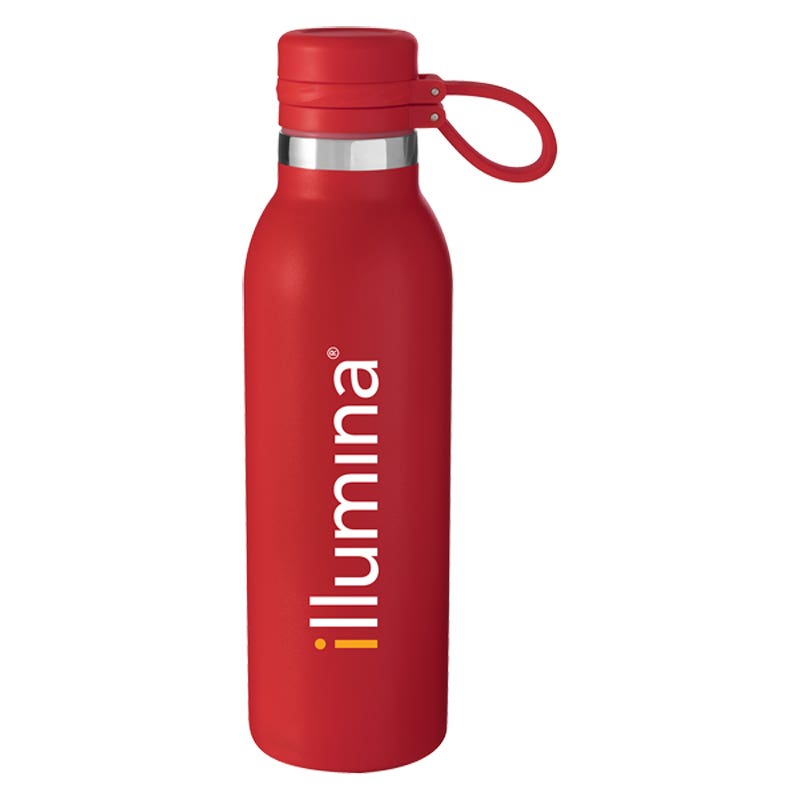 ---
CamelBak Chute Mag VSS 20oz
CamelBak is one of the most highly rated water bottle companies on the market today. Their durable designs, including the CamelBak Chute Mag VSS 20oz, stand above the rest. This bottle has a double-wall with 18/8 stainless steel and vacuum insulation This ensures that hot or cold drinks will stay that way for up to eight hours. They are on-trend with a durable powder finish.
The wide mouth makes it much easier to drink out of, as well as easy to clean and fill. The carry handle will keep the cap out of your way while drinking. This bottle is available in the colors cobalt, jet, and white.
These custom logo water bottles are designed to promote your brand better than ever before. Your artwork is screen-printed onto the front of the bottle. It takes around three to five business days to produce, which makes this water bottle perfect for rush bulk orders.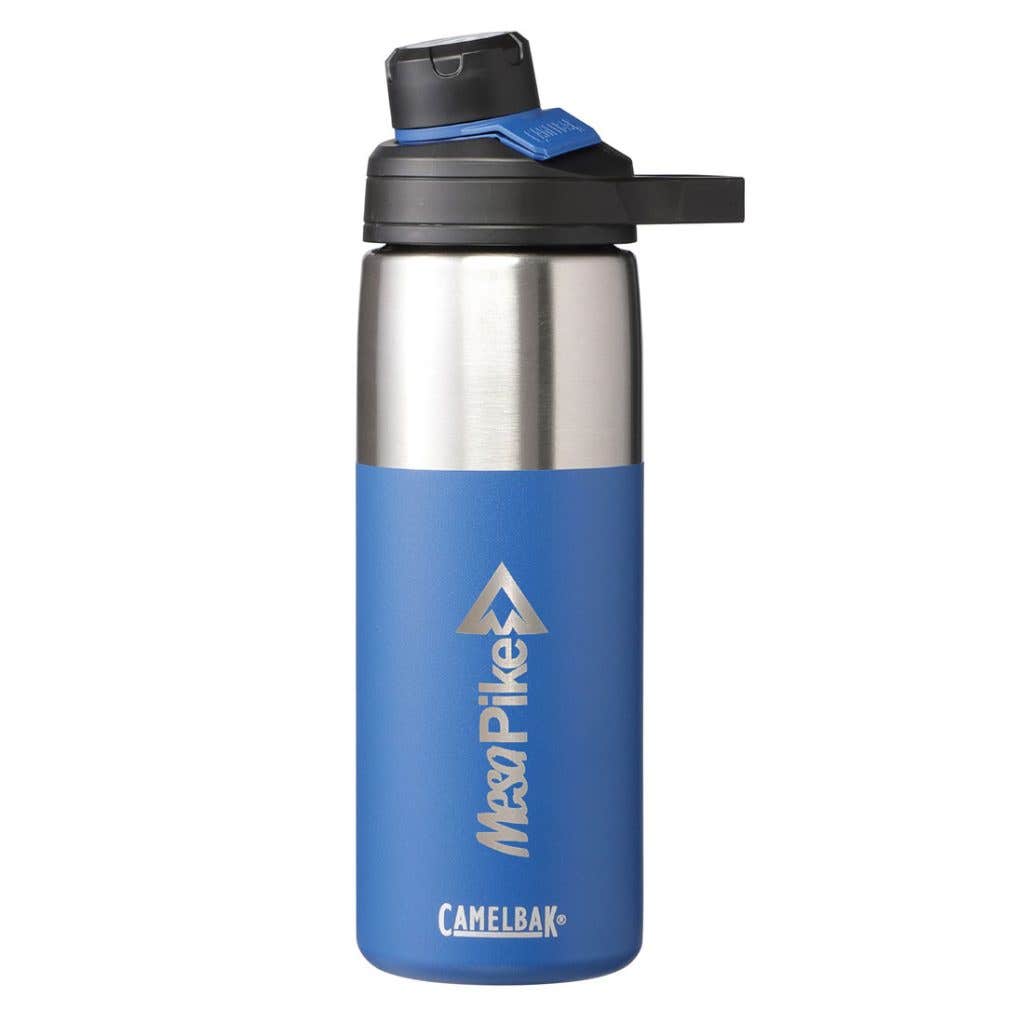 ---
The Patagonia Water Bottle
Instead of having a stainless steel bottle, try something that's a little more lightweight. The Patagonia Water Bottle is made of aluminum and can hold up to 28 ounces. If you plan on taking a day trip somewhere, this bottle is more light-weight than the other mentioned in this list. The screw-on lid ensures that no water should leak out.
Like any great reusable bottle, having a personalized water bottle ups your game even more. This sleek design comes in four colors: silver, blue, red, and white. Plus, your logo can easily be screen-printed for an added touch of customization. You can place your design on both sides of the bottle or have it wrapped around the entire thing. Ultimately, it's up to you to choose which design you like best.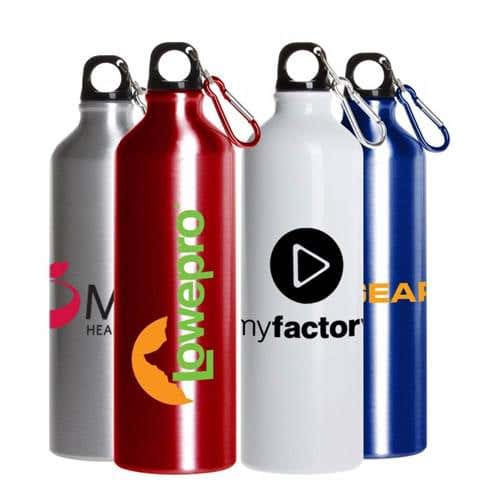 ---
24oz Thermos Connected Hydration Bottle With Smart Lid
Having the latest tech is so on-trend. There are several water bottles on the market that allow you to monitor your drinking levels like the 24oz Thermos Connected Hydration Bottle With Smart Lid. This bottle can measure the amount of water you consume, as well as keep track of the temperature of your drink. You can set a hydration goal for yourself based on a daily, weekly, and monthly basis.
If you're worried about battery life, there's nothing to stress about. This bottle's battery can last up to 12 full days without a charge. You can pair it with most Apple devices to get your reports. The sensor tube is what reads the temperature and volume levels of the liquid inside.
You can get these bottles fully customized. Your trendy color options are turquoise and smoke. The screen-printed logo has several options to be placed, including the upper front, the back, and the left of the bottle. It takes around seven business days for this product to arrive.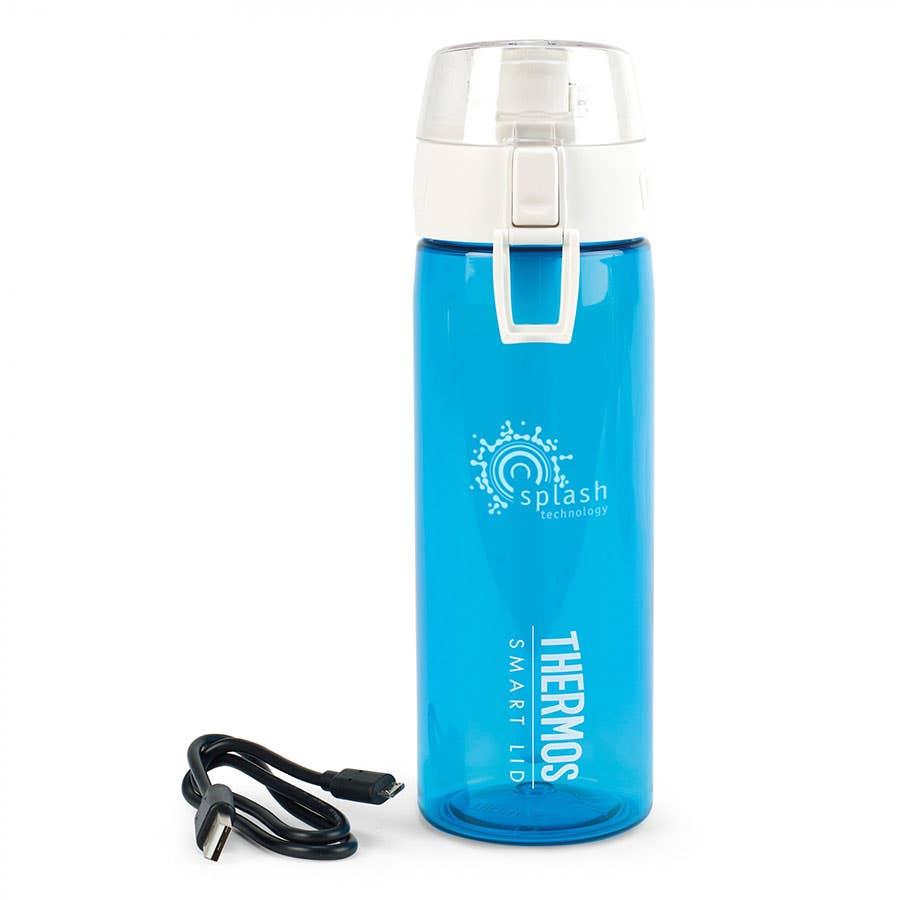 ---
19oz Yoli Glass Bottle
Although glass bottles are a bit heavier in weight, they make up for it in design. The 19oz Yoli Glass Bottle comes in a few bright colors like aqua, lime, and royal, as well as gray. These custom water bottles have a silicone sleeve to protect the glass and to help keep your drink a good temperature. They also include a straw and an easy flip lid, making this the ideal bottle for working up a sweat.
You can order this personalized water bottle with a screen-printed logo that can be placed wrapped around the entire bottle or displayed on one or two sides of the bottle. It can take around five working days for these bottles to be produced.
---
Manna 28oz Tritan Speaker Bottle
Another multi-functional water bottle that has made a name for itself is the Manna 28oz Tritan Speaker Bottle. This bottle includes a Bluetooth speaker that is great for long hikes. The speaker is built into the lid and has a range of up to 30 feet. The lid has a carrying handle that makes the bottle easy to hold, which also includes a color-changing strobe light. These bottles are BPA free and have a battery life of up to four hours.
The screen-printed design can easily be displayed on the front of the bottle to show off your trendy gear. You will need to order these five to ten working days in advance in order for the product to be produced in time.
---
Each and every day more people are adding reusable bottles to their daily routine for health or environmental reasons (or both!). Regardless, it's proof that people are becoming more aware of their surroundings and taking on healthier lifestyles.
For businesses, this is what makes custom water bottles so effective. You can easily reach a much wider audience this way than with most other promotional products. If your brand's customized water bottle was swapped into the rotation, your company could be represented on hiking trips, sporting events, and the daily lives of your employees and patrons. In a world filled with brand representation, why not put your logo on the thing nobody can live without? Reach out to iPromo today to get started on a quick quote and we'll send you a free preview of your design on your water bottles of choice.