How To Run An Impactful Breast Cancer Awareness Month Campaign
If you're looking to run a meaningful breast cancer awareness month campaign, then look no further. Here are some great tips to help plan out your strategy for maximum impact, and most importantly, getting everybody to "THINK PINK"!
What to Do
Share A Story
This is your chance to share a cancer-related story that can help to move and inspire those close to your organization and beyond. Whether it's from a survivor, a family member, a medical professional, a caregiver, or someone else who has been touched by cancer, all of these stories deserve to be shared. If you do a Google search of Breast Cancer Awareness Month, you'll see endless examples of organizations sharing stories through blogs, videos, and other platforms. Once you upload your story, you can be proud to be another voice in this fight against breast cancer.
Think Pink
Pink has become forever tied to breast cancer awareness, and this is a great place to base your campaign and branding around. Some organizations will change their logo or change their website and social media pages to include pink accents for the duration of the month. These days you could opt for a pink zoom background or something similar. Many workplaces hold a pink day to help encourage people to get involved in the fight against breast cancer.
Raise Donations For Good
This is the perfect time to do some fundraising to help the fight against breast cancer, and every little bit helps in this battle. You can hold a raffle, a talent show, or some similar event, or you can just make a workplace donation as a group. Large corporations make massive donations this month, and smaller businesses can make equally valued contributions as well.
Helping To Build Awareness
This is a fantastic start, and you'll have gotten all of your employees involved and fired up to make a difference, but now the question becomes, how can you help your customers and clients to think pink? There are a lot of things you can do right at your business. Pink decorations are a great way to reach out to anyone coming into your place of business, and you'll be making a direct impact on everyone who walks through your door.
Marketing Campaigns
Consider tweaking advertising for the month to make references to think pink breast cancer awareness. This is a great way to help make impressions while also letting people know to get involved with breast cancer awareness. This is a great way to help others while helping yourself, and all you need to do is add to the advertising you're already doing, or simply add as a secondary message on all October email campaigns. This is one of the most effective ways to help people to think about pink breast cancer awareness.
Breast Cancer Awareness Promotional Products
Custom breast cancer awareness items are one of the absolute best ways to help raise awareness for breast cancer during this month. If you've been out in October before, then you've surely seen the rows and rows of pink products on store shelves. Businesses know that this is the best way to help raise money and awareness to aid in the fight against breast cancer. If you're looking for some great promotional products, consider one of the following for your customers.
Metallic Sun Ray Sunglasses                
These glasses are the perfect thing to use for promotional products. If you're looking for breast cancer awareness, promotional products, then look no further. These sunglasses come in a beautiful pink that will help your clients show their support while looking great. This promotional product will be a great selection to add to your repertoire. 
Merchant & Craft Revive RPET Waist Pack Backpack
This backpack is sleek and stylish and will be even more memorable with your branded pink logo on it. This is a very practical item, so your clients will carry it with them everywhere they go, allowing your logo to make tons of impressions and for them to help people everywhere think pink.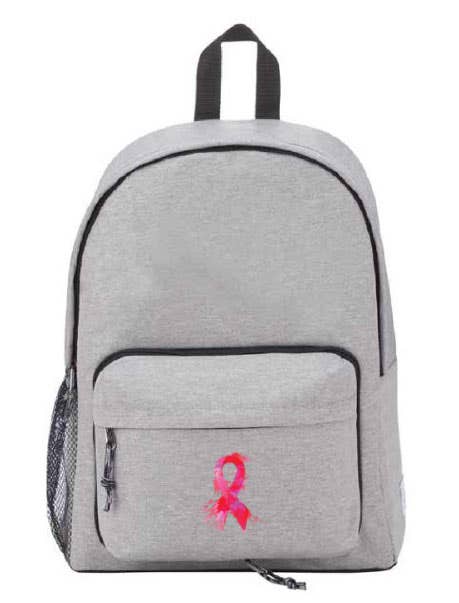 Bodie Short Sleeve Tee
This is the perfect tee to use for your breast cancer awareness promotional products. This gorgeous short sleeve tee looks great in pink and has room for branding on it. This shirt is a great way for people to show their support for breast cancer awareness.
Buffalo Plaid Fleece Blanket 
This is a beautiful fleece blanket that can make an excellent promotional product. There's significant room for branding front and center, and it will make a lot of impressions as people curl up with it.
Sherpa 11-oz Vacuum Tumbler and Insulator
This is a great way to help spread awareness. People will be making plenty of impressions while they enjoy their drinks. This fantastic tumbler will make a great impression on whoever you gift it to, and they'll be using this quality product for years to come. 
Nash Ballpoint Pen
This pen looks great in pink, and you'll be helping people make pink impressions wherever they go. Pens are always a great budget friendly promotional giveaway and can be a great addition to any breast cancer awareness campaign.
Neon Bungalow Foldaway Tote
This tote will help your customers and clients to cut a pink figure while they're out shopping. It's a fantastic way to give them a gift that will be both practical and meaningful. Everyone needs to head out shopping from time to time, and they might as well spread awareness while they do it.
Tremblant Knit Jacket
This high-quality knit jacket is perfect for the coming autumn weather, and your clients can enjoy the crisp weather while they make a difference. 
In Summary
We all want to do our part to help raise think pink breast cancer awareness, and hopefully, you're able to implement these tips to make your own personal impact on the issue. Breast Cancer Promotional products are a fantastic way to make a difference, and iPromo is here to help make your campaign a huge success!