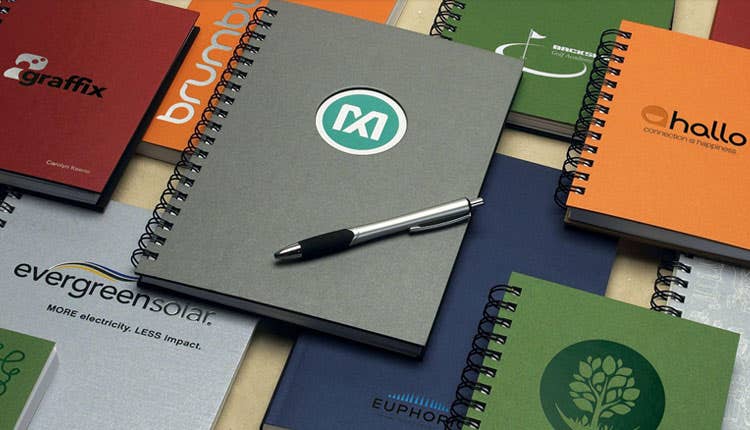 Ideas for Promotional Notebooks & Custom Printed Journals
Custom notebooks and promotional journals are both affordable and practical. What's not to love?
Practical Everyday Items That Everybody Will Love

According to the latest 2019 Global Ad Impressions Study quality and utility rank in as the top two main reasons that people are likely to keep promotional branded items. When it comes to our incredible selection of promotional notebooks, notepads and journals, you can hit all the bases with the type of practical and attractive promotional swag that people will actually use.
The best part about these highly utilitarian types of branded products is that promotional notebooks and custom notepads are type of gifts that actually help your employees work better by facilitating productivity and efficiency. For example, a recent study found that the use of notebooks actually helps to improve communication between nurses and patients.
When your employees use your notebooks to get organized, they will also be generating loads of positive exposure for your brand. These highly portable and durable items are designed to go anywhere, and wherever they are being used, they are generating impressions.
The Best Variety of Handsome Custom Notebooks for Work or Home
When it comes to promotional notebooks, we have everything you and your employees need to truly make your mark.
For instance, maybe you are looking for something fresh and contemporary? If so, be sure to check out this 5 x 7″ Cork Bound Notebook. It features an innovative cork-like hardcover format that will make your color screen printed logo pop and is bound to turn heads. These stunning promotional notebooks come complete with a strap for safe-keeping and color-matched bookmark, and prices start as low as just $2.75 a unit.
That said, anybody who wants to keep it cost effective and practical need not sacrifice class or style with these lovely 3 x 5 " Cannon Notebooks. These 30-page lined custom notebooks come in a full range of eye-popping color palettes and feature an eye-catching soft leatherette cover that is the perfect palette to use our high-quality notebook printing to bring your unique logo design to life. The best part is that they start at just $1.05 a unit when you order 2500 or more. That's more than a 42% saving of the base price, so don't be afraid to stock up!
If you want to give the type of promotional notebooks that will really leave an impression, you don't want to miss out on these innovative pocket-sized Canvas Refillable Notebooks. Nobody will ever want to throw out this sublime textured canvas cover, and the best part is that they never have to. This one-of-a-kind promotional notebook is fully refillable, and that means tons of added use-value and countless extra impressions for your gorgeous logo design. It even comes complete with a built-in front and back pocket for storing cards, receipts and other useful information. With prices starting as low as only $3.49 a unit, it is a small price to pay for the type of gift that keeps on giving.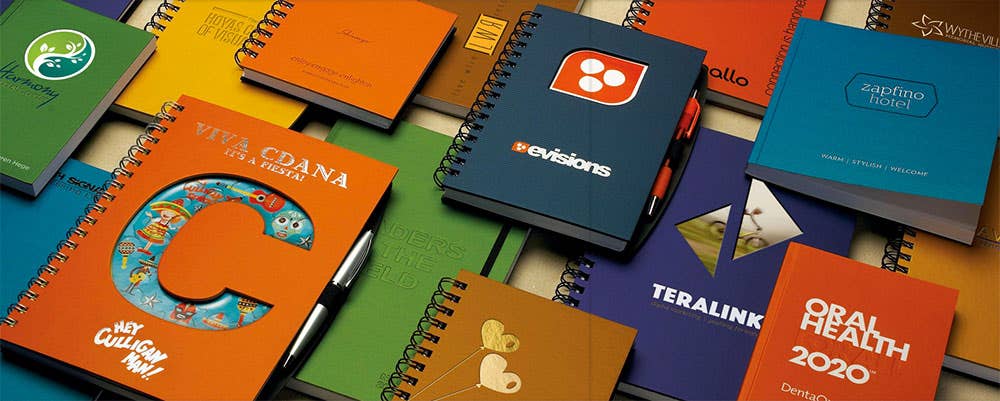 Get Organized With Attractive Promotional Notepads
Notepads with a logo are the perfect way to generate workplace productivity in a way that will leave a lasting positive impression of your brand. It's really that simple.
Whether you are looking for personalized note pads, branded note cubes, promotional sticky flags or anything in between, we have everything you need to stock up on the types of memorable office party, trade show or promotional giveaway items that people will remember.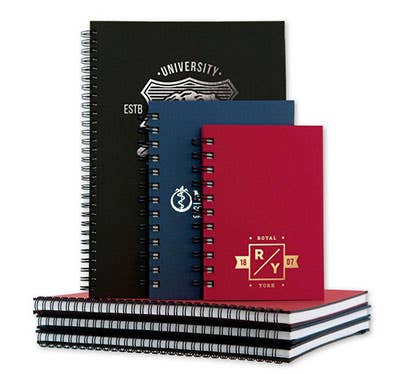 Here are just a few examples of the great variety of innovative products that we have in store.
Note Pads
This Bic 6 x 9″ 25-Sheet Large Adhesive Notepad features a compact weekly planner on every page. The perfect way to sum up the week, these handy sheets can easily be stuck to a fridge, desk or anywhere else. When the week is over, just toss it out and start a new one. For just $1.44 a unit you will ensure that everybody will stay track and remember your brand while doing it! This type of low cost and practical item makes the perfect promotional giveaway or trade show gift.
Want to give an eco-friendly gift that keeps on giving back to the planet? These Bic Ecolutions 25-Sheet Scratch Pads feature a bright clean format made from recycled paper. These cheap personalized notepads are the type of giveaway item that will leave a positive impression in more ways than one. Studies have found that 42 percent of people will be given an even more positive impression of an advertiser if they receive a promotional product that is environmentally friendly. Talk about a win-win!
Note Cubes
These super cute 30-Sheet Avocado Sticky Pads are available is a range of fun colors and features a fun avocado design motif that is bound to turn heads. With prices starting as low as only 79 cents a unit, there is no need to hold back on giving these promotional notepads away!
The fun doesn't need to stop there. We offer a fantastic selection of Bic Adhesive Die Cut Notepads in a wide range of fun shapes. You can choose between 25, 50, and 100 sheet formats to suit your budget and your needs. Prices start at just 57 cents a unit and include notepad printing that will bring your logo to life.
Sticky Flags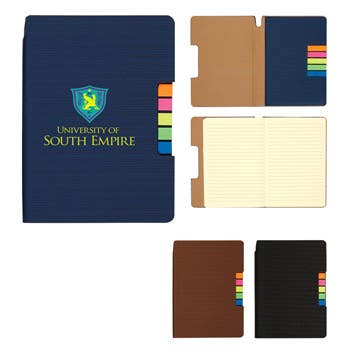 This one-of-a-kind all-purpose 3 x 5 " Jotter comes complete with both sticky notes and flags and to organize and tackle any project, big or small. Featuring a range of stunning colors, you can choose to have your logo custom printed in color or delicately embossed. You only need to order a hundred units, and prices drop as low as $1.75 per notebook for larger bulk orders.
Meanwhile, for anybody who wants to keep it simple and sustainable, these classy Eco Aware Flag Books are easy on the planet and easy on the pocketbook. This environmentally friendly gift is the perfect way to remind people that your brand cares about the big picture. The best part is that the prices for these cheap personalized notepads start as low as just 21 cents a unit.
Want to find a good way to keep sticky pads from getting damaged with the ultimate durable storage solution? This Deluxe Sticky Note Organizer is the all-in-one compact way to get organized and get on track with those projects. This kit comes complete with four 50-page sticky notepads, a full set of sticky note flags in eight different colors and a four year removable organizer calendar. Everybody will love the convenience and durability of this handy keepsake. You get to choose between displaying your logo with high-quality colored screen printing or debossing, and prices go as low $4.95 an item.
Keep the Memories Alive With Gorgeous Promotional Journals
Promotional journals are not only a cost-efficient giveaway item, but they are a great way to build positive associations with your brand. After all, a journal is a place where people store treasured memories. Now, every time they open this special book, they will remember your company too.
We carry an outstanding selection of promotional journals so that you can find the perfect way to make a positive impression on your clients and employees.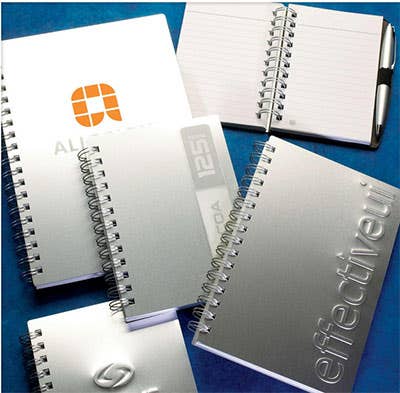 For example, if you are looking for a good way to make a subtle statement, you need to check out this lovely 5 x 7" Metallic Strip Journal. This gorgeous 80-page lined notebook comes complete with a matching pen loop and bookmark so that everything you need to write will always be right there. The understated white background and sublime metal striping design will delicately bring your brand to life. Even better, prices start as low as $3.35 when you order 2500 units or more.
Meanwhile, the 5 X 7″ Gradient Finish Journal is the perfect way to make your brand pop with a soft splash of color. People will love this one-of-a-kind stylish design featuring a strap for to prevent wear and tear as well as a pen loop, bookmark and colored paper edge. What better way to make your mark than giving your employees a perfect way to make their mark? This is the type of eye-catching design that people will love to show off to their friends, and with prices starting as low as just $3.15 per unit, there is no need to break the bank to make a statement.
The Possibilities Are Endless
When it comes to such a practical and affordable promotional item, the sky's the limit in terms of how you want to go about distributing these gorgeous gifts. Here are just some of the many ways that you can use customs journals and notebooks to generate positive exposure.
Trade show giveaway items
Promotional giveaways
Office gifts
Workplace incentive programs
Hiring fairs
One of the best things about custom notepads, notebooks and journals is that they are so cost effective, making them the perfect giveaway item. Promotional notebooks are so handy that people will take them everywhere they go, and this means you get generate a huge amount of impressions for your brand all for just a small investment.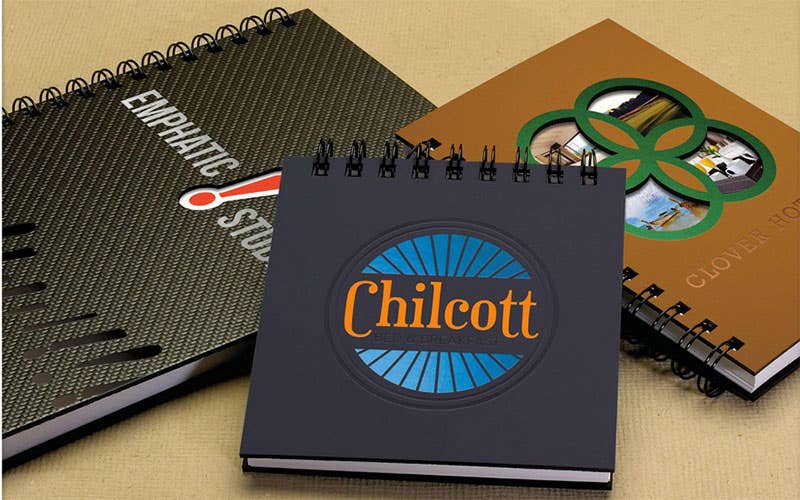 Let's Make it Happen!
Whether you are looking for a way to keep memories alive, get organized or simply just maximize convenience, here at iPromo, we have got you covered.
We not only pride ourselves in offering the best selection of notepad printing and notebook printing options at the most competitive prices, but we will also go above and beyond to help you bring your brand to life. Whatever it is you can dream up, we will work with you hand-in-hand to make it happen. We even offer 24-hour rush delivery on select items. Reach out to us today and let's get started!