Top 7 Concert & Festival Giveaways + Pitchfork Case Study
The start of summer means the start of festival season for most of the world. Concerts, music festivals, outdoor activities, and the like are popping up around everywhere. Each of these events provide a special opportunity for marketers to get their brand in front of the younger demographics in an environment they trust.
Pitchfork Music Festival
The Pitchfork Music Festival is one of Chicago's premier music festivals held in Union Park for the past 15 years. Home to more than 40 acts Pitchfork showcases some of the top performing artists and helps emerging artists break onto the scene.
The diversity of the audience at Pitchfork provides unique opportunity for marketers. Festivals are not recognized as a traditional marketing space. When a brand partners with an event of this type end-users associate the brand with the feelings elicited from the event.
Using Festival Giveaways and Concert Promotions to Drive Brand Awareness
Social: Festival Insights 2017 report indicates that the biggest demographic of festival goers in 2017 were between the ages of 18-30 years old. People within this age group are some of the heaviest social media users in the world and enjoy sharing their experiences with their friends through social apps.
Connection: Some of the main reasons why people go to festivals is to socialize with friends, meet new people, see their favorite artists, and escape from the drudge of day-to-day life. Any brand handing out festival promos and concert giveaways is able to connect and form a relationship with attendees, their friends, and the people of their extended social media group providing an opportunity for marketers to reach potential customers in a unique way.
The Products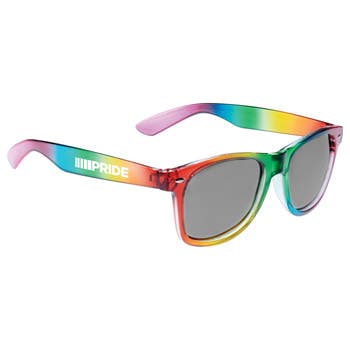 1. Sunglasses: Promotional sunglasses are a festival essential. Easy to carry around, stylish, and protective, they provide a range of uses when at the festival and long after it has finished. A wearable for the face generates massive exposure for a brand and sunglasses are always hit for any outside event.
2. Ponchos: Forever unpredictable weather means that festival goers must be prepared. When they're not it creates a unique opportunity for brands to step in and help with custom ponchos.
3. Sunscreen: If it's not raining chances are the sun is shining. Festival attendees will want protection from the hot sun as they're enjoying the event, branded sunscreen is a great way to gain exposure and show concert goers you care about their health.
4. Fanny Packs: Back by popular demand these handy, small carrying pouches have made a resurgence into the world. Custom fanny packs have become prime branding real estate as they are perfect for holding all festival necessities, and stylish to boot.
5. Drawstring Bags: Simple, lightweight, and practical, custom drawstring bags are a no-brainer festival giveaway. Guests can secure their belongings and your brand will be recognized by everyone in attendance!
6. Earplugs: Festivals are filled with huge speakers and loud music. Promotional earplugs are essential packing necessity for any attendee hoping to preserve their hearing. Snap case keychains allow for them to be easily carried and reused.
7. Portable Phone Chargers: A smart and strategic addition to any festival packing list. A dead phone means no social media posting and a disconnect with the outside world. Festival participants will be thrilled receiving custom power banks knowing they can keep their phone fully juiced and share their experience with friends.
With festival season in full swing any marketer will want to jump on the opportunity.