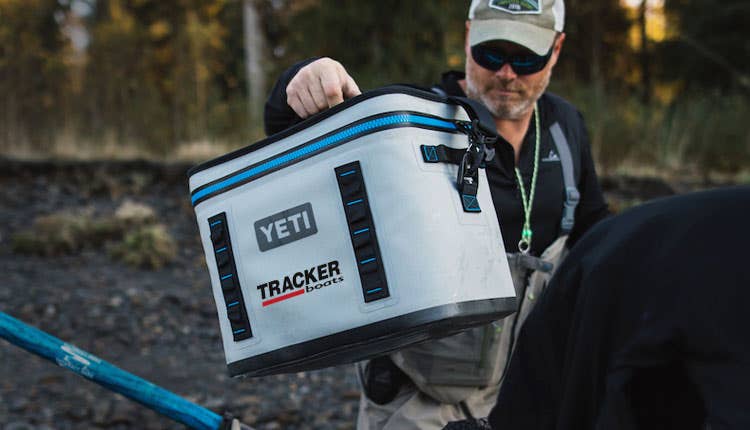 Your One-Stop YETI Custom Shop for Corporate Gifts
Summer is here, which means your employees are probably spending more time off, relaxing in the sun. Just because they're putting fewer hours in at work, doesn't mean they can't be doing valuable things for your brand's visibility in the process. Our custom YETI shop allows you to put your brand on coolers and tumblers. So, wherever your employees go to relax and enjoy a cool beverage this summer, they'll be showing off your logo with super useful, high-quality, branded YETI merchandise from our custom YETI shop.
What is YETI?
YETI is an iconic brand known for its premium coolers and tumblers. Their popularity has skyrocketed because they offer great products that can withstand any test mother nature throws their way, while still looking great. Their coolers are nearly indestructible, so they're built for anything, whether it be the toughest long-haul hikes, or the laziest park days. YETI coolers and tumblers are sure to keep your food and drinks cold this season.
What is a Premium Cooler Anyway?
The Seiders brothers, the founders of YETI, are both devoted outdoorsmen and they felt like there wasn't a cooler on the market that kept their catches, kills, and beverages cold for a long period of time. You know what they say about necessity being the mother of invention? Such was the case with the Seiders Brothers because they designed a cooler that had superior ice retention, that met all of the practical and aesthetic needs of the modern-day nature lover.
Their first cooler reached the market in 2006 and it was an instant success. Since, YETI coolers have become somewhat of a status symbol amongst outdoors people because the brand is known for being the best of the best. If you've ever wondered what the Lamborghini of coolers looks like, this is it.
How Do They Work?
The shell is made using a method called rotomolding. Rotomolding, a process usually used to craft kayaks, is a combination of high temperature and low pressure to create a hollow piece of plastic. The shell is then injected with commercial-grade polyurethane foam, which is what keeps your food and beverages nice and cold for so long.
The iconic hard-shell YETI coolers also feature a full-frame, freezer-standard gasket that keeps the entire lid completely airtight.
Why You Should Choose Branded Yeti Items
Okay, you get it, these freezers are amazing, state-of-the-art, out of this world, etc., but why should you etch your brand's logo onto them? Here are some of the best reasons to invest in custom YETI coolers and merchandise:
1. Environmentally Friendly
Coolers and tumblers cut down on environmental waste. If you have a premium cooler around, you'll want to use it, which means you'll accumulate less take out containers and one-use plastics. With YETI your fridge can come with you wherever you go—which is a far more environmentally option than eating out when you're not at home.
2. Visibility and Brand Association
YETI is a brand you want to be associated with. Chris Hemsworth has even been spotted with one! iPromo's customizable shop allows you to put your brand on high-quality merchandise that celebrities are raving about. That is sure to get your company noticed. It is also a sure way to a client's heart if you use YETI customizable merchandise as corporate gifts.
3. Usability
Sure, branded pens are usable, but, to quote a very popular Netflix show, "Do they spark joy?" Probably not. Personalized YETI coolers are not only usable, but sparks are flying everywhere! If you decide to invest in branded YETI merchandise, there's no way those babies are staying hidden away in the closet, they'll be taken on every trip this summer season. When it comes to branded merchandise usability and quality= visibility. So it's hard to go wrong with custom YETI coolers this summer season.
 The Options Are Endless
Now that you're convinced that branded YETI merchandise is right for you, it's time to explore all of the exciting options offered by iPromo's YETI custom shop. Let's start with custom YETI coolers:
Classic Hard Coolers
The hard cooler is YETI's most iconic item, so it's hard to go wrong with this one. The smallest size is the Yeti Roadie 20 Cooler which is designed to be compact (adorable) with a flip-up handle that makes it easy to carry to every BYOB patio party you're invited to this summer.
The next size up is the YETI Tundra 35 Hard Cooler, which has the classic side handles, consistent throughout the larger models. YETI boasts that this cooler fits perfectly in an innertube, so your cool beverages can float down the river with you. The other sizes in the hard shell Tundra model include the 45 (ideal for family-sized meals and beverages), and the 65 (ideal for especially large food and drink hauls).
How Are they Customizable?
Your logo or artwork will be etched directly onto a metal plate under the YETI logo. To make sure we get your vision perfect, we'll send you a virtual proof to review before we imprint your logo.
Soft Coolers
Yes, the hard-shell coolers are great, but sometimes you want something with a little give that you can sling over your shoulder and take with you on a nice jaunt to the park (like Chris Hemsworth did).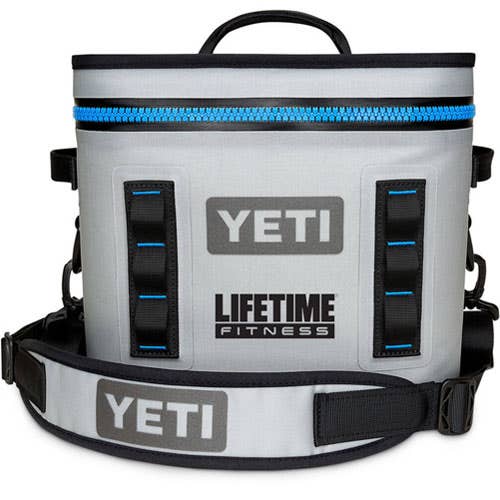 The Yeti Hopper Flip 8 Soft Cooler is the smallest soft cooler options. It's a great personal cooler for meeting your friends at the park. It's leakproof and just as ready to take on the elements as any hard-shell cooler. The wide-mouth opening makes for easy access and loading. Most of all, its compact size, lightweight design, and comfortable strap makes it ideal to take hiking, canoeing, or backpacking. The extreme insulation means that your ice will stay frozen, even in the hottest conditions. The YETI Flip Soft cooler also comes in the larger sizes 12, 18 and 30.
But you're not done being introduced to the YETI Hopper family, we can't forget the sought-after YETI Hopper Backflip 24 Backpack Cooler. The Hopper Backflip has all of the cooling technology of the Hopper Flip with a practical backpack design. It's taller and wider than the other members of the Flip family, designed to equally distribute the weight of your load to make all of your adventures comfortable. There's also a removable chest strap and waist belt to keep your goods safe and snug against your body.
How Are They Customizable?
If you want to put your brand on a soft cooler, it is permanently applied by a precision printing press. You don't have to worry about us getting it wrong because we will send you digital proofs before we apply your logo.
 Not Just Coolers
Wait, there's more! YETI doesn't only manufacture the most iconic coolers in the world, they also make top of the line tumblers, colsters, and mugs that are also available for all your customization needs!
Tumblers
If you're not ready to commit to branding hefty coolers, but you're a devoted lover of the YETI brand, custom YETI cups and tumblers are a great place to start. They also utilize cutting edge cooling technology that will keep your beverages cold as ice. The YETI Rambler 20oz Tumbler has a double-insulated stainless steel body, so it doesn't matter if it's sitting in the car with the sun beating down on it, the drink inside will stay chilled and drinkable all day. What tops it off (literally) is an air-tight, shatter-proof, dishwasher safe lid.
The YETI Rambler Tumbler also comes in a 10oz lowball size and a 30oz size.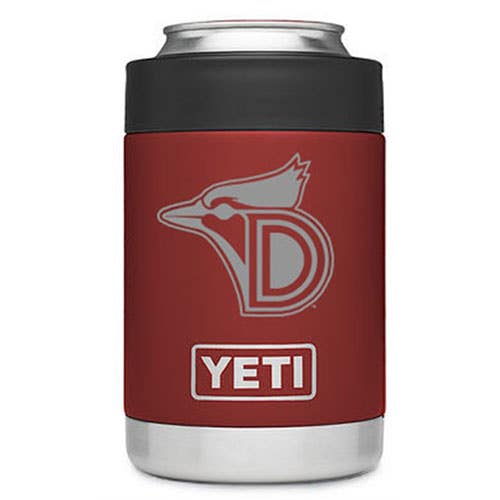 Colsters
If you want your company's logo to be in the hands of every dock-dweller this summer, opt to have your logo put on a YETI colster. YETI Rambler Colsters are designed to keep cans and bottles colder for a longer period of time than you guessed possible, and standard 12 oz. beer and soda cans fit into it as snug as a bug in a rug. The Load-and-Lock™ Gasket means your drink isn't going to be wiggling around in there, and No Sweat™ Design guarantees your hands will stay dry while your drink stays ice cold.
Rambler Mugs
We can guarantee you've never seen a more durable mug than this one and the YETI custom shop lets you make them your own. Like the YETI Rambler Tumbler, the YETI RAMBLER 14oz. Mug has a double-wall stainless steel body that protects your hands from getting too hot or too cold while holding your favorite beverage. And it's not only great for liquids, you can also use it for oatmeal and other camp favorites like chili. Make sure your brand is around the campfire this summer by ordering your custom YETI mugs.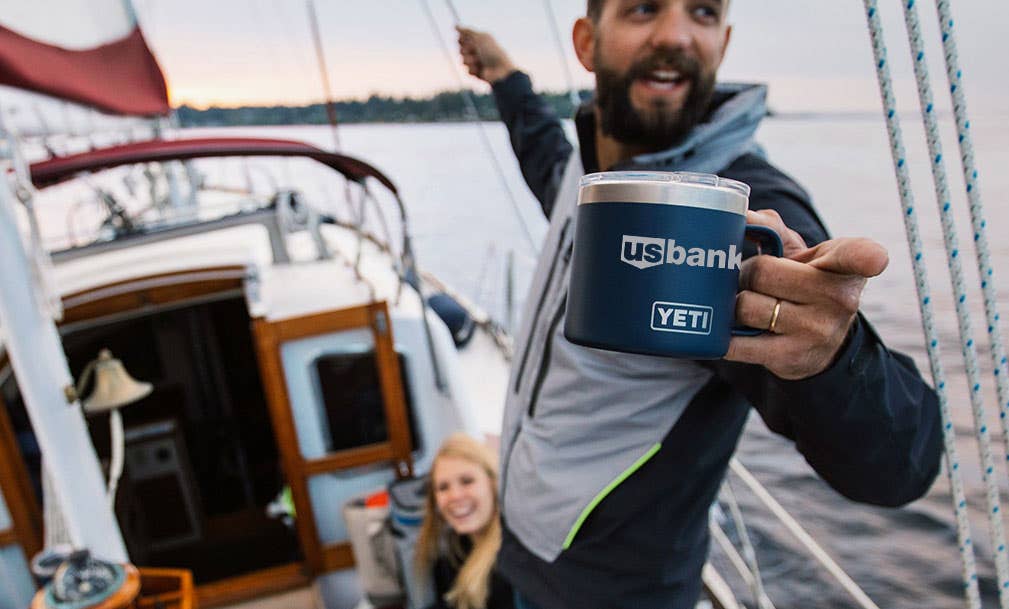 How Are They Customizable?
If you choose any of the YETI mugs, tumblers of colsters, your brand or artwork will be etched directly onto the surface. Don't worry, we get it right every time because we send you virtual proofs to approve before we imprint your logo.
YETI Custom Shop
If you're sold on the YETI lifestyle and you're ready to put your logo on some of this high-quality merchandise, you're in the right place. Our one-stop YETI custom shop offers a wide selection of YETI products with endless possibilities for customization.
Here at iPromo, we're devoted to providing the best merchandise as well as the best ordering experience for our customers. Let us help you create the branded merchandise of your dreams. Contact us today!