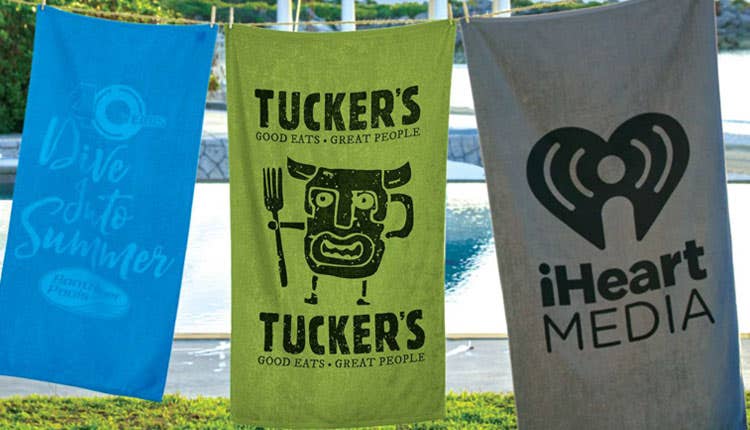 Make a Splash At The Beach With Custom Promotional Towels
A personalized towel is kept an average of 8 years, so before you bulk up on branded towels, check out our smart purchasing guide.
Summer is Towel Season
Some of the most popular destinations that people flock to this summer will be the beach or poolside. Both of these options are a great way for people to get out and enjoy the sun, but towels will always be a necessity for either.
There are some other summer staples when heading to the beach but towels will always be a must-have. That's why Personalized beach towels are growing in popularity because people not only love the usefulness, but a uniquely branded towel makes them easier to find on a crowded beach or poolside.
Why You Should Consider Custom Towels with Your Logo
As a company, you are probably always looking for ways to stand out from the competition and get people to notice you. If you do giveaways, you want something that is both economical and practical. After all, if you hand out a promotional item that people will actually use, your logo is always front and center.
In the past, some of the common items that companies would giveaway are pens and keychains. While these are certainly practical and get used, a lot of industries are oversaturated with them. Therefore, it's important to find an item that hasn't been overdone but will still appeal to a wide range of people. That's why you should consider custom towels.
If you're still on the fence about whether or not promotional beach towels are the way you want to go, consider some of these other benefits that come with this item.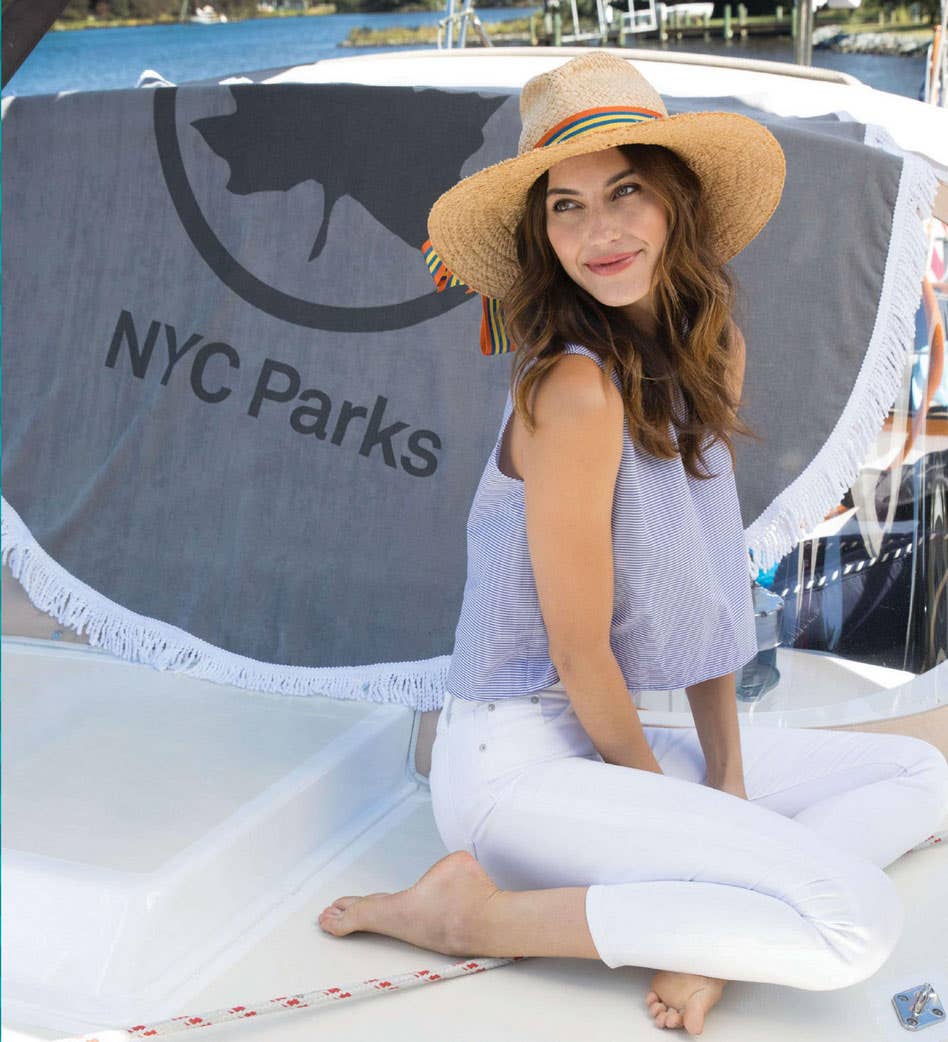 Branding
When it comes to promoting your brand to others and using a towel to do it, you have a large canvas to work with. Unlike keychains and pens where there is only limited space, custom beach towels have a lot of area. You have the opportunity to add your logo or design your own artwork for this item. Perhaps you have a new campaign that you want to run, a beach towel could be a great way to advertise it.
In many ways, you are unlimited in what you can put onto a beach towel. There are even a variety of options to add it to the surface, including screen printing or having embroidered beach towels. Both of these options are a great way to get your message out to people and to give them something that they can use often and is practical.
Quality
As was mentioned, you have the opportunity to create personalized beach towels using different printing or embroidery techniques. When you invest in a product such as this, you are showing people that you value yourselves and them. If you are willing to invest in yourself and your brand, then others may also be willing to invest in you. Using a beach towel to market yourself shows that you have some quality.
Cost
Of course, getting custom towels with logo won't be free, but it won't be overly expensive, either. Finding the right company to work with that offers this product in bulk can be incredibly beneficial. In addition, by offering people something that is fun, useful, practical, and memorable, they will be more willing to engage with your company.
In addition, the amount of advertising that will come from adding your information to a beach towel can be priceless. More than likely, a person will take this with them when they go to the pool or the ocean, which will get your business exposed to a lot of other people. This, in turn, could lead to other people becoming interested in and checking you out.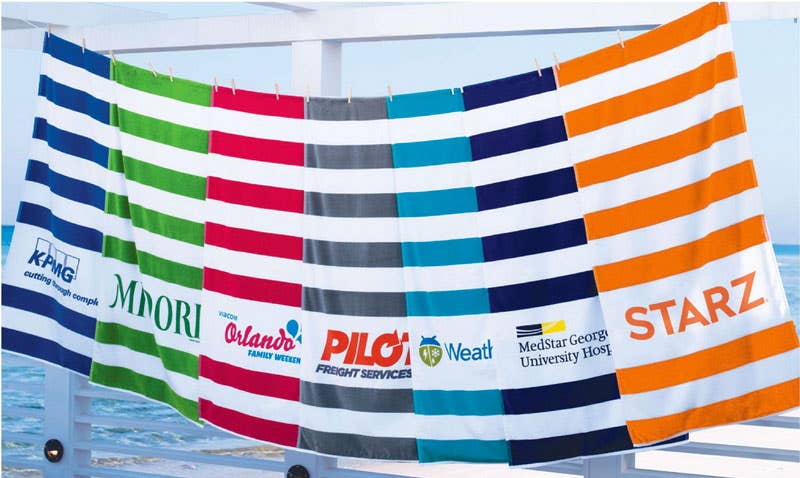 Other Benefits of Custom Beach Towels
They will last
There are many other benefits to using custom towels as promotional products, including the fact that they are durable and will last for a long time. Unlike pens or keychains or even water bottles, your logo will remain intact on a beach towel through numerous washes and use. This means that people will be more inclined to hang onto the product for a long period of time.
Develop partnerships
No matter what type of business you run, you may find that you can partner with other places to get your towels into the hands of potential customers. You might be able to form partnerships with hotels, AirBnBs, or other places and have your personalized towels available for guests. This would be a great way to get exposure to people from various places around the world.
People Will Keep Your Custom Towels For a LONG Time
Towels are one of those items that people can't have too many of and never seem to get rid of. Often, they have categories of towels, including those that are only used when guests visit, those that are for daily use, and those that are taken to the beach, pool, and other outdoor activities. People are always looking for extra towels for outdoor and pool use. They may even keep them in their car in case of emergencies or for those impromptu trips.
However, beaches and pools aren't the only places that people use towels. They are also incredibly useful when doing any type of exercise, sports activity, or at sporting events. Creating custom golf towels is a great way to get your logo in front of this crowd, as well as giving people something useful and practical that they can use often. When it comes to custom rally towels, this can make events super fun and give people memorabilia to remind them of the good times that were had.
Towels Are Universally Appealing
The other really nice thing about towels is that everyone can use them. From babies to the elderly, there isn't a specific age requirement for towel usage, which is also why people always want extra towels floating around. They can be used for a variety of different things, and having enough for everyone is beneficial.
There's also no limit on the type of industry that can create custom beach towels. Whether your company focuses on banking or coal extraction or sells candles or anything in between, you can put your logo or brand on a towel and people will use it. It will also get you exposure in a variety of places. You never know what person at the beach or pool will see your logo and decide that they need to check out your company.
Personalized beach towels may be a larger investment than pens or keychains or can coolers, but they have so much potential. Remember, you have a larger canvas to work with, so there are more opportunities to create something unique and fun that highlights your company. They are also high quality and have the opportunity of being used more often than these other products.
Find the Towels That Fit Your Brand
There are a lot of possibilities when it comes to creating custom towels, and it can be a great way to get your company logo in front of a lot of people. While beach towels are a popular choice, creating custom golf towels and custom rally towels can also be beneficial to your business depending on your audience.
If you're ready to see how towels can work for you and your marketing plan, get in touch with us today. We can answer any questions you might have and help you develop a towel that will wow and excite a wide variety of people.