Trending Summer Promotional Items & Swag Ideas
Our favorite summer 2019 giveaways to help your brand stand out in the sun.
Summer is almost here, and that means that most people are thinking about fun in the sun, but you can stand out with some fun summer giveaway ideas and swag items.
What Makes a Good Giveaway?
As a business, you may be considering doing a giveaway and handing out products that have your logo on them. This is a really good idea, and it can certainly get you noticed by a lot of different people, but how do you choose what to give away? How do you know what will appeal to the vast majority of people and not get tossed in a drawer or thrown away?
That can be the tricky part. There are a lot of options out there when it comes to giveaways, and you want to choose something that will be cost effective yet noticeable. You won't be able to appeal to everyone because each person is unique and different, but you should attempt to appeal to the majority of them.
When it comes to a good giveaway, you want to find something that looks cool and is useful. In addition, it should also be portable. No matter where you are handing these items out, whether at a trade show, fundraiser, or your business, people want something that is easy to carry. You want people to remember you for the right reasons, not because you handed out something bulky and weird.
If you've never considered doing a giveaway at a trade show or other event, you really should reconsider. Having the right product is a great way to create an everlasting impression with the people who are attending. Don't forget the marketing opportunities! If you give people something of value, they will remember you for months or maybe even years. When they look at the product you handed them, they will look back at the event with fond memories and may even become a lifelong customer.
Giveaway Ideas
There are a variety of different things that you can give away at events, and they should change with the season. You probably change your marketing strategy throughout the year, so you should also change your giveaway products. Of course, that doesn't mean you have to change your branding, you want that to stay the same so people recognize you. However, doing something fun and interesting is a good way to stay relevant and keep people interested.
With summer on the way, thinking about some products for giveaways and swag is a good idea. Below are some summer giveaway ideas that you might want to consider for any events you have coming up.
---
Tote Bags
Custom Tote bags can be seen everywhere and are a really good item to giveaway during the summer. They can be used at the event for people to carry their other items, but they can also be used to take supplies to the beach. You might even consider marketing them in this way and include some travel-sized sunscreen and sunglasses. These can get people thinking about summer and take your branded bag with them on vacation where they will be seen by others.
---
Drawstring Bags
In addition to tote bags, drawstring bags are also incredibly popular. The nice thing about these items is that they have two straps, so a lot of people prefer these over the tote bag. They can also be taken to a variety of different places to carry items, and they are often used by people of all ages, including kids. Again, they can be geared toward beach goers, but they can also appeal to people who go on bike rides or visit places such as the zoo.
Since these can appeal to kids and a younger crowd, custom drawstring bags can be a great audience to target this product to. Most kids don't want to carry huge bags that can get heavy and hot, especially in the summer, but this is a great alternative. They are often lightweight but still hold their belongings. With your logo or brand on the outside, your company can be seen by people at sporting events or at the local park.
---
Folding Chairs
These may not be as cost effective to give away in large quantities, but having a drawing for a nice folding chair can be a great way to get people to check out your company. Summer is the time for for the beach and camping, and most people love the portable comfort that folding chairs provide while enjoying the outdoors. Custom folding chairs make great employee gifts or contest giveaway prizes as they'll be greatly appreciated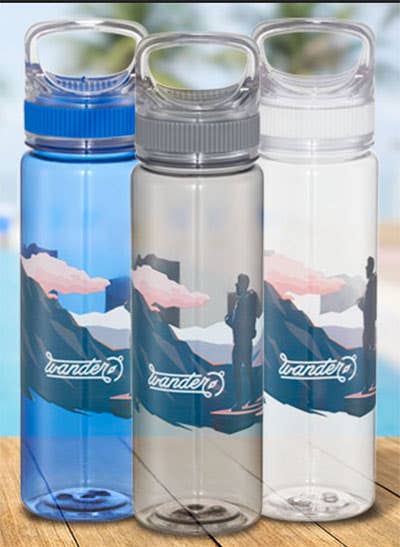 and used for years to come. The best part is your logo will travel wherever these chairs go.
---
Water Bottles
With the weather being warmer, people are spending a lot of time outside. Whether they are going to BBQs, sports events, participating in sports, or visiting zoos, they'll need to stay hydrated. Handing out logo water bottles is a good way for people to take your brand to various places so it can be seen by others. It's also a useful item that can be used over and over and will keep people thinking about your company.
---
Can Coolers
These items are some of the best things to give away as summer promotional products. If people aren't carrying around their water bottles, then they are drinking out of a can or bottle, and keeping that can cool and the condensation from getting all over their hands can be incredibly beneficial. Custom can coolers are often inexpensive and can be ordered in bulk, so they are a great thing to giveaway at events. They are also an item that people can't have enough of, so they'll almost always take one.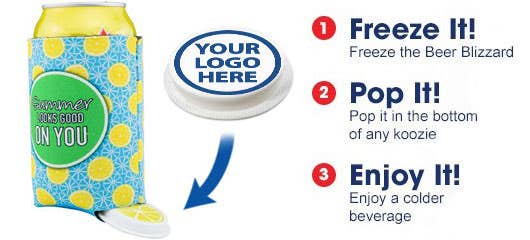 Want to take your branding to the next level? Pair any of our can coolers or koozies with the brand new custom Beer Blizzard. You simply place these in your freezer and just slip them into the bottom of any can cooler or koozie to keep your drinks extra cold all day long. Best of all, you imprint you logo right on top so you can create the ultimate summer giveaway that will not only be conversation starters, but your clients will love!
---
Sunglasses
With summer comes the sun, and having an extra pair of sunglasses can be incredibly handy. What's even better is that you can hand out shades that have your logo on the side, which means that you are giving people summer promotional items that they can actually use and that will get your name out to others. There are a variety of different styles to choose from, and they come in a range of prices, so it should be easy to find some custom sunglasses that people will enjoy and that will fit into your marketing budget.
The great thing about this item is that they can appeal to a wide range of people. Both kids and adults can enjoy these items, so you don't have to worry about only marketing to a certain age group. They can also be used over and over again. As long as it's sunny outside, people will use this product.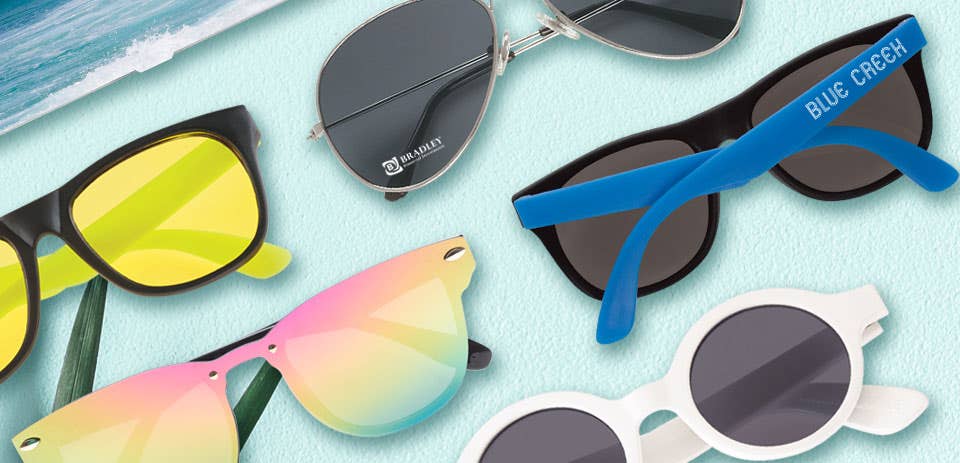 ---
Portable Fans
When it gets hot, people are always looking for ways to cool themselves down. When looking for summer swag ideas, you may want to consider handing out custom hand fans in bulk. You have the option of putting your logo on fans that run on batteries or hand-held fans that people wave in front of their face. No matter which one you choose, you will be getting your logo in front of a crowd and making people happy by giving them a way to cool down.
---
Flying Discs
Summer is a great time to get out and play some games. One of the most popular is throwing a flying disc. This is because promotional flying discs are lightweight and easy to transport, and it can be used in a variety of different settings. From the beach to the park to the backyard, people can easily pull this item out and toss it to one another to have some fun.
It can also be used to keep a dog entertained. While most companies probably don't want to think that their branded flying disc is being chewed on by a dog, it can still be a great summer giveaway. Again, people take these items to a lot of different places, so there's a chance it can be seen by a lot of people.
---
Picnic Items
Some other summer giveaway ideas that you might want to consider include picnic baskets and picnic blankets. Because these will probably have a higher cost, like the luggage, you may want to consider having a drawing for these products. It's a great way to get people to your table if you're at an event or to your website to sign up. No matter how you are running the drawing, getting people to enter is the most important thing. While they are signing up, this is a good chance to give them some information about what your company does.
Once a person has won your personalized blanket or basket, they will then take your logo to a variety of different places. This is a great way to be seen and a great way to remind the person what a wonderful company you are.
---
Get Your Summer Swag
There are so many different summer swag ideas and giveaways that you can consider handing out to customers at an event. Remember that you want to ensure that it is something that the person will use and will remind them of your company. Giving them items that they will use daily can be helpful. To really make an impact, giving away items that a person will carry to various places can also be advantageous in exposing your company to others.
If you're ready to get your summer promotional products, give us a call today. We have a wide range of items that are affordable and easy to brand with your logo.  You're sure to find something that will work for the summer, but we also have products that can be used year-round.