12 Unique Swag Ideas For Your Next Event
Best corporate swag ideas curated for 2020 to help your company giveaways actually stand out at busy conferences and be loved by your employees.
If you're having an event, chances are you are trying to come up with some unique swag ideas to give away to attendees. In fact, most people who attend a corporate event expect some type of swag, although much of it winds up in the garbage. Coming up with cool swag ideas is one way to ensure that doesn't happen.
So, how do you come up with cool swag that people will use? Let's take a look.
Why Use Swag In The First Place?
Well, according to PPAI, swag is an effective way to brand yourself. "Because the products are useful and appreciated by recipients, they are retained and used, repeating the imprinted message many times without added cost to the advertiser."
Speaking of cost, these type of products are the cheapest form of advertising when you consider the cost per brand impression. Take the following into consideration:
The cost per impression is lower than television, magazines, online advertising, and newspapers. Cost aside, swag is one of the most highly regarded forms of advertising. People are more likely to do business with someone who gave them a promotional product which means you have a leg up on the competition simply by giving away something for free.
The Best Swag Ideas in 2020 Feature Usefulness
If something isn't useful, why would you expect people to keep it? Its kind of a rhetorical question as the answer is obvious. The same holds true when it comes to branded merchandise. If you simply give something away you think is good, but the recipient doesn't find it useful, expect it to wind up in the trash.
"If the product is useful, it's unlikely to get thrown away or stashed in a drawer." – Entrepreneur.com
Useful items get more travel than those that aren't. So, you need to keep your recipient in mind when choosing such as product. Coming up with company swag ideas isn't easy and we know that from experience. However, we have a dedicated team of professionals who are ready to help you choose the perfect idea for you next event.
In addition to being useful, some of the most unique swag ideas include the quality of the product as well as its attractiveness.
Taking everything into consideration, here are 12 cool swag ideas for your next event.
1. Promotional Tote Bags
Custom tote bags will always make the list of unique swag ideas. First, they are cost effective. When you account for the number of impressions they generate for your brand, you wind up paying approximately 2/10th of a penny per impression.
Tote bags also make the list because of their usefulness. People are using tote bags more and more, especially in locations where plastic bags are being banned. In addition, you are likely giving away more than one piece of swag at your event. Giving away a tote bag can hold everything for your guest, as well as be the center of attention when people are walking around.
Building brand awareness is easy with custom tote bags. You can choose from many different styles, colors, and customization options. The cost is lower than most products per brand impression, and always steal the show at any event.
---
2. Promotional Ink Pens
Writing instruments such as custom ink pens make some of the best event swag. More than 89 percent of consumers in the United States own a promotional writing instrument and they are kept an average of nine months. And, at a cost of 1/10th per brank impression, they are even cheaper to use as a branding tool than tote bags.
Writing instruments include a variety of styles which include:
If you're feeling eco-friendly, you can also choose a seed pen. They reduce the amount of plastic waste and also grow a seasoning (sage, rosemary, etc.) which can then be transferred to a pot.
---
3. USB Flash Drives
Everyone loves tech and USB flash drives should be included on your list of company swag ideas. They are kept an average of 13 months by recipients; however, 43 percent of people keep them for two years or longer. That gives you between one and two years of brand impressions.
Flash drives are versatile as they are used by everyone from business executives to college students. You can customize them with your logo and even choose a custom color. They also come in cool shapes such as wristbands, Rubik's, and dozens of other custom designs.
---
---
4. Fidget Spinners
Yes, fidget spinners are still a thing. In fact, there are even fidget cubes now which keep people occupied by pushing, flipping, and clicking. So, what makes these unique?
Well, fidget spinners have come a long way in the last few years. You can now customize them to any design or shape that you like. Have a logo? We can create a fidget spinner that matches that shape. Mascot? We can do that as well.
Give us a call to find out how we can customize a fidget spinner that exemplifies your brand.
---
5. Reusable Straws
There is nothing more talked about today than the environment. As stated previously, plastic bags are being banned in many states. In addition, plastic straws are following close behind. California became the first state to ban them in 2018. With that in mind, unique swag ideas should include reusable straws.
People will be talking about these during your entire event. They come in stainless steel or silicon and are easy to clean. You can customize the carrying cases for these straws with your brand name, logo, and color. There are many designs to choose from to fit your budget and style preferences.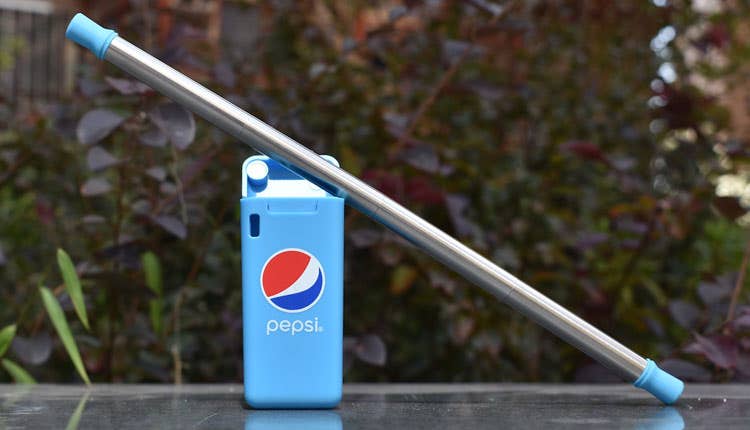 ---
6. Water Bottles
Sticking with the "useful" and "eco-friendly" theme, custom water bottles make great swag gifts. They are reusable and everyone using them. There are many designs and material to choose from and all can be customized to your brand.
So, what about the branding benefits? Well, let's take a look.
78 percent of United States consumers own some type of promotional drinkware, including reusable water bottles. The cost to you in half a penny taking into consideration they receive approximately 1,400 impressions throughout their lifetime.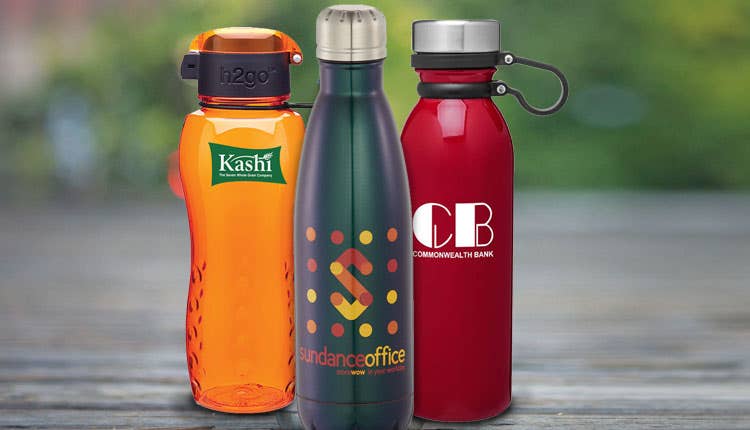 ---
7. Hand Sanitizer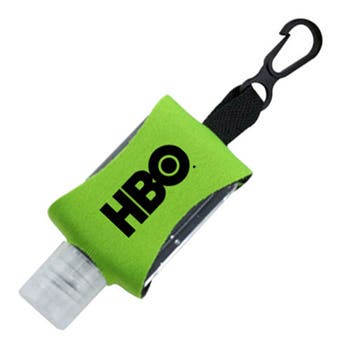 When you hold a large event, many people will be shaking hands. They will also be touching lots of items throughout the day and it would be nice to offer them something of use such as a bottle of hand sanitizer.
Hand sanitizer comes in traditional gels, sprays, and even mists. The bottles vary by shape (even some that are shaped like pens) and colors. As with all promotional products we sell, you can customize each to show off your brand.
If you are on a tight budget, you can also find several styles in our Swag Under $1 section of our website.
---
8. Power Banks
For corporate swag ideas, consider giving away custom power banks. Everyone has their own device (cellphone, tablet, etc.), but no one seems to have enough power. Think about the number of times you yourself have needed to plug in and didn't have a charger or outlet available.
Power banks are useful as they are pre-charged by the user and simply carried around until they are needed. No need to find an outlet or ask to borrow a charger. Power banks provide plenty of power for the recipient until they get back to their house to plug in.
You are probably thinking that power banks are expensive. However, they cost approximately one penny per brand impression. So, the cost is very little compared to the number of people will see your brand.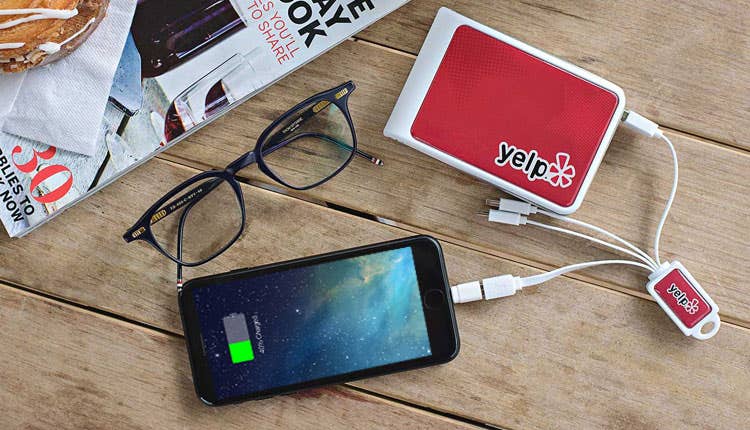 ---
9. Custom Padfolios and Portfolios
Custom padfolios and custom portfolios also make great swag items. Both are great for anyone, including professionals and students. They can be used to keep general notes about daily activities or used to take notes for school or keep appointments.
The different styles allow you to choose different sizes and colors, including leather covers that fold close with others that zip shut. Both are a perfect way to present your logo to people each and every time they use it.
---
10. Competitive Games
People love to play games, especially competitively. Why not give them the tools to do it? You will find they will actually start playing with them at the event where you hand them out.
So, what type of game are we talking? Well, there are many, including:
From chess and checkers to bag and ring toss, we have dozens of games that your attendees will love.
---
11. Custom T-Shirts
Custom t-shirts are used for more than charity or sporting events. Here's a few things you should consider when deciding whether to add these to your list of unique swag ideas.
80 percent of consumers in the United States own a promotional t-shirt.
63 percent of consumers keep their promotional t-shirts for more than a year.
Promotional t-shirts get approximately 3,400 brand impressions throughout their lifetime.
Millennials own approximately 5 promotional t-shirts.
Cost for promotional t-shirts is approximately 2/10th of a penny per brand impression.
Need more convincing? Well, just consider that t-shirts are one of the most customizable items you can add to your swag bag. You can place your logo on the pocket, back or front. You can choose from hundreds of color combinations and brands which give you endless possibilities for customization.
---
12. Custom Headwear
Last but not least, consider adding custom headwear to your swag bag. 69 percent of consumers have reported owning promotional headwear, with one-third of men reporting wearing promotional hats at least once per week.
63 percent of consumers keep hats because of how they look. They also get approximately 3,400 brand impressions which cost you approximately 3/10th of a penny per.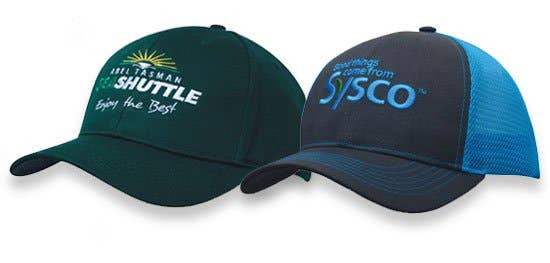 Promotional headwear includes more than just hats. You can choose from different forms of headwear including: