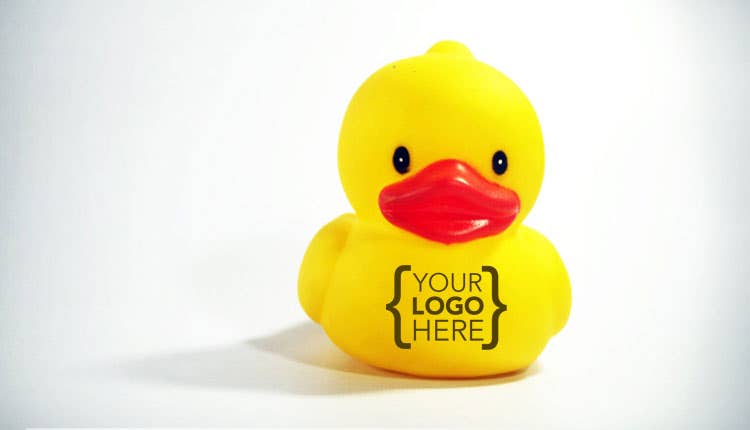 Make a Splash With Custom Rubber Ducks
…and ruffle a few feathers with promotional ducks at your next event. Personalized rubber ducks printed with your company's logo have an 18 month lifespan, so the cost per impression is just fraction of a penny.
A Common Bathtub Sight
It doesn't matter who you are or where you grew up, the sight of a rubber duck is sure to bring about thoughts of happiness and joy. As a child, you probably had these in your tub, and they made bath time such a delight. As an adult, if you don't add one to your tub, you should consider it. They can bring back feelings of nostalgia and elation.
As a business, creating personalized rubber ducks is a good way to get your logo into the hands of people and make them incredibly happy. Rubber ducks have been around for an incredibly long time, and people often associate them will feelings of joy. Why not bring them a little bit of happiness and excitement while at the same time promoting your business?
A Brief History of the Rubber Duck
In the 1800s, Charles Goodyear developed a manufacturing process that allowed rubber to become a malleable material. There were numerous animals made from this process, but the ducks took off as the most popular bath toy, probably because ducks and water just go together. The original rubber toys didn't float. They were cast as a solid piece and were originally intended to be chew toys.
Since indoor plumbing wasn't as popular at this time and fresh water was a pain to haul into the house for bathing, taking a bath wasn't something that was done on a weekly basis. In fact, it was usually done once a week, so parents needed something to entice children into the water. That's where rubber ducks came into play.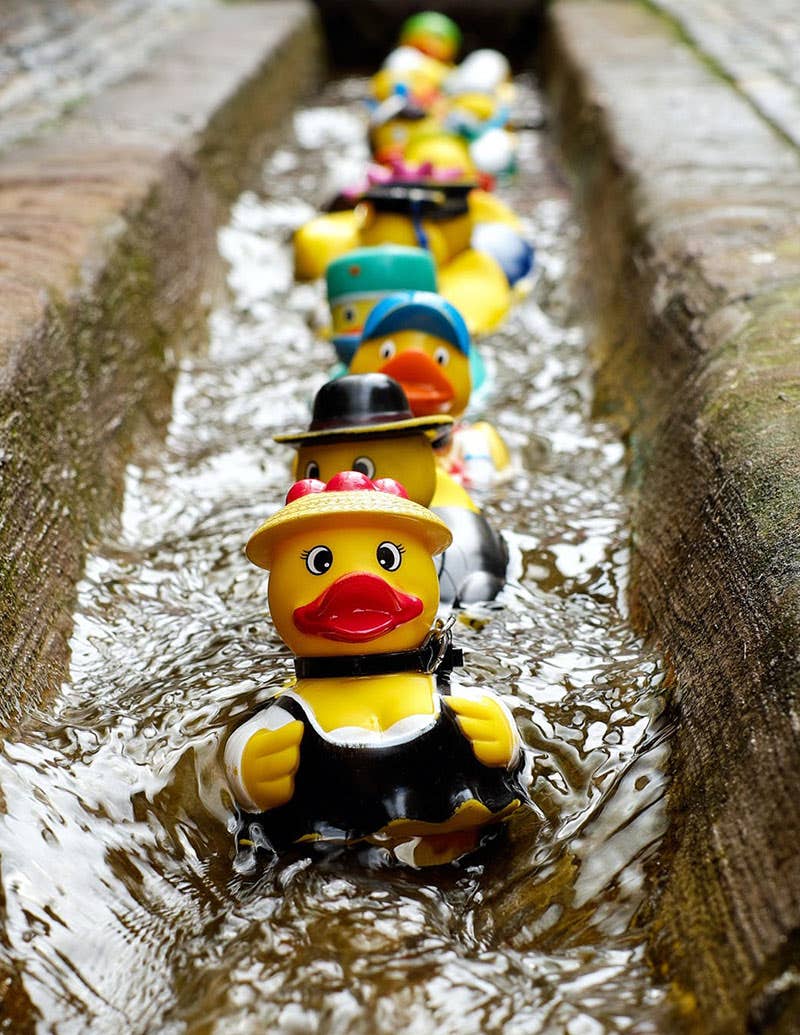 In the 1940s, the ducks that most people recognize today took shape. It took on the yellow form with a bright orange beak. In the 1950s, as indoor plumbing became more popular, the duck could still be found in the bathtub.
Rubber ducks weren't made out of rubber for long because rubber can be incredibly toxic. Therefore, it was decided that they should be constructed out of plastic that had been softened by chemicals. As it turns out, this process didn't make them any less toxic. Eventually, the ducks were made out of vinyl plastic, which is less toxic and still endures today. Despite the fact that they are no longer made out of rubber, the name has stuck.
Why Ducks?
Once again, since indoor plumbing wasn't a common occurrence in peoples' homes, getting children to bathe was a production. However, having toys could be beneficial. The first bath toys were based on characters from Disney, including Donald and Donna (her name has since changed to Daisy) Duck, which became the most popular toys. Other companies noticed the popularity of the ducks, and they wanted to get in on the profits. Because it can be expensive to buy and maintain a character license, they decide to go with a more generic duck design.
It is claimed that sculptor Peter Ganine created the now-famous duck that everyone recognizes as the rubber duck. In the 1940s, he patented his duck and reproduced it as a floating toy. In total, he sold more than 50 million rubber ducks, making it one of the most popular toys ever.
Rubber Ducks Can Be Found Everywhere
In the early 1960s, the patent that Ganine filed was lifted, making it possible for rubber ducks to be created by anyone and everyone. They were inexpensive to make, and people loved them. In the 1970s, their popularity took off once again when they made their debut on Sesame Street. For many, they may recognize the famous song that was sung by Ernie as he bathed with his yellow friend.
The Rubber Duckie song, written by Jeff Moss, sold more than 1 million copies and reached #11 on the Billboard chart. It was even nominated for a Grammy, but it lost out to The Sesame Street Book and Record.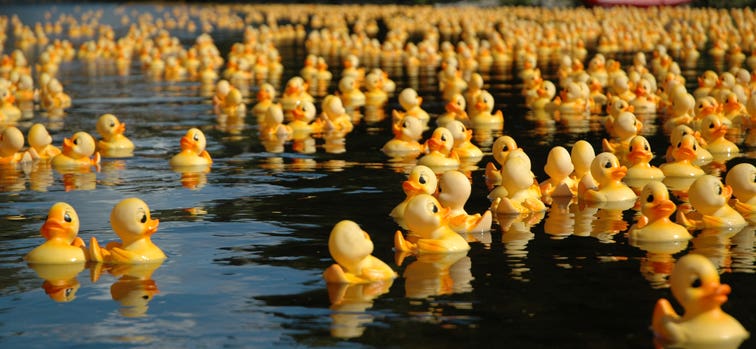 The Rubber Duck Advances
As is bound to happen the rubber duck has changed with the times. It has taken on new traits and comes with a variety of different options. For those who want something more traditional, they have the option of getting a traditional duck for a low price. For people who want something more advanced, there are rubber ducks that are Bluetooth enabled. As you can imagine, these are a bit more expensive than their traditional counterparts.
The Appeal of the Rubber Duck
In addition to become technologically advanced, rubber ducks have also become personalized. They can be found in a variety of different sizes and colors, as well as looking like famous people, including sports figures and celebrities. They have been inspired by pop culture and reflect items that are popular at the time, including zombies and other horror creatures for Halloween.
No matter what they look like, they still inspire and encourage kids to get into the bath and come out squeaky clean. They have even encouraged people to collect and keep these treasures, which can be a fun and interesting pastime.
Custom rubber ducks have also been used for a variety of fundraising events around the world. In essence, people donate money to sponsor a duck. When the drive is over, the ducks are placed into a waterway, and the first one to float past the finish line wins a prize. These events are often referred to as derby duck races.
Why Should You Consider Personalized Rubber Ducks?
In addition to the history and nostalgia factor of rubber ducks, another reason to consider using branded rubber ducks for your business is because they appeal to people of all ages from all backgrounds. It doesn't matter where they live or what economic class they come from, a rubber duck can break down these barriers and get your name in front of a large audience.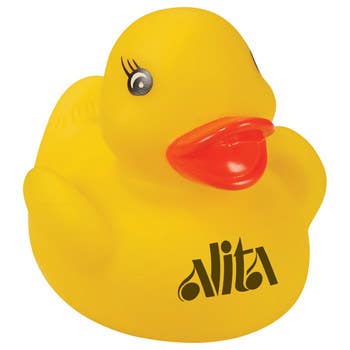 They can also be personalized, including having your company's colors added to them or your logo. They can also look like anyone you want. If your company focuses on healthcare, you might consider getting wholesale rubber ducks that look like doctors and nurses. Run a plumbing company? Create a rubber duck that has a toolbox or just have a rubber duck logo based on your company brand.
They can also be designed to represent a variety of different sports, including looking like a football, baseball, soccer ball, or basketball. They can also look like the players, which widens the range of sports that can be represented.
The possibilities of how you can create your own personalized rubber ducks are practically endless—and it doesn't have to cost a lot to accomplish. You have the option of getting rubber ducks in bulk, which will definitely reduce your cost. Since they can come in different sizes, you can get printed rubber ducks that have your logo or are just designed with your colors—it all depends on what you want to do.
In addition to appealing to wide audience and kids of any age, rubber ducks can also be taken to a variety of different places to be handed out. They are great as promotional items and can be given away at trade shows, sporting events, schools, or at your place of business. Don't forget the derby races. This is a great way to have a rubber duck with a logo that shows off your business to a lot of people.
Grab Your Audience's Attention with Custom Rubber Ducks
The possibilities of how you can design your rubber ducks and where they can be handed out are practically endless. Since they are also cost effective, this is an absolutely amazing and fun way to get your logo and information into the hands of many different people. Really, the only limit you have in what you want to do is your imagination and your budget.
You can find a duck that's as sophisticated or silly as you want it to be. Even when the market gets tough and it's hard for you to find a way to stand out from your competition, people will notice a duck. They are a great way to keep your brand steady and recognizable, as well as appeal to people from all walks of life and ages.
Custom rubber ducks have been around for a long time, and they aren't going to go out of style any time soon. They inspire nostalgia in the older generations and excitement in the younger ones. They are a great way for people to relax and have fun in the tub, as well as a great way for you to get your brand in front of people.
Ready for Your Ducks?
If you're ready to get your own personalized rubber ducks, get in contact with us and see how easy and affordable they can be. We are ready and willing to help you get the ducks that will help further your brand and get your logo in front of a wide and diverse audience.