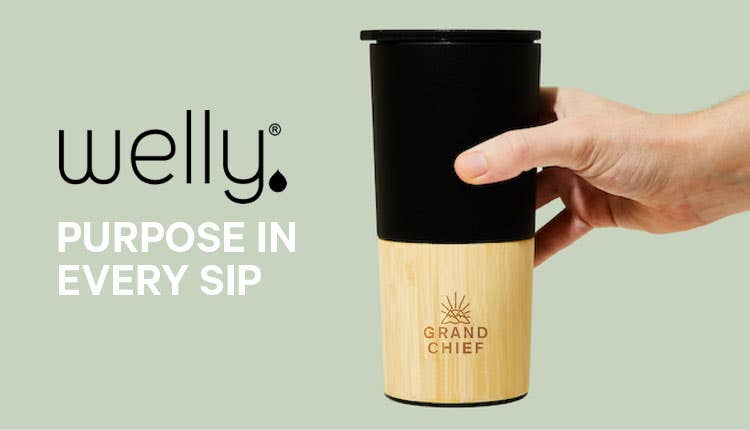 Meet Welly: Branded Drinkware That Supports Clean-Water Solutions Worldwide
Customized reusable drinkware has become one of the hottest promotional items in the past couple years. It's because they are useful, usually kept for years, and also displays your logo front-and-center, making them a great asset to any branding strategy. 
The problem is most promotional drinkware has become very generic in design and the materials in which they're built with. Enter Welly, a company that offers highly functional and fashionable drinkware that helps our environment, and gives clean water to people in need and promotes healthy lifestyles. With Welly, there is purpose in every sip, and now you can customize them with your logo!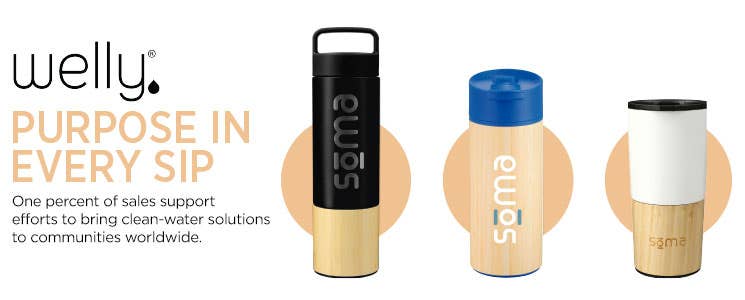 What Is Welly, And What Sets Their
Branded Drinkware
Apart?
Welly manufactures water bottles, but leaving it there sells these great products short. The fitness-minded or commuters, people who may regularly need a water bottle, understand that there are different features that set a good bottle apart from others. Custom Welly not only has the features to make for a great water bottle but an eco-conscious business model that every company would love to co-brand with. So, what are some of these key features?
Aesthetics
Aesthetics matter every bit as much as function when it comes to branded drinkware. After all, you wouldn't want your logo next to an unappealing design. Welly bottles have a wooden bamboo exterior accent that perfectly aligns with the company's eco-friendly standards. The outer ring and wood accents add a flash of color, creating something different than your conventional glass/plastic bottle. This is key if you're thinking about corporate gifts for a number of reasons. For one thing, a unique visual look will instantly help Welly products stand apart from the sea of other drinkware, and your recipients will love taking them wherever they go. 
Insulation
Hand-in-hand with appealing aesthetics comes having the necessary practical features. If you're in cool weather right, bottles won't be able to keep your hot beverages hot for long without proper insulation. The same applies to cool beverages in hot conditions. However, Welly delivers in this regard, being able to keep drinks at their ideal temperature for hours after you initially fill your bottle up. Even if your customers/employees forget their Welly bottle in their bag, they'll likely still have a beverage ready to drink, making them great for travel.
Accessories
Value matters when it comes to branded drinkware and Welly has a variety of accessories that let people get the most out of their bottles. One key component that you don't see with a lot of other bottles is an infuser. This is great for making beverages like coffee, pour-over tea, and fruit-infused water without worrying about the solids mixing with the liquids. There are a few other key accessories of note, too. Welly has cleaning tabs/brushes for sale that allow you to get rid of any smells or stains on the bottle. In addition, Welly also offers a flip-cap, which makes it a lot easier to drink hot beverages like coffee without worries of spills. 
Environmental Support
That bamboo exterior we mentioned before offers more than just aesthetics. Using natural materials like these means that each Welly bottle made has a minimal impact on the environment. A lot of the water bottles out there, especially disposable ones, are made with cheaper, non-renewable plastics. While these help save money in the short-term, they come with a heavy environmental cost. Since these plastics are non-renewable and non-biodegradable, they can pile up in landfills, creating a massive amount of waste that never entirely goes away. 
Clean-Water Solutions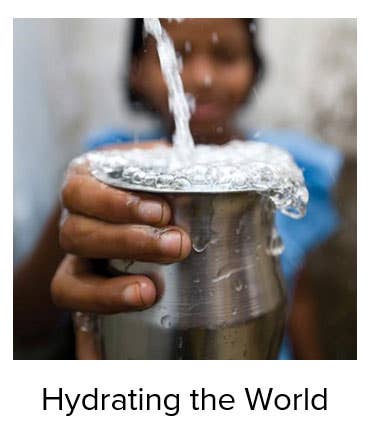 Welly bottles aren't just made with the environment in mind, but you can actively help the planet and people in need with each purpose. For every bottle sold $1 is donated to various clean water solutions and projects in developing countries. This is already making a change. $10,000 proceeds in bottle sales in 2019 were able to provide 200 people with clean water in Malawi. Welly founder and CEO Ben Kander mentioned that he created the company to support the environment and provide clean water to those who need it.
This has been taken to the next level after Welly created an exclusive partnership for branded drinkware. 3% of sales from this partnership are going directly to charity: water. This nonprofit keeps to the mission of bringing safe drinking water to developing countries. Recently, the partnership helped bring clean water to the village of Mai Welay in Ethiopia. Welly has compelling products, as well as an inspiring partnership with organizations like charity: water. This means that it's also a perfect match for companies who want to create their own planet-friendly message.
The Welly Product Lineup
Now that we see some of the unique traits of Welly custom drinkware, it's time to learn about the specific models. After all, your clients, customers, and employees are likely going to have different needs in terms of features and sizes. Here's a look at all the Welly options we offer at iPromo, so you can craft the perfect solution for the holidays and beyond. 
If you want a 16-oz fit for your Welly drinkware, this is the ideal option. For one thing, it's perfectly built for any weather conditions, combining double-wall stainless steel vacuum construction with copper insulation. Trying to keep your soup hot in the cold? It can stay hot for at long as 8 hours. Bringing a cold beverage to a hot worksite? You're covered for 24 hours. Along with this ideal construction, you also have ease of drinking with a screw-on lid with slide closure. It's also well-suited for pouring or filling. Your logo will look great on this tumbler with color imprinting or laser engraving available. 
---
Looking to get started with Welly? This 18-oz bottle is a perfect fit. This vacuum-insulated bottle is extremely durable, made from double-wall stainless steel. However, one of the most important elements of this bottle is the copper insulation inside. With said insulation, you can have a beverage stay cold for as long as 48 hours, as well as hot for at least 12 hours. You also can say goodbye to condensation outside the bottle. Completing the construction is powder coating for maximum durability and bamboo wrap for an appealing natural look. Of course, add your logo vertically to create stylish look, but also take advantage of the branding real estate..
---
Sometimes, all you need is a smaller option when it comes to your branded drinkware. This makes for a perfect match. This 12-oz take on the Welly comes with all the traits that you've come to love, like the copper insulation and double-wall stainless steel vacuum construction that keep your drinks hot or cold for hours as needed. This also comes with a few other additions of note. For example, you get a handy stainless steel infuser along with a timeless look from the bamboo wrapping. In addition, the lid is easy to open when you want to fill it up. This also is well-suited for ice cubes and will fit in any standard car cup holder. Add your logo with laser engraving or screen printing to create a promotional item that will be loved and appreciated by your recipients.
---
Sometimes, you can't just settle on one Welly piece of drinkware. Create an all-purpose corporate gift for your employees, clients, and customers with this drink set. Each set includes 1 Welly® Original Copper Vacuum Tumbler 1629-02 and 1 Welly® Traveler Copper Vacuum Bottle 1629-01. Customize both pieces of branded drinkware by adding your logo through screen printing or engraving to completed your corporate gift bundle. Just note that due to the nature of bamboo and laser engraving, each piece of drinkware that you buy will have some unique variance from item to item. This creates an even more unique branding experience you won't find with other promotional items.
---
Branded drinkware has been a corporate gift staple for decades, making it even more important that you bring something unique to the table. Welly products fit into that mindset perfectly. Eco-friendly initiatives like clean-water solutions are important to a lot of clients, customers, and employees alike. Customized Welly drinkware helps communicate this virtue to those around you. In addition, you're showing that you want to give something special as a corporate gift, not the bare minimum. Our goal at iPromo is to simplify this process for you by offering a wide variety of Welly products, as well as other branded drinkware.