Patriotic Marketing Ideas for 4th of July Giveaways & Promotional Items
Celebrate United States' Independence Day with your favorite red, white, and blue branded products. From inexpensive parade swag to your annual BBQ, we have you covered!
It's almost hard to believe that summer is here and is getting close to the 4th of July. In no time at all, we will be outside celebrating our nation's freedom with parades, BBQs, and other events.
Lots of Opportunities to Promote Your Business and Brand
In many places, 4th of July celebrations go beyond just one day. There may be an entire week of festivities to participate in. If that's the case–or even if there's only one day of events–getting your business out and into the eye of the public can be advantageous. Having different products to hand out or for people to win can also be a fun way to promote your business.
When it comes to 4th of July promotional products, one of the expected things is that they will be in colors of red, white and blue. The options of what you can put together for patriotic marketing are wide and varied. Below are some of the ideas you might consider for 4th of July promotional items to giveaway at events or parades.
---
Items to keep people cool
The 4th of July happens pretty much right in the middle of summer. It may not be the hottest time of the year, but it can still get really warm. Finding products that will keep people cool with your logo on them can be a welcome and popular. Some things your might consider include:
Custom Hand Fans. These can be either printed paper fans or electronic fans that run on batteries. With many options, including the ability to print them in red, white, and blue with your logo, this is something that can make people more comfortable and happy while they participate in events.

Paper fans will be more cost effective, but they may not last as long. If you're looking for an item that people can use beyond the 4th of July celebration, then investing in battery-operated fans could be advantageous. They make great 4th of July giveaways and people will think of you as cool air blows across their face.
Can coolers. With temperatures rising, people will need to stay hydrated. Keeping their beverages cool and stopping them from sweating all over their hands is appreciated. Everyone can use custom can coolers, from kids to the elderly, and people can't have too many of these items. These items can be used beyond the day of the event, so they are a good investment and a good way for people to remember your company.
Water bottles. Speaking of staying hydrated, custom water bottles are a great item to giveaway. Not everyone will remember one from home, and reducing the amount of waste from bottled water can be beneficial. Having an option that is environmentally friendly and can be refilled and reused at many different places is what a lot of people are looking for. You may find that your company is held in high regard because of your thoughtful and useful item.
---
Items that can be used to transport things
In addition to keeping cool during the summer, many celebrations involve being outside and having a picnic. This means that people will often have a lot of items that they need to carry or to keep cool. Below are some July marketing ideas for items that will help with transporting items.
Coolers. Whether going on a picnic, heading to the lake, or going camping, having a cooler can be incredibly beneficial. There are numerous types of custom coolers available that you can put your logo on, from small lunch totes to larger ones that are hard sided and can carry a lot of items.
The smaller ones can be great for giveaways at events and give people something to put their beverages and snack items in to keep them cool. The larger ones can be raffled off. This is a great way to get people to your booth and learning about your company. If they win the cooler, then they'll have a product with your logo that is useful and can be seen by others.
Tote bags. At many of these events, there are a lot of items that are given away. It can be challenging for people to carry it all. If your company hands out promotional tote bags, then they won't have to worry about where they are going to put all the stuff. Plus, your logo will still be visible as they walk around the area and place the other items inside.
Tote bags can also be used year-round for many different things. They could be used as reusable grocery bags, to carry towels to the beach or pool, or for the extra hats and mittens that are needed during winter. No matter what, this useful item is sure to be a crowd pleaser and be used beyond the day of the event.
Golf bags. While a bit more on the expensive side, golf bags can be great 4th of July giveaways for corporate gifts. You can decide if you want to give them to your employees or your best customers. A lot of people hit the course when the weather is warm, and having a high quality bag with your logo on it is a great way to promote your company. It's also a great way to encourage your employees to continue doing a great job or let customers know you appreciate them.
---
Smaller items
There's no rule that says you have to hand out large promotional items at these events. You can do something that's smaller. There are many things to consider, but some things you might not have thought about are listed below.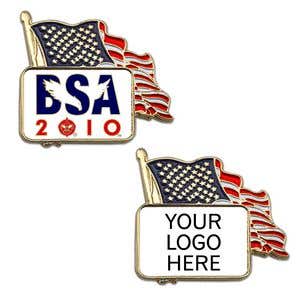 Pins. These can be designed with different patriotical symbols, including the flag. You also have the option of putting your logo on them. This can be something that your employees wear when they are working events or what you give to participants to highlight your company. You might even consider putting a fun saying on them to make them stand out from the crowd.
High-quality keychains. Keychains are a staple of promotional giveaways, and the market is saturated with them. However, you have the option of handing out higher quality keychains. These might include keychains made out of chrome or another metal. People will hang onto these items longer and may use them on a daily basis, making it worth the investment.
You might even consider having fun keychains made, such as those in the shape of a hard hat or baseball. Depending on what your company is, this can be a great way to create something memorable that will be used that has your logo on it.
Flash drives. People are always looking for ways to store their documents, and custom flash drives are an incredibly helpful tool. Having one made with your logo will give people something practical and portable that they can use for work or at home.
---
Items that are fun
Handing out items that are practical for 4th of July giveaways is always a good idea, but sometimes you just want to have a little fun. This is a great time to do it, and below are some ideas you might want to consider.
Bubbles. Everyone loves bubbles, especially kids. Since a lot of the 4th of July events are held outdoors, handing out custom bubble dispensers is a good way to keep kids entertained. Adults enjoy bubbles too. You'll also be getting your logo in front of people and making them smile as they pass the time blowing bubbles during the day.
Sunglasses. Since it will probably be bright during the day part of this event, handing out promotional sunglasses is a good way to protect people's eyes and keep them from squinting. People of all ages can use sunglasses, so they will appeal to a large crowd.
Squirt guns. During the heat of the day, one of the best ways to cool off is to get wet. Handing out custom squirt guns is a good way to help people cool off and have a little fun. As they smile and squirt, they'll be thinking about how you made the excitement possible.
Glow sticks. As night turns into day and people get ready for the fireworks display, they still want something that will help them stand out from the crowd. This is when having glow sticks with your logo on them can come in handy. They may not last forever, but they are memorable and fun.
Make a Plan for Your Products
It won't be long before the 4th of July is here, so putting a plan in place for your products is beneficial. This will also ensure that they are ready to go for any events you might be attending. When working with iPromo, we will get your products taken care of as soon as possible. Even if you need a rush job, we have the ability to get your items done. Give us a call today to order any 4th of July promotional items you might need.