CDC and WHO approved hand sanitizer is crucial in our fight against COVID-19 and will play a critical role as the country reopens. From small containers at every workstation to dispensers in shared spaces, having it available will give people the opportunity to protect themselves while completing their daily work duties. 
Since people are relying on hand sanitizer for protection, they need to be confident the product they're using is safe. The FDA has recently sent out a warning and recall for 9 different hand sanitizer products due to toxic components. Here's a closer look at what the warning means, as well as where you can find safer alternatives.

What Is The Recall About?
The FDA warning revolves around nine hand sanitizer products manufactured at Eskbiochem SA de CV in Mexico. The nine products are as follows:
All-Clean Hand Sanitizer (NDC: 74589-002-01)
The Good Gel Antibacterial Gel Hand Sanitizer (NDC: 74589-010-10)
Saniderm Advanced Hand Sanitizer (NDC: 74589-001-01)
CleanCare NoGerm Advanced Hand Sanitizer 75% Alcohol (NDC: 74589-008-04)
CleanCare NoGerm Advanced Hand Sanitizer 80% Alcohol (NDC: 74589-003-01)
CleanCare NoGerm Advanced Hand Sanitizer 75% Alcohol (NDC: 74589-009-01)
CleanCare NoGerm Advanced Hand Sanitizer 80% Alcohol (NDC: 74589-005-03)
Esk Biochem Hand Sanitizer (NDC: 74589-007-01)
Lavar 70 Gel Hand Sanitizer (NDC: 74589-006-01)
While these were all made in a single facility, and the overall chance of being exposed to it is low, the warning is very important due to the nature of the toxic ingredient and the heightened demand for hand sanitizer. Some of these products may contain methanol, also known by the names of wood alcohol, carbinol, or methyl alcohol. 
The issues here are twofold. First, compared to conventional hand sanitizer ingredients like isopropyl alcohol or ethyl alcohol, methanol does a poor job of killing microorganisms like COVID-19 or other bacteria/viruses.  
However, an arguably more urgent issue is that methanol is toxic and can be absorbed via the stomach, skin, and lungs. So, if you were to use this sanitizer, not only would you still not be clean, but you run the risk of:
Vomiting

Nausea

Headaches

Seizures

Nervous system damage

Comas

Fatality
Safe Sanitizer Options
On the heels of this news, it's important that we mention that there is no current indication that any of these products were sold through the promotional industry. In addition, we can confirm that methanol is not present in any of the sanitizer options we have on the market. iPromo offers sanitizer products made in the USA and approved by the FDA and USDA. In addition, as recommended per the CDC, all of our sanitizer products also have 70% or higher alcohol content to kill viruses and other microorganisms. Here's a closer look at some of our options.
To start, let's focus on smaller, personal-sized hand sanitizer options, like the Custom 2 oz Hand Sanitizer Gel, 80% Alcohol – Made In USA . This unscented gel formula is perfect for quickly applying to your hands after coming into contact with another person or a shared surface. With the disc-cap lid, you can easily release exactly as much as you need for each application, and have something perfectly designed for use on the go. To provide a bit of brand penetration for this employee or client gift, be sure to apply your logo to the bottle with full-color printing. 
Gel sanitizers aren't the only offering that we have, though. Our 8 oz Hand Sanitizer Spray + Surface Cleaner, Made In USA is a good option for people who prefer other delivery systems. This is a sanitizer spray/surface cleaner combo, which means it gives you the tools to sanitize your hands as well as surfaces. Stocking up with one of these at every workstation means that everyone can do their part to keep the workspace clean and safe. Add some branding to these desks and workspaces by applying your company logo to each bottle with full-color printing.
As businesses begin to reopen, and later on after the pandemic subsides, having in-person events may become more and more of a possibility. This is why it's important to make sure you're well prepared to hand out sanitizer and other types of PPE in packages well-suited for these settings. Personalized Single Use Sanitizer Gel Packets are a great example of this. Made with 70% ethyl alcohol from sugar cane, these single-use packets are great for moments where you want to make sure everyone has at least some sanitizer on hand. Make sure they think of your brand when they clean their hands by adding your logo to the packaging with full-color printing.
Having a stockpile of hand sanitizer is going to be important to make sure you never run out at a critical moment. This is why, on top of single-use/personal sized sanitizers, we also offer bottle sizes that multiple people can draw from as needed. Our 16 oz Liquid Hand Sanitizer – Made In USA is a good example. This is FDA approved and made with 80% isopropyl alcohol to kill COVID-19 as well as a variety of other germs that you can buy in bulk. 
Depending on the nature of your industry or workspace, though, you may be using hand sanitizer at a far faster rate. This is especially important for people in fields like retail where there is a high amount of person-to-person contact or areas like medical settings or restaurants where there is a more acute risk of transmission. This is why you may want to buy larger packages, like the 55 Gallon Drum of Liquid Hand Sanitizer—Made in USA. This is made with 75% ethanol in an aqueous solution, with hydrogen peroxide and glycerol included. Ensure that you never run out of sanitizer in these high-pressure settings by buying in bulk.
While buying sanitizer drums may be useful for your stockpile or industrial settings, it's not the most convenient option when it comes to access on a daily basis. For this, you're going to want to look into sanitizer stations. Most public companies already have these in their bathrooms, but now, you're likely going to want to expand these offerings into any public or shared space to reduce the risk of virus transmission.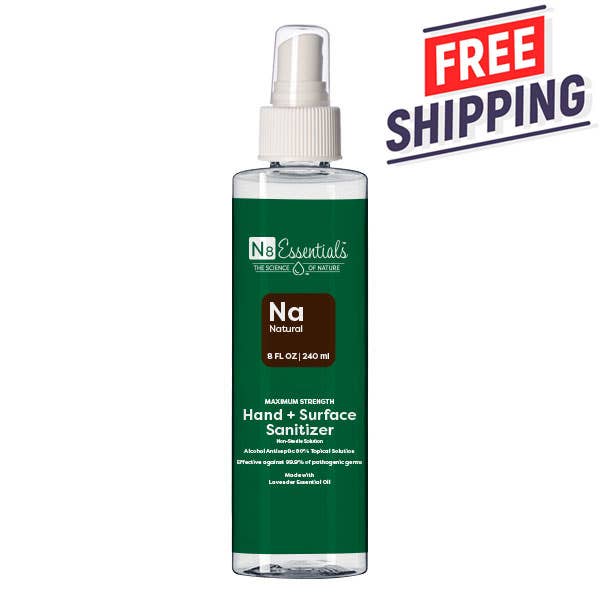 One great option to install around your business is the Custom Sanitizer Station – Sanitizer Not Included. Each station holds about 40 oz of gel hand sanitizer, but note that you will have to buy said sanitizer separately. In addition, this station is designed to reduce transmission risk while people are getting sanitizer. The built-in shield helps keep the surrounding area clean and safe, while the touchless design keeps people from coming into contact with any levers or buttons like other dispensers. You can also add your logo to a full-size printed laminated card using screen printing. For a smaller scale take on this option, look at the Automatic Hands Free Wall Mounted Sanitizer Dispenser. Automatic dispensing means that, again, you don't have everyone's hands coming into contact with the same buttons.
For the foreseeable future, wearing masks, gloves, and regularly using hand sanitizer are going to be a regular part of our daily lives. As a result, whether you're thinking about equipping your employees with PPE or providing useful gifts for your clients/customers, an item like the Sanitizer Bracelets may be the perfect fit. For those who aren't familiar with sanitizer bracelets, these gadgets are designed to be discreetly worn and filled with hand sanitizer, to make sure that there is some always on hand. This is especially useful for people who may not carry around a purse or a bag to store hand sanitizer in while they're on the go.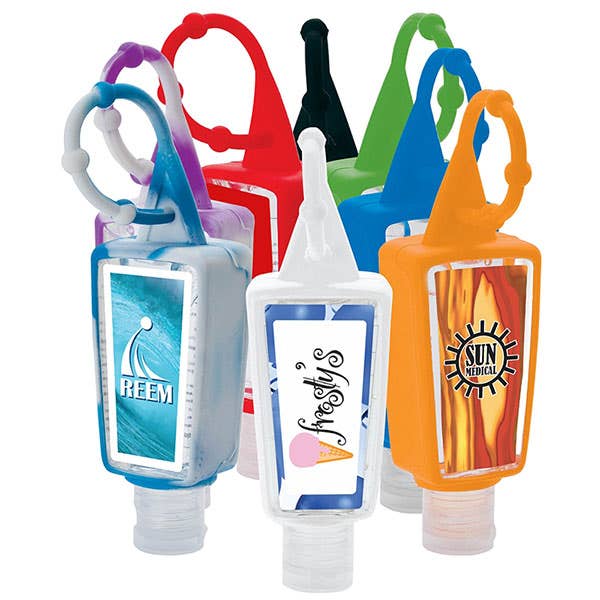 This particular bracelet has a refillable cell for multiple uses and is made from 100% medical-grade silicone. To make sure that your employees and clients remember that you have their safety in mind, be sure to put your company logo on this bracelet using screen printing. 
Hand sanitizer is an essential component of PPE in just about any professional setting, so any issues with the quality of the product on the market should be addressed immediately, for the public's safety and peace of mind.
At iPromo, our goal is to provide you with all the promotional items, gear, and equipment that your business needs to navigate the new normal. This also means helping keep you safe. So, along with providing safe hand sanitizer and other PPE to protect you and your team, be sure to follow our blog for other important industry news and updates.