11 of The Best Made-In-USA Safety & PPE Gear For Reopening Your Office After COVID
Right now, offices and businesses around the U.S. are beginning to get the greenlight to reopen. Naturally, this is an exciting period for business owners ready to start getting proper income/procedure again, but it's important that you don't move too fast. Failing to have the appropriate gear and equipment is a surefire way to lose employee and customer confidence.
At the same time, when you're looking for PPE and promotional equipment to buy, you may be thinking of items that let your clients and customers know that you are back in business. Equally important is making sure that you show appreciation for the employees who have been hard at work helping you reopen, as well as the customers/clients that stuck by your side even when things were uncertain. Here's a look at some of the premier items that will show these people just how much you care. That's not all—they are all made in the USA to boot!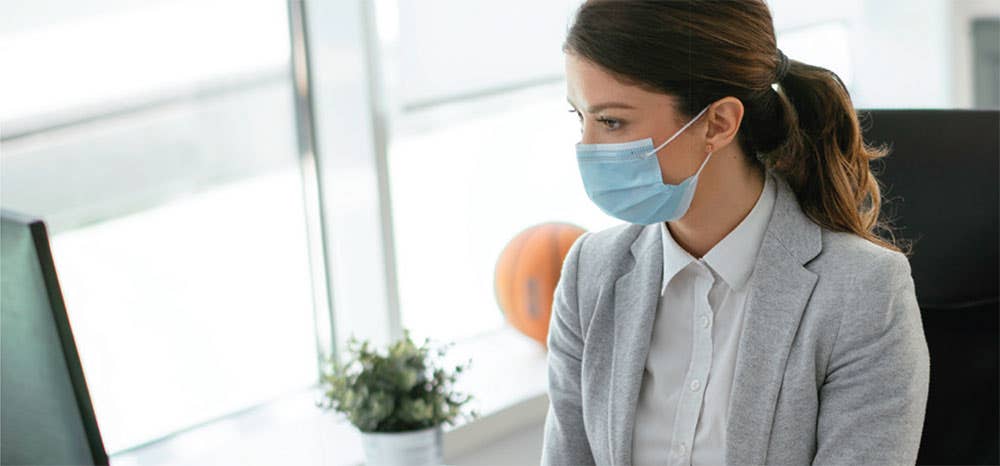 Your Office Reopening Checklist
Let's start the conversation with the key things you should be thinking about before you start reopening.
Shifting Office Organization: If you had an open office or communal workspace prior to COVID-19, you need to reevaluate. Ideally, every single workspace you have in your office should have a way to keep everyone six feet apart at all times. While there are some shared areas in every office like the office kitchen or bathroom, you can at least try and time things so those areas won't be overly crowded at the same time.
Making Office Upgrades: Investing in PPE is one thing, but you can also make some other additions in order to make your office more suitable for reopening. Examples include paying your cleaning teams to visit your office more often or purchasing a better air filtration system. This helps showcase that you're thinking ahead rather than trying to do the bare minimum to comply with local regulations.
Planning Customer/Client Workflow: Planning is going to be key to putting your entire team at ease. Don't wait until customers start coming back before you know exactly how you will address them. What happens if one looks ill or doesn't have suitable PPE? How are your healthy customers going to interact with your team members? All of these things need to be decided before you reopen.
Minimizing Inter-Team Contact: Chances are that you have several different teams working in the office at any given time. While all of their work contributes to the company, you may not necessarily need them around at the same time. A good idea, at least in these early reopening stages, is to stagger when your teams go into the office. Perhaps have one team in the office at a time, while the others work remotely. This helps minimize the chance of your entire office getting sick if just one person ends up getting exposed outside of work.
Encouraging Employees to Speak Up: Working sick has been considered a badge of honor for quite some time, but that needs to change. Employees need to be honest when they start feeling ill, so you can implement a remote work plan and minimize the chance of any further exposure.
Having A Proper PPE Stockpile: Finally, we can't understate the importance of PPE. This ranges from antimicrobial items to equipment that helps mandate social distancing. Even if you are in an office that doesn't get a lot of foot traffic from customers, you should be taking this into consideration. Luckily, we have a lot of promotional items and PPE made in the USA that can help fill that need. 
Made In USA Safety Items For the Workplace
1. Hand Sanitizer Gel
When you're thinking about American-made items to add to your office prior to reopening, Gel Hand Sanitizer – Made In the USA should be at the top of the list. One of the best ways to keep your employees protected is by making sure that they have their own supply of hand sanitizer at their desks at all times. Our sanitizer is made with 80% isopropyl alcohol and is FDA approved.
---
2. Hand Sanitizer Spray + Surface Cleaner
As another sanitizer option, you can also look into 8 oz Hand Sanitizer Spray + Surface Cleaner, Made In USA. This combination spray/surface cleaner is great to quickly apply to something after someone else touches it or comes near your workspace. Having both items at every worker's desk means that everyone can take an active role in keeping the office clean.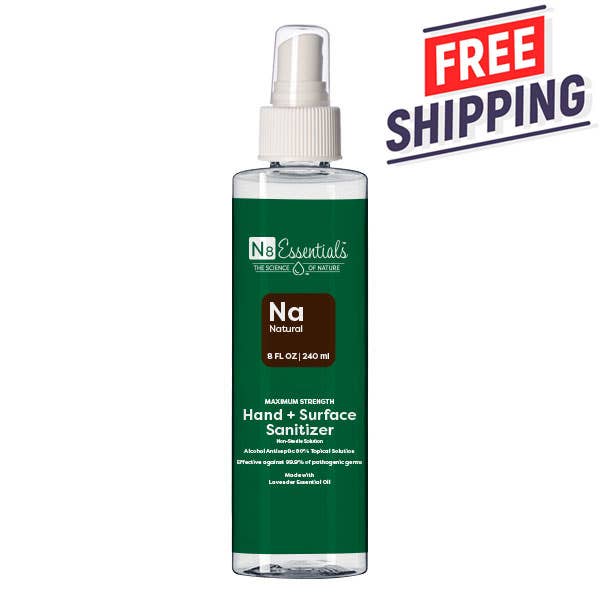 ---
3. Desk Shields & Barriers
Something else that's going to be very important to reinforce social distancing rules is barriers and shields. These will allow people to communicate with each other without risking exposure, or simply help enforce the 6 feet of distance that is now being mandated worldwide. As a start, consider our 24Wx24H Workplace Table Top-Shield with Antimicrobial-Base 1-4 Polycarbonate. These transparent panels are great for reception desks to allow people to talk to each other while catching any potential moisture droplets that appear.
---
4. Front Desk Reception Shields
Another option is the 1/8 Thick Distancing Barrier With Acrylic Legs. Simply put these up at front desks or any area where there's a chance of people getting into a line to wait. Great for front desks or reception waiting areas.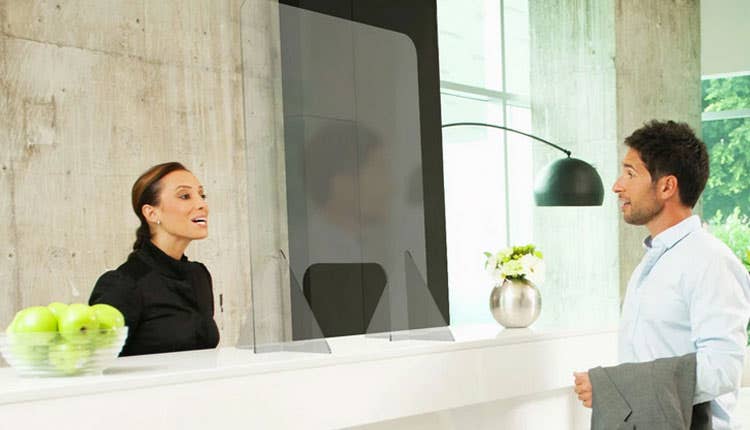 ---
5. Patriot Custom Reusable Face Masks
Face masks are also going to be one of the essential additions you need to your workplace in order to keep employees and customers safe. We offer a few U.S. made options for your office to stock up. First is the Custom Patriot Reusable Masks. This is held in place by an elastic band, and you can use screen printing to apply your company logo by the cheeks, and Patriot Coolers provides a $1 donation to Homes For Our Troops for each mask sold.
---
6. Custom 3 Ply Face Masks
For something with a little more protection in the workplace setting, the Custom Printed USA Made 3-Ply Face Masks may be a better fit. This disposable mask is a great option if you just need something to wear in shared settings, and you can also customize it with your company logo. We apply the logo to this 3-ply mask with screen printing.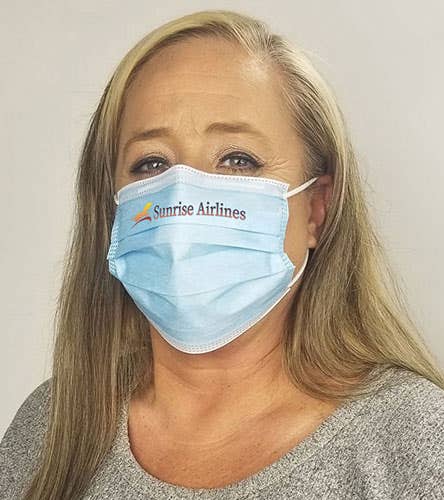 ---
7. One Size Spray Protection Face Shields
For workplaces or warehouses that require even more protection, check out our One Size Spray Protection Face Shields – MADE IN USA. These are meant for any setting where there's a risk of fluid exposure. They offer another layer of prection in addition to face masks.
---
8. Custom COVID-19 Prevention Wall Signs
Something else that's going to be important, as we alluded to earlier, is making sure that the staff in your offices remembers to adhere to the rules that you've set. Sometimes, though, it can be difficult to keep track of all the different things that you need to do. This is why it's a good idea to have informational stickers and decals all over the workspace. One such option is the COVID-19 Coronavirus Prevention Custom Utility Sign 5.5"x 8.5" Vinyl Sticker. This is a basic reference guide to show your entire staff as well as customers and clients that enter what they can do to stay safe. You can also apply your company logo through full-color printing, to make sure people associate your brand with safety.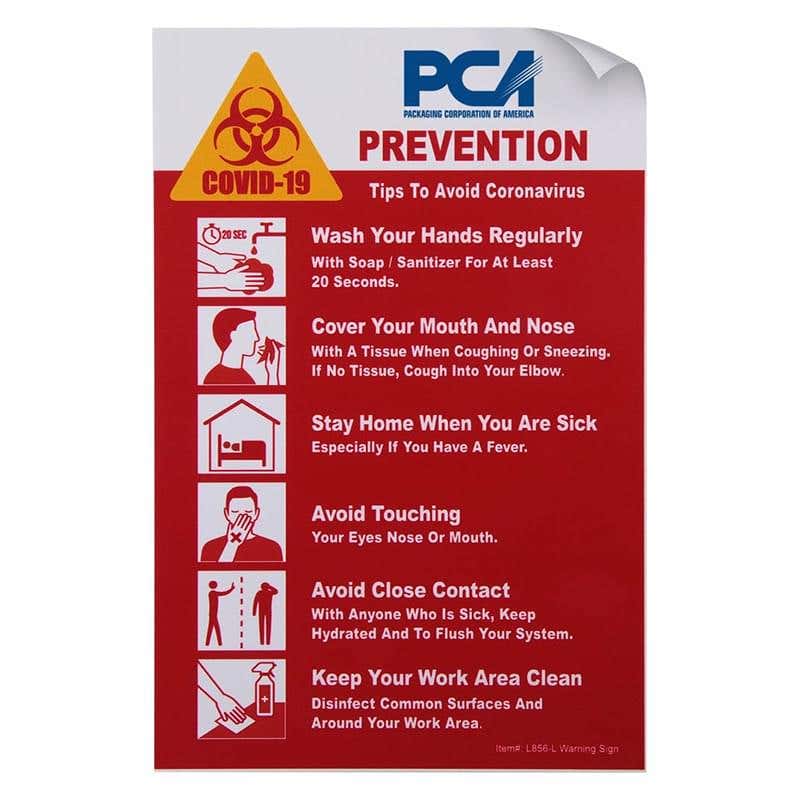 ---
9. Social Distancing Floor Decals
You can also make sure you mandate behavior like social distancing and wearing masks with items like the 12" Circle 6ft Apart Floor Decals
---
10. Social Distancing Window Clings
The Window cling can be applied to both walls and windows to show employees and visitors alike that you have social distancing rules in place when they enter your building. Take a look at all of our made in USA window clings and decals to fit your office needs.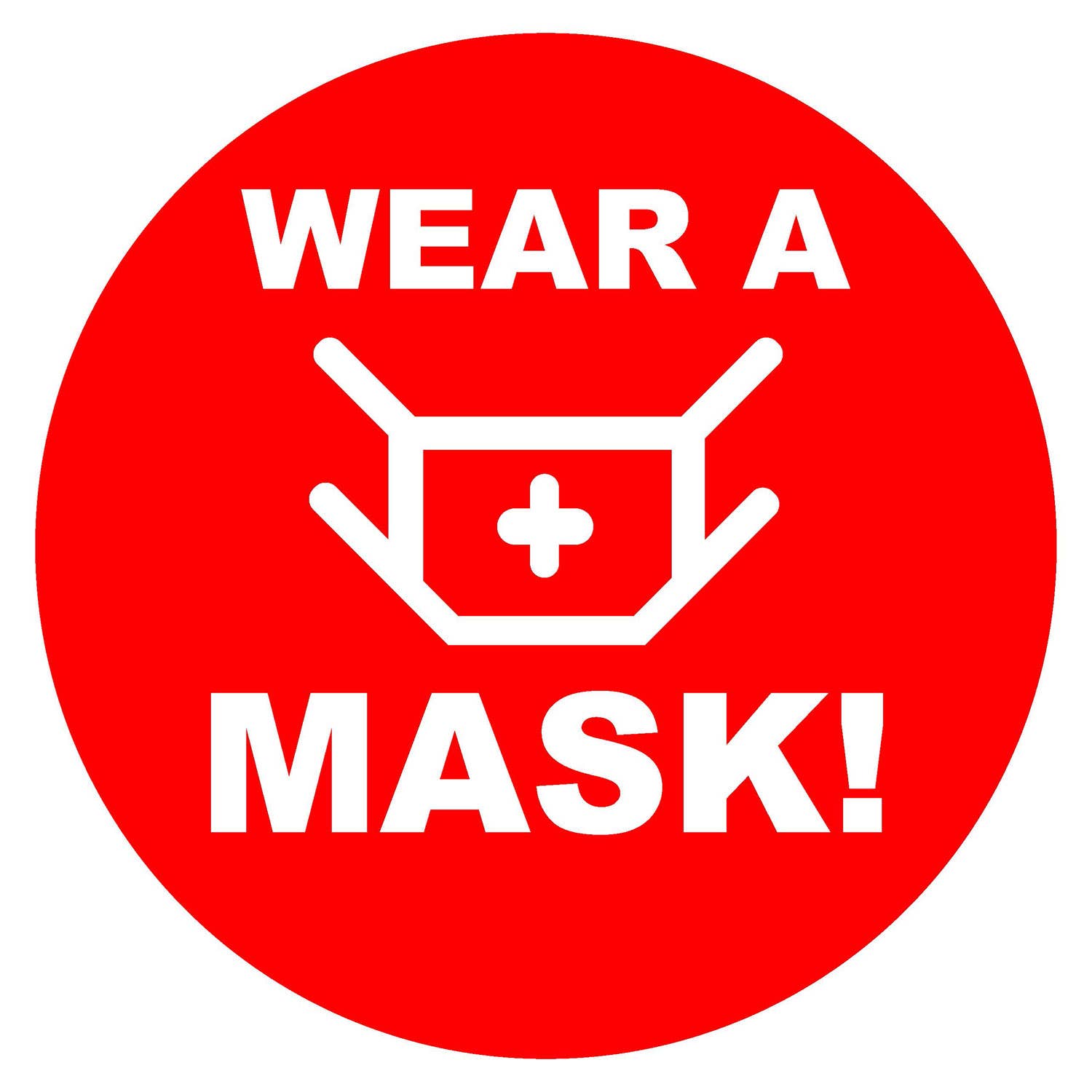 ---
11. Made in USA Office Supplies
As a final addition, keeping your desk organized is going to be more important than ever to ensure that items that different people touch and use don't get mixed up with other people's personal equipment. One great asset to avoid this situation is the Ultra Desk Caddy. Made in the USA, this desktop organizer is perfect for organizing writing utensils, scissors, notepads, business cards, and other office essentials. You can also add your custom artwork/logo with screen printing for additional branding.
Promotional gear has a variety of different functions around the office, especially during this unique time for a lot of businesses. On the one hand, there's a practical function. Every office is going to need things like masks, hand sanitizer, and barriers anyway, so it's a good idea to have some that your office can call its own. Equally important is the use of these for branding and morale purposes. Your employees may be a bit reticent to come back into work and enter the new normal. Providing promotional items made in the USA shows your employees that you are thinking of their needs and concerns so they can spend less time worrying about their own safety and get back to focusing on work.
A lot of businesses in the country are struggling due to the lockdown, and buying American shows your employees, customers, and clients that you are taking a socially-conscious look at what's going on. At iPromo, we understand these needs, and are happy to help the companies buying and making promotional items for offices.