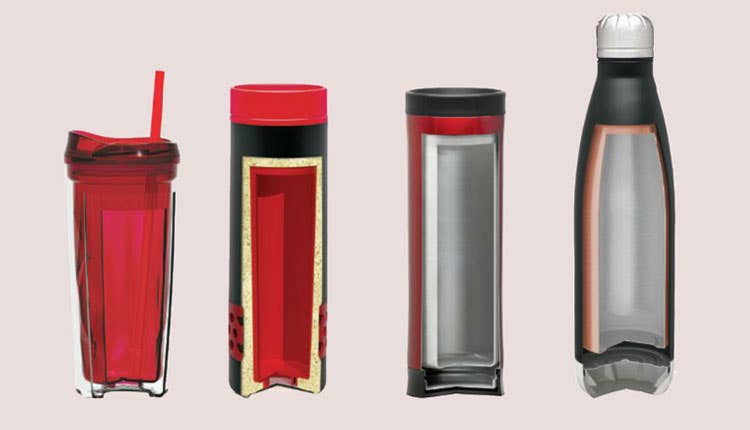 Promotional Drinkware Insulation Explained
Have you ever wondered how certain drinkware products are designed and how they are able to keep liquids hot or cold for extended periods of time? It's an interesting question that involves science and some truly clever designs. It can also be hard to keep all of the different insulations straight, from double-wall to copper vacuum insulation, it's hard to remember the differences for each type of insulation. That's why we put together a quick drinkware insulation guide to help you which type is right for you.
There are four main types of insulation designs applicable to drinkware: double wall insulation, foam insulation, vacuum insulation, and copper vacuum insulation. Each one has its own unique design and benefits. All four types are intelligently crafted and are the perfect choices for promotional product offerings. You can use promotional drinkware to grow your brand, increase customer loyalty, or simply as a show of good faith to your client and customer.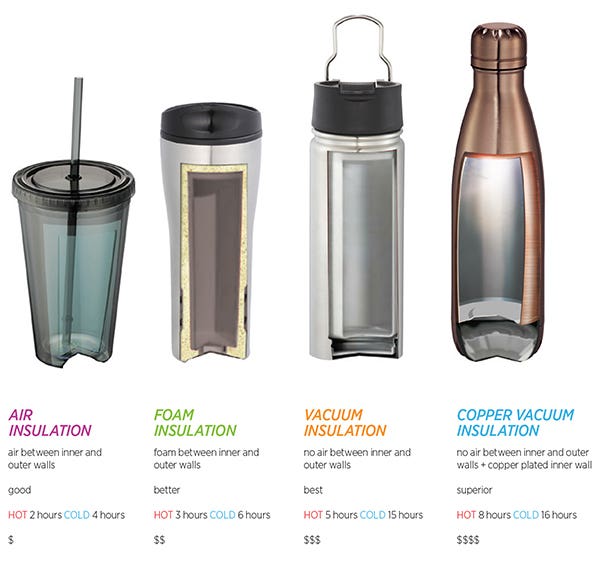 Below, we will discuss each of the four drinkware insulation options and provide you with some great promotional products for all of the different types.
Double Wall Insulation
Double wall insulation involves using air between the inner and outer walls of the container in order to keep beverages colder or hotter for longer than a single wall option. This is normally the most cost efficient drinkware insulation option. It won't give you all day enjoyment of a hot or cold beverage, but it will certainly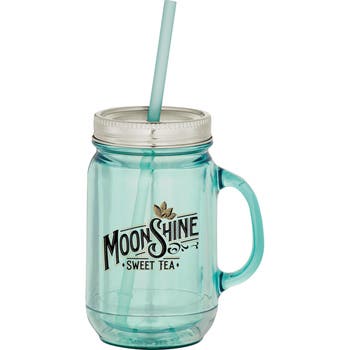 help maintain a beverage's temperature for a few hours. Typically, this design will keep beverage cold for 4 hours and hot for 2 hours.
iPromo offers a variety of double wall insulation drinkware products that can be customized to meet your business marketing needs and branding requirements. The Double Wall Translucent Tumbler is a low cost promotional product that is eye catching and very useful. It comes in a variety of different colors and will surely be a great choice for your next promotional product offering. Additionally, the Double Wall Sweet Southern Jar offers the same great insulating technology in a uniquely designed shape.
Foam Insulation
Drinkware that has been designed using foam insulation for temperature control offers better insulation than the previously mentioned double wall air insulation design. Foam insulating technology is typically found in travel coffee mugs and offers great functionality for it's price. Drinkware that features foam insulation uses a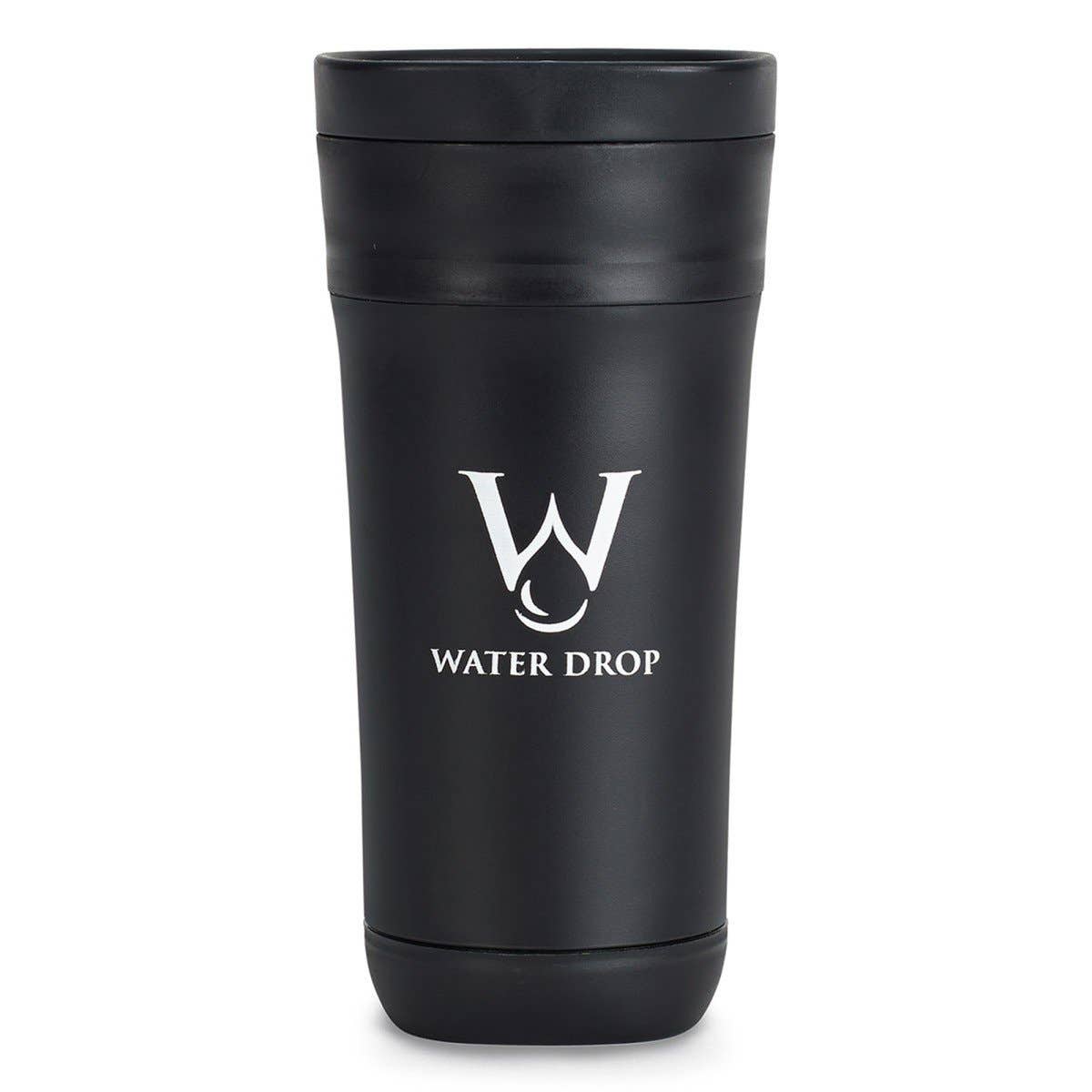 foam layer between the inner and outer walls to keep liquids cold for around 6 hours and hot for about 3 hours.
Some great choices for foam insulated promotional drinkware are the Thermocafe by Thermos Travel Tumbler and the Coleman 1/3 Gallon Jug, both offered as fully customizable promotional products from Ipromo. The Thermocafe is a great option if you are trying to help people who like to take their beverages on the go. It features a sleek design and a scratch-resistant base. The Coleman 1/3 Gallon Jug is great because of its solid construction and larger beverage capacity. Both items are great budget-friendly promotional drinkware items.
Vacuum Insulation
Vacuum insulation is another form of insulated drinkware that is even more efficient than the aforementioned designs. There is absolutely no air in the inner walls, which means beverages are able to stay cold or hot significantly longer than the other options. It's a little more expensive for vacuum insulated drinkware, but it's definitely worth the money. This option can keep liquids cold for a staggering 15 hours and hot for up to 5 hours.
If you are interested in vacuum insulated drinkware, the Beck 16-oz Stainless Vacuum Tumbler is a fantastic option. This customizable drinkware is intelligently designed and offers a screw-on stainless lid and reusable straw. Additionally, the Geometric Vacuum Tumbler 15oz offers a bold design that comes in either a rose gold or striking silver finish.
Copper Vacuum Insulation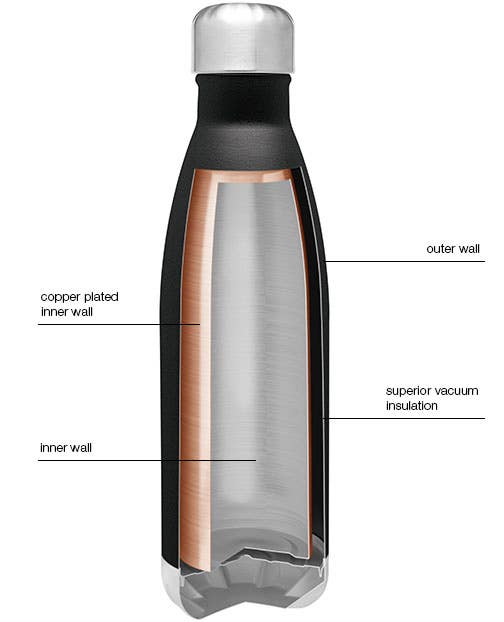 The most efficient and most expensive insulated drinkware option is copper vacuum insulated drinkware. This insulation is a combination of vacuum insulation with copper lining on the inside of the container. All of the major retail brands use this form of insulation for their products. Copper vacuum insulation will keep beverages cold for up to 16 hours and hot for up to 8 hours. If you want to provide a promotional drinkware product that will be used over and over, it's worth spending a little extra for copper vacuum insulation.
The best selling copper vacuum insulated drinkware options at iPromo are the 17oz H2Go Force and the Hugo Copper Vacuum Insulated Tumbler 20oz. Either one of these amazing products is sure to be well-received. The H2Go force is a more portable option, while the Huge Tumbler is bigger and extremely durable. Both are easy to travel with and either one would make the perfect promotional marketing product.
There are a few things to keep in mind when selecting promotional drinkware products to help grow your brand and create hype around your business. Think about what your budget is and the importance around the length of time that beverage temperatures are controlled. If you spend a little more, you can create custom promotional drinkware that is particularly high quality. However, budget friendly options still work great and are certain to help you create successful promotional marketing offerings.