Promotional Product Trends For 2019
The new year is here! That means new promotional product trends. Being that custom promo items are kind of our thing, we decided to give you some helpful insight to kick off 2019 on the right foot.
The time is now to get your marketing plan into gear for the year. And naturally, the right promotional giveaways for your customers are a key part of that strategy. Check out our forecast for 2019 trending promotional products below:
Custom Phone Accessories
This is one category that should be no surprise to anyone! With the amount of time that we spend our phones these days, it's only natural that custom phone accessories would be a big promotional product trend for 2019! Popular phone accessories for 2019 include phone, rings holders, phone wallets.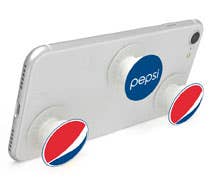 The most popular items? The whole PopSocket line of phone accessories. Custom PopSockets are a multi-functional phone stand and grip that attaches to the back of your phone or tablet. And expected to be available in early 2019, PopSockets is releasing two new products, "PopWallets" and "PopMinis". These great new items in addition to the best selling custom PopSockets, will continue to be our best selling promotional phone accessories in 2019.
Portable Power + Your Brand
Since we've already admitted to having an addiction to our devices, it's only fitting that we find a way to keep them constantly charged up and ready to go! Enter portable power products. This is one custom giveaway that everyone can appreciate and use frequently. There are two promotional product trends for 2019 when it comes to portable power.
Custom Power Banks are built for fast & safe charging for any of your devices—they come in all different shapes and sizes and can easily be customized to suit your brand's vibe. The other favorite is custom Qi wireless chargers. This go-to brand for portable power is compatible with many of the most popular cell phone brands, and help power your company via an assortment of customizable products.
Combo Tech Products
Another popular promotional product trend for 2019, combo tech products are a fabulous way to combine several daily essentials into one handy, totally useful product. Our three favorites?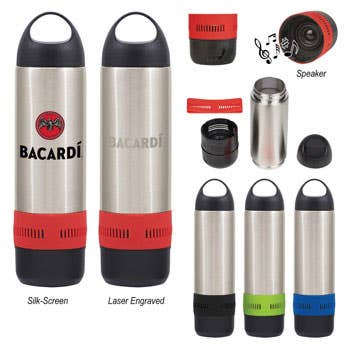 1. The backpack that beats all others. It's a backpack, speaker, and portable charger all in one.
This backpack features a removable Bluetooth speaker that lights up and changes colors when playing music, a 15″ computer sleeve, an organization panel, a side water bottle pocket, as well as a USB port and cord.
2. The bluetooth speaker + water bottle combo.
This tech-savvy hydration product enables you to take your music (and water!) with you wherever you go.
3. Flare power bank + flash flight. Tons of power to charge your devices on-the-go + an LED flashlight for emergencies. Combo tech products are a very cool giveaway option, especially for customers that are outdoor and adventure enthusiasts!
Bluetooth Audio Products
Bluetooth audio products are another in-demand product category for 2019 is. Forgo the nuisance of dealing with perpetually-tangled wires with wireless earbuds and headphones. They're a must-have for busy people on the-go and are definitely a big hit when it comes to giveaways.
As for your home/office situation, there's nothing quite like custom Bluetooth speakers to serenade you via any device that has pairing compatibility. Plus, Bluetooth speakers come in so many different forms and sizes that there are endless great opportunities for customization.
Wifi Smart Home Accessories
There's no home like a smart home. So why not help your customers get tech-savvy next year with some seriously smart devices that make life even more convenient. The three trending promotional products in 2019 when it comes to Wifi Smart Home Devices include Wifi Smart Plugs, Wifi Video Doorbells, and Smart Strip USB outlets. All of these enable you to control some aspect of your home via your device. Very convenient indeed!
Customizing Retail Brand Items
Apple, Amazon, S'well and Anker—all longtime favorite names in every household. People loves these brands because they're reliably high-quality and highly functional. So it's definitely a given that custom retail brand items are another huge promotional product trend for 2019. A customized giveaway including any of these a-list brands is guaranteed to be a home run with any customer.
New Decoration Methods
Our final category for promotional product trends for 2019 doesn't actually include products, but rather new decoration methods. The top two new guys on the block? Light up logos and true edge transfers. Light up logos are self-explanatory and are a fun way to seriously showcase your logo. True edge transfers are an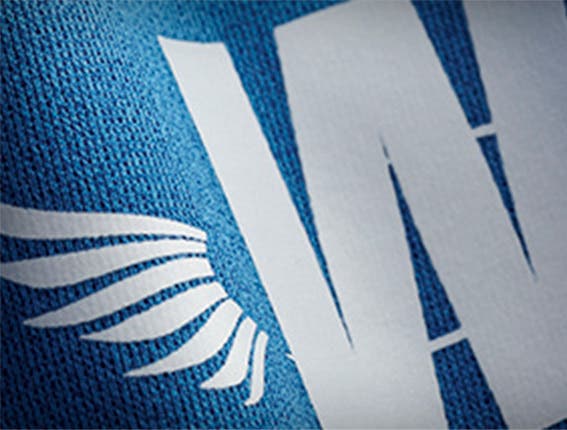 innovative heat transfer process that provides increased clarity and precision.
No matter which of the trending promotional products in 2019 you choose, you can't go wrong. Each product on this list is a fantastic swag option that your employees and customers alike will love! 2019 is the perfect time to step up your giveaway game and make a big impression for your brand—get a leg up on your marketing strategy and find the perfect promotional product for next year.