Stylish Custom Branded Sneakers & Shoes Are Officially a Trend
Put my logo on shoes, you say? Branded shoes are one of the coolest employee giveaways we've seen in a while. We are going to show you how to really put your best (branded) foot forward this year.
Here's Why Custom Branded Sneakers are a Shoe-In
The promotional product industry has been clocking in record-breaking revenue in recent years, and this can largely be attributed to the fact that there are just so many creative new products out there to choose from.
What many people don't realize is that promotional product advertising might not be a new concept, but it is still one of the most effective and affordable ways to market your brand. In fact, audiences under 55 prefer it to any popular type of media, Internet advertising included, and it is one of the only effective ways to reach hard to convince millennial audiences who tend to be wary of fleeting ads.
However, it also means that if you want to really make an impact with your promotional marketing campaign, you have to be ready to think outside of the box. When it comes to custom apparel, traditional picks like t-shirts and caps still provide a great way for marketers to maximize their returns, but they are also hardly a new concept.
This continual search for new, innovative ways for marketers to reach new audiences, maximize their exposure stand out from the pack might explain why custom shoes are quickly becoming one of the trendiest promotional items that everybody wants to get their hands on, or better yet, get their feet into, these days.
Of course, when you really think about it, sneakers with a logo make perfect sense. Recent years have seen an unprecedented shoe-craze sweep the globe, and sneaker collecting has become somewhat of a sport these days, with more and more people continually jumping on the boat. This not only means that people can never have too many pieces of custom branded footwear but that marketers can enjoy total creative freedom in a way that is otherwise unprecedented in the world of branded apparel.
Even better, branded sneakers are an inherently valuable way to maximize your exposure. After all, they are the type of thing that people will not only rock indoor and outdoor environments alike but they also stand out. This means that custom-branded sneakers are one of the smartest ways to turn heads, generate hype, lock in loyalty and really get people talking all at once. There is really no way to top that!
Basically, when it comes to creative marketing trends, branded sneakers are where it is at, and we are going to walk you through some of our favorite picks to get you started.
If the Shoe Fits, Wear It!
Looking for some of the best custom branded shoes to really get your foot in the door? Here are some of our top picks for the year.
The Slip-On Custom Shoe
When to zeroing in on the type of casual comfort that is right on trend for the 2020 season, you really can't beat The Slip On Custom Shoe. Channeling a classic retro-throwback design decked out with contemporary touches like multi-layer cushioning to cash in on the ultimate comfort and convenience all-in-one, these go-to slip-ons are just as fun to wear as they are to design.
Even better, they are still dignified enough to suit almost any kind of environment and will keep those feet feeling good even after long hours of standing. The high-quality canvas design is as breathable and lightweight as it looks, and comes complete with built-in UV protection that is made to withstand the elements and keep your creative custom design looking great and turning heads for years to come.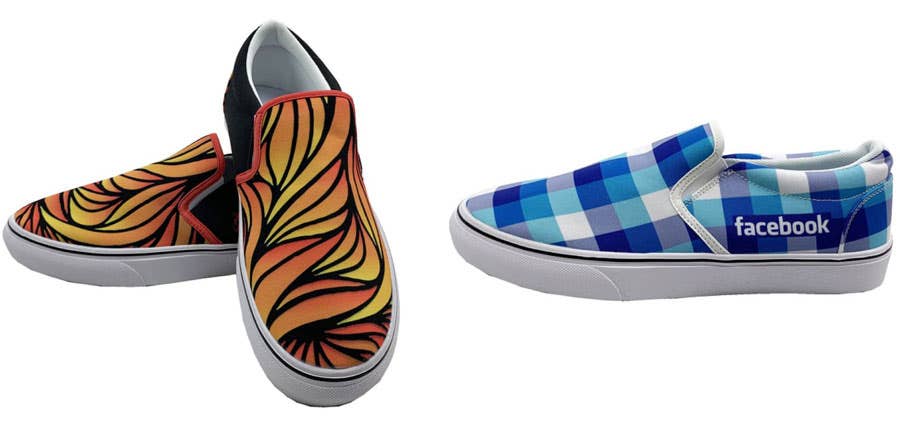 ---
The Cruiser Custom Shoe
The all-age friendly The Cruiser Custom Shoe might steal the show on the courts, but they also make for a great office and outdoor wear as well. Not only do you have the freedom to fully customize the color and design, but you can also choose between black or white laces and trim to really offset your look.
This ultra-versatile, super-chic, business-casual look is right on-trend and is a great way to add a dash of color to a corporate wardrobe while still being casual enough to complete the most stylish streetwear-inspired fashion choices. Even better, there is no minimum order quantity to qualify, so you can experiment with a full variety of different designs and looks that really cater to your target demographics.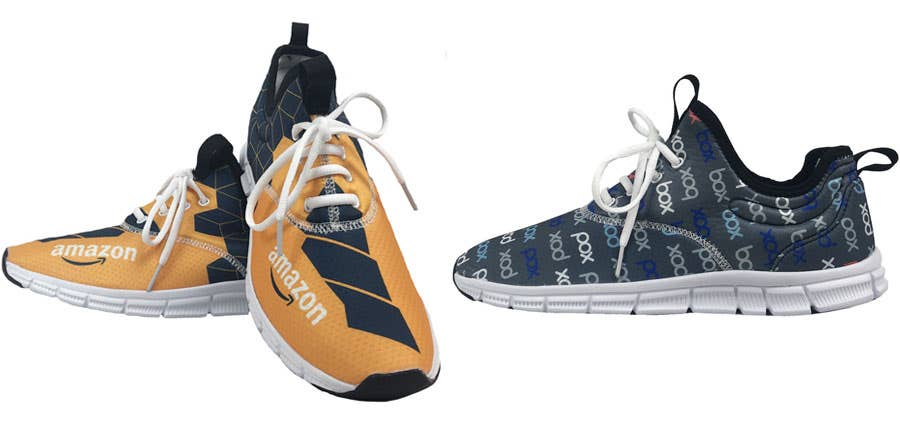 ---
The Flyer Custom Shoe
When it comes to the hottest apparel trends, vintage-inspired throwbacks take the cake these days, and The Flyer Custom Shoe is right on the mark. These stylish high-tops feature one-of-a-kind detail that harkens back to the iconic street style of the 80s and 90s, with intricate black-lined sole detailing, timeless white toe accents and subtle white stitching that will really help your branded logo design pop. Even better, the multi-textured design gives you plenty of opportunities to run with a two-tone retro-look while still keeping it chic and contemporary.
These are the type of shoes with a logo that are really going to appeal to younger audiences and are a great way to increase your exposure among creatives and Millenials who love to sport this type of look.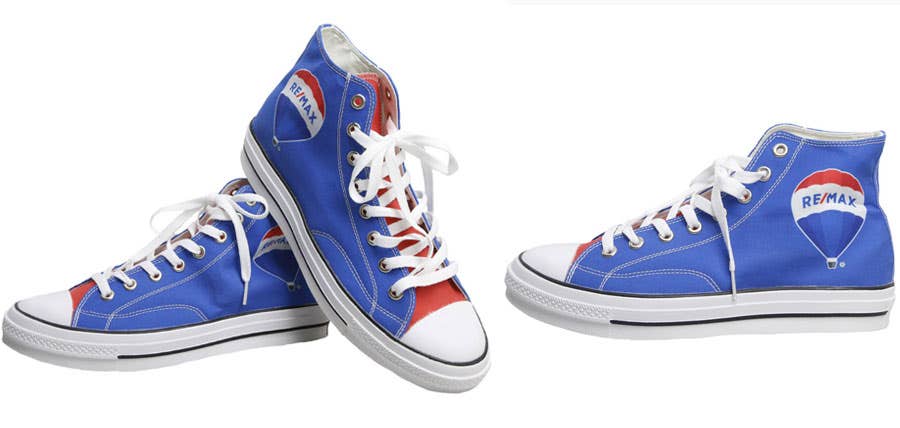 ---
The Slide Custom Printed Sandals
Casual wear in all the rage these days and these Slide Custom Printed Sandals hit the mark when it comes to nailing the athleisure trend that continues to sweep the globe. The classic black base ensures that your full-color custom slide strap design will steal the show and high-quality inbuilt UV protection means that your artwork will last.
Keep in mind that the lightweight, easy-to-toss-on design means that these are the type of custom branded shoes that your clients will be reaching for on a daily basis, and the fact that they are highly portable means that they make for the perfect travel-friendly take-along that to max out your worldwide exposure. You only need to order one item to qualify, but the more you buy, the more you save, so don't be afraid to stock up on this budget-friendly pick!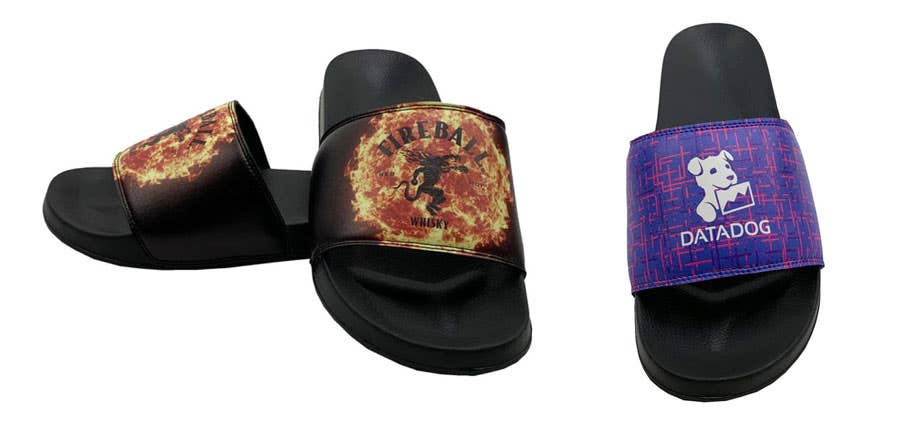 ---
The Chariot Custom Shoe
The edgier version of the Cruiser Custom Tennis Shoe, The Chariot Custom Shoe features sleek design components like an angular textured sole and raised tongue and heel flap that channel the type of cutting-edge looks that sneaker freaks are lining up to grab, and thus, this pick is the perfect way to really make an impact with a younger, hipper audience.
In addition, thoughtful features like a high-breathable texture variation and a finger heal strap for that make these cool shoes with a logo super easy to slide on and off really set them apart in terms of quality and ensure that your clients will be reaching for them wherever they go. Basically, when it comes to surefire conversation starters, this trendy tennis shoe takes the cake.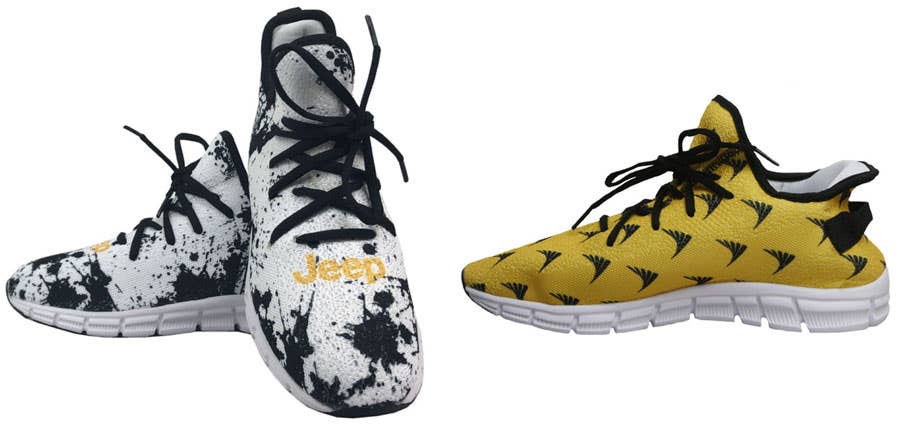 ---
The Scoot Custom Shoe
The Scoot Custom Shoe really strikes that perfect blend between contemporary versatility and throwback-chic. The stand-out sole design featuring intricate black line details is the perfect way to subtly offset your one-of-a-kind full-color design, and the timeless white toe will really set the look off right.
Even better, they transfer seamlessly from the office to a backyard barbecue and means that you can count on generating plenty of new exposure in addition to decking your clients and employees out with the coolest custom branded shoes that they will actually be proud to rock. Win-win!
---
The Midwest Custom Shoe
When it comes to the type of chic pick that works for any occasion, The Midwest Custom Shoe is where it is at. This gorgeous polyester-based design is perfectly on-trend without being over the top, integrating thoughtful touches like a tapered sole and fade-proof UV protected material that make them the perfect everyday branded shoes that your clients and employees will love to rock.
In addition, the inclusion of three fabric layers not only creates a unique, eye-catching texture but also gives you plenty of opportunities to integrate multiple tones and contrast colors into your comprehensive full-color design. Just as comfortable as they are stylish, these versatile shoes will appeal to almost anybody and are a surefire way to really make your next marketing campaign stand out from the crowd.
---
The Drifter Custom Shoe
Want to channel that carefree bohemian vibe into your next promotional marketing campaign? The Drifter Custom Shoe is the way to do it. These uber-comfortable, light-weight, and ultra-breathable slip-on branded shoes are designed for comfort and versatility and feature thoughtful touches like a durable heel strap that lets your clients and employees rock a lace-free look with ease.
Even better, they make for the perfect beach, barbeque and travel adventure accessory and the durable tapered sole provides plenty of traction for indoor and outdoor use alike. The fact that they are just so comfortable to wear means that this is the type of investment that is sure to drum up amazing returns, and the all-age friendly design means that you don't have to limit your target audience base.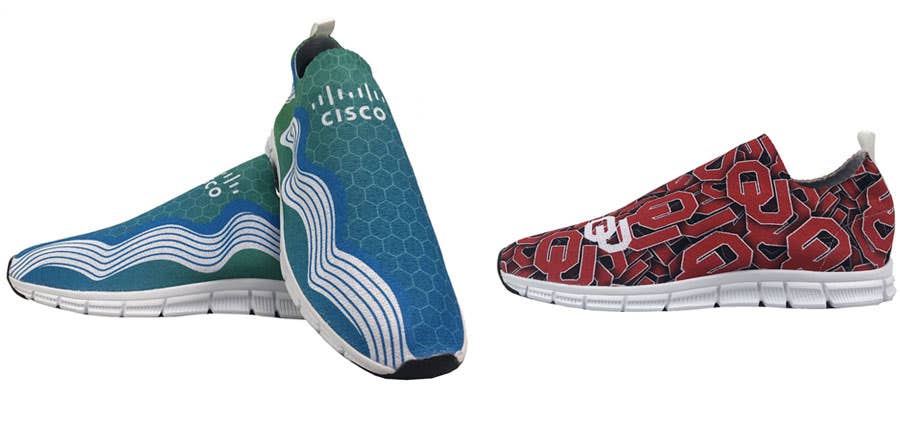 ---
To Sum It Up
If you think that creating a custom branded product from scratch needs to be difficult, think again. Our design team is standing by and ready to bring your ideas to life, and we walk you through the process to create your on-trend custom shoes that will really make and impact and will be loved by those who receive them!
Of course, we are always happy to send out a free sample to make sure that we get everything just right, and you can count on consistent results, each and every time. Be sure to come check us out today to find out more.