Tactile Marketing For The Digital Age – Why Swag & Promotional Products Matter More Than Ever
We believe tactile marketing automation is the single best way to help your sales and marketing campaigns convert prospects into paying clients, but first…
What Is Tactile Marketing?
For the last decade, we have all heard more and more about how online marketing tactics are the only way to really speak to and engage an audience.
However, what the proponents of digital marketing failed to foresee is that when everybody is resorting to online marketing, those target audiences might end up bombarded and shut down altogether.
Alas, here we are in 2020, and the average person is receiving no less than 4000 digital advertising bites a day. Not surprisingly, they are also searching out ways to bypass this continual barrage, and there are a lot of effective tools out there to do it, like ad blockers and email filters, just to name a few.
So what does this mean for your business?
That a lot of those hard-earned advertising dollars are probably being dumped down the drain.
In an age of continual digital overload, it is time to start rethinking the way that businesses are interacting with their audiences.
So what is the solution? Enter, tactile marketing.
A New 21st-Century Friendly Tactile Marketing Definition
Before we start talking about the amazing opportunities that tactile marketing opens up for marketers to truly leverage their promotional marketing strategy, let's answer the question, "What is tactile marketing?"
Well, the tactile marketing definition can largely be described just like it sounds. Tactile marketing basically involves a reintegration of tangible, touchable, and usable tactics back into the advertising landscape, and this is achieved through the use of good old-fashioned mail.
That said, a step backward it is not. With the advent of the digital age, marketers have obtained a previously unprecedented ability to take advantage of the awesome power of digital metrics, and tactile marketing takes this knowledge and runs with it.
Automated tactile marketing doesn't just mobilize those physical mailboxes to deliver the type of tangible promotional products that will leave your clients with a unique reminder of your brand that they can truly hold onto, but it also integrates the best of digital marketing technology into a since overlooked marketing method. This enables you not only to take advantage of a heavily underutilized marketing medium but also take this type of strategy into a whole new dimension in terms of effectiveness, efficiency, and—ultimately—big-time returns.
So, rather than thinking of tactile marketing as a blast from the past, think of it as "snail mail" 2.0. Not only does it take advantage of the fact that real-life mailboxes are being dramatically underutilized, but it used automated fact-based digital metrics to target the right people at the right time with the type of highly personalized promotional products that are truly going to speak to them.
Even better, the whole process is completely automated. Talk about intuitive marketing!
Here's Why Tactile Marketing Is the Smartest Way to Leverage Your Marketing Strategy This Year
Just think about it.
There are few people out there these days who can't relate to that all-too-familiar wave of anxiety they experience when they finally get around to sorting through that packed mailbox. A new message notification rarely leaves anybody feeling excited these days, and most people will quickly hammer through their messages, leaving time only for the bare essentials and scrapping the rest. However, the experience is totally different when it comes to receiving a piece of tangible mail.
With all those stress-inciting bills and notifications all transferred over to digital mediums, checking the mail in 2020 is not chore it used to be, and in the era of online shopping, when something does arrive in that real, touchable mailbox, it is usually a cause for celebration. So why not use the power of fully digital technology to really speak to people in a way that they will actually be excited to listen to?
Tactile marketing automation gives people the targeted and personalized experience that they have come to expect from digital platforms, in a way that they can really hold onto. Don't take our word for it though. Studies have found that receiving branded promotional products that they can actually use and enjoy makes people feel good, and this emotional appeal helps explain why direct mail campaigns tend to be more effective compared to campaigns that mobilize digital-based advertising formats.
Of course, this is all not to mention the fact that leading platforms like Sendoso, PFL and Alyce provide one of the smartest ways to leverage your promotional product campaign as efficiently and effectively as possible.
After all, promotional product-based advertising campaigns continue to beat out Internet-based marketing strategy by 2.5 times in terms of leaving your clients and employees with a positive lasting impression, so why not streamline that promotional strategy is a hands-off way that will let you sit back and watch the returns roll in?
Tactile Marketing Ideas to Make Your Promotional Campaign Really Work for You
So, now you know what tactile marketing is, but do you really understand who to put these innovative automated platforms to work for you?
To get you inspired, we are going to give you tactile marketing ideas to really take your swag management game to a whole new level. Check out how.
Make Your Newsletters Truly Memorable With a Promotional Gift
When was the last time that you actually received a newsletter in the mail? Chances are, it's probably been a while. As if receiving an actual printed newsletter wouldn't be enough incentive to engage though, imagine combining it with a clever promotional giveaway gift?
Affordable branded promotional products like this 2-in-1 Stylus with Micro USB Cable, this eco-friendly top-selling Seed Pen or even in-demand must-haves like custom branded PopSockets are not only the perfect way to ensure that your tactile newsletter campaign really gets noticed but will also help maximize your exposure in the future.
After all, in addition to keeping your clients up to date on everything you have in store, this type of innovative campaign is the type of thing that will really get people talking, and this means that they are also going to be sure to show off that free promotional swag as well.
Take Your Event Marketing Strategy to a Whole New Level With Branded Promotional Swag
Want to really stir up some excitement around your next promotional event? Why not give your clients a taste of what's in store with a personalized invitation and gift combo just for them.
Direct mail invitations are already exciting enough, but imagine if they came with an unforgettable reminder like a custom laser engraved full-color Click USB Flash Drive Card that people can actually use? Talk about a memorable occasion!
Tailor a Loyalty Program that Your Clients and Employees Will Actually Appreciate
When it comes to leveraging a long-term business model that works, securing a loyal client base who will keep coming back through thick and thin is an absolute must. However, loyalty-based reward programs aren't only great for securing the type of client and employee relations that will last but also drumming up tons of new prospects, leads, and exposure.
When you reward your clients for generating referrals or hitting loyalty reward touchstones with a cool concrete gift like this multifunctional custom 4-Port Round USB Hub With Phone Stand in your choice of five fun color accents to really make sure that your high-quality pad-printed or laser engraved laser design really leaves the right type of impression, you will not only be giving your loyal client base the incentive that they need to continue to give back but also leaving them with something concrete that they can really show off to all those new prospects.
Mobilize Branded Swag to Remind Your Clients Why It is Worth It to Renew
For any business that offers subscription-based services, tactile marketing provides a one-of-a-kind opportunity to remind your clients why it is worth it to renew with you.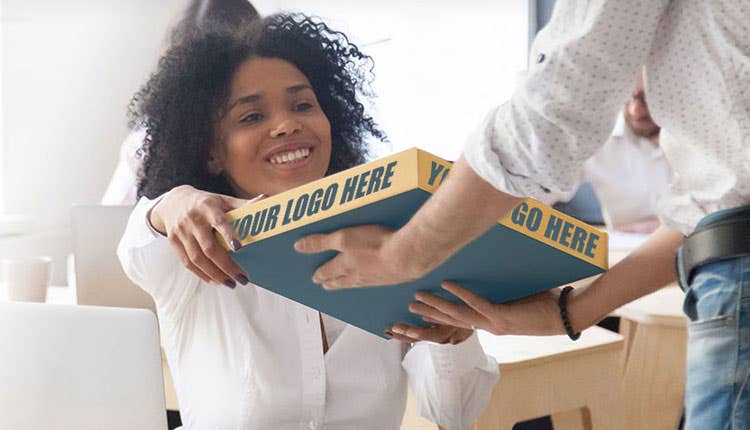 Send them a reminder that it is time to re-subscribe and include a top-selling branded product like this colorful Drawstring Backpack to remind them of just why their loyalty is worth it, and you can bet that they won't forget to come back!
Just Because…
One of the coolest things about using tactile marketing platforms to distribute your branded swag campaigns is that you can set triggers based on fact-based metrics.
This not only allows you to send out highly personalized swag to the right type of people based on their real-life taste profile, but also be sure that you are distributing the type of high-quality branded swag that people actually want to receive.
Of course, there can be plenty of great reasons to set targets, but there doesn't need to be one either. People love receiving promotional products, and when you have the information that you need to automatically give them exactly what they want, why not take advantage?
Of course, when it comes to stocking up on the best promotional products to set your swag management platform off right, we have got your covered from A-Z. Come check us out today to find out more.