The Best Promotional Office Supplies & Products For The Modern Office
Think that office supplies are just boring, must have staples on your team's desks? Smart office product branding can wonders for your culture and even brand loyalty.
Desktop Essentials With a Contemporary Twist
Want to make sure that your promotional office products really make an impact? Try opting for branded products that integrate classic office supply must-haves with a cutting edge twist and you have a formula for a next-level promotional office supply campaign that nobody will forget.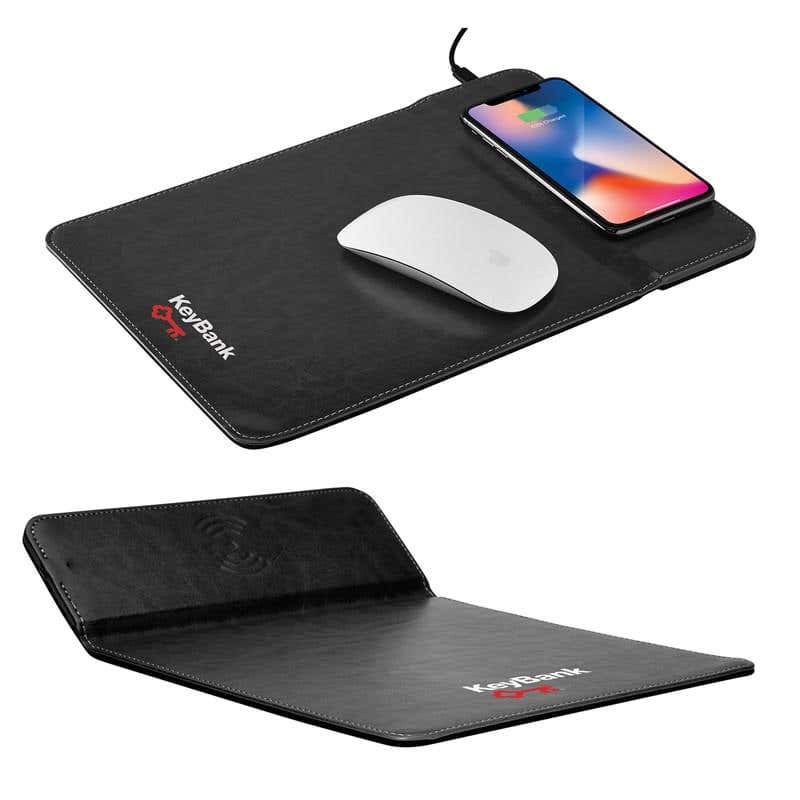 For example, promotional office supplies like custom-designed mousepads are still a staple and can be a really great way to showcase your creative logo design in a way that really stands out, but products like this Qi Vegan Leather Mouse Pad Charger are promotional office supply 2.0, designed to steal the show by replacing everyday wall chargers and mundane mouse pads for good.
Meanwhile, those looking for highly affordable choices need not despair. This handy lightweight Letter Opener and Keyboard/Screen Swiper are designed to open that paper mail with ease and keep that screen for browsing emails all-in-one nifty package. Meanwhile, this super cute Sticky Note Cube is not only easy to store and carry around, but also a fantastic conversation starter as well.
Meanwhile, innovative finds like this Cordless Mini Desk Vacuum are the type of head-turning office essential that your clients and employees didn't even realize how much they need, and stylish contemporary briefcases like this Harrison 15" Computer Briefcase ensures that everybody has everything they need to take their promotional office supplies wherever they go.
---
Branded Journals and Notebooks That Stand Out from the Crowd
Journals and notebooks are classic office supply must-haves, not to mention the fact that in today's digital age, there is just something so wonderful about having a gorgeous notebook to really hold onto. However, take note that these show-stealing picks are not your boring average everyday notebooks.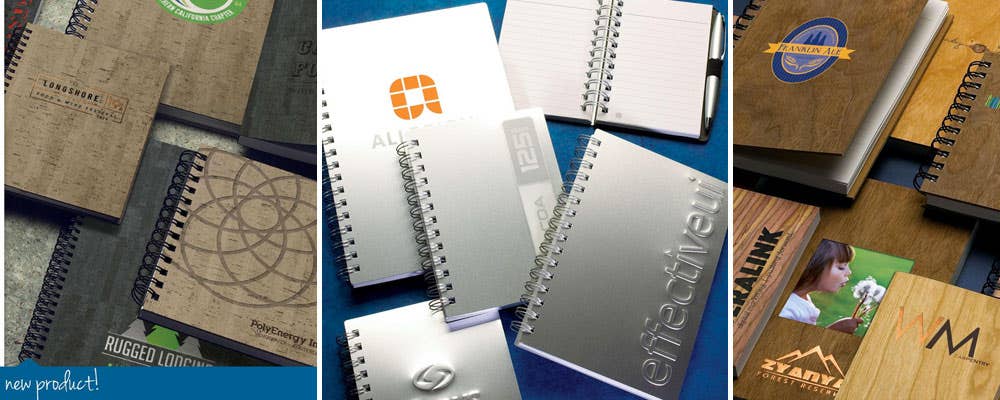 For instance, when it comes to top-of-the-line quality, nothing beats Moleskine, and co-branding with the type of companies that have already carved out a reputation for providing superior products means that those same favorable impressions are going to transfer over to your own eye-catching logo. Talk about a smart way to leverage your marketing strategy! This stunning Moleskine® Medium Notebook and GO Pen Gift Set is a ready-wrapped winning combination, but there are plenty of stand-out products to choose from, ranging from Smart Planners to Passion Journals, so don't miss out!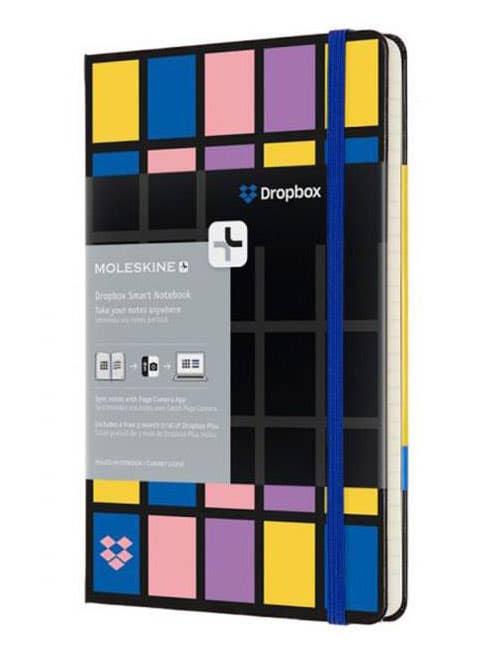 For those who want to combine the best of new-world tech with classic tactile sensibility, look no further than products like this fully-integrated Moleskine Dropbox Smart Notebook. Your clients and employees can use the Moleskine Page Camera app to automatically upload their hand-written ideas and diagrams to their dropbox account for digital access wherever they are. Likewise, the fun-colored Rocketbook Everlast Executive provides the perfect palette to let your dazzling logo design shine while offering your employees and clients full app integration all-in-one. Talk about the best of both worlds!
Or, for those who really want to be sure they leave the right kind of impression, don't miss out on this super affordable Eco Perfect Bound Notebook with Pen. The extra-durable elastic binding straps double as an eye-catching accent to perfectly showcase your gorgeous screen-printed logo design on a tasteful contemporary cork-colored backdrop. Even better, 42% of people are likely to be left with an even more positive impression of a brand that aligns themselves with environmentally-friendly product campaigns, so you can clock that as a surefire win-win.
---
Portable Tech Swag to Simplify the Day-to-Day
When everybody is living life on the go, there is no way to go wrong with the type of portable tech-friendly branded products that are designed to make things easier.
When it comes to the type of super-practical promotional office products that everybody can use, USB flash drives are where it's at. Not only are they available in plenty of fun custom designs and clever best-selling eco-friendly formats, but they are the perfect way to provide highly-portable Internet-free capacity, backup storage, extra layers of protection for data or anything else. At the same time, cutting-edge grabs like this C-Spin Type-C USB Flash Drive take standard promotional office supply into the future in style with a sleek next-generation C-type plug that easily switches out to the standard A-type adapter to suit any situation.
Or, for a smart budget pick, why not prove that you have your employees' and clients' best interests in mind by giving the gift of workplace cybersecurity? These fun Custom Design C-Slide Webcam Covers provide a fantastic opportunity to leave a truly memorable one-of-a-kind impression for less.
Don't forget that winning products like this Wrap Bluetooth Headset are not only indispensable on-the-job but transfers seamlessly to casual use as well, which means that you can count on your sleek screen printed logo design drumming up plenty of positive exposure along the way. Or, speaking of portable take-anywhere convenience, don't miss out on this truly unique opportunity to snag up some Custom Shaped Power Banks or top-selling products like this Edison Power Bank Portable Charger 2200mAh in your choice of four stand-out color picks.
Meanwhile, Anker and Morphie are the top-selling brands in portable charging technology that people really want to own, so opting for high-quality products best-selling picks like this Anker PowerCore Speed 20,000 QC is a smart way to ensure that your promotional office supplies campaign really pays off.
Of course, when it comes to portable convenience, nothing beats Custom PopSockets. With plenty of stand-out design picks like vegan leather or PopClip Mount Combos to choose from, you are sure to find the type of stand-out promotional office supplies that people really want to get their hands on.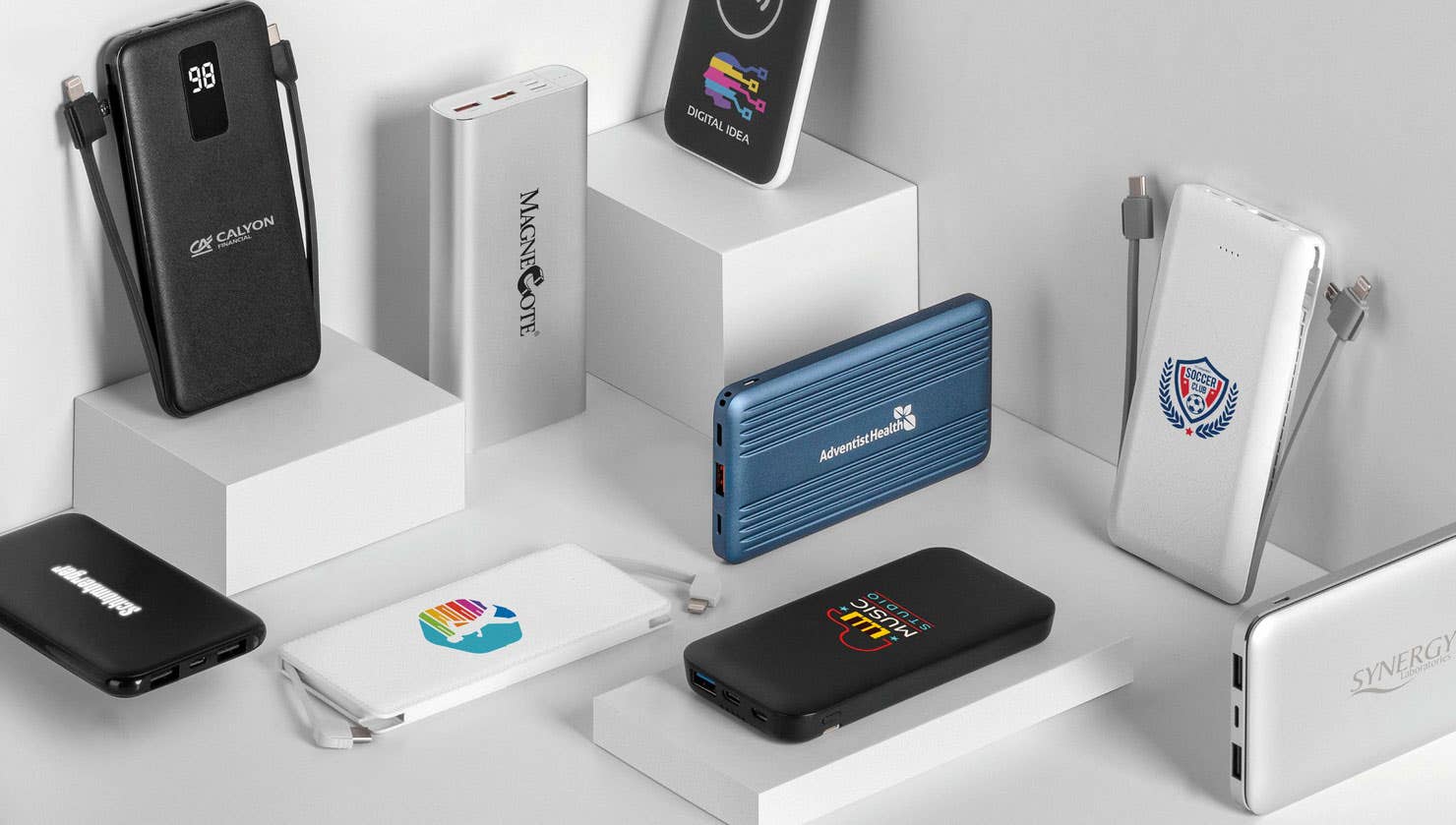 ---
Not Your Average-Everyday Custom Branded Pens
Writing instruments are the most popular promotional product in the United States and for good reason.
According to research conducted by the Advertising Speciality Institute, not only do people report being 51% more likely to do business with an advertiser that gave them a writing instrument, but the average branded pen clocks in about 3000 branded impressions all for the pithy investment of just 1/10th a cent per view. Turns out that branded pens are still a great way to put your money to work for you.
That said, in the age of portable digital technology, people have a lot on their hands, and while everybody still needs a pen, they are also looking for the type of easy-to-carry accessories that can really do more.
With that in mind, check out this sleek Zentrio® Triple Function pen, stylus and LED flashlight combo. While it might look like just an elegant branded chrome accent pen, it is a lot more than that and is designed to easily switch from mode-to-mode with no muss, no fuss. Even better, it comes in at a super affordable price point and four fun color picks to really make sure that your branded logo design turns heads.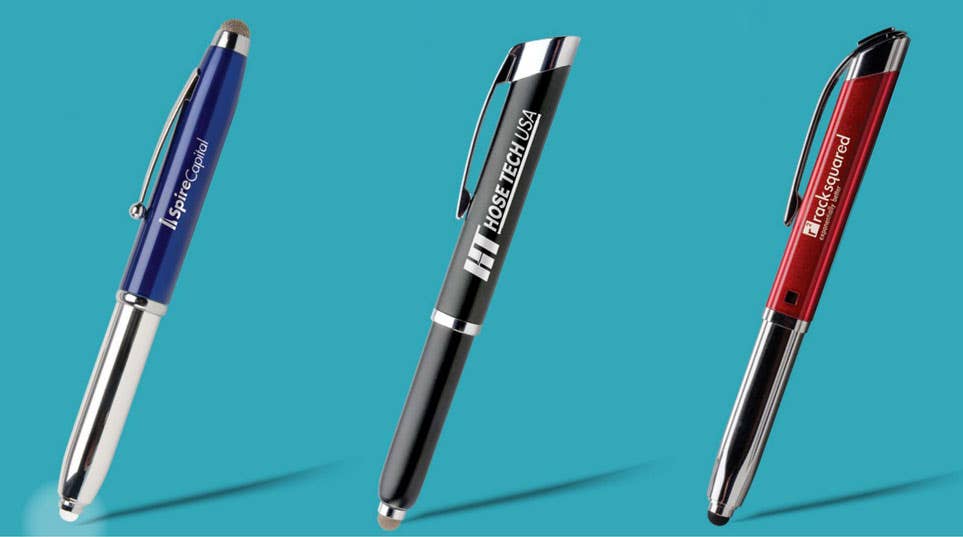 However, when it comes to budget-friendly choices, nothing beats this nifty Stylus Pen With Phone Stand And Screen Cleaner. This sleek must-have accessory is available in four stand-out color choices, and its tech-friendly multifunctional design means that your employees and clients are going to be showing it off wherever they go. The multifunctional fun doesn't stop there though. You can find screwdriver pens, highlighter combos or whatever else you have in mind or laser capabilities all in one handy package, so why not really make that gift count?
At the same time, do note that there are still few people out there who are going to say no to a well-crafted writing instrument, and for those who really want to impress, picks like this gorgeous laser engraved Barrington Regent Pen complete with a stunning gift box is the best way to really lock in long-term loyalty. After all, quality is by far the number one attribute that people are looking for in their promotional writing instruments that they will really want to hold onto.
Meanwhile, you can still give the gift of quality and multifunction convenience with high-end choices like this Cross® Tech-3 Satin Black Multifunctional Stylus as well.
---
The Takeaway
When it comes to giving the type of promotional office products that your clients and employees will actually love, it is all about combining those essential staple branded products with novel top-of-the-line future-forward capabilities that are bound to impress.
The good news is when it comes to creating a promotional office supply campaign that is anything but boring, we have everything that you need to make it happen, including plenty of top-selling winners and 24-hour rush delivery options to make sure that you never show up empty-handed. Be sure to come check us out today to find out more.