The Best Tailgating Giveaways & Football Promotional Ideas
Marketing with outdoor friendly promotional products connects your clients to your brand in an "emotionally engaging" fun atmosphere.
Now that tailgating season is here and Americans all throughout the U.S. are enjoying the warm sunny weather, quality time spent with friends, and a few summer drinks, Americans are definitely spending much more time outdoors. And if you've ever been to a tailgate party, you know how much fun people have in the parking lots of stadiums and arenas. But did you know that they're not only awesome for fans, but are also great for marketers?
Tailgate marketing is a strategic way to gain exposure for your brand, spread the word about your products, and attract new customers. And with tailgate marketing, what better ways are there to achieve that than with outdoor promotional products?
Tailgate parties are perfect for creative outdoor giveaways. But why tailgate parties? What makes these events so effective for handing out promotional items? Let's explore some of the factors.
Lots of People
Stadiums and arenas attract a large number of people with different demographics, interests, and beliefs. You can meet so many different people at these events from different areas and significantly increase your brand's exposure in the market. And the more people know about your brand, the better off you'll be. And at popular events like these, there's a high chance a lot of people will receive or be exposed to your tailgate giveaways.
Open Minded Crowd
Because this is a social event and party, that means people will be relaxed, enjoy themselves, and be in high spirits. They will be much more open to your brand and products than they would be if they were busy and stressed, rushing off to work or to fulfill another obligation. The energy at these events is high, and the opportunities for exposure and acceptance are there.
High Social Influence
Tailgate parties also offer lots of opportunities for social influence, as they are frequented by lots of social media users who share the event with the world through their social media platforms. This grants the opportunity for your brand to gain more geographical exposure as people who weren't even at the event will be exposed to your brand, and those who were will receive further exposure. Also, when people at the party hold onto your tailgate giveaways, their friends and family are likely to want to try them out, too.
Given the opportunities that tailgate parties can bring, these are some of our most creative tailgate giveaways that will catch people's eyes and will be sure to get them talking about your brand.
1. Turbo Mini Fan / Flashlight
There's no denying that tailgate parties can get hot. So when you're looking for the perfect outdoor promotional items for tailgate marketing, trying asking yourself "what products would customers want to help them cool down?"
This Turbo Mini Fan / Flashlight is the perfect two-in-one combination promotional product to hand out at tailgate parties. They're small, compact, and attached to a rope, so people aren't as likely to lose them. These fans have plastic foam blades that will cool users down in the hottest weather. It's also a flashlight, which is perfect for maximizing visibility and staying safe after sunset.
These fans come with a custom screen print and a white standard bulb light. The price ranges from $2.49 to $3.28, depending on the quantity ordered. The minimum order quantity is 150 fans and the production dimensions are around 4.31″H x 1.56″W x 1.88″L.
---
2. Rally Rain Poncho Ball
When you're at an outdoor party enjoying your time with friends, one of the most unfortunate things that can happen is getting caught in the rain. Nobody wants to deal with the hassle of constantly holding an umbrella, but nobody wants to get soaked, either.
This Rally Rain Poncho Ball is the perfect solution to people's problems and a great accessory to carry around. It enables consumers to protect themselves from the rain and have fun, hands-free. The poncho is one-size-fits-all, can be conveniently folded into a ball and attached to a keychain when not in use, and comes in a variety of bright, exciting colors. The price ranges from $1.99 to $2.06 per product, with a minimum order quantity of 200.
---
3. Point Loma Folding Event Chair with Carrying Bag
When celebrating in parking lots and partying at the edge of your car, you'll want to be able to sit down from time to time. This Point Loma Folding Event Chair is foldable and comes with a carrying bag which makes it easy to move around and carry from place to place, whether you're outside your car or find yourself in a new area.
It has armrests and two cup holders for comfort and convenience, so users can relax and place their drinks down beside them. The chair has a screen print imprint and an approximate production time of 5-7 days. The price ranges from $21.99 to $24.99, with a minimum order quantity of 25 chairs.
---
4. The Meadow Blanket
As you get later in the football season, it can start to get chilly outside. When this happens, it can be nice to have a sweatshirt or even a blanket around – but when the day is young and it's still hot out, a lot of people will forget or decide they don't need one.
Handing out The Meadow Blanket at tailgate events can be a really great idea. When people are cold and forgot to bring their blankets and sweatshirts, when you show up with one, they will be extremely happy and grateful to receive it.
They may even form an emotional attachment to the blanket by associating it with the event in a positive manner, which will make them more likely to keep it for longer periods of time. The blanket comes in three colors, has a full-pocket velcro zipper, and unfolds in dimensions 46″W x 54"L. The price ranges from $7.99 to $11.77, with a minimum order quantity of only 25 blankets. The blanket has a custom screen print design on the front pocket.
---
5. 20 Oz. Stainless Steel Galaxy Tumbler
Because people love cold drinks in hot weather, handing out tumblers or thermoses can be a good idea. Consumers can drink water, soda, or beer in a special drink holder that keeps their beverages cold, fresh, and tasty. Likewise, if they're drinking tea or coffee and want to keep their drinks hot, a tumbler will help maintain the temperature.
This Stainless Steel Galaxy Tumbler carries 20 ounces of hot or cold liquid and has a double wall construction for insulation, maintaining the temperature of the drink. It comes with a spill-resistant slide action lid, which is perfect for tailgate giveaways, as these events can be crowded and make it easy to spill your drink. The tumbler is BPA free and meets FDA requirements, so consumers won't need to worry about their health and safety while drinking out of it.
This product comes in silver and is available in four different complementing lid colors, including blue, lime, orange, and red. Design options are a front or wraparound of the screen print. The price ranges from $4.99 to $8.73 per unit, with a minimum order quantity of 36 tumblers.
---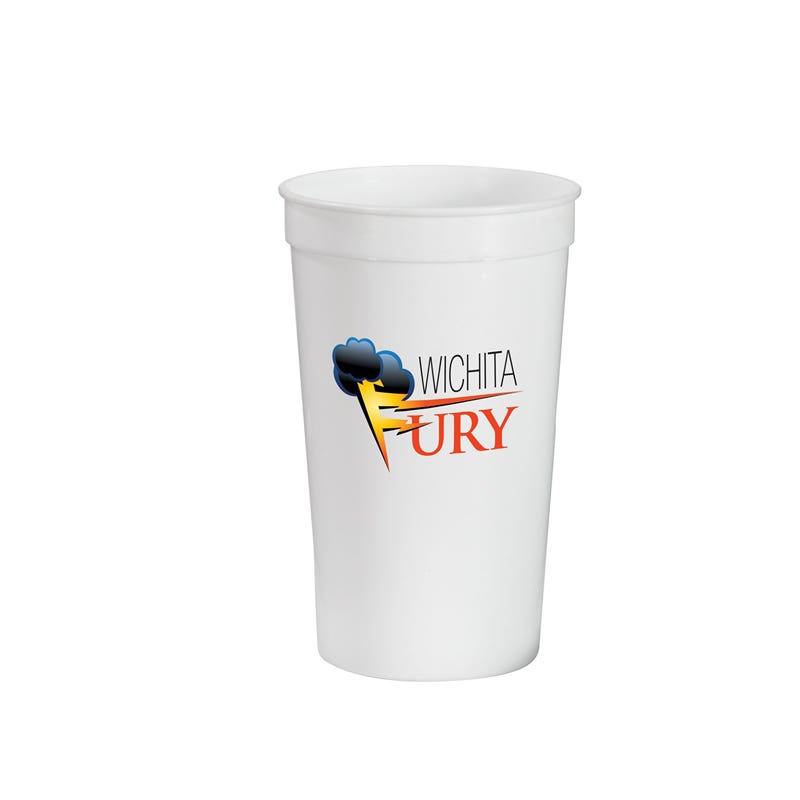 6. 22 Oz. Full Color Stadium Cup
At tailgate parties, people are likely to drink. By handing out these 22 Ounce Full-Color Stadium Cups you'll be giving out durable products that are great for any beverage and are one of those tailgate giveaways that are likely to last consumers a long time.
Meanwhile, you'll be gaining high visibility and increasing awareness for your brand and products. These cups are also great for any event, which makes them the perfect promotional items to hand out at stadiums and outdoor events.
---
7. Game Day Tailgate Cooler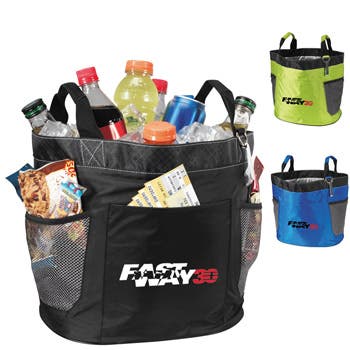 Because tailgate partiers are likely to drink, whether it's beer or water or Gatorade, it's a good idea to hand out coolers at events. Spending time under the hot sun can make you dehydrated, so having a cold placeholder that freezes your drinks can be really great to have.
This Game Day Tailgate Cooler has an impressive 24-can capacity, front and side pockets, and graspable carrying handles that make it great for carrying around. The cooler comes in three colors – black, royal blue, and apple green. The price ranges from $17.22 to $23.20 per bag, depending on the type of design and number of bags ordered.
While these coolers may not be the least expensive, it can certainly help you attract more loyal customers by handing out high-quality products that people really enjoy. You can also hand them out to groups of people to share rather than to each individual, or only certain areas if your goal is to gain loyal customers by choosing quality over quantity.