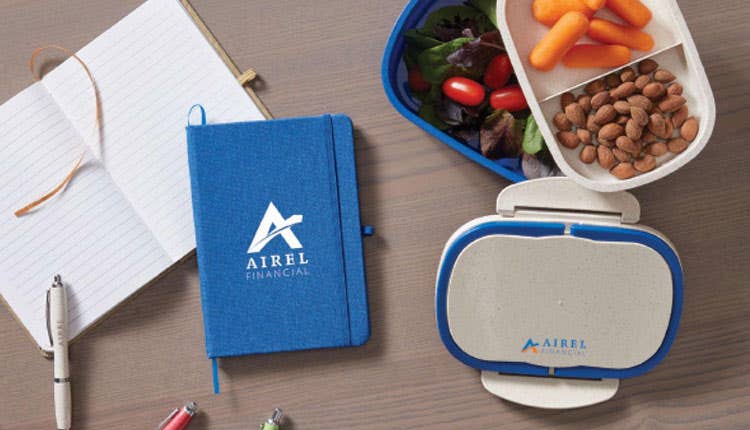 Tchotchkes Free Zone: Swag Your Employees and Customers Actually Want
Are you tired of using the same old tchotchkes for every event? It's true that swag is a staple for any type of convention, but, most of the time, all the small knick knacks end up in the garbage. It's now clearer than ever that the way you can best represent your company is through the thoughtful curation of items in your swag bags.
The quality of products you use reflects what your brand stands for. Although you may need to spend a bit extra, you'll be giving attendees items they can use over and over again. This means, your company's logo will be right there with them, every single day.
Try avoiding those cheap pens everyone uses maybe once (or never) and throws away. Experiment more by offering guests more unique tchotchkes. You're guaranteed to make more of an impression that way.
How To Determine What Guests Actually Want
It can be difficult to try and determine what guests are looking for in their swag bag. There are a few key things to keep in mind to help narrow down the tchotchkes for your next event. Ensuring that all products are well-made, unique, thoughtfully detailed, related to your company, and inclusive to everyone will show attendees you really care.
If you are an environmentally conscious brand, try including a reusable bag along with some coupons instead of traditional tchotchkes. If you're hosting a corporate event, why not splurge on a few high-quality items you know your salespeople will use.
Swag Better With These Tchotchkes
You won't have to struggle any longer to find the perfect tchotchkes for your next conference. Here's your guide to giving attendees promotional items that are worthwhile:
1. S'ip by S'well 15oz. Vacuum Insulated Stainless Steel Water Bottle
Water bottles may seem like a throwaway item, but it's all about the quality. Stay hydrated all week long with the S'ip by S'well 15oz. Vacuum Insulated Stainless Steel Water Bottle. This bottle is created by one of the best water bottle brands in the country. You won't have to worry about your drink spilling all over your bag as the bottles include a leak-free top. Plus, your drinks will be able to stay hot and cold for longer with the top-of-the-line insulated stainless steel.
The available colors this bottle comes in are all named after candy and are guaranteed to make your mouth water. They are marshmallow white, black licorice, jelly bean green, purple gumdrop, jersey blue, cotton candy blue, and bubblegum pink. Your customized logo will be placed on the side opposite of the S'well logo that has been laser engraved onto the bottle. It takes around 15 to 20 business days to produce these incredible bottles, so make sure to order them in advance.
---
2. UL Listed Apollo 4000mAh Light-Up Powerbank
A powerbank is necessary for any convention. You can spend hours walking around to different vendors, taking in sessions, and participating in demos. This means you'll never know when your phone will be able to charge next. Fear not with the UL Listed Apollo 4000mAh Light-Up Powerbank. When given in swag bags, these promotional items are used over and over again. Some phones die faster than others, which is why having a powerbank is super helpful.
This design is fully customizable. Your logo will last longer since it's been laser engraved into the front of the powerbank. There is one USB port with 5V/1A output and the powerbank includes a USB charging cable.
---
3. Embossed Mini Mint Tin With Mints
Conventions are a great way to network with other companies, guests, and experts. Obviously, networking includes a lot of talking. Having bad breath is completely out of the question if you're looking to make a good impression.
These mints will be gobbled up by the time the conference is over. The customizable Embossed Mini Mint Tin With Mints will ensure that every single guest that visits your booth has fresher breath. Plus, even when the mints are gone, these tins make for excellent storage devices for small items.
This tin comes in silver, black, and white, and can be created in full color or embossed. Your logo will be located on the top of the tin. The mints come in peppermint, spearmint, wintergreen, and cinnamon. You can also customize the shape of the mints to resemble your logo. Each tin is individually shrink-wrapped and produced in five to ten working days.
---
4. Junior Journal
Including a journal in your swag bags is another staple. To make sure these are used, try finding ones that are as simple and as sleek as possible. The Junior Journal checks all the boxes when it comes to finding the right journal. This journal has fine lines and an elastic closure so your pages remain intact.
This journal is made from leatherette and is available in black. With 80 pages, you'll be able to keep track of important dates, jot down notes, and create lists. The journal is fully customizable, with your designated logo screen printed onto the front top or bottom of the notebook. With these modifications, the journal can be produced in five to seven business days.
---
5. Spinnit Pen
Yes, fidget spinners aren't the best tchotchkes, but that doesn't mean they can't be useful in pen form. The Spinnit Pen combines the entertainment of a fidget spinner with the usability of a pen. Fidget spinners can be seen as distracting with no real purpose, whereas a fidget pen is a more subtle way of having something to keep your hands busy in a meeting.
Writing utensils are the highest percentage of promotional products found in homes nationwide. Nearly nine out of ten Americans have reported owning a promo pen. This means they're a hot ticket item. Having such a unique pen makes the likelihood of someone keeping this pen even more likely.
The Spinnit Pen is customizable, with the option to have your logo screen printed on the barrel or top of the pen. Available in six color combinations, it only takes 24 hours to produce these incredible pens.
---
6. Mug With Gummy Bears Mug Drop
Most Americans consume some sort of caffeinated beverage in the morning. Mugs are something that have always been used daily for coffee, tea, or hot chocolate drinks. This useful item also happens to come with a bag of gummy bears. It can be quite draining have to spend hours watching speakers and participating in demos. Something as small as a bag of gummy bears can be a necessary snack to tide you over until your next meal.
The Mug With Gummy Bears Mug Drop can be customized with your company's logo. The logo will be wrapped around the mug so it can be seen from any angle. The mug is made from ceramic and is available in white. The added bow comes in black, blue, red, and white. It takes about five to seven working days to produce.
---
7. Self-Care Kit
A self-care kit is a unique spin on a swag bag. This is more geared for lifestyle or beauty-centric events. Candles, lotions, and lip balm are creative items to include. The Vanilla Scented Candle is soy-based so it burns cleaner than regular candles. The 1oz. Moisturizing Body Lotion comes in a small travel-sized container, perfect for fitting in your purse or desk drawer. Lastly, the Custom Label Non-SPF Lip Balm W/ Sleeve has a variety of scents and colors to choose from. Created from beeswax and coconut oil, these are sure to be the talk of the convention.
Each of these tchotchkes is customizable and can display your brand's logo. There are many more options available that you can use to comprise a promotional self-care kit in order to take your business to the next level.
---
8. Event Survival Kits
Event survival kits are yet another way that you can show off your creativity. These swag bags often include things like branded pens, medicine for headaches, stain removers, mints, hand sanitizers, and much more. There a few great items to look at that stand above the rest in terms of function.
The .33oz. Stain Remover Pen will have your back in those times of trouble. If you spill something on your clothes at the event, at work, etc., just whip out this handy-dandy pen. It's even small enough to fit in your pocket. The Agata 0.5oz. Hand Sanitizer comes with a handy neoprene sleeve and attachable clip. This makes it much easier to carry around the convention floor without fear of it tumbling off your person.
---
There are also a few kits worth looking at. The Ripstop Deluxe Event Kit comes with lip balm, bandaids, ibuprofen, sunscreen and much more, so you're better prepared to take on your next event. The Rugged On-The-Go Kit features a stain remover pain, a foldable lint roller and nail clippers to ensure that your appearance is the best it can be. Each of these products is also customizable.
Say goodbye to generic tchotchkes and hello to better swag bags for your next events. Promotional items are now more usable than ever. You'll be able to clearly show off your brand with customizable products, as well as provide functional items for all of your guests. The quality of the promotional products is what attendees will be looking for, so make sure you blow them away with thoughtfully curated promotional swag.