The Best 2021 Promotional Calendars For Your Desk, Wall, Pocket, & Car
We all need to know the date at some point during the day. Calendars are there to keep us on track and remind us of important work and life events. They're found in many different settings. Some hang in office walls, and others are carefully tucked away in our wallets. 
Calendars are marketing gold 
Promotional material for your brand that is on display for the entire 365 days of the year? That sounds like it's going to cost a lot. But that doesn't have to be the case. Here is where calendars come in! They are the perfect way for your brand to stay fresh on your customer's mind. It's promotional material in the form of a useful gift. They don't occupy a lot of space and are not an aggressive form of marketing. 
Did we mention that they are customizable? Yes, calendars come in all shapes and sizes and can be made to contain any vital marketing content you desire. But it doesn't stop there. Customization makes them adaptable to the lifestyle of your clients. Do they primarily work at an office? Great!  Desk calendars are an excellent option. Are they on the move? Pocket calendars make your brand travel with them. 
Desk Calendars 
Desk calendars are a gift that is much appreciated by clients and staff. They make organization easier and are convenient for quick reference. Having your brand featured front and center of these calendars is a very cost-effective form of marketing.   
Who said that calendars only belonged nailed to a wall? A desk pad is a desk accessory that is both elegant and incredibly useful. More than just a calendar, it doubles as a planner. What better way to keep track of your activities than having them written down in front of you? This is why many advertisers prefer desk pads for promotional materials. 
Think of how many times your customer will refer to their desk pad during the day? Those are all opportunities for your logo to get exposure. You can get the vinyl corners colored to match your branding and get them made for you in as few as 8 business days.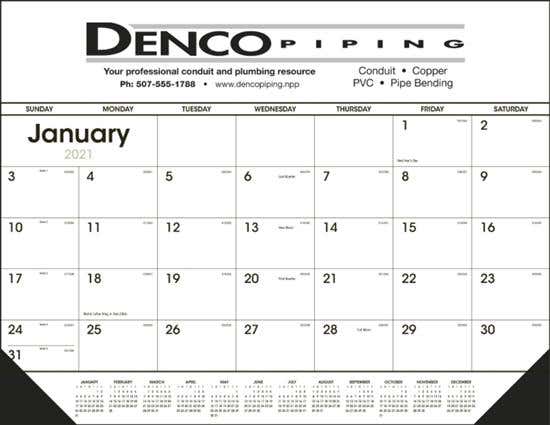 ---
A new year means a new calendar, but what if there was one that could last forever? This is precisely what this eye-catching calendar is all about. Have your company logo featured front and center on your client's desk. This calendar calls to be interacted with. It's movable blocks allow you to perpetually set the date, regardless of leap years! Who knew that setting the date and time could be fun?
The calendar is made with smooth beechwood, and your logo laser engraved. More than a calendar, this is a beautiful desk decoration that will certainly have people talking. 
---
This smart-looking calendar is a fantastic way to embellish a desk. These breathtaking illustrations of a time gone by almost have a hypnotic effect. They perfectly capture those feel-good vibes that are sometimes needed in a work environment. Create a positive association between your clients and your brand by gifting a Saturday Evening Calendar. 
Your logo is screen printed in full color and given a matte finishing look that makes this calendar the perfect centerpiece at any work station. 
---
Wall Calendars 
Wall calendars do much more than just display the date, they are the perfect canvas to display beautiful pictures and useful information. You just have to add your logo to make sure your calendars are pulling double duty—by serving as beautiful focal points and indispensable promotional tools. 
Who doesn't like to get creative with a DIY home renovation project? Renovating your home brings new energy to its inhabitants and is a fantastic way to eliminate those old items that take up space. Sometimes you need a little inspiration to get started. A DIY project calendar is a perfect way to get the ideas flowing. This is an excellent promotional material for businesses specializing in hardware or furnishing. Motivate your clients to renovate their living spaces using their creativity.
The DIY calendar can be custom made with a screen print of your brand, making it a great promotional material.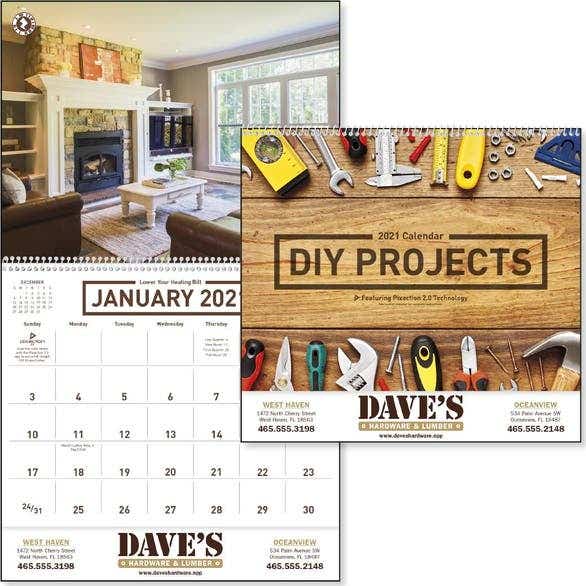 ---
Life has to be celebrated every day! A National Day calendar is a positive reminder of all those special occasions we should commemorate. This piece will catch the attention of anyone that gets a close look. It's a great way to start conversations, and best of all, it's accompanied by your logo. 
The calendars are made with back mount gloss paper stock with a UV protected cover for extra shine and durability. Your brand's logo can be screen printed at the bottom of every page. It's easy to mount on any wall, and it comes complete with a durable spiral. 
---
Having the whole year at a glance is a great way to organize your time. A Span-A-Year calendar is a powerful statement to have in any room. Its larger size makes it easier to read, and it's another fantastic option to promote your brand. Not only will your logo be featured, but you can also choose 8 stunning images that reflect the values and products of your organization. 
Choose from 2 custom colors to adorn each month. Your logo is printed in full-color right in the center of the calendar, so it gets all the impressions.  
---
Pocket Calendars
Pocket calendars are portable and useful. They can either be sent a seasonal gift or used as handouts during events. You'll definitely want to include these in your marketing materials. 
A planner is one of those things that everybody needs but almost no one buys on their own accord. It's a fantastic way to have control of your schedule and make essential annotations. If it's portable, you can be sure that your clients will carry it with them wherever they go. Gifting a weekly pocket calendar demonstrates the value you give to your client's time with a touch of elegance. 
Get your custom pocket planners with a 2021 calendar on the front cover. With only 64 thin pages, it's slim and portable. You can have your logo hot stamped on the cover and have it ready to gift in 8 days.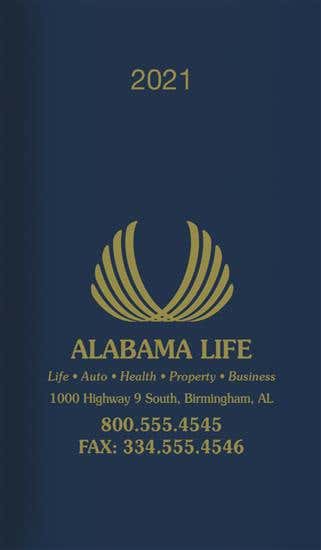 ---
A wallet is an everyday carry item. People store important valuables in them. It's also a great place to take a portable calendar in case you need some reference. Wallet calendars are a cost-effective promotional material that is easy to give out in any situation. You can have a stack of them on your reception desk or distribute them at events. They are a step up from a simple business card.
Get yours in a display box with 350 cards. You can get your brand screen printed on the front of each calendar card as a useful marketing tool.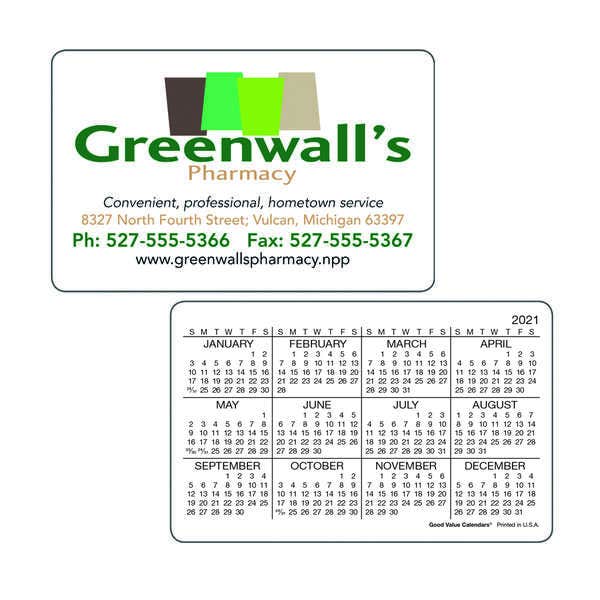 ---
Managing your time and schedule shouldn't be a daunting task. A monthly weekly planner is an excellent addition to your everyday carry. This elegant booklet is easy to take with you and makes for a fantastic gift for the upcoming holiday season. Don't let your customers miss out on the convenience of having their schedules in their pockets. 
The planner is made with high-quality leatherette material to make it look impeccable and contains two business card slots. The sections are separated by month at a glance, followed by weekly pages. Your logo is elegantly debossed on the front of every pocket planner.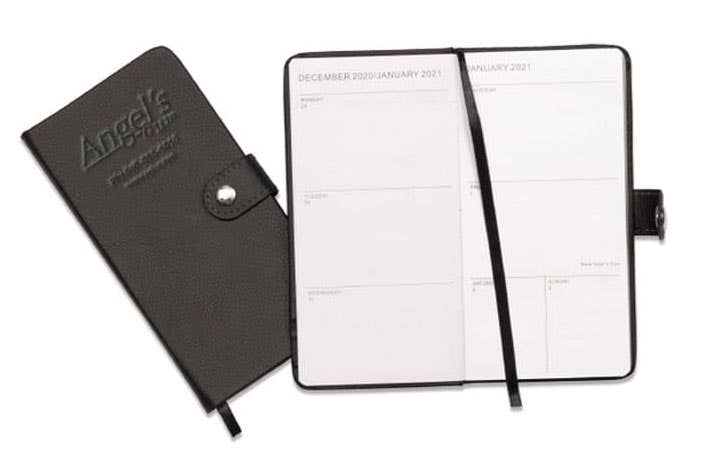 ---
Car Calendars
Is your business related to the auto industry? Then car calendars make for a perfect gift to your staff and clients. They are a stunning decoration that everyone will feel proud to display. 
Who doesn't love to see a gorgeous muscle car, especially when it's in mint condition and paired with a stunning backdrop? These vehicles have captured the imagination of many generations and are only getting more popular as time goes by.  A muscle car calendar is a powerful statement that any enthusiast will be proud to own. Order them with your logo screen printed in vivid colors on every page. 
---
There is a good reason why antique cars are so revered. Not only are they a glance into the past, but their designs are incredibly stunning. These vehicles are cherished by enthusiasts and collectors alike. What better way to associate your business with the beauty of these vehicles than with a calendar that showcases some great pictures of antique cars? 
Get your 13-month calendars printed on gloss paper with UV protection for enhanced durability. The minimum order is 150 units, and you can mix different themes. Have your logo screen printed in full color for maximum effect. 
---
Nowhere are the advances in auto-making engineering better displayed than in exotic sports cars. More than just vehicles, they are genuine pieces of art that capture the imagination of every car enthusiast. They are famous for adorning bedroom walls in posters and are a sight to behold when one drives past you. An exotic sports car calendar is a great way to combine the magnificence of these machines with your business's logo. Get your calendars screen printed in full color with a minimum order of 150 units. Your logo can be screen printed in full color to grab everyone's attention. 
---
The Takeaway 
When it comes to branded marketing material that is versatile and useful, nothing beats promotional calendars. They come in different formats to accommodate any of your needs. They can be gifted as a thoughtful detail during the holiday season or as everyday giveaways for your clients. If you're looking for one of the best ways to make sure your promotional items get impressions all year round, check out our huge selection of custom calendars at iPromo!