The Best Custom Luggage Tags to Promote Your Brand Worldwide
Here's Where it All Began
The bag tag is one of those inventions that is so ingenious that we more often than not take this indispensable little invention for granted. Indeed, the inherent usability of these nifty little promotional items is one of the reasons why custom bag tags make for such a perfect corporate branded product.
We'll get into all of that later though. For now, let's take a brief moment to go back to the start…
The luggage tag has officially been around since way back in 1882 when it was patented by a New Brunswick resident named John Michael Lyons as a smart way for travelers to keep track of their luggage should it happen to go missing while in transit. As a quick fix, he came up with the simple idea of using some kind of identifying marker to attach to the luggage so that if it did happen to end up somewhere it shouldn't be, it could easily be identified and returned to the rightful owner.
Thankfully, printed luggage tags have come a long way since their original appearance as a bland paper ticket. That is not to say that custom bag tags are not more popular than ever. It is now standard practice for passengers of all sorts to mark their bags when they travel, and many prefer to do so with their own signature style statement that can easily be used for identification purposes.
Today, corporate luggage tags are embossed and printed in a huge variety of eye-catching styles, shapes, and colors to provide a convenient way not for people to keep track of their luggage in style, but to help maximize exposure for your brand.
An Easy Way to Generate Huge Returns and Worldwide Exposure
Research by the Advertising Speciality Institute has found that overall, the branded product advertising is the most respected and highly regarded form of advertising, especially with millennial and generation X'ers. In fact, the average American household owns no less than 30 promotional items. That's a lot of swag!
So the question becomes, with all the great options for branded merchandise out there, why choose branded luggage tags?
Below, we are going to break down some of the main reasons that custom luggage tags are a smart investment for any type of company.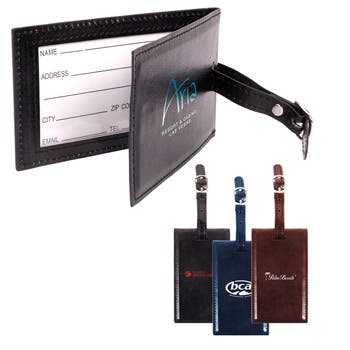 1. Bulk Luggage Tags Are Incredibly Affordable
Sure, engraved bag tags are already an inexpensive way to leverage your brand's exposure. But the option to purchase bulk luggage tags also means that the more you buy, the more you save.
With prices as low as 26 cents an item, there is no good reason not to get generous with this highly practical and easy way to promote your company name and what it stands for.
2. Take Your Brand Across the Globe
The great thing about investing in a branded product like custom bag tags is that they are not only affordable but are designed to travel. This means that your brand could be raking in tons of free exposure as it makes its way around the world attached to a piece of luggage.
Custom bag tags don't just make travel more convenient, they are built to be looked at. Since they are literally designed to make traveling more convenient, numerous passersby are likely to sneak a peek as an attractive bag tag comes floating by. This means that you can count on generating the type of long-distance exposure that would be hard to drum up otherwise.
3. So Much to Choose From
Choosing from the great variety of luggage tags available to sport your logo is almost as fun as using them.
For instance, gorgeous Metallic Luggage Tags are an instant classic that will look great on almost any type of luggage. The minimum order is just 100 tags, but the more you order the more you save. This means that you could be paying as little as $1.99 each for bulk luggage tags with your company logo screen printed or debossed into a durable soft touch Polyurethane tag with a handy adjustable strap.
Or maybe you are looking for a budget friendly option to give away as free gifts? Check out this great selection of Oversized Translucent Luggage Tags. Crafted from durable vinyl, and available in a full array of eye-catching colors, they make the perfect giveaway item with prices as low as 55 cents each.
Need a quick delivery option? These simple 2 or 3 part Instalam Luggage tags make fantastic giveaway items, and the product can typically be fully produced and ready to be shipped in just a one to two short days. Not only are they incredibly affordable, but the laminate layout provides a perfect canvas to display your logo in bright, eye-catching colors that are bound to make a positive impression.
These Vezio Luggage Tags are stylish and highly affordable. With an array of fun colors to choose from and a closeable flap, at as low as just 89 cents a tag, employees will be proud to show off these flashy precision printed tags. Meanwhile, at the higher end, these Cutter & Buck Bainbridge engraved bag tags ooze class and sophistication.
4. Practical and Functional
Research by the PPIA has found that functionality is one of the top three reasons that people will be more likely to keep a promotional product. That said, there is no good reason that promotional luggage tags can't hit all of the bases by being fun and trendy as well. That equates to an almost sure-fire hit.
Take for example the elegant Wexford Sliding Luggage Tag. The elegant and interactive design combines with thoughtful touches like a highly durable metal cord. Each item even comes complete with its own exquisite gift box. This is the type of commitment to quality and innovation that your employees will be proud to show off to their friends, family and strangers alike.
5. Why Not Make it Multipurpose?
If people love their corporate luggage tags to be functional, why not take it to the next level by checking out of some of these innovative product designs?
For example, take a look at this Travel Sentry Luggage Tag and Luggage Lock that will not only make it easy to identify a bag but keep it's contents safe and sound all in one. Or what about a Hideaway Luggage Tag that contains a built-in pen? Talk about smart design!
Not to be outdone though, this Beaglescout Two-Way Tracker and Luggage Tag will take security to a whole new level by using Bluetooth technology to track and identify luggage, making lost or stolen luggage a problem of the past. Why not jump on this once-in-a-lifetime opportunity to associate your brand with some of the most cutting-edge technology available on the market today, all for an incredibly reasonable price of only $18.43 an item. This is the kind of unique gift that your employees are sure to truly appreciate.
6. They Are So Easy to Distribute
Branded luggage tags are not only low-cost but also lightweight and highly portable. This makes them the perfect giveaway item for trade shows, employee gifts, incentive programs, you name it!
The fact that they are so small and light to carry means that bulk luggage tags are super easy to distribute by the hundreds or even thousands. Ultimately, this indicates that there is really no occasion that is off limits when it comes to distributing your company's own gorgeous personalized luggage tags.
We'll Help You Design the Perfect Corporate Luggage Tags to Truly Reflect Your Brand
If you are ready to create the perfect custom luggage tag to perfectly reflect your brand and everything you stand for, you have come to the right place. We are 100% committed to ensuring your total satisfaction with our products from start to finish. This is why we work so hard to make it the ordering process simple, easy and intuitive.
When you order your custom bag tags with us we will work with you to bring to life the perfect representation of your company. We use only the best techniques and technology from heat pressing, to precision printing, to laser etching to create the type of consistent design and high-quality products that your clients are guaranteed to love.
No matter how you look at it, whether it is through our dedicated commitment to carefully and continually selecting and curating only the range of amazing products to choose from, our unbeatable prices or our unrelenting commitment to quality and delivering an unmatched level of customer satisfaction, here at iPromo we are the authority on printed luggage tags and other types of branded merchandise.
Need your product in a hurry? Don't know where to begin? Have questions about one of our products or our rush delivery options? No problem! Don't be afraid to get in touch with us and let us know about your needs. We can't wait to help you get started.