August 22, 2023
The Best Door Gift Ideas for Your Next Corporate Event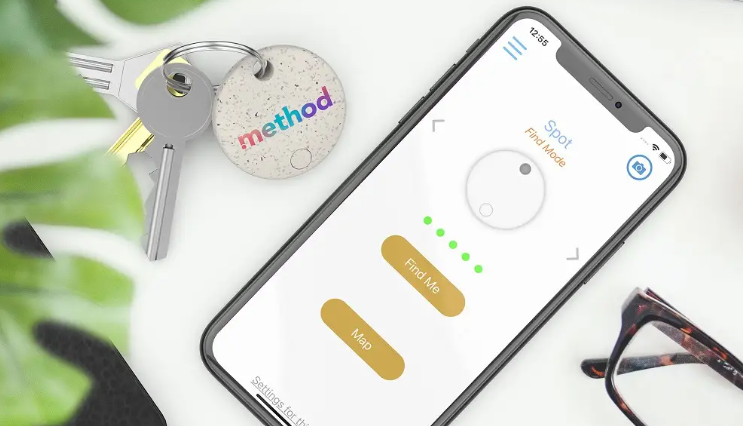 When planning a corporate event like a conference, tradeshow, or fundraising gala, selecting memorable and impactful door prizes is important. Done right, door prizes and gifts are a strategic way to increase attendee engagement, positively shape the overall attendee experience, and reinforce your company brand. The concept of door prizes isn't new, but selecting the right ones has evolved into a strategic endeavor. However, deciding what to give away can feel overwhelming with the wide range of prize possibilities.
When choosing door gifts, it's critical to balance usefulness, desirability, and how well the prizes represent your company values. For instance, consider prizes that attendees can enjoy prolonged functionality for weeks or years after the event. Luxury leather goods, branded apparel, or professional tools demonstrate you understand attendees' professional roles and interests. You also want options aligned with your brand personality – sleek tech gifts for innovative firms or self-care packages for those in wellness industries.
Thoughtfully selected door prizes communicate you value attendees' time and seek to enhance their experience. Make sure options suit different demographics, too, like executives vs. individual contributors. Getting the right assortment allows everyone to find something they like. Most importantly, select prizes people will proudly show colleagues or talk about long after as a testament to your event's success.
In this article, we will explore some of the best corporate door prize ideas to delight your attendees while supporting your organization's goals. From thoughtful gifts with utility to high-tech gadgets to luxury experiences, we'll outline options appropriate for various professional settings and budget levels.
Creative and Memorable Corporate Door Prize Ideas to Elevate Your Event
A well-chosen door prize is more than just a gift; it's a statement, a memory in the making, and a gesture that speaks volumes about your event's thoughtfulness. Here are seven creative and popular corporate door gift ideas that will get people talking about your event long afterward. 
Basecamp® Fleece Blanket & Stainless Steel Water Bottle Gift Set – 20 oz.
The Basecamp Fleece Blanket & Stainless Steel Water Bottle Gift Set is a versatile prize to keep attendees comfortable and hydrated during and after your event. The soft, cozy fleece blanket makes it ideal for creating a relaxing atmosphere during early morning or evening functions. Its large size allows several attendees to snuggle together underneath.
The included 20 oz. Stainless steel water bottle is also a practical addition. As corporate events often involve multi-hour agendas, keeping attendees fueled is important. The steel construction keeps beverages cold for more than 24 hours or hot for up to 12 hours, so it's perfect for providing hydration throughout conferences, trade shows, or networking mixers. Its secure twist-on lid prevents spills and makes it easy to sip from.
Both items are decorated professionally with your company logo or message, offering branding visibility each time they're used. The gift set also provides great value by bundling two need items attendees often use post-event. And attendees will appreciate getting functional items bearing the host company's impression.
Its co-branded packaging provides immediate promotional impact as winners proudly carry the gift set reward away from the function. The blanket and bottle come in multiple color schemes, meaning they can be matched to complement any home or office décor without clashing.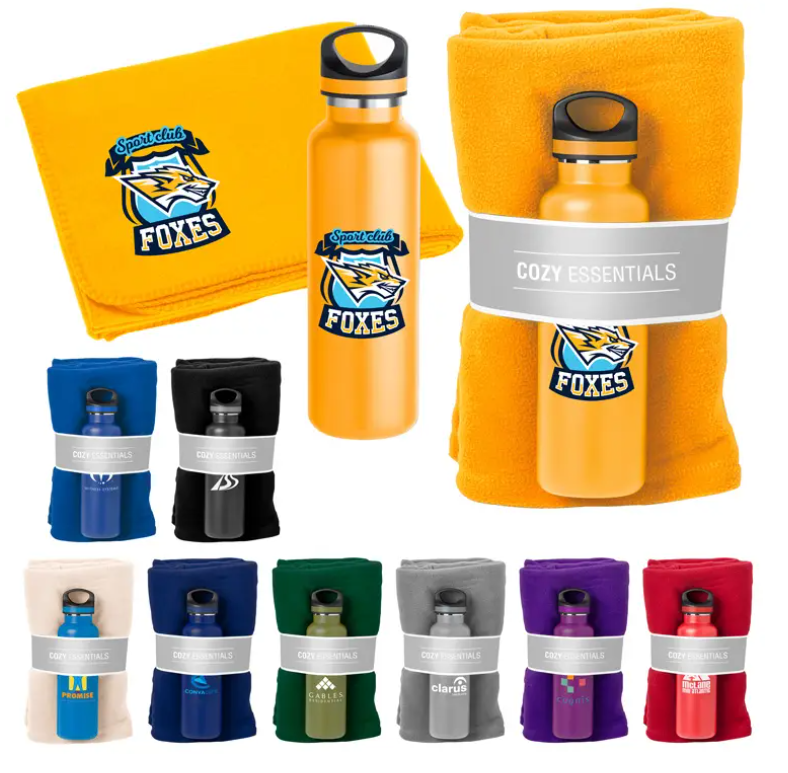 Out of The Woods® Mini Gourmet Snacks Tote
The Out of the Woods Mini Gourmet Snacks Tote offers a sophisticated prize perfect for any professional audience. Filled with handcrafted edibles from select small batch producers, it shows recipients you value introducing new business contacts to premium quality fare.
From the moment you look at the carefully crafted tote, you'll sense the thoughtfulness that went into curating this experience. The tote itself isn't just a vessel; it's a canvas of elegance designed to intrigue and captivate. Its tasteful design and premium quality reflect the attention to detail that your event embodies. Sample offerings may include specialty cookies, pretzels, waffles, mustards, single-origin roasted nuts and dried fruit mixes.
More than just a snack pack, this gift conveys prestige. At your event, recipients can relax with colleagues over coffee and treats supplied. An added bonus is that Supernatural Paper is biodegradable and compostable, as it is produced using cellulose from responsibly managed forests, making it a renewable and sustainable resource. Should recipients choose to dispose of the tote after enjoyable use, it will break down harmlessly without polluting the environment.
The Out of the Woods Snacks Tote tells recipients you prioritize both flavor and conscientious sourcing. So, by introducing contacts to eco-luxury snacks packaged responsibly, your brand conveys principled excellence from ingredients to presentation.
Modern Sprout® Glow & Grow Live Well Gift Set
The Modern Sprout Glow & Grow Live Well Gift Set makes a thoughtful prize promoting holistic wellness—which is increasingly important for high-performing professionals. The set comprises a collection of self-contained indoor plant kits that are not just gifts but living, breathing companions that enhance both spaces and spirits and a 12 oz Scented Soy-Blend Candle.
In a time when wellness is a priority, offering the "Modern Sprout® Glow & Grow Live Well Gift Set" as a corporate door prize speaks volumes about your commitment to your attendees' holistic well-being. It shows that you recognize the need to nurture not just professional growth but personal flourishing as well.
Each kit includes everything needed to nurture a thriving plant: from premium seeds and a specially formulated growing medium to a stylish container that effortlessly complements any workspace. Tending to these plants is an act of mindfulness, a reminder to pause and connect with nature amid the fast-paced business world.
The candle provides an aromatic way to relax in the home or office. Its sustainable soy wax burns cleanly without toxic fumes. Together, the collection aims to alleviate the stresses of busy professional lives through fresh herbs and soft candlelight.
Anker® PowerCore – 5000 mAh
In the fast-paced world of business, staying connected is paramount. Attendees often rely on smartphones, tablets, and other devices to communicate, collaborate, and access essential information. However, the challenge of dwindling battery life can damper their experience. This is where the "Anker® PowerCore – 5000 mAh" steps in – a compact powerhouse that offers a reliable solution to the battery drain dilemma.
Made by Anker, a well-trusted and top-rated brand in mobile charging technologies, this sleek power bank delivers premium reliability and performance. With a 5000 mAh capacity, it provides enough juice to recharge most smartphones fully in an extra time or two. Both iPhone and Android users will get good use out of this portable power source.
Branded with your company logo, the Anker charger keeps your brand front of mind each time it's used. Whether taking important calls or checking emails over lunch, it is a moving billboard for you. Presented in classic black or white, it has a professional look that recipients can feel good about whipping out when running low on power.
More than a mere token, it addresses real needs faced by busy professionals. Months from now, the Anker charger serves as a reminder of your insightful event that addressed the challenges of modern mobile careers.
Rocketbook Mini Notebook Set
The Rocketbook Mini Notebook Set provides a great blended paper-digital solution appreciated by professionals. This prize pack contains two reusable dot-grid notebooks and a Frixion pen, ensuring recipients can take slick handwritten notes they can easily digitize.
Made from specialized memory foam pages, the mini notebooks can be wiped completely clean using the included microfiber cloth when full. But using the free Rocketbook app, handwritten pages can also be photographed and uploaded to Evernote, Dropbox, Google Drive, email, and more with the press of a button. Attendees will love the convenience of capturing brainstorms or meeting recaps quickly without the hassle of manually retyping.
As a gift that bridges paper and technology, it shows an understanding of how professionals work today. Recipients have the best of both worlds – paper portability with digital organization. Reusing pages also means no more wasted papers, appealing to audiences focused on sustainability.
The customizable cover of the "Rocketbook Mini Notebook Set" allows you to infuse your company's branding or event theme, turning each notebook into a canvas of connection. This personal touch transforms the notebook set from a door prize into a cherished keepsake, a visual reminder of your event's enriching experience.
Chocolate Almond Mug Stuffer in Stainless Steel Tumbler
Every working professional needs a little pick-me-up to get through long days. The Chocolate Almond Mug Stuffer gift set offers energy and joy in one thoughtful package. Tucked inside an insulated 12oz stainless steel tumbler is a pack of rich chocolate-covered roasted almonds perfect for midday breaks or afternoon slumps.
The tumbler is more than just packaging – it's a high-quality vessel recipient will use daily. Made of sturdy vacuum-insulated stainless steel, it keeps drinks hot for hours or cold all day. Spill-proof lids mean no interruptions, whether sipping coffee at the copier or moving between meetings. Branded with your company logo, it serves as a moving billboard advertising your services or products each morning commute or client meeting.
Whether attendees use the set solo at their desks or involve coworkers in brainstorming sessions, it sparks discussions highlighting your brand. Spotting another attendee partaking months later also rekindles social connection.
Powerstick EcoSpot Bluetooth Tracker
When planning your next conference, trade show, or seminar, selecting memorable door prizes that attendees will find useful is key. One innovative option to consider is the Powerstick EcoSpot Bluetooth tracker. 
Picture the relief attendees will feel knowing the EcoSpot has their back. This lightweight tracker pairs discretely and inconspicuously with belongings. Should anything get misplaced, its Bluetooth signal works with the intuitive EcoSpot app to send precise location alerts to users' phones. No more wasted downtime digging through bags or retracing steps – attendees are guided directly to just-out-of-reach items.
Branded with your company logo, each EcoSpot gift becomes a moving display advertised every single time a user celebrates being quickly reunited with a located possession. Attendees are increasingly embracing technology that enhances their daily lives, and this tracker seamlessly integrates into that narrative. It's a reflection of your company's awareness of current trends and its commitment to providing attendees with tools that align with their digital lifestyles. This forward-thinking gesture has the potential to leave a lasting impact, not just during the event but in your attendees' daily lives.
Conclusion
At iPromo, we recognize the significance of choosing the perfect door gift ideas to elevate your branding or event. Our expertise lies in understanding the delicate balance between professionalism and engagement, ensuring that your event resonates with attendees long after it concludes. So, whether you're orchestrating a high-stakes conference, an annual gala, or a fundraising auction, the right door prize can add that extra spark, making your event truly remarkable.