August 17, 2023
Klean Kanteen vs Hydro Flask – Which is Best For Your Brand?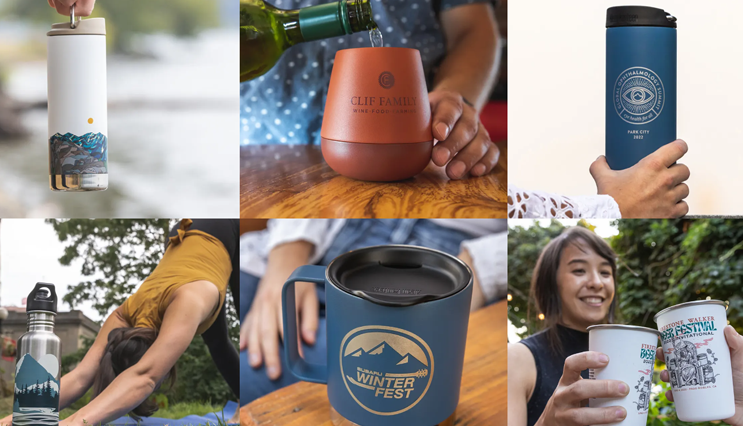 Reusable drinkware has become a necessity in today's eco-conscious consumer climate. Plastic bottles are being phased out due to environmental concerns about waste and recycling. Stainless steel water bottles offer a durable, sustainable, and promotional alternative.
Klean Kanteen and Hydro Flask are two leading brands in the reusable bottle market, known for producing high-quality, well-insulated stainless steel drinkware. Their bottles and tumblers are perfect for corporate gifting programs, employee engagement initiatives, and promoting your brand in an eco-friendly way.
Both companies share a commitment to sustainability and climate action. Klean Kanteen plants a tree for every product sold through 1% For The Planet, while Hydro Flask donates 1% of profits to environmental non-profits. Their bottles aim to reduce plastic waste by providing durable alternatives that outlast disposable options.
Whether you choose simple shapes from Klean Kanteen or hyper-insulated bottles from Hydro Flask, you'll be gifting products built to last for years. Their reusable, customizable drinkware makes a thoughtful gift that shows your customers and employees you care about the environment while promoting your brand.
This article will evaluate both brands of sustainable drinkware, comparing features, customization options, and benefits to help you decide which type of reusable bottle is best suited for promoting your business in an eco-friendly way.
Simple Yet Impactful Features That Define Klean Kanteen's Brand
Klean Kanteen's Products and Focus on Sustainability
One key element defining Klean Kanteen's brand is its commitment to producing high-quality, durable, and reusable products. Unlike single-use plastic bottles, Klean Kanteen's stainless steel bottles are designed to last for many years, reducing the need for disposable containers and minimizing waste. This emphasis on durability offers a superior product to customers and reflects Klean Kanteen's dedication to sustainability by encouraging a shift away from the throwaway culture.
Klean Kanteen's focus on sustainability extends beyond the longevity of its products. They are also working to reduce their environmental impact during the manufacturing process. Using stainless steel, a fully recyclable material, showcases their dedication to responsible sourcing. Additionally, Klean Kanteen employs eco-friendly practices, such as using non-toxic, BPA-free materials and promoting water-based paint coatings, which helps to minimize their ecological footprint.
Another defining feature of Klean Kanteen's brand is its commitment to reducing single-use plastic waste. By encouraging people to switch to reusable water bottles and containers, Klean Kanteen actively reduces plastic pollution in oceans and landfills.
Wide Product Range and Versatility
While Klean Kanteen is known for its elegantly simple water bottles, they offer a wide range of versatile reusable drinkware. Their product line includes:
Insulated water bottles in 12 to 40-oz sizes
Travel tumblers, coffee mugs, and tea tumblers
Stainless steel food storage containers
Kid-friendly bottles, sippy cups, and utensils
Accessories like lids, caps, and straws
This comprehensive line of reusable products allows them to serve various needs: from daily hydration and to-go coffee cups to kids' products and food storage. The broad range shows that Klean Kanteen thinks beyond just water bottles to offer complete reusable solutions.
The versatility of branded Klean Kanteen drinkware – from bottle sizes and styles to accessories and kid options – allows their drinkware to adapt to the diverse needs of customers. Whether you need a bottle for the gym, office, or family outings, Klean Kanteen has an option.
Social Responsibility and Environmental Initiatives
At the core of Klean Kanteen's brand identity is its strong sense of social responsibility. They actively engage in initiatives that contribute to improving communities and causes worldwide. They have taken measurable steps to define themselves as an eco-conscious company, including:
Committing to becoming a climate-neutral company through the use of carbon offsets and renewable energy
Donating 1% of sales to environmental nonprofits through their 1% for the Planet partnership
Producing bottles from recycled and recyclable materials
Establishing a socially responsible supply chain
Obtaining B Corp certification for their high standards in sustainability, workers, and community
By pledging to combat climate change and reduce waste through its operations and products, Klean Kanteen shows sustainability is at the core of its brand identity. Their donations, supply chain transparency, and B Corp certification demonstrate Klean Kanteen's commitment to sustainable business practices. They aim to set an example for other companies through responsible leadership.
How Hydro Flask Features Take Corporate Gifting To The Next Level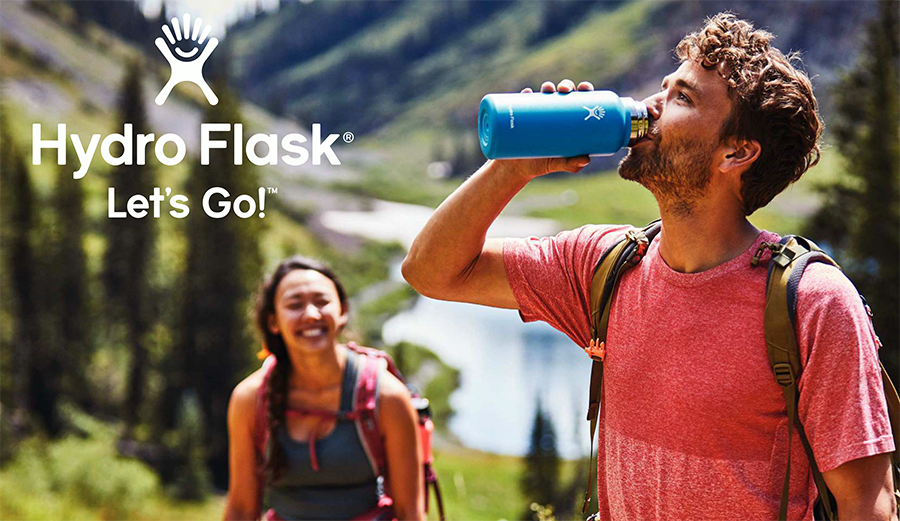 Hydro Flask's Products and Innovative Technology
As a leading brand in the insulated drinkware industry, Hydro Flask has redefined the gifting experience with its exceptional products and cutting-edge technology. Hydro Flask is known for manufacturing high-quality, insulated bottles and tumblers through innovative vacuum insulation technology. This TempShield insulation technology keeps liquids hot for 12 hours and cold for up to 24 hours, 2-3 times longer than traditional stainless steel bottles.
Beyond just water bottles, Hydro Flask offers a wide range of insulated drinkware, including tumblers, coffee mugs, soft coolers, growlers, and more. Their products span various beverage types and usage cases, from daily hydration to coolers for outdoor excursions.
Hydro Flask's most popular products – like the wide-mouth water bottle and all-around tumbler – combine their innovative insulation technology with features like easy-pour mouths, leak-proof caps, and comfortable grips. The result is high-performance drinkware that is convenient and practical for on-the-go lifestyles.
Hydro Flask's hyper-insulated bottles provide exceptional longevity for corporate gifting, creating lasting impressions. Whether used in the office, gym, or outdoors, recipients will be reminded of your brand messaging whenever their beverages remain ice cold for hours.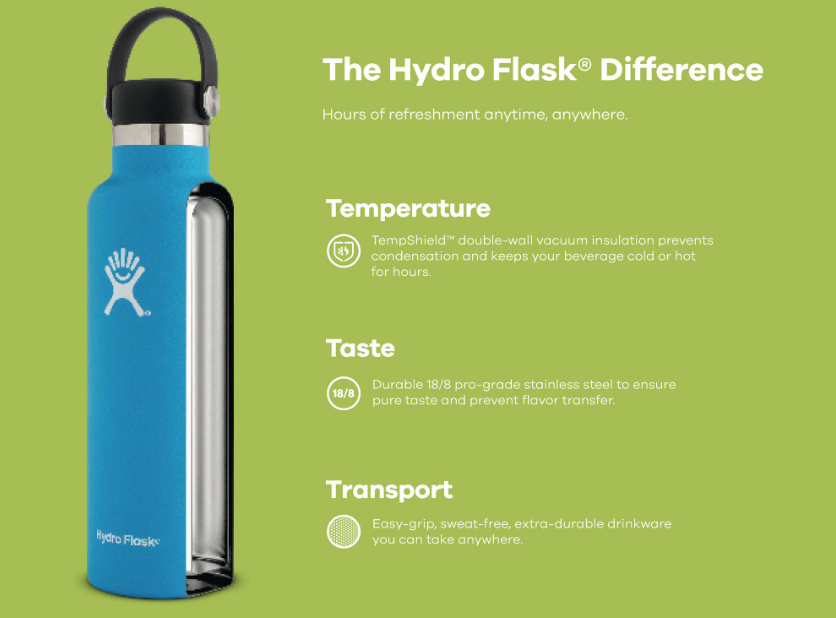 Stylish and Customizable Options
Hydro Flask offers a wide range of products that combine functionality and aesthetics, making them the perfect choice for memorable and personalized corporate gifts. One of the key features that sets Hydro Flask apart is its stylish design. Their insulated drinkware comes in various modern and attractive colors, patterns, and finishes, catering to various tastes and preferences. Whether it's a sleek monochromatic design or a bold and vibrant hue, Hydro Flask's stylish options allow businesses to select gifts that align with their brand image or the individual preferences of their recipients.
Beyond color options, Hydro Flask also offers extensive customization methods, including laser engraving, pad printing, digital sublimation, and embroidery. This allows logos, designs, and text to be added in various styles tailored to individual brand aesthetics.
Combining numerous color options and extensive customization approaches means Hydro Flask can meet the stylistic needs of even the most discerning brands. Their drinkware can be made to match company branding in a sophisticated yet durable package perfectly.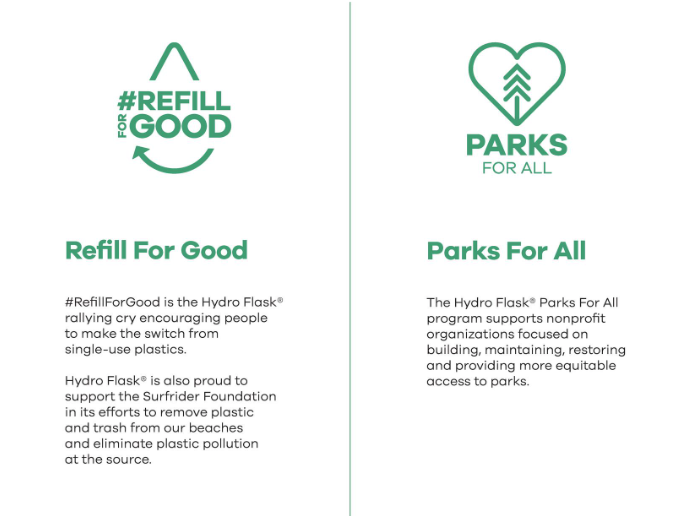 Social Responsibility and Outdoor Conservation
Hydro Flask actively participates in social and environmental causes through their 1% for the Planet membership. The company donates 1% of annual sales to environmental nonprofits that work to protect the outdoors.
Hydro Flask supports various conservation efforts that align with their customers' active lifestyles, including organizations that:
Protect public lands for outdoor recreation
Increase access to nature for underserved youth
Preserve rivers, lakes, and oceans used for paddling and swimming
Advocate for policies that mitigate climate change
Through their 1% for the Planet donations, Hydro Flask helps fund groups working to protect the outdoor spaces used by Hydro Flask products. This aligns Hydro Flask's philanthropic efforts with their customers' interests in adventure and time spent in nature.
Companies focused on sustainability and the outdoors can align their philanthropic missions with Hydro Flask's social responsibility efforts. The messaging opportunity created through 1% for the Planet allows Hydro Flask to take corporate gifting beyond just product placement. Their sustainable philanthropic initiatives provide a core brand value that partner organizations can leverage to create resonance with their sustainability-focused messaging.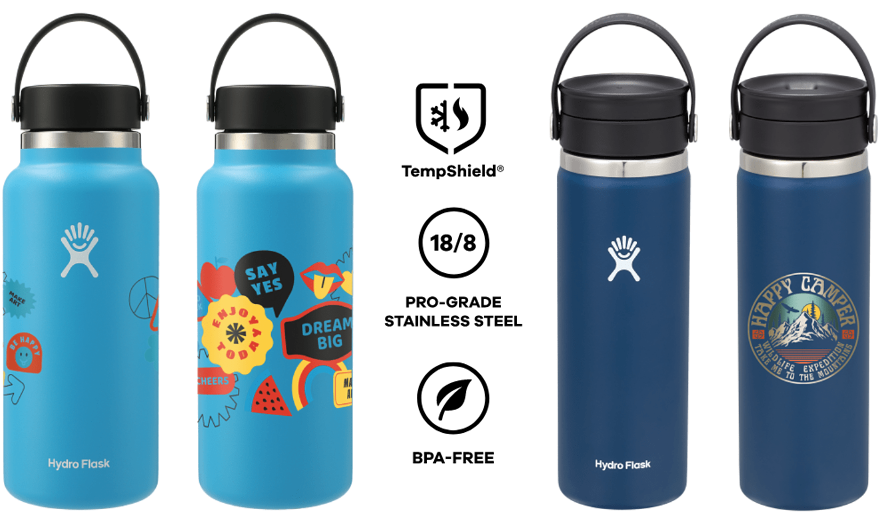 Comparing Features and Capabilities
Product Durability and Performance
Klean Kanteen bottles feature a rugged double-wall, vacuum-insulated stainless steel construction that is extremely durable. The powder coat finish resists scratching and chipping, while the stainless steel material is rust-proof and resilient to outdoor elements. Klean Kanteen's wide mouths and simple designs make them easy to clean thoroughly. This rugged design helps Klean Kanteen bottles stand up to years of daily use.
However, Klean Kanteen's traditional vacuum insulation technology cannot match the performance of Hydro Flask's advanced TempShield insulation. While Klean Kanteen bottles keep beverages cold for 8-12 hours, Hydro Flask claims liquids stay hot for up to 12 hours and cold for up to 24 hours. Hydro Flask's hyper-insulated bottles use double-wall construction with a patented interlocking shape to maximize insulation and prevent heat leaks.
Both brands manufacture bottles from the same rust-proof stainless steel and powder coat finishes. But Hydro Flask's push lock lids are frequently cited as more durable than Klean Kanteen's screw-cap options. Overall, Hydro Flask bottles have a reputation for durability on par with Klean Kanteen's based on reviews from owners.
Versatility and Product Selection
Klean Kanteen offers a diverse lineup of reusable products beyond just water bottles. Their product range includes tumblers, coffee mugs, food containers, growlers, kid bottles, and accessories. This comprehensive selection allows Klean Kanteen to meet customers' hydration and storage needs, from daily use to packing lunches.
However, Klean Kanteen's products feature more restrained colors and limited customization compared to Hydro Flask. Most Klean Kanteen products come in 3-4 color options with simple branding options like embossing or engraving.
By comparison, Hydro Flask focuses mainly on insulated water bottles and tumblers. But they offer these products in over 20 powder coats and stainless steel color options. Additionally, Hydro Flask provides extensive customization methods like laser etching, pad printing, and embroidery to brand each product uniquely.
Ultimately, both brands offer versatility – through diverse products for Klean Kanteen and robust customization for Hydro Flask – based on different customer preferences and goals.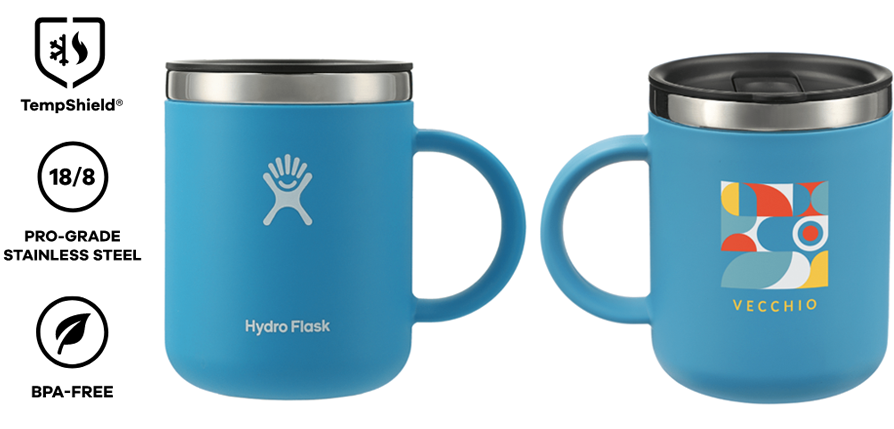 Environmental and Social Impact
Klean Kanteen has made sustainability central to its brand identity. They produce bottles from recycled materials, donate 1% of sales to environmental nonprofits, and aim for climate neutrality through renewable energy. Klean Kanteen's simple, reusable products promote waste reduction through reuse rather than flashy features. However, Klean Kanteen's sustainability efforts focus mainly on their business's manufacturing and materials aspects.
Hydro Flask actively supports outdoor conservation groups by donating 1% to the Planet. They fund nonprofits working to protect public lands and access to nature, rivers, and oceans used for outdoor recreation.
While Hydro Flask manufactures reusable bottles to reduce waste, their social responsibility efforts focus more on supporting and sustaining the outdoor spaces people use their products. This creates a synergy between Hydro Flask's philanthropic mission and its customers' active lifestyles.
Hydro Flask's 1% for the Planet donations fund a range of outdoor conservation nonprofits working to protect the very spaces their customers recreate in. This creates a deeper social impact by sustaining the activities and environments that Hydro Flask products enable.
Conclusion- Choosing the Best for Your Brand
Ultimately, choosing between custom Klean Kanteen and Hydro Flask depends on your company's goals for corporate gifting. Both Klean Kanteen and Hydro Flask offer high-quality, reusable drinkware suited for corporate gifting goals. The best choice depends on weighing trade-offs between sustainability, customization, functionality, and budget to find the drinkware that creates the strongest brand alignment and impressions for your organization.