Top 10 Branded Water Bottles For Our Eco-Friendly World
As customers continue to become increasingly eco-conscious, companies started to incorporate eco-friendly products into their promotional marketing strategy. One of the easiest ways to join the movement is with eco-friendly water bottles, which is now an industry that is worth over $8 billion alone.
Why Eco-Friendly Branded Water Bottles Are More Relevant Today Than Ever
Branded water bottles are important from both an environmental perspective as well as a business perspective. When it comes to the environmental perspective, these reusable or recycled promotional water bottles are able to reduce the 17 million barrels of oil required to create a single year's supply of standard plastic water bottles.
From a business perspective, these eco-friendly branded water bottles are a great source of promotional material that is much more efficient than most other methods. For instance, someone who has a reusable water bottle is not just going to use it inside of their home or at work. So every time they bring their custom water bottles somewhere, it will be exposing the company's name and logo to this new group of individuals, which helps with brand recognition.
There is also the fact that you will be positioning your company as an organization that is actively working to protect the environment, which is something that will really resonate with consumers, especially anyone under the age of 35.
In order to start incorporating eco-friendly branded water bottles into your workplace, you need to know which water bottles you should start with. That is why we have provided you with a list of the top ten branded water bottles that are perfect for this eco-friendly world.
1) Welly Traveler Copper Vacuum Bottle
Whether you want refreshing cold water or delicious hot coffee, this Welly® Copper Vacuum Insulated Bottle does it all. The durable, double-wall stainless steel vacuum design features a copper insulation that allows you to keep cold beverages cold for up to 48 hours and can let hot beverages retain their heat for at least 12 hours. You also don't have to ever worry about there being condensation on the outside of the bottle.
There is so much that goes into making such an impressive water bottle. For example, it has a durable powder coating and a natural bamboo wrap. And the screw-on lid with a wide opening pairs perfectly with the included removable stainless steel infuser. You can get this bottle in black, blue, and white.
---
2) Poly-Pure Bottle With Flip Quick-Snap Lid
If you are looking for a stunning pop of color for your branded water bottles that are BPA free, then look no further than this Poly-Pure 27oz Bottle with Flip Quick-Snap Lid. The contoured body of the bottle makes it extremely easy to maintain a good grip on it while drinking from the BPA free and recyclable PETE material body. Not only can you customize the artwork printed on the body of the bottle but you also get to choose from a wide range of colors including clear, fuchsia, green, orange, pink, red, smoke, teal, violet, white, yellow, and blue.
---
3) Cork Tritan Sports Bottle
There is a distinctive natural beauty to this water bottle. The 22oz Cork Tritan™ Sports Bottle uses a single-wall design to help store your favorite beverage, while the push-on cork lid makes it fun to use. It's a very stylish way of helping out the environment. And you can get the exact style you want since it comes in smoke, clear, and seaglass.
---
4) Eden Double Wall Bamboo Glass Bottle
Make others jealous with this extremely stylish glass and bamboo drink bottle. The Eden Double Wall Bamboo Glass Bottle has extra-thick borosilicate glass that lacks any odor and is able to keep both hot and cold liquids at their ideal temperature while still providing an exterior that is safe to touch. And the sweat proof insulation means that you never have to worry about trying to grab a slippery glass water bottle.
Whether or not you use this bottle with the removable infuser bucket is up to you. Either way though, the screw top lid and wide mouth opening will make filling the bottle with both liquid or ice extremely easy. And you can fit an impressive 13.5oz inside of the bottle, which means you won't go thirsty in the middle of a task.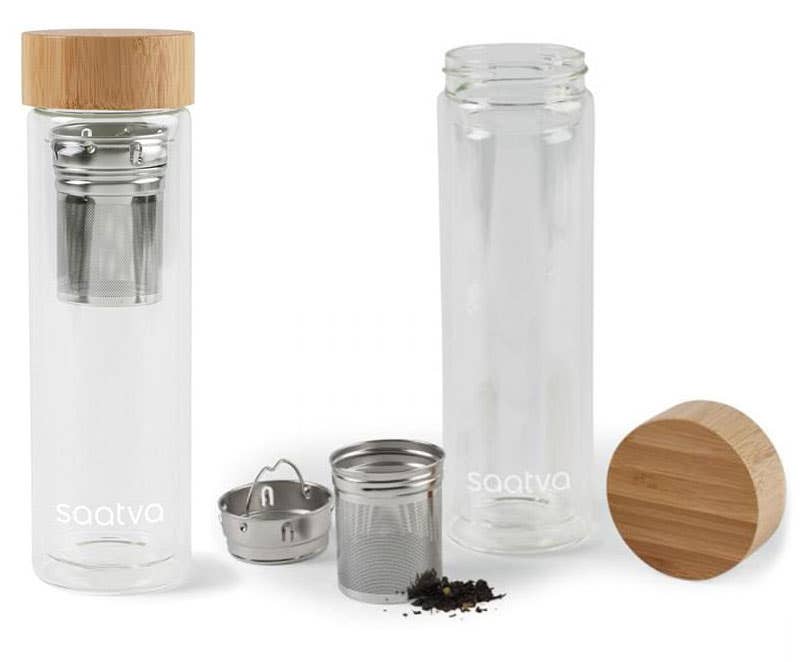 ---
5) UpCycle rPet Bottle With Drink Thru Lid
There is no other bottle quite like this 20oz UpCycle rPet Bottle With Drink Thru Lid. The unique straight-wall cylinder design provides an ergonomic shape that is effortless to grip. Plus, it is constructed with 100 percent post consumer recycled rPet. No matter what color you prefer, this bottle has a one available in that style. Get it in glacier blue, transparent blue, transparent fuchsia, transparent green, transparent smoke, transparent violet, and white.
---
6) Treez Stainless Steel Tumbler With Wood Lid
Let everyone know you appreciate nature by ordering these Treez Stainless Steel Tumbler with Wood Lid custom water bottles. The 20oz smooth matte finish stainless steel bottle uses double-wall vacuum insulation and pairs it with a real wood screw-on lid to make it clear that it is an eco-friendly product. The customizable logo on the lid and the choice between a black or white body will help you get the exact style of bottle that you are looking for.
---
7) S'well Vacuum Insulated Stainless Steel Water Bottle
Custom S'well Vacuum Insulated Stainless Steel Water Bottles are impressive in more ways than one. For example, its ThermaS'well™ technology is able to keep beverages cool for as much as 24 hours and can keep hot items at a warm temperature for up to 12 hours. But there is also the triple-walled BPA free design that does not allow condensation to form on the exterior and comes in an impressive 12 different colors.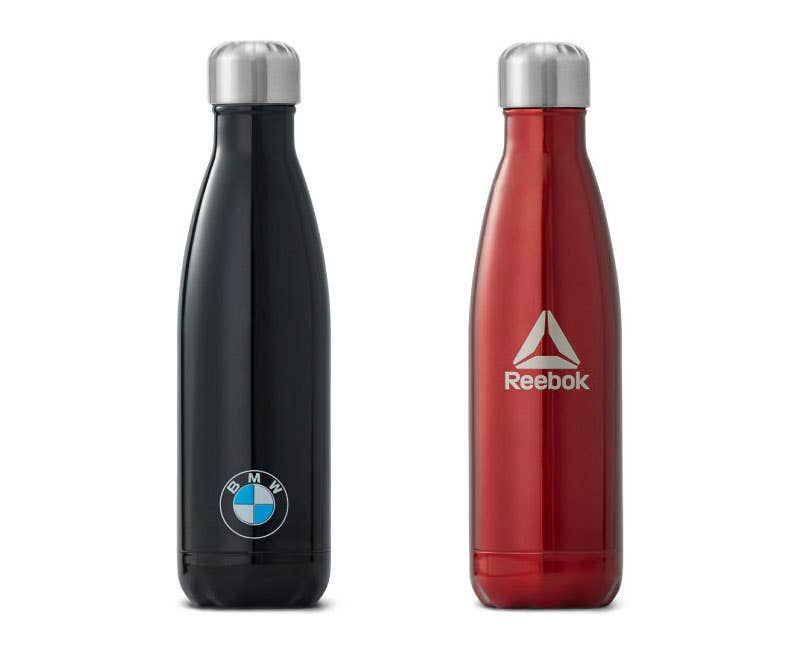 ---
8) Screen Cool Color Change Bottle
Don't settle for ordinary branded water bottles that are BPA free, when you can instead have this 24oz Cool Color Change Bottle. While the push-pull lid allows for effortless drinking, the impressive eco-friendly and color-changing body comes in several different color schemes and includes the ability to customize the logo on the body of the bottle.
---
9) Serenity Bamboo Glass Bottle
It's hard to beat the style of this Serenity Bamboo Glass Bottle since it has a gorgeous mix of glass and bamboo materials. The extra-thick borosilicate glass adds no unusual taste or odor to your beverages and the screw top lid with a built-in braided carry loop makes it easy to take on the go with you.
Add 18.5oz of fluid in the bottle, including plenty of ice thanks to the wide-mouth opening. And the canvas sleeve makes it effortless to maintain grip on this stylish bottle. You can either get it in the natural color or switch ot black to even more style to the product.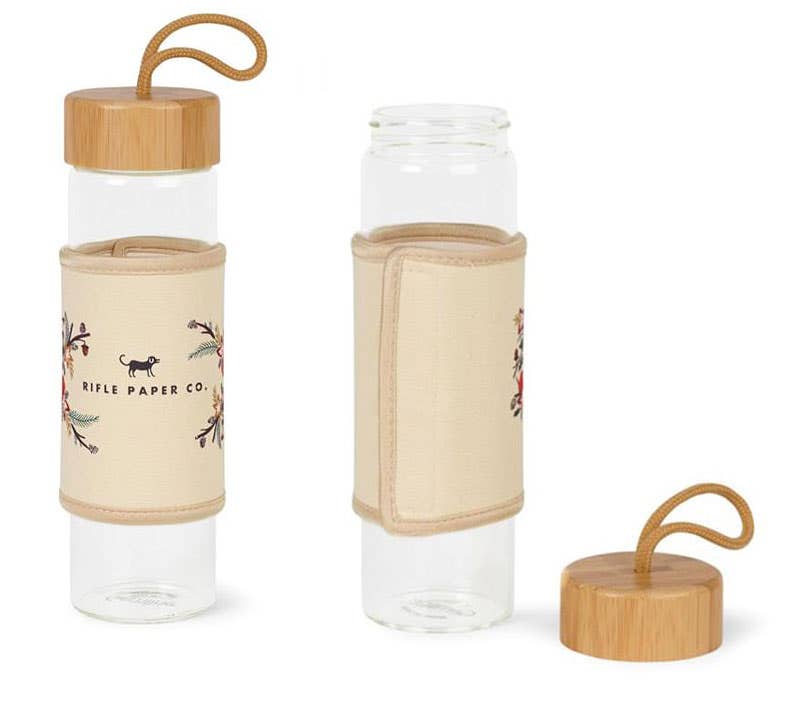 ---
10) Perseo Tritan™ Water Bottle
This extremely durable Perseo 25oz Tritan™ Water Bottle uses a unique mixture of a BPA free smoky body, matching color band, ribbed grip area, slip drinking spout, straw and handle to create an exceptional eco-friendly water bottle. It comes in green, orange, red, and blue, and can be customized to include any logo you want to have placed on its upper body.
---
When you are ready to select your perfect eco-friendly bulk water bottles, make sure to check out our impressive selection of branded water bottles.