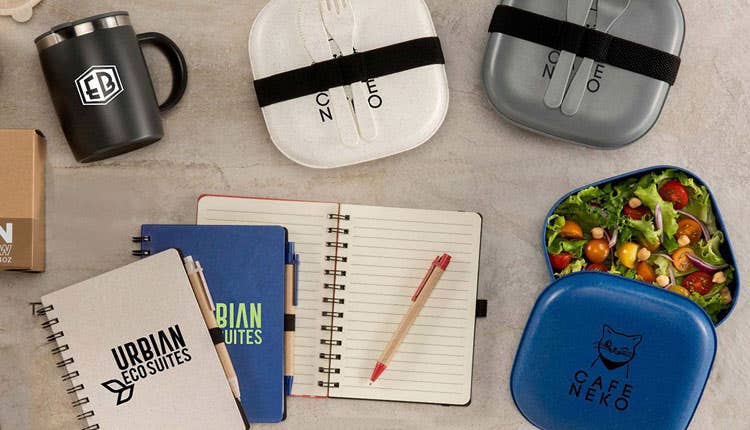 Brands and the wider public are searching every day for products that are environmentally friendly as the world vehemently strives to become greener. Plastic pollution has been a real problem for the longest time as so much of it is discarded after one use, turning into toxic waste and damaging the world's ecosystem. Hundreds of thousands of tons of plastic populate seas worldwide, causing the widespread extinction of marine species as well as microscopic animals. This sort of pollution is a danger to plants and animals of all kinds. 
One material that's been cited as a dependable substitute for regular plastic is wheat straw plastic. Promotional products made from wheat straw are biodegradable, and the production process for these products is less energy-intensive than for other materials. Also, because wheat straw is light and durable, it gives these products a bit more sturdiness. There are many benefits to using wheat straw and there are a few notable promotional products made from it that your brand can put on the market for just about anyone. 
What Is Wheat Straw?
Wheat straw is what remains once wheat is harvested. Those remains are used to create biodegradable plastic and viable zero-waste products. The cellulose found in the wheat straw is broken down to create the material for wheat straw-based products. Furthermore, this breakdown leads to the creation of several polymers. Polymers, which can also be found in hair and nails, contain monomers that form strong foundations to create substances. Unlike regular plastic, which uses artificial polymers, wheat straw polymers are completely natural. 
Furthermore, wheat straw is gluten-free, so people who suffer from gluten allergies can use it. It doesn't require chemically-based fertilizer to grow and doesn't need to be treated with chemicals when it's being used as a sustainable source. It's renewable, doesn't come with a strong odor, and it's antibacterial. 
How Are Wheat Straw Products Made?
Wheat straw products are made thanks to the use of lignin. Lignin is the by-product found in wheat straw and is what keeps wheat plants upright. To get the lignin, the wheat straw must be cleaned and vacuumed so that all dust/dirt can be removed. Once that has been done, the individual fibers of the wheat straw are broken up so that the lignin can be extracted. 
Lignin is similar to a tree trunk, but for a considerably smaller plant. Combining lignin with sugar creates wheat straw products. First, manufacturers have to break the lignin down using a bacterium found in soil that produces acid to facilitate the breakdown. This breakdown takes place seamlessly without any intervention from man-made products. After the breakdown is done, the plastic-like substance is molded, then used to form a variety of wheat straw products, like cutlery and cups. 
Products made from wheat straw are also created by converting the wheat straw into a paper-like material. The wheat straw is converted into pulp by using select chemicals. From there, the pulp is pressed in a way mirroring a plate or another shape. Similarly, this pulp made from wheat straw is gluten-free and is very strong. 
What Are the Benefits of Wheat Straw Plastic?
The biggest benefit, as has been alluded to, is that wheat straw is completely biodegradable. Taking anywhere from three to six months to fully compost at home. Furthermore, because products made from wheat straw are fully biodegradable, they can easily be decomposed and are subsequently used as fertilizer. Alternatively, they can be converted into pulp to create new wheat straw products. 
Another major benefit is that you don't need a lot of energy to create eco-friendly products from wheat straw. Regular plastic, by contrast, uses a lot of energy and creates several carbon emissions as a result, which is a threat to the environment. On the other hand, wheat straw is natural and, as such, doesn't require too much processing to convert the substance to a pulp. Wheat straw products also require fewer toxins during production, including oil, as their natural fibers make the material strong and sturdy enough to hold on its own. 
Wheat straw is seen as a profitable source for agricultural farmers too as they can sell waste products at cheaper costs. And unlike plastic, which requires burning and causes air pollution, wheat straw doesn't rely on harmful disposal.
What Products Can Be Made from Wheat Straw? 
Wheat straw can be used to make several products, including reusable (and disposable) coffee cups, plates, straws and bottles, among several other products for everyday use. 
Products made from wheat straw can be used to preserve or even enjoy food. Furthermore, you can use the wheat straw to make fabric and certain types of technology. Because it's a naturally renewable resource that is easy to manipulate into different shapes, it's a reliable and durable material that can be used to make just about anything. And, your brand can customize these products, putting your logo on them so clients/consumers can know more about you. 
Wheat Straw Products To Promote Your Brand
The options for wheat straw green products are constantly growing and your brand can capitalize on the flexibility of these products by marketing them specifically to the audiences you're looking to attract. Many consumers appreciate natural products that have value, are easy to reuse, and hold up for the long term. Here are 5 great promotional products made from wheat straw that your brand could use for your next promotion. 
Wheat Straw Sunglasses 
Typically, sunglasses are made from regular plastic, with the lenses made from polycarbonate or polyurethane, among other substances. People often opt for sunglasses made from plastic because they're usually considered the least expensive options. 
One alternative to using regular plastic sunglasses is using sunglasses made from wheat straw plastic. Wheat Straw Malibu Sunglasses are a viable alternative to regular sunglasses, coming in a wide array of colors, including blue, gray, lime green, and orange. These sunglasses are made from wheat straw and polypropylene, a thermoplastic polymer used in various industries such as the automotive and medical industries. 
These wheat straw green products are very presentable and classy options that professionals, youth, and just about anyone in need of sunglasses can wear. The sunglasses feature UV400 lenses, meaning they offer full protection from harmful ultraviolet light. Their designs mirror both classic and tropical themes. And, you can customize them with your logo placed on either side of the sunglass arms.
Wheat Straw Pen
Pens made from wheat straw contain 50% less polypropylene than regular, plastic-made pens. The Wheat Writer Incline Stylus Pen is composed of reclaimed stalks from wheat, giving it added sturdiness for use whenever you need to take some notes or sign some documents. Furthermore, these pens don't contain gluten, a fact confirmed through consistent testing. Your logo or artwork can be customized on the side of the pen for maximum branding exposure. 
Wheat Straw Bluetooth Speaker
Did you know that wheat straw can also be used to make Bluetooth speakers? Wheat straw products cover the technology world with the creation of Bluetooth speakers made from natural materials, which creates quite the conversation starter for your brand. 
The Frenzy Wheat Straw Bluetooth Speaker is one such option. It has a natural and trendy look thanks to the wheat straw, and it also sounds great, with the speaker producing a very clear sound for over one-and-a-half hours at maximum volume without a charge. Not only is the speaker itself made from wheat straw, but the instruction manual that comes with it is also made from FSC-certified recyclable paper. 
A micro-USB charging cable comes with the Frenzy Wheat Straw Bluetooth Speaker and you can personalize it by displaying your logo or design on the top of the speaker for all to see!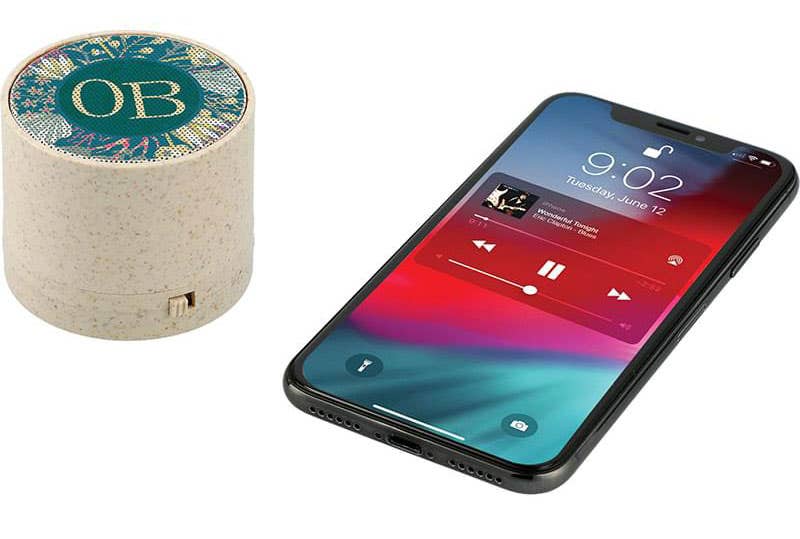 Wheat Straw Travel Tumbler
Consumers can keep their drinks hotter or cooler for longer periods using wheat straw cups. One such option is the 16 Oz. Newport Wheat Travel Tumbler, which is made from reclaimed stalks from wheat. Its walls are constructed for comprehensive insulation of hot and cold liquids. 
The cup comes in all sorts of colors and your brand logo can go in two sports. You can put your logo on the side or wrap it around the front. The 16 Oz. Newport Wheat Travel Tumbler is reusable and lightweight. 
Wheat Straw Lunch Box Container
The Plastic and Wheat Straw Lunch Box Container is an example of a product that successfully preserves the environment and food simultaneously. 
The lunch box container is safe for use in microwaves, and it contains a tray to keep food separated as well as a locking lid to keep things secure. It also has a handle, making it convenient to carry anywhere. Plus, it's lightweight; comes in black, blue, and lime colors; and branding can be printed on the lid of the container.
Check out the entire collection of wheat straw promotional products and other eco-friendly items on our site today. Or contact us today to get a quick quote and free virtual preview of your design. We can't wait to help on your next company green promotional initiative!