July 20, 2021
Custom Marine Layer: Eco-Friendly Apparel Made From Recycled Cotton Fabric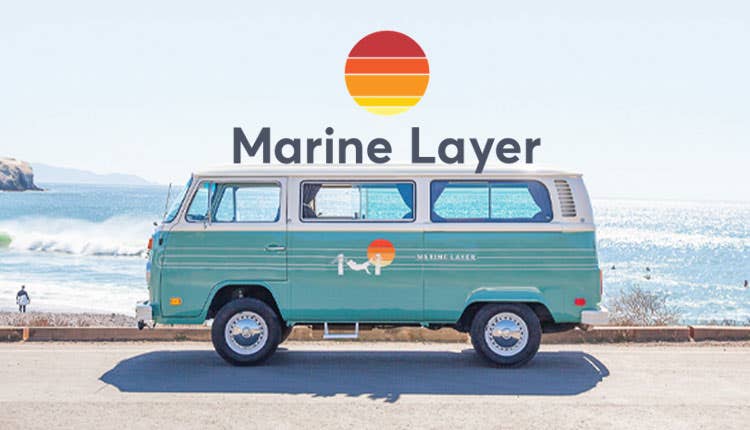 Cotton is a material that is oft-used for all sorts of purposes, most famously, in clothing. While it's a popular fabric, the manufacturing process involved in making cotton can be very taxing on the environment. According to the World Wildlife Fund, around 20,000 liters of water are used just to make one kilo of cotton, which is the same as producing a T-shirt and a pair of jeans. Because so much water is used to produce and press cotton, it's led to water scarcity issues worldwide, putting the ecosystem at severe risk. 
One solution to this problem is using recycled cotton to make fabric and different clothing types. Many consider recycled cotton to be sustainable and better for the environment than regular and organic cotton. It allows for the sustainable and reliable production of apparel. Recycled cotton fabric and recycled cotton clothing last long and are easy on the skin whenever worn. More companies are making fabric using the material. Your brand can jump on this growing trend and offer recycled cotton clothing for men and women looking for lighter and more sustainable material to wear amid the summer heat. It provides many benefits and many uses that recycled cotton has, including for a wide range of eco-friendly promotional items. 
Is Cotton Recyclable?
Cotton can be recycled with previously used textiles or older garments. Recycling cotton produces less textile waste and requires fewer resources to work with than traditional or organic cotton. The waste fabric and scraps are broken down into materials that create new fibers. As a result, recycling cotton and making more use of the waste leads to a solid alternative to conventional cotton waste disposal. Also known as upcycled cotton, recycled cotton is usually made from post-industrial or post-consumer cotton waste. 
Despite the initiative, you won't see a lot of recycled cotton fabric on the market. That's because production costs for recycled cotton are expensive, limiting production capabilities. Also, some recycled cotton fabric will lose its quality sooner than regular cotton fabric, causing many recycled cotton options to be blended with new traditional cotton, so it has maximum effectiveness. 
By recycling a ton of cotton can save 765 cubic meters of water or 202,000 U.S. gallons of water. Recycling cotton can help a lot to alleviate water scarcity.
How is Recycled Cotton Produced?
Recycled cotton fabric is produced by extracting cellulose fibers that from things like: 
Fabric waste 

Textile production 

Scraps 

Used garments 

Home Textiles 

Yarn 
First, cotton waste is collected, then arranged by color/type before being chipped mechanically. Being chipped pulls the cotton waste apart, creating regenerated cotton fibers. The fibers are subsequently sorted and washed before being spun into new yarns. 
Because the resulting fibers from this process are smaller than the original, manufacturers will merge them with other fibers to boost strength and longevity. These additional fibers range from nylon to polyester to spandex.
Is Recycled Cotton Sustainable? 
One of the most redeeming qualities of recycled cotton is that it's sustainable and highly resourceful.
These factors are conducive to the fashion industry, which is known as one of the least eco-friendly industries in existence. The fashion industry is more pollutive than most industries worldwide, with only the oil industry being more wasteful. It's been the root cause of much of the wasted resources, including energy and water, that's put out into the atmosphere and ends up permeating landfills. Clothing and textile industries also amplify carbon emissions. Several brands use unsustainable and sometimes hazardous practices to try and produce new garments. According to studies, each person in the United States generates 30 kilograms of textile waste annually. 
Additionally, consumers tend to wear garments an average of seven times before getting rid of them. Furthermore, most women wear up to 30% of the clothing they own. While the clothing industry prides itself on being trendy, it's also considerably wasteful and is to blame for much of the environment's issues. Just a small amount of natural resources used in the clothing industry is considered renewable.
Thankfully, many brands have wised up with their production practices and some use recycled cotton fabric to create their clothing and other items. Brands like Marine Layer have been offering high-quality recycled cotton T-shirts and different types of apparel made from the material. The manufacturing processes used to make recycled cotton clothing are fair and eco-friendly while ensuring resources are preserved and utilized efficiently. They eradicate a lot of the messiness involved in traditional cotton production, which uses tons of water in addition to pesticides and insecticides. 
Why Should You Choose Custom Marine Layer?
Custom Marine Layer eco-friendly apparel is a great way to promote your green initiatives and show your clients and employees you care about the way your brand is conveyed wherever they go.
Marine Layer's emphasis is on making soft yet comfortable shirts that use low-impact fibers to make their clothes. Furthermore, through their recycling program, Marine Layer can take in old T-shirts and convert them into recycled cotton. Then they make more shirts using the recycled cotton they get from those old T-shirts, all while using sustainable and safe production techniques. Their shirts are highly hypoallergenic and have enough room to breathe in. These recycled cotton T-shirts have lasting power, and there are several types of Marine Layer shirts that your brand can sell while also posting your custom logo on them to improve brand visibility and outreach. 
Marine Layer Re-Spun Crew Shirt
Re-Spun is the name of the recycling program that Marine Layer uses and is the foundation on which it makes its recycled cotton T-shirts and recycled cotton clothing and clothing using other renewable resources. 
One of its Re-Spun efforts using recycled cotton fabric is the Marine Layer Re-Spun Crew shirt. The shirt, like many others, is made from fully recycled T-shirts that local communities donated. The colors for this shirt also come from previously used dye, so no extra water or stain is used to make these shirts. This Marine Layer offering combines recycled cotton fabric with recycled polyester. Additionally, it's sueded to give it extra softness, and sizes range from extra small (XS) to triple extra-large (3XL). This shirt is also available for ladies and comes in two colors.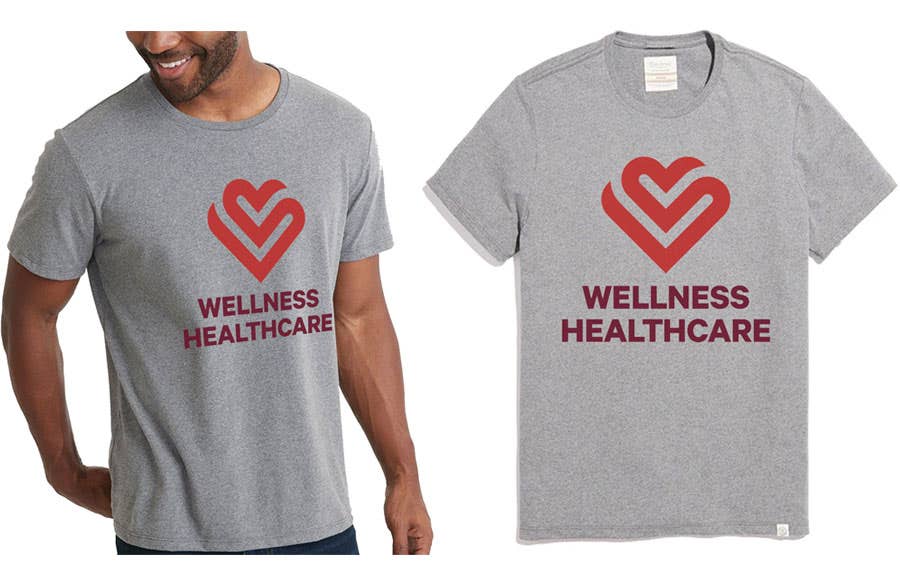 Marine Layer Sport Jogger
While Marine Layer is renowned for its recycled cotton T-shirts, it also has other forms of recycled cotton clothing, like joggers, ideal for that morning/evening jog or a trip to the gym. 
The Marine Layer Sport Jogger is another practical fit, made with heavyweight active fabric, ensuring those who wear it won't sweat through it. It's carbon-peached on each side for added softness and comfort while also featuring four-way stretch and moisture-wicking. A cationic dye is used to give the jogger a textured and esthetically pleasing look. 
Polyester with touches of spandex throughout predominantly makes up the jogger. And it comes in charcoal heather, giving it a serious look. Brands can place their logos on the left leg of the jogger, and women's joggers are also available.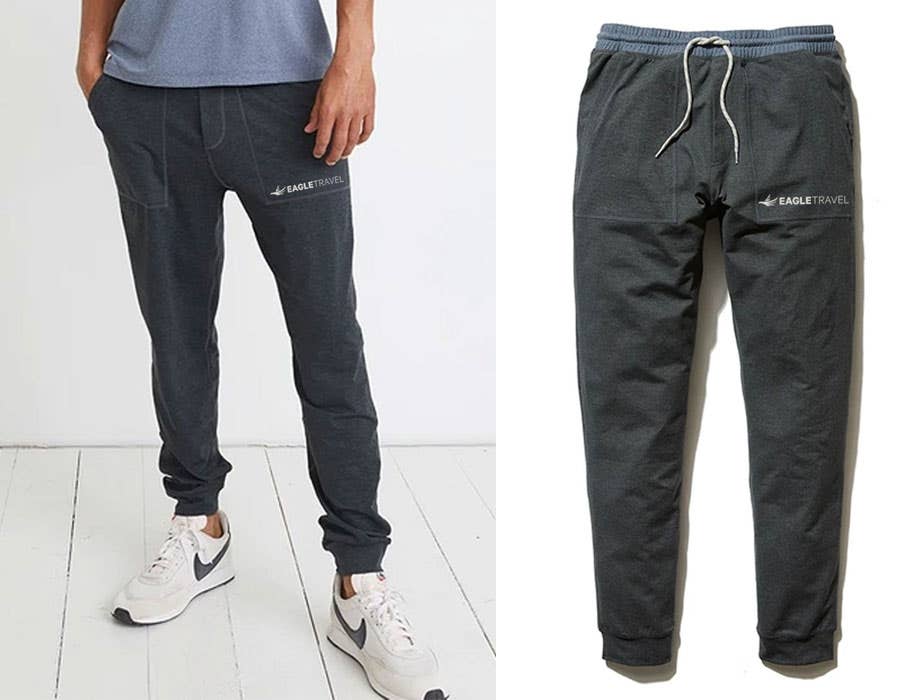 Marine Layer Reversible Corbet Pullover
This recycled cotton clothing is beneficial for those cool spring or fall days when a little more comfort is needed to offset the chills. The Marine Layer Reversible Corbet Pullover comes in heather grey/charcoal and is made of polyester and rayon. The pullover includes very soft quilted layers that are knit together then filled for a more comfortable feel, stronger texture, and added warmth.
Also available for women, the pullover includes a custom, reversible two-toned fabric, with sizes ranging from extra small (XS) to double extra-large (2XL). Essentially, the sweater feels like two different ones combined for one ultra-comfy offering. A computer-controlled machine sews in your brand's artwork on its left chest, using up to 10,000 stitches to give it the most pronounced and authentic look possible.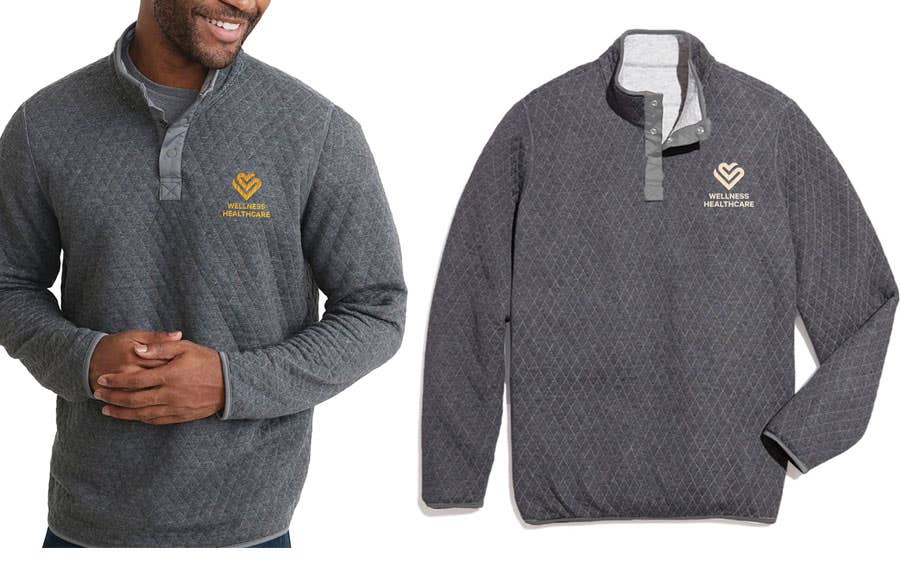 Marine Layer Afternoon Hoodie
Though it's classed as an afternoon hoodie, you can wear the Marine Layer Afternoon Hoodie at any time of the day. Coming in asphalt grey, black, or faded navy, the hoodie contains sustainable fabric like Supima cotton and micro modal, featuring half of each. The micro modal is made from recycled beechwood, a product from which many Marine Layer's clothing options are made. The modal also is a natural and sustainable source of raw material. 
It's pre-washed and pre-shrunk while also fleeced on the inside so that people wearing it feel added levels of coziness. Plus, it's lightweight and easy on the skin. Women's versions of the hoodie are also available.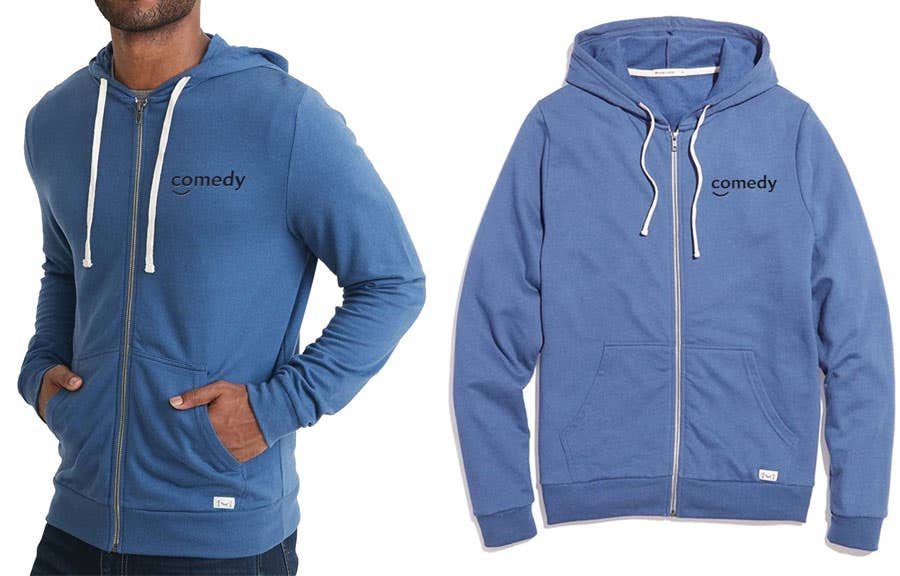 Marine Layer Signature Lined Blanket
This recyclable blanket contains a mix of polyester, rayon, and cotton to give it a fine texture to cover up on those cooler nights. The Marine Layer Signature Lined Blanket contains a soft mock twist sherpa fleece fabric and comes in two colors, asphalt or heather grey. 
One of the most prominent features of the Marine Layer Signature Lined Blanket is that the inside contains sustainable T-shirt fabric. Once again, this is another example of recycled T-shirts donated from local communities and subsequently spun into recycled cotton to make new materials. The above patch can feature custom artwork that is sewn into the blanket using a computer-controlled machine.
Check out the entire line of Custom Marine Layer Eco-Friendly apparel now or see our wide range of promotional items that you can use for your next event or giveaway, check out our extensive product line today.