Ultimate Guide To Custom Embroidery On Shirts, Hats & Jackets
Custom embroidered corporate apparel to show off your logo is a company culture staple. Naturally, your sales and partnership teams will want to get their hands on your embroidered wearables to give to their clients and prospect. It takes a lot of magic to create beautiful embroidered apparel, but the results speak for themselves. Even simple embroidered hats, jackets or shirts look more professional once emblazoned with your logo or your event's details.
We will discuss the ins and outs of embroidery, what types of products can be embroidered, as well as the alternative customization methods when embroidery isn't an option for you.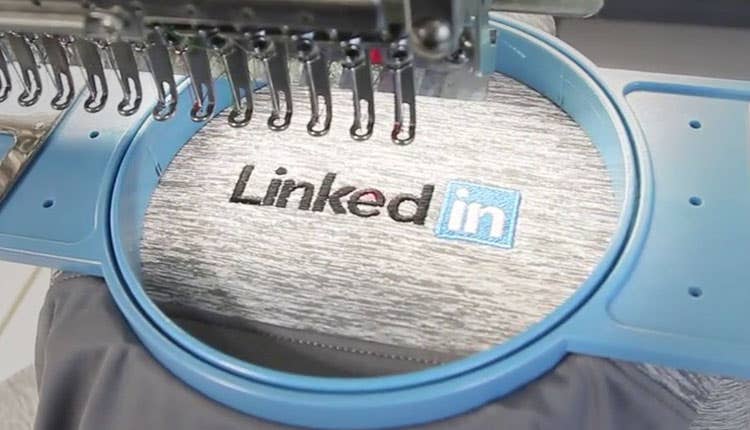 How Does Custom Embroidery Work?
Company logo embroidery has been a classic decoration method for businesses everywhere. Companies continue to use this method for it's great look and high quality finish. Embroidery really doesn't cost much extra than screen printing, but will last much longer and it makes a branding statement. The stitched logo looks much better design-wise than a decoration method with no texture. For logo embroidery on shirts, most designs will be placed on the left chest, cuff, or sleeve. Logos on hats will be embroidered on the front.
The embroidery process will differ significantly depending on the size of your project, your logo, and the type of machine that's being used to create the final piece. This only happens because different details need to be added or taken away, and the stitch count will differ for every design as well.
What Can Be Embroidered?
Almost all fabrics can be embroidered. Any type of apparel or accessory that can be pierced with a needle and thread can be embroidered. From robes to hats and everything in between, embroidery has been used to add a little extra texture to regular items. There are numerous products mentioned below that can include this custom decoration method.
Mink Soft Touch Robe
A robe is one of the classic pieces that can be easily embroidered with up to 7,000 stitches. The navy blue and white robes are made from luxuriously soft fabric that has dual pockets and a large embroidery area for your logo. It also comes in a handy zippered bag.
The Mink Soft Touch Robe takes around seven to ten working days to be completed. For 100-plus units, it costs $40.65, while 12-plus units will cost $51.24. You truly can't go wrong with this custom logo embroidery.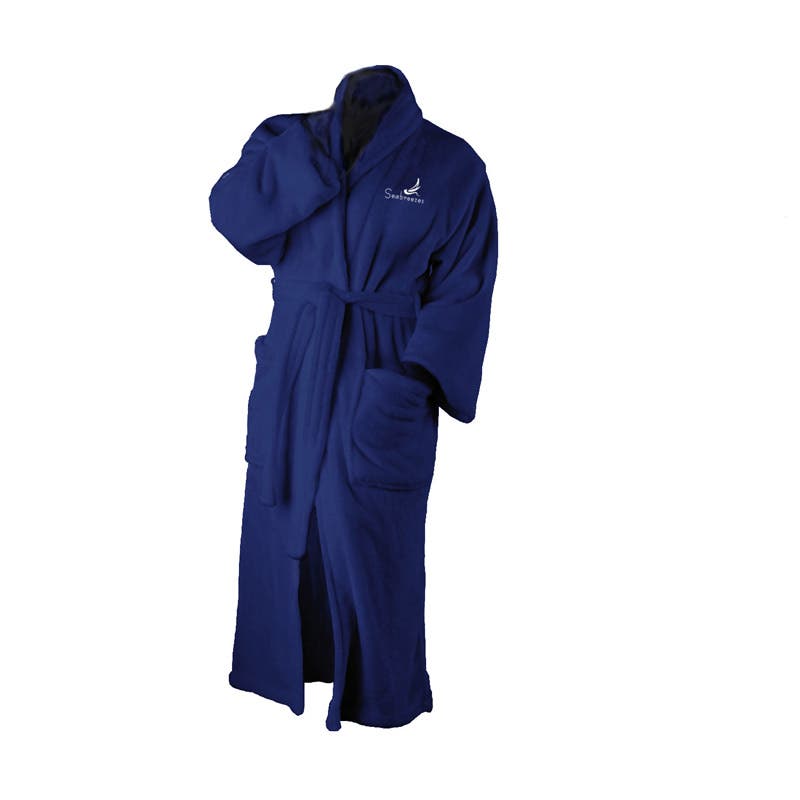 ---
TaylorMade Performance Front Hit Trucker Hat
A hat is yet another piece where the design has to be embroidered in order to make the right impression. Whether you're using these as client gifts, or for employees, it's better to do the job right the first time. Using a computer-controlled machine, your company's logo will be sewn into the front of the hat.
The TaylorMade Performance Front Hit Trucker Hat is a great example of why quality matters. One hat will cost you $35.53 for a stunning embroidered piece. Anything over three hats, you will have to contact us for a quote. The design takes about 15 working days to complete.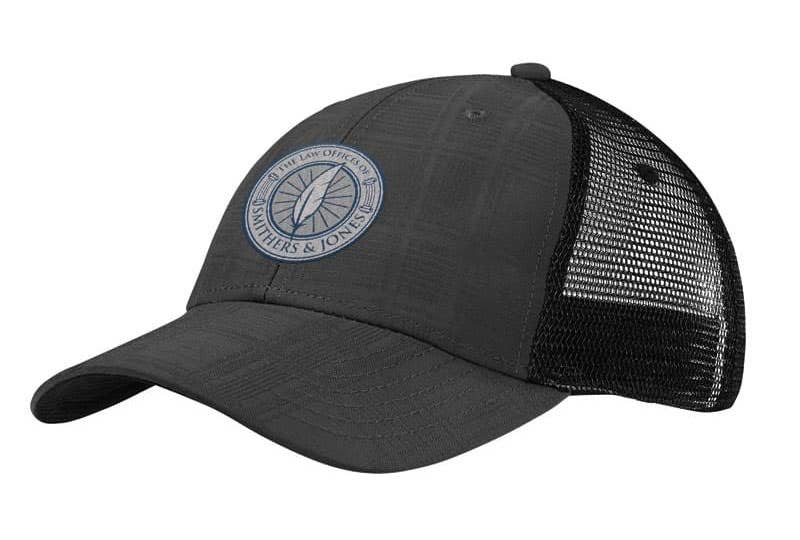 ---
Spirit Backpack
A backpack is a perfect way to surprise your employees with custom business logo embroidery. The Spirit Backpack has multiple pockets and a laptop sleeve inside. The shoulder straps are comfortable and match the piping of the rest of the bag. After seven to ten business days, the bag will be finished.
The backpack comes in three colors, blue, gray, and red. The embroidered logo is sewn into the front of the bag, so everyone will be able to see it. For 250-plus units, it only costs $18.18, while 25-plus units will cost $22.35. This means more savings for you the greater number of bags you decide to order.
---
Appalachian Sherpa Blanket With Full Color Card
A soft and cozy blanket is all anyone needs when the weather starts to get colder. The Appalachian Sherpa Blanket With Full Color Card is on the higher priced spectrum, but it's worth it for the quality you're getting. The blanket is faux suede on one side and sherpa on the other.
Your branded logo is placed on both the color card and embroidered into the corner of the blanket. Embroidery is completely free up until 7,500 stitches are used. For 200-plus units, the blankets will cost $62.98 each. On the other hand, for 12-plus units, the blankets will cost $79.37. To some, this may seem expensive when in reality it's just the price for great logo embroidery.
---
Adidas Rolling Duffel Bag
A great quality rolling duffle is exactly what your employees need when heading out on quick business trips. This bag has shoulder straps and wheels with a pull handle, allowing for several carrying options. With a large main entry compartment and plush, lined pockets, your logo will sit perfectly on the side of this duffle.
The Adidas Rolling Duffle can be purchased for $115.00 for 72-plus units and $125.00 for 12-plus units. The savings are noticeable, which is why it's good to order more of this incredible product. These units are usually ready with 10 to 14 business days.
---
Men's 100% Mini-Ripstop Polyester 80G 3M Thinsulate Insulation Eclipse Jacket:
The perfect jacket for a fall day. There are plenty of areas where the logo embroidery can be placed on this clothing item. These include the left and right chest, left and right sleeve, full back, and the yoke of the jacket. Although this design can also come screen printed, embroidery stands out more against the material of the jacket more.
The Men's 100% Mini-Ripstop Polyester 80G 3M Thinsulate Insulation Eclipse Jacket has incredible insulation that provides exceptional warmth, plus is extremely durable with its water-resistant outer shell. The different sizes of logo options and where the logo is placed on the jacket makes the price slightly vary. For up to 7,000 stitches, the cost starts at $105.40 for 144-plus units, the more expensive option is only ordering up to 25 for $128.42 each.
---
Women's Belay Puffer Jacket:
Ladies will remain warm and toasty with the Women's Belay Puffer Jacket. During the fall weather, everyone wants a jacket that is comfortable to wear, will keep you warm, and is still stylish. This puffer is all that. Available in the colors black, tech blue, and red, the embroidery logo design can be placed in the same areas as the men's jacket listed above.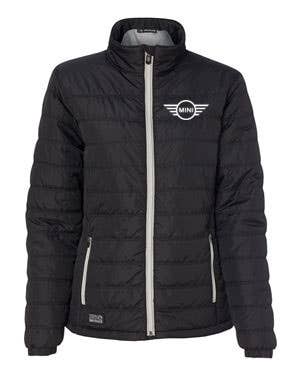 The hard work that goes into crafting these puffer jackets is incredible. Not only will the insulated technology trap body heat inside, but they are wind and water-resistant as well. They also include a security pocket, a zippered hand pocket, and are made of 100 percent polyester, allowing for added warmth during moderate to high energy activities.
The logo for this jacket can be screen-printed, but again, most people will choose embroidery because of the look it provides. The embroidered logo will cost $56.71 for 144-plus units while 12-plus units will cost around $82.70.
---
What Are Alternative Customization Methods?
There are a large variety of ways you can have your logo customized without using embroidery. This may be for personal preference or because embroidery doesn't work with the product you're trying to sell. The decoration designs are as follows:
Screen Printing
Heat Transfer
Laser Engraving
Debossing
Embossing
Vinyl Transfer
Pad Printing
Digital Printing
Most companies try to include as many types of decorative methods as possible in order to please the client. These are just a few of the most popular options available today, but there are also many logo for embroidery and printing options not mentioned that can still be completed if asked.
Embroidery has become such a huge part of the custom design industry. If given the option, most businesses would rather have embroidered merchandise they're giving away over simple screen-printed designs. Logo embroidery lasts longer, looks more professional and is completely worth the price for the quality you're receiving.
Embroidery companies have been doing everything they can to keep up with the high-demand for embroidered products. It's a great way to show that you care about a certain group of people in your life. Giving out branded gifts can sometimes be seen as cheesy, but your employees will be more inclined to use the products if they know they're great quality. So next time you plan on ordering any custom gifts, see if embroidery is an option.