Unique School Spirit Promotional Items Your Students & Alumni Will Love
School spirit is important for a number of reasons. It works to connect students and teachers and build a community, helps set a tone for everyone at the school, and promotes a positive culture for greater productivity, efficiency, and well-being.
It creates a positive kind of energy and excitement that spreads throughout the school or campus and makes people excited to be there. And when students look back at their experiences as they grow older, they'll want to remember their school experience as fun and positive, and not just filled with endless assignments and exams. 
Part of building school spirit includes handing out school spirit promotional items for students and teachers to get a hold of. They're fun, engaging, and tangible, so they can be directly experienced as soon as they're given out. Whatever school swag ideas you come up with, they'll help students better identify with their school and gain a sense of pride for being there.
Popular School Spirit Promotional Items
Whether you're looking to build a greater sense of community and connect more people together, build excitement about the school, or promote a positive culture with common values and beliefs that promote the well-being of others, handing out school spirit promotional items can really help you achieve your goal.
And when handing out these items, you don't want them to be boring. You want them to be fun, creative, and engaging, so that everyone, from students to teachers to other alumni love the products. The goal is to find products that get people excited and set your school apart.
So if you're looking to find the perfect school promotional products or school giveaways, keep reading to discover some of the most unique products. 
---
1. Custom Webcam Covers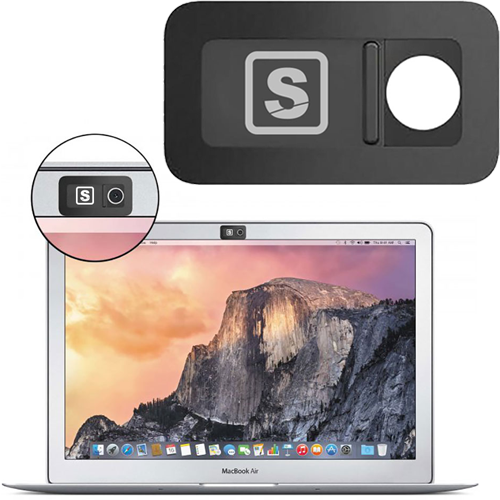 With the rapid development of technology and internet security, privacy has become a major concern for internet users. And because a lot of teens and young adults are frequent users of social media and the worldwide web, many are concerned about their safety and security. In times like these, webcam covers can really come in handy.
This C-Slide Webcam Cover is the perfect promotional item to hand out to students and spread school spirit. Because a webcam cover will be directly over their line of sight, they'll be constantly exposed to your school's branding, which can help them develop a more personal connection with it and eventually develop more school spirit. Because this is a small item that's highly useful and not inconvenient at all to keep, students are likely to keep them around for a long time – and even adult alumni are bound to love it.
This cover is custom-made with your school's branding using a screen print process. The unit price ranges from $3.20 to $3.68, with a minimum order quantity of 1000. Standard production time is approximately 7 business days.
---
2. Deluxe Size Stonehouse Sweatshirt Blanket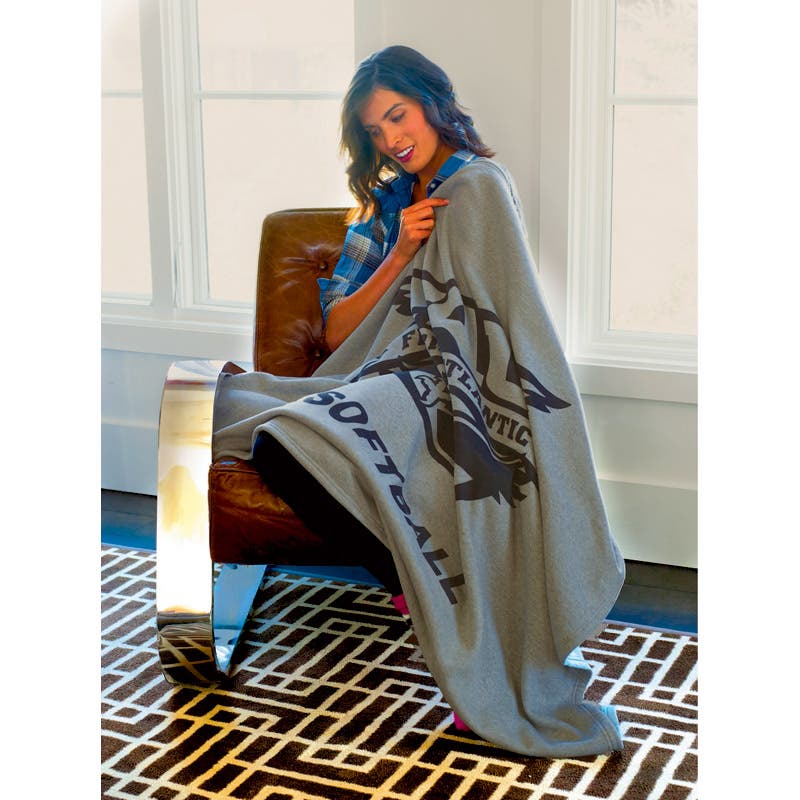 Branded sweatshirts are one of the more popular types of promotional products that schools give out to students, but have you heard of custom-made sweatshirt blankets?
The Deluxe Size Stonehouse Sweatshirt Blanket is one of those unique school swag ideas that students will love. It's a sweatshirt and a blanket all in one, so it's extremely cozy and comfortable to take on the go and use when it's cold outside. It will help students feel more comfortable and relaxed wherever they go, whether they're sitting outside watching a school sporting or event or simply getting cozy in their house during the winter months!
This product comes in an athletic grey color and takes approximately 15-20 days for production. There's an embroidery imprint method on the blanket, which consists of about 8,000 stitches per location. The unit price ranges from $27.75 to $32.75, with a minimum order quantity of just 36 blankets.
---
3. Zippered Vylon Document Case
What's good about the Zippered Vylon Document Case is how convenient it is for traveling or carrying your documents around. It's one of those school promotional items that students and teachers are both likely to use, considering its convenience and impressive utility. With different compartments and tight security, users can store their IDs, documents, pens, money, and important items in the document case without worrying about items scattering and getting lost.
Students and teachers who carry their document cases to school will help spread a lot of school spirit and positive energy around the campus or around school grounds. Those who use the case on a daily basis or carry it with them on their travels will spread awareness of your school's name and logo and carry that positive school spirit with them everywhere they go.
This document case comes in blue and black colors, with a screen print on the front. The price ranges from $5.26 to $5.96 per unit depending on how many you order, with the minimum order quantity being 50 units. The product is made of vinyl and the standard production time takes around 3-5 working days.
---
4. Fiji Water Pocket Fan
Let's face it – sometimes it gets really hot at school. Whether the season's transitioning to summer and the AC isn't working, your staff prefers opening the windows and let in the natural air, or your staff and students spend their breaks outdoors, spending time in the heat can make people drowsy, tired, and less productive. And even if you have fans in the classrooms, they probably aren't able to reach everyone.
The Fiji Water Pocket Fan is one of those unique, useful and fun  promotional items for teachers and students. The fan has a water container that users can fill to spray on themselves as well as a fan for extra cooling in the heat. It's small and compact, fits in your pocket, and can be taken just about anywhere and everywhere.
This product comes in black and five other bright, fun colors that students will love. The product price ranges from $3.09 to $3.62 depending on the number of items ordered, with a minimum order quantity of 150. You can get a screen print of your school's brand and logo on the side of the handle stick. This product comes with two AA batteries included.
---
5. Fiddle Spinner Highlighter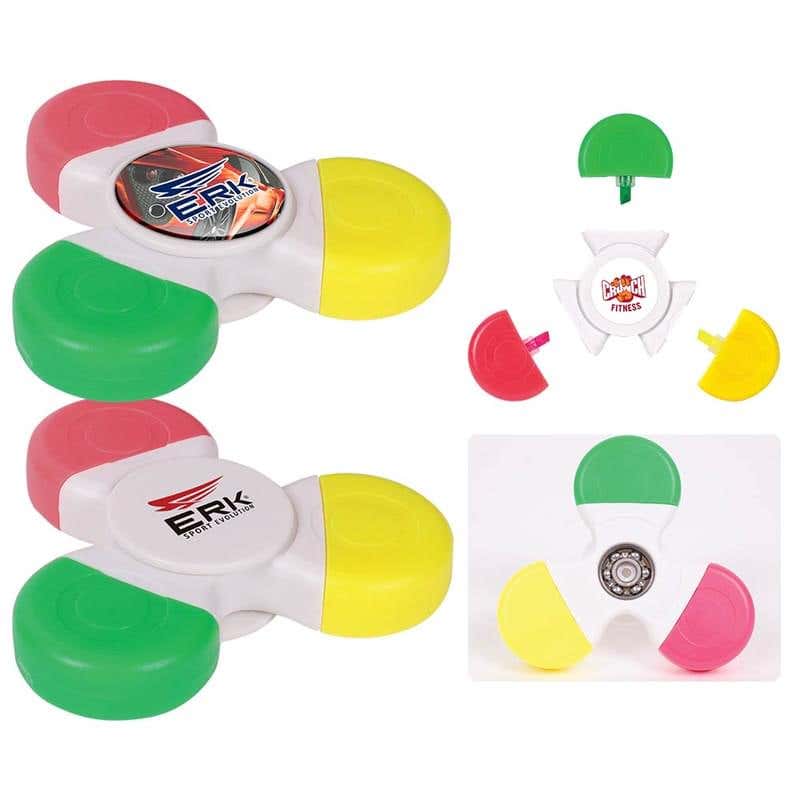 Fiddle spinners are one of those fun and trendy products that everyone wants to have. They help get rid of boredom, keep you entertained, and relieve stress when you need a break and want a bit of play without going outside. Pair that with a highlighter and you've got a double-utility fun product that students will love.
The Fiddle Spinner Highlighter is made of strong ABS plastic and steel ball bearings, so spinning will be smooth and enjoyable. The highlighter comes in green, yellow, and pink colors, so students can emphasize and bring out the most important information as they study. It's a study tool and toy that students will actually want to use, and can act as one of the best classroom or school bus promotional items.
The price ranges from $2.59 to $2.92 per unit, with a minimum order quantity of 150 units. There's a pad print or full color option for the brand name and logo imprints on the front, and the overall color is white. Production time takes approximately three working days.
---
6. Skyline Two-Tone Inversion Umbrella
According to findings from the Advertising Specialty Institute, umbrellas are at the top of the list of promotional items with the highest staying power, as they're kept for an average of 14 months. Umbrellas are one of those items a lot of people forget to bring, but when you give them out as school logo promotional items, the school spirit that builds will make people want to bring them. Umbrellas are also great for exposure, so students and teachers using umbrellas as school spirit promotional items will generate a lot of exposure for your school as they commute there and back.
What's cool about the Skyline Two-Tone Inversion Umbrella is it's reversible, so you can flip sides and display whichever side you want. The umbrella comes in three colors – bright red, green, and blue, all with another layer of black underneath. The price ranges from $13.25 to $14.25 depending on the number ordered, with a minimum order quantity of 30.
---
7. Coloring Book: How to Deal With Bullying
There's no denying that bullying is a major issue in today's society. It occurs in schools around the world and affects millions of kids on a daily basis, creating negative effects such as poor academic achievement, loneliness, depression, and anxiety. While positive changes are being made to improve the issue, extra efforts still need to be made to create a more positive school atmosphere where students feel safe and valued, and can grow to be more confident in themselves.
This "How to Deal With Bullying" Coloring Book is one of the most fun and interactive anti-bullying promotional items that students can read to lead about the effects of bullying and how to stand up to bullies. Reading this at a young age can help students develop an anti-bullying mindset early on, and help create a positive school environment as they grow older. The story is about a girl who starts off as the victim of an older bully and uses the help of her teacher and friends to create a No Bullying Zone at school. The story is inspiring, informative, and will create a positive impact at your school.
The approximate production time is 7 working days. 
Why these Items Are Good for Promotions
All of these school spirit promotional items are unique, creative, and will definitely foster school spirit. They're fun and useful, which will encourage your school's students and alumni to actually want to use them. Utility is one of the main reasons why people keep promotional products – and these items all have a high utility factor, whether they're used for emphasizing important information, taking pictures, coloring, storing documents, or protecting users against extreme weather.
These school swag ideas will help foster a greater sense of school spirit and create a more positive, welcoming atmosphere at your school where people feel welcomed, valued, and connected with others.