The Best Health Promotional Items For Corporate Wellness Programs
Along with recent changes in the workplace has come the growth and development of corporate wellness programs. Organizations are finally seeing the benefits of developing an atmosphere that promotes health and wellness amongst employees, fostering greater productivity, improving mental health, increasing happiness, and encouraging engagement in the workplace. But what exactly is corporate wellness?
Corporate wellness programs are efforts made by companies and organizations to promote the well-being of employees. Because it's so easy to get overwhelmed and unmotivated in the workplace when there isn't a healthy balance of work and play, there's now a greater emphasis on creating that balance than ever.
These efforts often consist of physical exercise programs, access to gyms and facilities, health and nutrition classes, opportunities for team-building, and whatever initiatives are being made with the mission of improving the mental and physical well-being of employees.
The Essential Ingredient For Corporate Wellness Progress
If you're focused on developing your company's corporate wellness program, there's an essential key ingredient that you must take into consideration to further expand your strategy and make it as strong and effective as you can.
While most companies know that branding is essential for a company, not all realize that branding is also an essential component in creating an effective strategy for your corporate wellness program.
If your goal is to increase the happiness, well-being, and health of employees, a great idea would be to give out health promotional items that complement and strengthen your company's strategy. You'll help develop the culture of health and wellness, making your employees feel more valued than ever before while establishing a positive name for your brand.
Top Items for Effective Corporate Wellness Progress
Considering that many wellness programs include health and fitness classes and access to gyms and facilities, it's a good idea to hand out products that promote these healthy initiatives. Keep reading to discover some of the best health and wellness promotional items that you can take advantage of and use to strengthen your company's corporate wellness progress.
1. Thermos Connected Hydration Bottle with Smart Lid
Why hand out water bottles when you can give out thermoses? Not only will they keep employees hydrated but they'll help maintain the temperature of their beverages for longer periods of time. So when an employee's craving a cold drink during or after their workout, now they can get it when they want it – without needing to constantly run to the fridge.
The Thermos Connected Hydration Bottle with Smart Lid isn't your regular thermos – it's one of those basic health promotional products that comes with plenty of advanced features. You can measure your liquid intake while reading the temperature through a sensory tube, track and monitor progress with charts and graphs, sync water intake with your Fitbit account, and enjoy a long battery life up to 12 days.
This thermos is made of Eastman Tritan™ copolyester material, which ensures toughness, strength, and resistance to chemicals. The item weighs 0.75 lbs and carries up to 24 ounces of liquid. The unit price ranges from $69.98 to $105.25 depending on the quantity ordered, with a minimum order quantity of 6 bottles. The product comes in two colors and has an approximate production time of 7 working days.
---
2. Ulla Smart Hydration Reminder
According to the Advertising Specialty Institute, as many as 88% of consumers in the United States report owning a promotional drinkware item. This demonstrates the surefire popularity of drinkware and how useful these wellness promotional products are. But why not kick it up a notch in uniqueness and creativity?
As the world's first reminder bottle attachment, the Ulla Smart Hydration Reminder was designed with smart detection sensors to constantly remind users to drink their liquids and stay hydrated. The reminder can be attached to bottles of different sizes, mugs, and glasses, so users can drink out of their preferred bottles. Give these healthy promotional items out as a part of your corporate wellness program, and you'll be helping employees reap all the benefits of staying hydrated at work and improve their overall well-being, energy, and brain functioning.
This hydration reminder comes in five different colors (including black, white, green, blue, and purple), so employees can choose theirs and set them apart. The price ranges from $18.95 to $19.95 depending on the number of items you order, with a minimum order quantity of 25. There's one imprint area for your brand name and logo on the front, which takes around 10 business days to produce.
---
3. Unisex Headband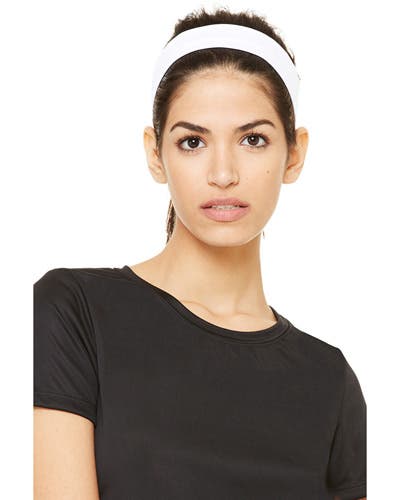 While a headband might be one of the simpler health and fitness promotional products, there's no denying how useful they can be. Whether your employees are using them to keep their hair neat and out of the way while building up a sweat, to add style to their outfits, or to further connect and identify with their company, they're simple but highly useful.
This Unisex Headband is made of 90% nylon StretchFlex material that's anti-microbial and dry-wicking. The product comes in up to 24 different colors, so employees can pitch and choose the ones they like and set themselves apart from others. You can get a screen print or embroidery option that will showcase your brand and generate high exposure, considering headbands are worn above the eyes, in a very visible area. The price ranges from $5.85 to $9.25, depending on whether you choose a screen print or embroidery as well as the number of units you order. Keep in mind the minimum order quantity is 12 units.
---
4. Everlast Massage Roller Ball
While staying hydrated and exercising are essential components to staying healthy, they aren't the only factors that should be considered for maximizing overall well-being. It's also important to take the time to relax, destress, take care of yourself and make sure you feel comfortable rather than limited in your body. This will, in turn, help you achieve your goal of becoming more active and healthier in the long run.
The Everlast Massage Roller Ball is a small, compact massage ball that employees can carry around with them and use whenever they feel any pain or tension, which is common to happen especially with the development of corporate wellness programs. The handle is easy to grip and take control of, rolling the ball over trigger points and releasing tension from certain areas. Your employees will love this one for the immediate relief and massage they're able to benefit from.
This massage ball ranges in price from $14.98 to $18.88, with a minimum order quantity of 48 units. There's a brand and logo screen print on the front that's permanently applied with a precision printing press. While the price includes one color and location, you can add more for additional costs to further increase exposure for your company and develop your reputation as a company that believes in wellness as much as they believe in taking care of their employees.
---
5. Tap N' Read Fitness Tracker Pedometer Watch
Fitness trackers have become increasingly popular over the past few years. People are tracking their steps and counting the number of calories burned or distance covered to achieve their fitness goals, track their progress, and get motivated to become more physically active. They're great for tracking progress as the numbers displayed will (hopefully) demonstrate an increase in steps or distance covered over time, and make it easy for users to set goals for themselves.
This Tap N' Read Fitness Tracker Pedometer Watch tracks steps, distance, calories burned, and overall active time to help users track their progress, set goals, and achieve them. The LCD display makes it easy to read, the watch is water resistant, and the silicone rubber wristband is comfortable and high-quality. The watch has a long-lasting battery life that doesn't require constant maintenance or replacing of batteries.
The price ranges from $12.10 to $12.90, with a minimum order quantity of only 30 units. The watch comes in four different colors – black, red, lime, and navy blue. You can choose a pad print imprint or full color design, depending on your preferences.
Why these Items Are Good for Promotions
All of these products from iPromo can be handed out as health fair giveaways promotional items to maximize and expand your company's corporate wellness programs. Whether you choose products that promote hydration, motivate people to work out and get active, or promote relaxation and reduce tension, there's a high chance that your employees will feel more valued and cared for than ever before.

Not only will they appreciate your company's programs, but they'll love your items and take note of the healthy corporate initiatives that are being taken. Your employees are likely to feel more satisfied, happy, and engaged in the workplace, which will only generate positive effects on productivity and efficiency.