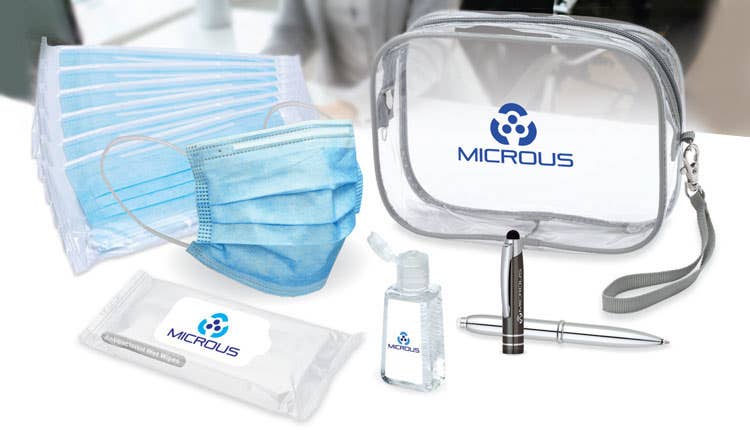 Welcome Back PPE Kits for Employees Returning to the Office
Restrictions are starting to loosen worldwide, which means that a lot of your employees are likely getting ready to go back to the office. Whether you had to shut down operations completely or just make the move to remote work, chances are that they have made a lot of sacrifices and adjustments over the last couple of months. 
You want to make sure that you show your appreciation the moment they step foot back in the office. Here are some great gift ideas that will help do just that. 
What Are Your Employees Thinking Right Now?
As a start, just like buying a gift for someone's birthday or another milestone, you want to put yourself in their mindset when making a selection. Chances are that your employees have shifted their lifestyles in a lot of ways, and you want to make sure that you find something that they can use and enjoy now, even if there are certain restrictions still in place.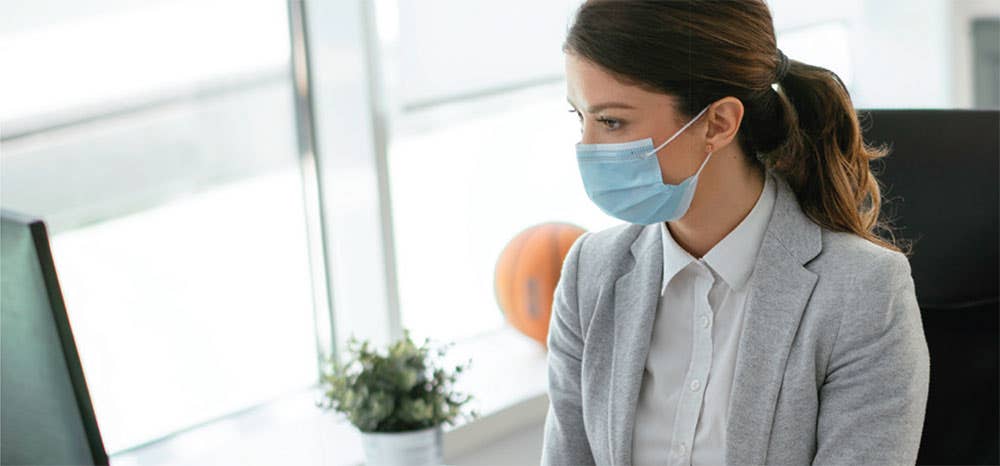 Here's a brief run-down about what a lot of employees are pondering as they go back to work:
Safety: This is a pretty obvious factor, and something you can't ignore. Perhaps COVID-19 cases in your area have dropped, but the threat is still out there. Employees want to know that their workplace won't leave them at excessive risk of exposure.
A return to normalcy: For a lot of people, going back to the office represents something they may have never thought they would appreciate, but it's a welcome sign that things are getting back to normal on some level. Gifts that speak to that need can be helpful.
Leisure: As hard as it can be for business owners and managers to remember, your company is not the center of the universe. With offices opening up, so are a lot of other businesses and areas. After being forced largely inside for months, many people are raring to have some (socially distant) fun outside. It's not a bad idea to look into gifts that fit those needs.
The future: Many businesses have been hit hard, and some employees may be worried about their jobs. Providing a gift is a great way to put them at ease and show that their contributions are still valued. 
Ready-Made Safety Welcome-Back PPE Kits
Letting your employees know safety is top priority when coming back to the office is the main focus of every business at the moment. The idea of kitting these safety items together for every single employee can be daunting. That's why we have plenty of all-in-one welcome back PPE kits that you can order in bulk to greet your team with as they get back to work in an easy manner with safety top-of-mind.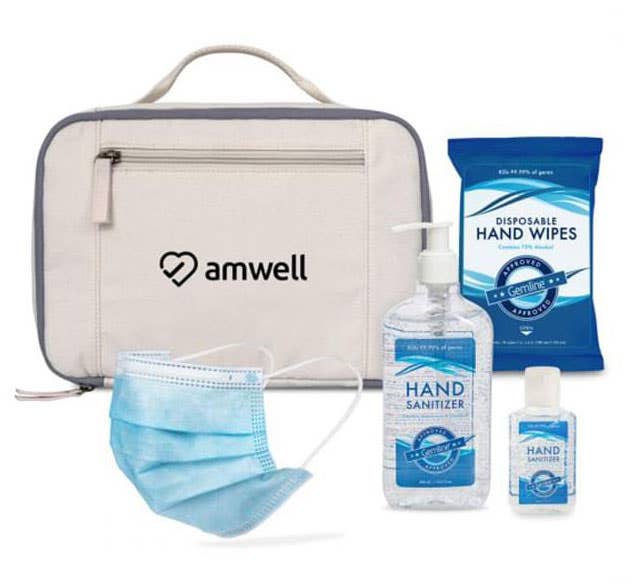 As a starter option, especially for people in customer-facing positions, our variety of custom PPE kits may make the most sense. They contain a range of the following back to work essentials that people need to stay protected, like:
Face Masks

Hand Sanitizers

Nitrile gloves

Hand Sanitizer Packets

No Touch Hand Tools

Device wipes & Surface Sprays

Tissue packs

A hygiene fact booklet

Thermometers
In order to put a little positive brand association with being prepared, you can customize the storage bags that each of these kits come in with your logo. Check out our entire selection of welcome back PPE kits to get started.
Other Smart Items For Your Welcome Back Kits
So, when you're putting together welcome back packages for your office mates or employees, what are some of the top options? Here's a rundown of different items you may want to add to your packages.
To start, tech items are always going to be useful. The Desk QI Wireless Charger – Black is a great practical item for keeping devices charged at the desk or at home. All you have to do is just prop up your phone and get a charge, without even having to interrupt your calls or listening to music. For those who are struggling with cable tangles, this is the fit for you. On top of that, you can also customize each charger with your company logo using screen printing. This is a great gift for employees, but also for clients if you want to thank them for their support during this uncertain time. 
When talking about tech items for your employees, something that a lot of people have gotten more use out of during quarantine is their Bluetooth/Wireless speakers. It may be a good idea to try and provide an upgrade with the Anker SoundCore mini Bluetooth Speaker – Black. This is a super-portable Bluetooth speaker with an audio driver and subwoofer that helps you get clear bass and sound wherever you go. In case you need to take calls while listening to music, there's also a hands-free microphone included. Combine your brand name with this type of power and functionality by applying your logo to the speaker with screen printing.
Custom water bottles are also a popular item both for drinking while working out as well as just staying hydrated at the desk. If you're looking for one of the most popular brands, consider the YETI 36 oz Rambler Bottle: Black. Suitable for rugged conditions as well as regular travel, you have the choice of four different colors for this stainless steel rambler bottle. Make sure that your employees think of you the next time they have a drink by laser engraving your logo into the bottle. 
Another good idea is trying to add some practical items that will come in handy both in and outside of the office. The Custom CleanKey™ Antimicrobial Brass Hand Tool is a great example of this. Whether it's the doorknob, the elevator, or buttons for shared machines like the copier, there are a lot of potential transmission vectors that you may see throughout the day. This tool lets you use these items without actually having to touch them. You don't have to worry about the tool being a transmission vector, either, as it's made of a copper alloy that kills 99% of bacteria. Make sure that you associate your brand with something this useful by applying your logo through pad printing. 
Finally, stationary is also a classic part of different back-to-office gifts. Show your appreciation with a 
Moleskine Volant Ruled Large Journal. With 96 ivory paper pages and a slim design, it's both easy to write in and carry around. In order to match your brand colors or to match your employee preferences, you also have nine different color options to choose from. 
However, you can also take things in the other direction, and go for a more leisure-based gift as opposed to a practical one. The Himalayan Outdoor Kit may be closer to what you are looking for. This kit contains a Himalayan Cooler bag along with 2 Himalayan tumblers, perfect for the person looking to stock up before heading to the beach or to a picnic in the park. You can apply your logo to both the cooler and tumblers with screen printing.
For another outdoor option, more suited for rugged trips, the High Sierra® Outdoor Adventure Kit is what you're looking for.  The kit includes an emergency blanket, compass, flashlight, multitool, pocket knife, Paracord bracelet with fire starter, and a roll-top waterproof bag to keep it all safe. You can also customize the waterproof bag with screen printing, adding your logo so your employees remember you the next time they go roughing it.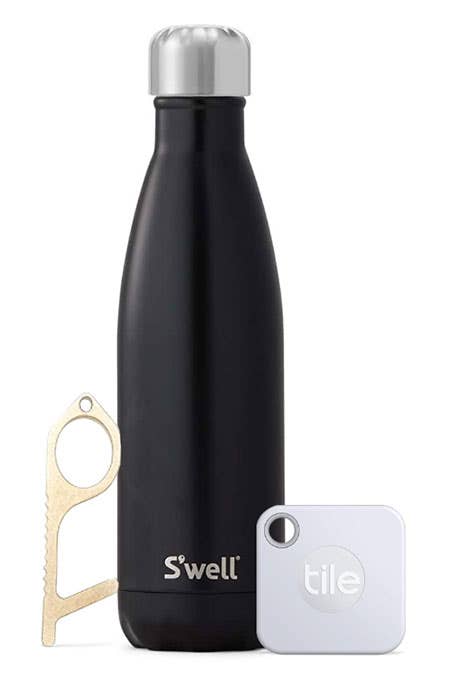 Let's say that your team has really been through a hard time while working remotely, and you want to take things to the next level with a welcome back kit. The LUX KIT may be the fit that you are looking for. This kit has a:
CleanKey™ antimicrobial brass non-contact hand tool (remember this from before?)

S'well 17 oz bottle with multiple colors available

Tile Mate Bluetooth Tracker
Any single one of these would make a great kit for your employees as they get back to work. Combine these together and things go to a whole other level. You can also customize the kit pack for an added charge.
Employees coming back to the office are likely happy to get to some form of normalcy once again, but they are also likely to be a bit concerned as well. Branded office kits and back-to-work kits make a great balance of showing that you care while also providing some practical equipment to make sure that everyone is staying safe. At the same time, giving them gifts they can have fun with also show that you're thinking about their mental health and work-life balance as well. 
Handling viral transmission and nervous employees can be a tall order for a lot of business owners. Trying to put employees at ease in an uneasy time can be a difficult task. However, a simple gift can go a long way as we start to navigate the new normal. At iPromo, we are happy to be an asset for any business at this time by making sure you have everything you need to make this transition as smooth as possible.