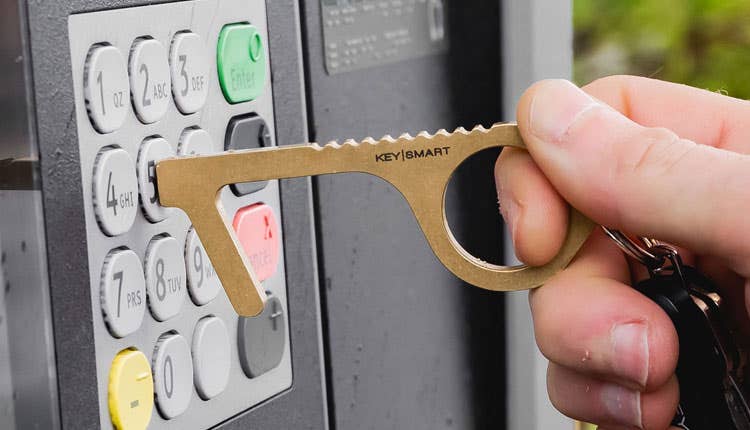 How do you keep yourself germ-free? COVID-19 has changed the way we and businesses operate, but as reopenings are starting to happen across the country, the conversation is starting to change from emergency plans to general adaptation. Rather than figuring out ways to work from home, the question is more "What can we do to keep safe?"
Let's dive right in –  antimicrobial is a term you're going to see a lot when it comes to germ-free gear, but what exactly does that mean.
What Does Antimicrobial Really Mean?
Antimicrobial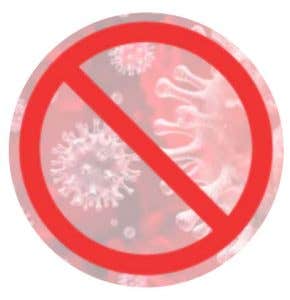 is a catch-all term for any substances or materials that either kill, repel, or inhibit the growth of microorganisms. Note that microorganisms are a very wide group. While viruses like COVID-19 are certainly a part of that group, this also includes:
Fungi
Bacteria
Protozoans
So, even after a COVID-19 vaccine comes to prominence, chances are that you'll be seeing different antimicrobial products in public spaces for a long time. There are two different branches of antimicrobial products, items that are applied to inanimate objects like sterilizers and pesticides, and those applied to people, like sanitizers.
You want to make sure that you know what strength of antimicrobial you are using, and what setting it's appropriate for. For example, most sterilizers are limited to medical or scientific settings. Disinfectants, on the other hand, are still available for most buildings. However, they can't be used for any surfaces that come into contact with food, which is why they are generally limited to laundry or bathrooms.
Note that there are also antimicrobial items as well as cleaners. These are generally formulated with materials that make it difficult for microorganisms to propagate.
Products To Sanitize And Protect Your Office
So, with all this in mind, what are some of the antimicrobial products that you can start investing in? One of the first options you want to consider looking into is UV sterilizer lights. For those that aren't familiar with these tools, these items allow you to wave them over a surface to kill any potential microorganisms before you touch them. One of our offerings here is the Custom Portable UV Wand Sterilizer – White. This is a compact and portable item that you can easily put in your purse or pocket when you are out and about. The wand comes with a rechargeable 450mAh battery, which provides about 7 to 8 hours of use per charge. You can also apply your brand logo through screen printing, to show anyone who looks at this item that you think ahead when it comes to safety.
---
---
If you want another option in this category, consider the Custom Portable UVC Ultraviolet Sterilizer. While it has a different visual appearance than the above option, it has much of the same functionality. It's easily portable and has a rechargeable 380mAh battery. Again, a single charge will give you around 7-8 hours worth of use. You can apply your logo using screen printing on the top or bottom of the sterilizer.
A key area you want to focus on when looking at antimicrobials is office supplies. A lot of the time, people can share contact with these without even thinking, so going antimicrobial serves as an essential layer of protection. A good starting point here is the BIC® Prevaguard Mouse Pad (8" Round). This pad allows you to display your company logo or artwork/message with full-color printing. However, what really sets it apart is the antimicrobial preservative in the fabric. This not only helps protect you, but also keeps the pad cleaner.
Another item BIC offers in this area is the BIC® Prevaguard Clic Stic Pen. This is a popular retractable pen that also comes with Prevaguard, an antimicrobial that helps suppress the growth of bacteria, fungi and molds. In addition, Prevaguard lasts for the entire lifespan on the pen plastic, and helps minimize odors, staining, and deterioration. You can also apply your company logo to the pen by using screen printing, making this a great gift or addition to kits.
Antimicrobial clothing may be a bit of a surprise, but much like the mousepad, there are certain items with antimicrobial compounds infused in the fabric for added protection. One example is the Men's Eperformance Colorblock Textured Polo. Whether you're looking to purchase this as a company gift or find something to provide to your employees, this shirt is made with 100% polyester textured interlock, with moisture wicking. Along with antimicrobial properties, there is also added UV protection, making this great for settings where your employees are going to be moving around a lot outside. To make sure everyone can tell your employees apart from the crowd, you can also add your company logo with either screen printing or embroidery. You also have a total of 6 different locations the logo can go on, based on your preferences.
There's an option on hand for women as well: the Women's Vansport™ Pro Camo Block Full-Zip Hoodie. This is a full-zip camo-print hoodie made of 100% polyester. You also get the benefit of a variety of different properties. Being antimicrobial is certainly one of them, but this is also UV-resistant and lightweight, great for exercise. Whether this is going to be used for a company event or just a nice piece of activewear, you can apply the company logo with embroidery on one of six different spots on the hoodie.
Another thing worth considering in the antimicrobial category is any items that help you cut down on potential germ spread through less contact. For example, items like doorknobs or the buttons on an elevator are common disease vectors because many different people touch them throughout the day. One thing to equip your teams with is the Custom TouchTool-White. This lets you operate things like buttons and doorknobs without actually physically touching them. In addition, you can use screen printing to put your logo on the tool. If you want a version of this with a bit more visual flair, consider the Custom TouchTool Pro – Antimicrobial Brass. This lets you use laser engraving to etch your logo onto the tool.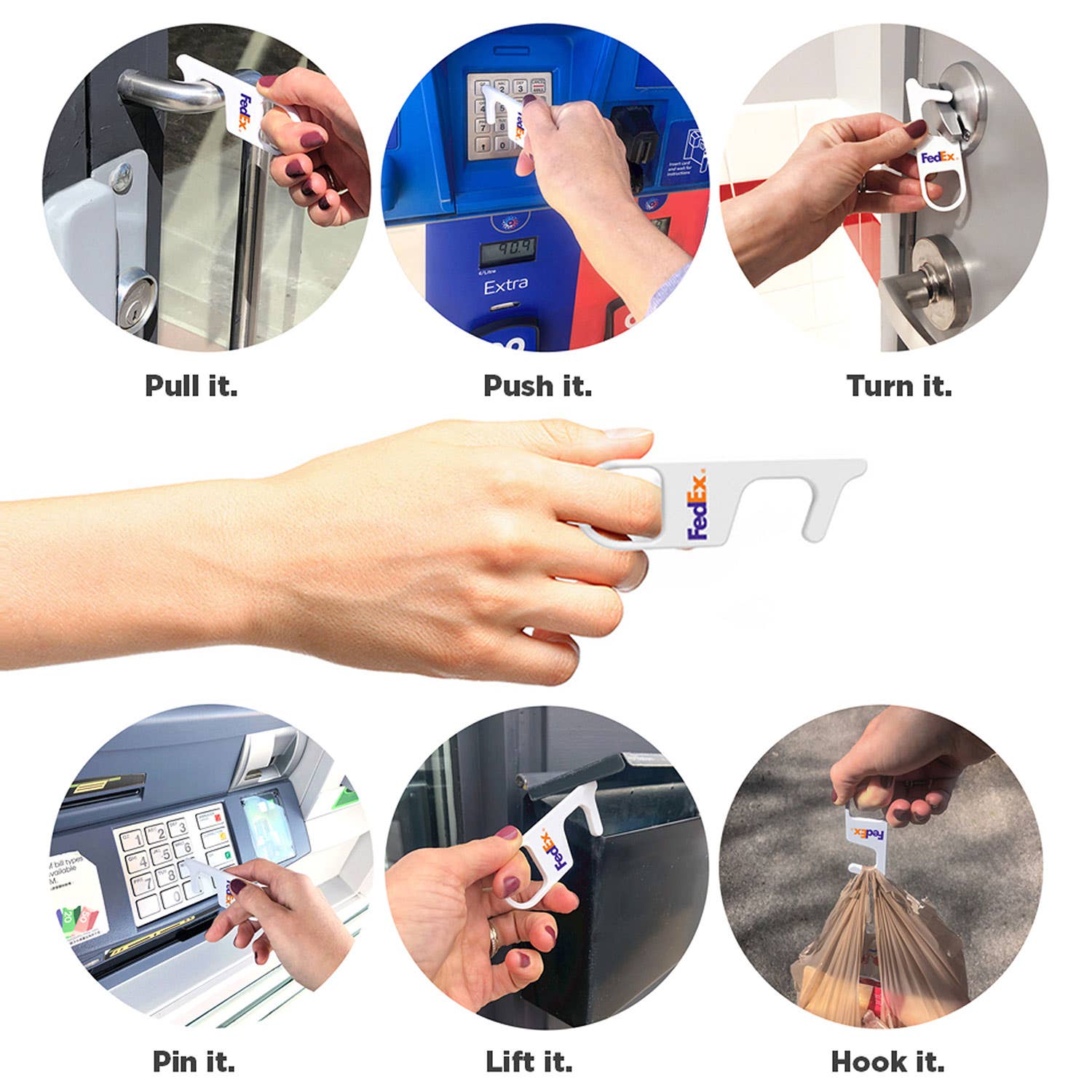 Finally, we can't ignore the importance of general PPE for the new normal. Anti-microbial gear and tools are extremely useful, but you're also going to want basic items around every work station for safety and peace of mind. One of the perfect starts here is Disposable 3 Ply Medical Face Masks – Non-Sterile at the top of the list. At the moment, masks appear to be our most valuable tool for minimizing the spread of COVID-19. However, depending on the workplace, you may not necessarily want a lot of disposable PPE. If you're thinking more eco-friendly, consider the Custom Microfiber Face Mask Washable and Reusable. Rather than throwing them away, you simply wash them. Note that you can also add some branding for your business by applying the logo to these masks with full-color printing.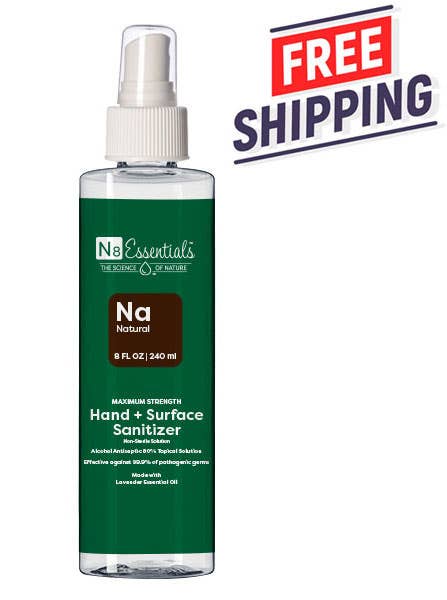 The second key PPE piece for every workplace setting is going to be gloves. Chances are that your team is going to be handling a lot of shared items and coming into contact with shared surfaces. If you're in a public-facing business, the risk is even higher. It's best to keep everyone in a safe state of mind by using Protective PVC Gloves – 100 Gloves Per Box, or Nitrile Protective Rubber Gloves – Blue – 100 Gloves Per Box.
In addition, every workstation you have should be fully stocked with 16 oz Hand Sanitizer – Made In USA. This makes sure everyone can keep themselves sanitary at all times. If you're concerned about shared surfaces, like a common desk or copier in an office, Custom Sanitizer Wipes – 160 Wipes Per Container are worth looking at also. Just keep a package nearby and make sure everyone wipes the space down after using it.
Clients, customers, and employees alike are going to be asking exactly what you are doing to keep the workplace safe and sanitary as you reopen. Offering antimicrobial items and PPE is a key part of doing all this. In addition, by using branded products as opposed to generic ones, you have the opportunity to let everyone know that your company is taking those key steps forward.
Granted, based on your type of business and the amount of employees you have, you may need a variety of different options. At iPromo, we have a wide variety of branded equipment and promotional items to help your company navigate this uncertain time.