When Should I Get Tested for Covid After Exposure?
Source: Daisy Daisy/Shutterstock
Learning that you've been exposed to the SARS-CoV-2 virus is a scary experience that can create a lot of questions about where to go next. One that many people ask is "When should I get tested for Covid after exposure?" Knowing the answers to these questions is an important part of managing Covid risks at home and at work. Let's find out about how soon to get tested for Covid after exposure, along with where people can get tested and how employers and other institutions can purchase bulk rapid Covid tests affordably.
The following is a summary of guidance from the CDC and other authorities. Remember that best practices can be subject to change as scientists learn more about the virus, so always check with health authorities for the latest news.
When Should I Get Tested for Covid After Exposure?
These are the basic guidelines from the CDC for people who have recently been exposed, or suspect they've been exposed, to Covid-19. 
Who Should Get Tested Immediately?
First, anyone who develops Covid-19 symptoms should get tested as soon as possible. This guidance applies whether or not someone is vaccinated since it's still possible for fully vaccinated people to get breakthrough infections. Even someone who's recently tested negative should get tested again if they develop Covid-like symptoms that weren't present before. 
If you are not fully vaccinated, the CDC recommends getting tested for Covid immediately after you find out you've been exposed, whether you have symptoms or not. Unvaccinated people are at high risk for infection and super-spreading, especially now that the hyper-contagious Delta variant has become dominant. 
Who Should Wait to Get Tested?
On the other hand, if someone is fully vaccinated and has no symptoms, the CDC recommends that they wait for five to seven days after the exposure, then get tested. Someone who is not fully vaccinated but tests negative should take a second Covid test five to seven days after exposure. 
Waiting for these tests is important because the SARS-CoV-2 virus sometimes has an incubation period of 2-14 days, during which it might not be detectable on a test. An asymptomatic person might get a false negative result if they are still within the incubation period when they take their test. 
Finally, someone who's recovered from Covid-19 within the past three months (and had their infection diagnosed by a laboratory test) doesn't need to get tested again if they don't have any new symptoms. Someone who has recently recovered from Covid but has new symptoms should contact their doctor about testing and self-isolate in the meantime. 
Rapid Covid Test Kits in Bulk – Order Now for Delivery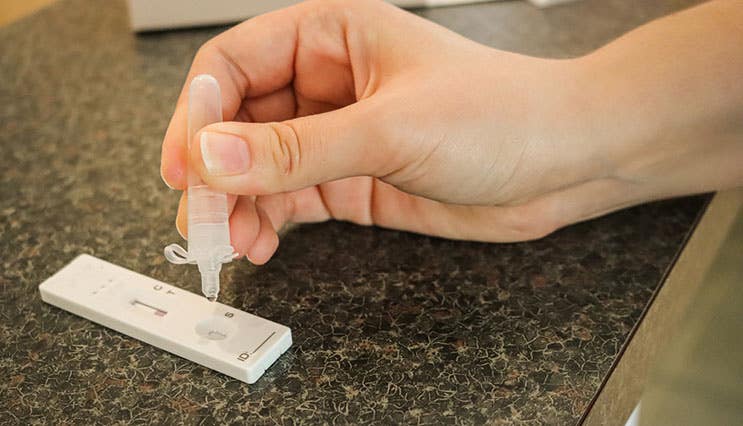 Source: Mark Looker/Shutterstock
Where Can Someone Get Tested for Covid-19?
Most local health departments, hospitals, or other healthcare organizations provide Covid-19 testing. The advantage of this testing is that it's usually possible to find free options, thanks to the federal law requiring free testing to be available nationwide. However, getting to the testing site may be a challenge for some people, especially those in rural areas. Another potential complication is that many testing sites in medical facilities send their results from Covid tests to an outside laboratory. While this helps improve the accuracy of testing, it can mean longer wait times for results. 
Unlike earlier in the pandemic, rapid Covid tests are now available online. These tests are accurate when administered correctly, and they're highly cost-effective when purchased in bulk. Now is the time to use these powerful tools to take control of infection risk in your workplace.
Where to Buy Bulk Covid-19 Tests 
For many organizations, it's essential to keep a supply of rapid Covid-19 tests on hand. On-demand rapid testing allows employers to reduce the risks associated with business travel and hosting events by requiring testing first. Testing is also essential for tracking potential Covid cases in your workplace and preventing the virus from spreading. 
iPromo is the top source for all of your rapid test and PPE needs for your workplace. We offer multiple types of rapid Covid antigen tests that can detect Covid without the need for laboratory testing, including the Abbott BinaxNOW™ Test Kit. All of our test kits are FDA Emergency Use Authorization-approved, and we also offer rapid tests with eMed support for business travelers who need medically verified testing to fly.
Abbott BinaxNow™ Vs. Quidel Quickvue® vs. Ellume COVID Tests Reviewed
Browse iPromo's full selection of rapid Covid tests now to find a great price on accurate testing kits and help keep your workplace safe. And when you want to show appreciation for the professionals on the front lines keeping us safe, don't forget our lineup of awesome bulk nurse gifts and more.