Why Custom Printed Socks Are The Modern Day Branded T-Shirt
Embroidered socks with companies' logos are taking over as the most popular branded apparel item at trade shows. Why? Let's start from the (very) beginning:
From the Egyptians to the Greeks to the Romans, it turns out that all varieties of ancient civilization had a penchant for keeping their feet cozy and looking good. In fact, the socks have been recovered in graves dating all the way back to 1500 BC, so suffice it to say, it is safe to bet that a trend that has stuck around this long is not likely to be going out of style any time soon.
However, fun custom socks really didn't show up on the scene until the stock market crash in 2008. Companies started looking for more affordable ways to hook their clients up with the best custom apparel for less, and thus, branded logo socks really began to take off.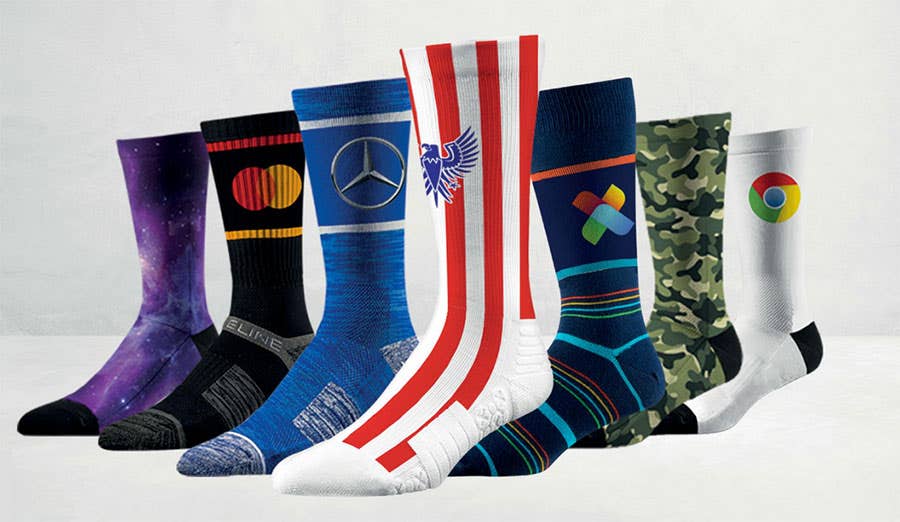 However, while the popularity of custom logo socks might have been born out of creative necessity, that doesn't mean that we can count on the demand for the coolest custom socks to subside anytime soon.
In fact, according to Zion Research, the global stock market is expected to clock steady growth in the years to come and will be projected to be worth a whopping 24.16 billion dollars by 2020, and those types of numbers are nothing to shake a sock at.
So why exactly are socks so hot these days? Let's break down why you can't go wrong with cool custom socks for your next promotional marketing campaign. 
Here's Why You Need to Put a Sock In Your Marketing Strategy
Smart Marketing That Fits Your Budget
No matter how you slice it, recent research by the Advertising Speciality Institute has found that promotional product advertising is still the most effective and affordable way to leave a positive impression when compared to all other popular advertising mediums, Internet advertising included.
However, while a great investment piece is sure to be appreciated, there is also nothing wrong with scoring a great promotional giveaway item for a great price.
Check out, for example, these fashionable retro-inspired full-color iPromo Sport Socks With Custom Tag. With a minimum order quantity of only 100 items, not to mention a super budget-friendly price point, these eye-catching custom socks are the perfect way to set your branded logo off in style.
As previously mentioned, custom socks actually came into being as brands started looking for more affordable alternatives to custom t-shirts, and it turns out, creativity pays off. 
Have Fun With Fashion
Speaking of creativity, one of the main reasons that custom socks with a logo have continued to only take off since they first became a thing is because these types of fun imaginative designs give people a great way to express themselves while still keeping their wardrobe in line in terms of functional dress for any occasion.
Basically, fun custom socks are the new fun ties, except only more practical and versatile. Check out, for example, these Dress/Trouser Sock With All Over Knit-In Logo. Perfect for dressing down or dressing up alike, these fun full-color socks are a great way to offset your branded imagery with a fun-full color design that keeps it classy without going over the top.
However, for those looking to make a more subtle statement, top-of-the-line products like these No-Show Full-Color Custom Socks are a great way to keep it cute while rocking that chilled out barefoot look. Meanwhile, these Full Color Business Crew Socks are the perfect way to add a fun touch of personal style to standard office wear, attire and any other type of formal or casual outfits.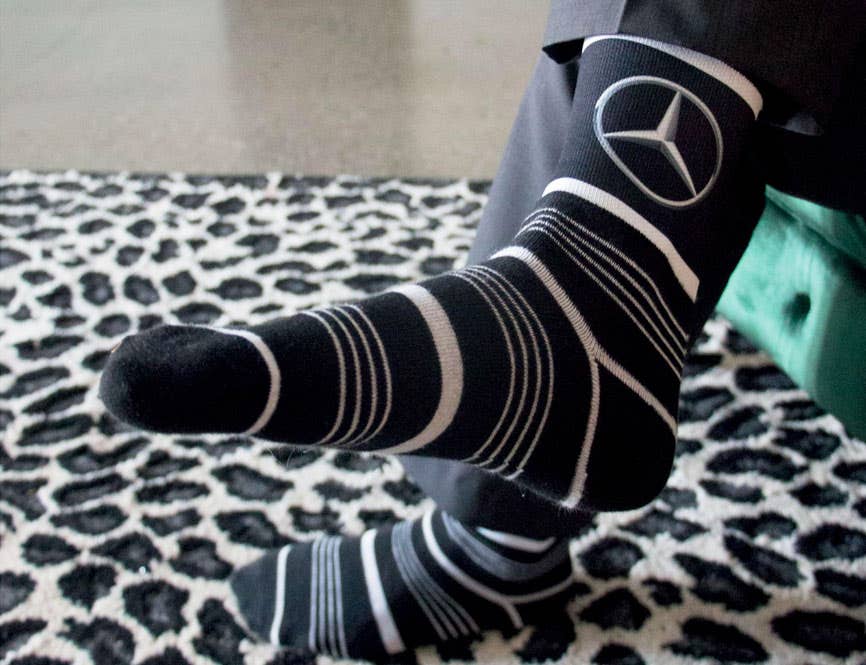 Sock It To Them With the Latest Trends
If there is one type of promotional gift that your clients and employees will be proud to sport, it is all about nailing down the trendiest picks. This is why there is really no way to go wrong with fun-colored logo socks.
While you definitely can't go wrong with tried and true favorites like custom t-shirts, for anybody who is looking for a unique way to really have their logo design stand out from the pack, it's all about going for the hottest items that everybody wants to get their hands on.
The great thing about logo socks is not only that they are budget-friendly and super fun to rock, but they are also right on trend right now and only getting more and more popular as wider and wider varieties of footwear keep hitting the market.
This means that picks like these super chic Classic Crew Length Full Color Socks are an easy way to knock your next marketing campaign out of the park for any occasion, whether it be a promotional giveaway, or even an employee appreciation gift.
Or you can always opt for versatile picks like these sleek Mid Length Full Color Custom Socks which make the perfect complement to sporty outdoor or fitness swag, which is likewise super on-trend right now.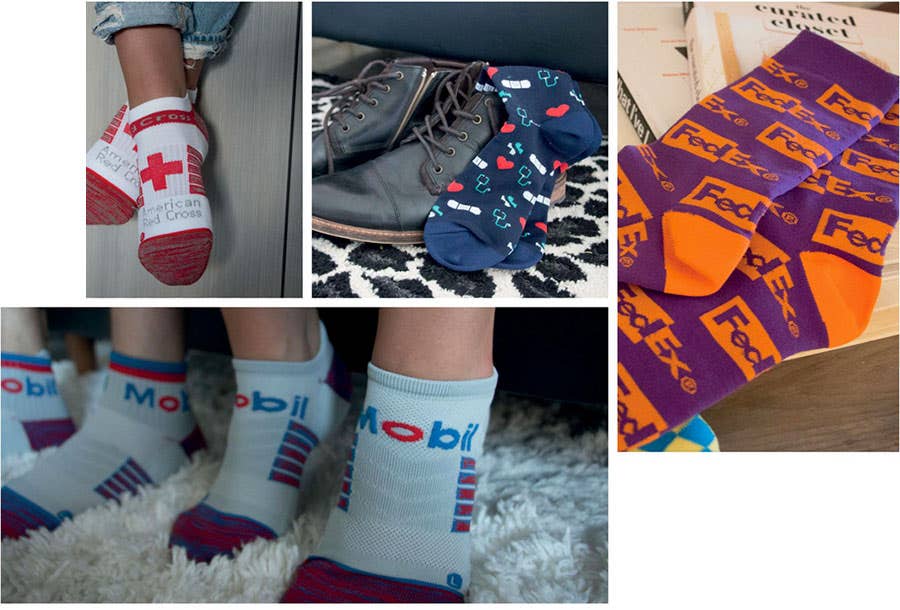 As Practical as They Are Fun
If there is one good reason that branded apparel swag like t-shirts continues to remain one of the most popular promotional products out there, it has got to be because of their inherent practicality. After all, if there is one thing that (almost) everybody has to worry about each and every morning it is getting dressed. Likewise, there is a good reason that socks, in particular, have been a time-tested stocking stuffer when it comes to nailing the type of gift that nobody can refuse, and that is because everybody needs socks, and unlike other bulkier apparel items that can end up taking up too much space, the more they have, the merrier!
However, these cool logo socks are definitely not your standard boring Christmas gifts of yesteryear. The fact that these cozy Knee High Length Full Color Custom Socks are not only a must-have wardrobe essential on those chilly winter days, but also actually look as good as they feel means that there is really no way to go wrong when it comes to your next promotional marketing campaign with custom logo socks.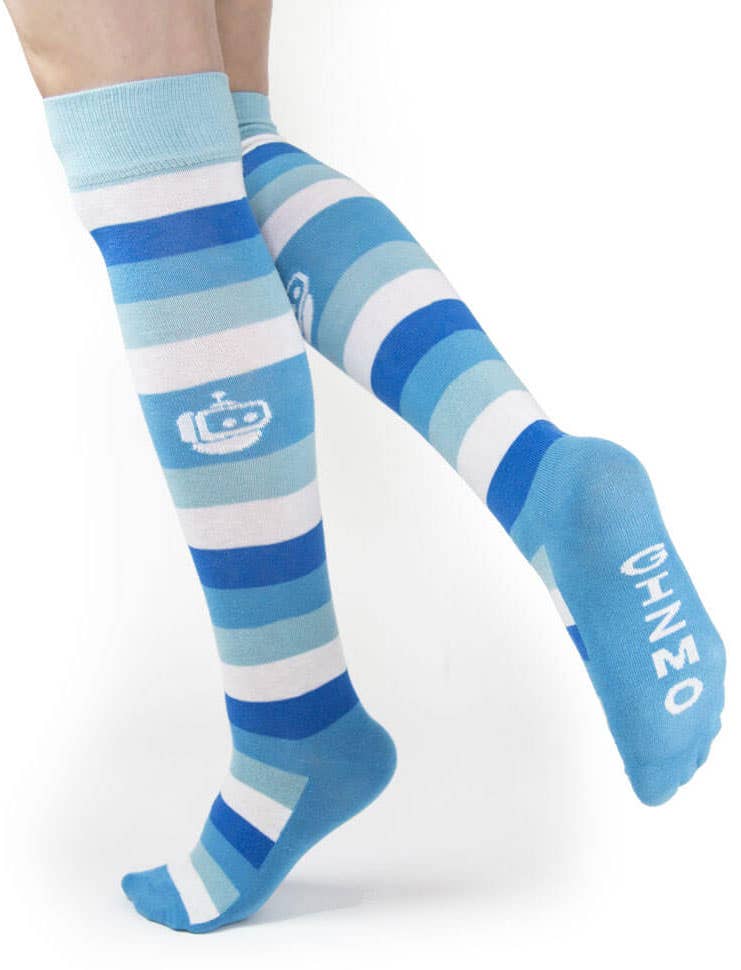 Don't Sweat Those Sizing Issues
Bodies come in all shapes and sizes, and thus when ordering popular types of branded apparel like custom t-shirts, promoters will usually have to order a variety of size options to make sure that they are accommodating everybody.
While there is no denying that the popularity of time-tested faves like branded t-shirts definitely makes these types of promotional swag well worth the extra effort, it can also be a lot of work trying to make sure that everybody who receives a t-shirt loves their fit.
For those who don't have the time or resources to jump through those types of hoops, custom socks can be a fantastic solution. The cool thing about most logo socks like these bold Crew Full Color Custom Socks With Black Heel & Toe is that they are elastic enough to accommodate almost any foot size. This means that you don't have to worry about ordering a variety of sizes just to make sure everybody is nailing their look.
In addition, they combine a versatile mid-length design with a durable and comfortable elastane and polyester design that anybody can appreciate, and can work for sport-wear or office wear alike. It is no wonder that they are such a top-seller!
Create a Look All Your Own
For those who are really looking for a way to stand out from the pack, custom printed socks offer marketers the rare opportunity to create a stand-out look that is all their own.
When it comes to creating your own unique custom logo sock design, the sky really is the limit. Take, for example, the myriad of choices offered with these luxe iPromo Fashion Socks With Custom Tag. Not only do you get to enjoy the freedom to pick a perfect one-of-a-kind design of your choosing, but you can also offset the whole look by choosing whatever solid color background for the top, heel and toe that you prefer.
This means that you can craft a perfect head-turning look that is not only right on brand but also have fun doing it. The lighthearted nature of socks themselves means that there is really nothing stopping you from creating the type of branded design that really shines.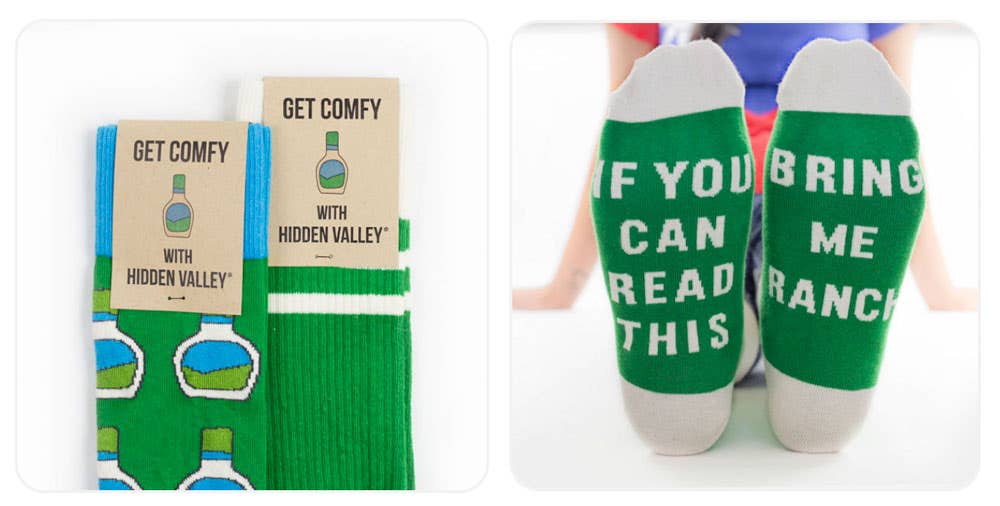 Ready to Pull Your Socks Up on Your Next Promotional Campaign?
If you really want to sock it to them with your next trade-show appearance, promotional giveaway or client/employee appreciation event, you can't go wrong with our top-notch selection of promotional socks. 
You pick the style, and then you are totally free to craft a fun custom look that is all your own. Of course, if you are looking for some great styling or design suggestions to really offset your custom socks with logo, be sure to reach out to our talented design team who is standing by and ready to help you with whatever you need to really rock your clients or employees socks off.