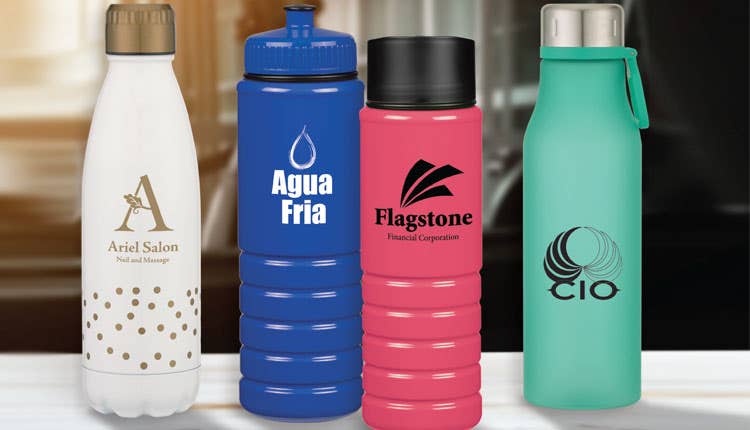 9 Creative Branding Ideas with Custom Drinkware
Personalized drinkware is a staple for any marketing campaign. And while we don't want you to discount custom mugs or branded water bottles as options, we take a closer look at the rest of hydration swag ideas.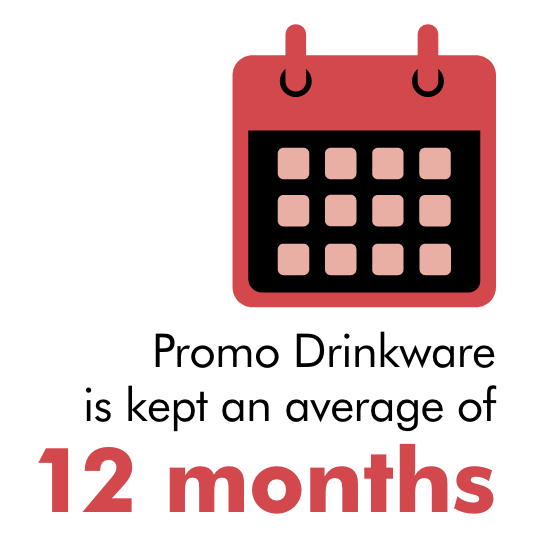 You likely already know that promotional items are a great way to market your brand. However, there are so many items to choose from that it can be hard to decide which items to use. We wanted to talk a little bit about promoting with personalized drinkware items so that you can be better informed prior to making any decision in regards to your marketing budget.
Custom drinkware is popular among promotional items. They are one of the hottest selling gifts out there and used by any industry you can think of. When was the last time you walked into a store and didn't see any type of promotional branded drinkware?
Promoting with personalized drinkware items is a great way to gain impressions for your brand. Recent studies have shown that drinkware items get an average of 1,400 impressions throughout their lifetime. This equates to less than a penny per impression which is way less than any type of online advertising.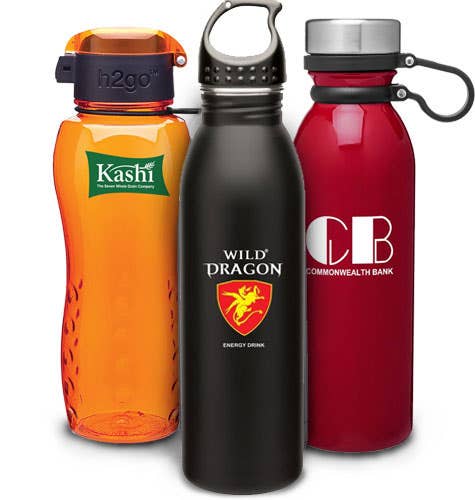 Now take into consideration that everyone loves to receive branded drinkware. In fact, 78% of consumers in the United States own personalized drinkware. This shows that people keep them for a long time. The actual number is astonishing, with people keeping drinkware an average of 12 months.
Drinkware is not specific to any specific audience either. 84% of baby boomers and 71% of Gen X'ers own promotional drinkware. This means that you don't have to market to a specific audience. Drinkware is loved by everyone so it's a perfect promotional item for any industry and audience.
Custom drinkware is also something that is useful to the recipient. And, according to Tweak Your Biz, this is one of the most important aspects of a promotional item:
"In order to be able to be effective in advertising your company or your brand, a promotional product must be useful to the recipient. A useful promotional product means that the recipient will want to keep it and use it."
Now you know that drinkware is a popular and effective way to market your brand. Based on the cost per impression, it is also easy on your budget. It is also available in many different styles, including Yeti custom drinkware which can be branded with your logo.
With that in mind, let's take a look at the nine different types of custom branded drinkware items we have to offer.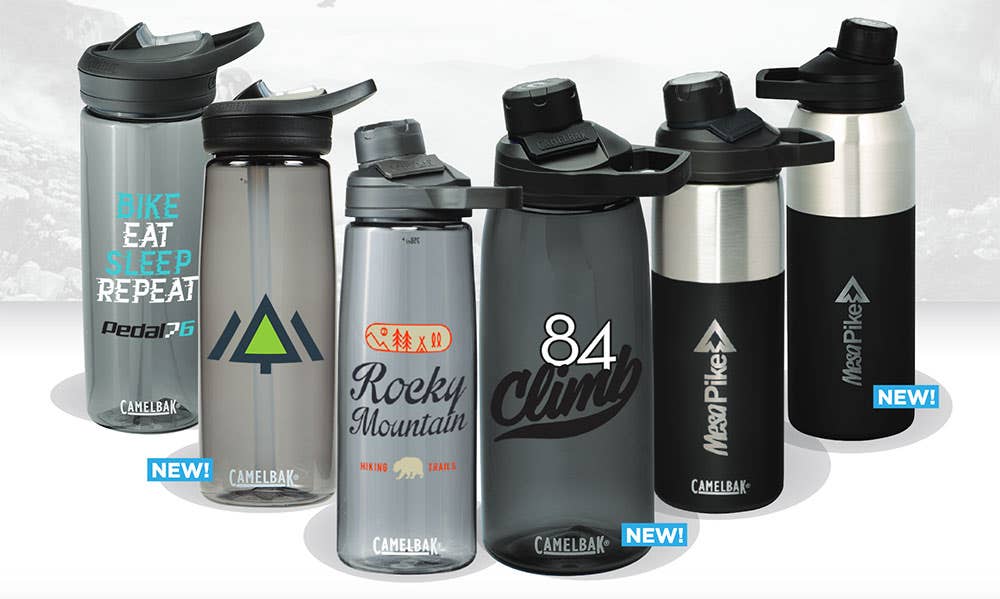 1. Sport Bottles
Sport bottles are one of the most widely used personlized drinkware items. They come is many styles and made from materials that include plastic, stainless steel, and even glass. There are sport bottles specific for bikes, the gym, and even foldable for easy storage.
"Among the wide range of bottles, sport bottles market have been witnessing a growing demand among the consumers who are involved in sport activities both indoor and outdoor." – Mart Research
Usefulness is the key ingredient for any promotional product. That's why you really need to choose a sports bottle specific to the recipients needs. For instance, those who travel a lot would more than likely enjoy an insulated bottle that helps keep water colder longer. Others may want something more durable like a stainless-steel bottle if they are more of the outdoors type.
If you are unsure of which style to choose, contact one of our promotional specialists who can help narrow down the choices for you.
---
2. Beer Glasses and Party Cups
Beer glasses and party cups can provide an everlasting billboard for your brand. First, let's look at party and stadium cups. Think of the last time you were at a sporting event and were served beer in a promotional cup. Did you take it home? Most people do. If you go with a stadium or party cup, chances are others will be taking your brand home with them.
When promoting with drinkware items such as stadium cups, your cost per brand impression is less than 1/10th of a penny. Most stadium cups cost less than a dollar. When you factor in the 1,400 impressions you will receive, it's a no brainer.
You can always step up and get a little more fancy with different sized glass beer steins and pint glasses. If you own a pub, these are a good way to promote yourself. If you just want to use them as a giveaway item, your logo will be the first thing people see when they use them at home.
There are also customizable pilsner glasses, novelty glasses, and pitchers you can choose from.
---
3. Coffee Containers and Mugs
Everyone drinks coffee. Well, maybe not everyone, but some make up for the rest that don't.
A study commissioned by the National Coffee Association in 2018 showed that 64% of Americans drink at least one cup of coffee every day. And, with custom promotional drinkware, you have the opportunity to reach all of them.
When it comes to coffee containers, don't just think of the classic coffee mug. We offer many styles to fit your customer base, including:
Campfire Mugs
Diner Mugs
Expresso Mugs
Coffee Cups (insulated)
Bistro Mugs
Cappuccino Cups
Irish Coffee Mugs
Glass Mugs
Latte Mugs
Paper and Plastic Cups
It has been shown that people get emotionally attached to their coffee mugs. If yours happens to be the one they get attached to, your brand will be forefront everywhere they go.
---
4. Travel Drinkware
The name says it all. Travel drinkware includes those containers used on-the-go and include travel mugs, tumblers, vacuum bottles, thermoses, and even flasks. People are always traveling and use these types of containers on a regular basis. Travel mugs filled with coffee are common morning tools and thermoses often carry the lunch for travelers throughout the day.
Travel drinkware can include stainless steel, plastic, or even aluminum. You can choose from a regular bottle to insulated drinkware and infusers.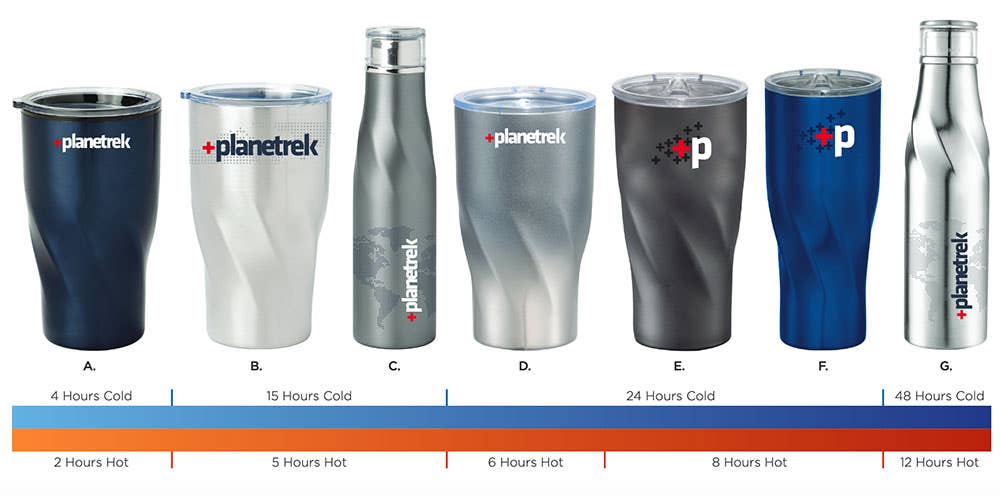 ---
5. Barware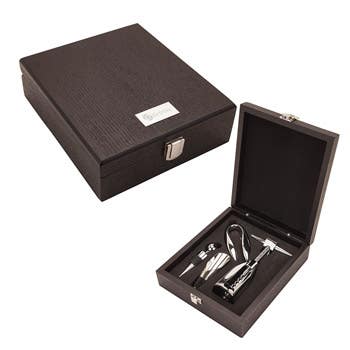 We have already discussed beer containers, but barware encompasses more than just cups and steins. People drink more than just beer, which is why barware includes custom shot glasses, whiskey glasses, and martini glasses. Just about any type of glass used to serve your favorite beverage can be branded with your company logo.
In addition to regular branded drinkware, barware includes things such as coasters, ice buckets, and bar accessories (bottle openers, wine plates, etc.). Get crafty by choosing some drinkware gift sets that include shot glasses and other barware. They make the perfect corporate gift or something nice to give out to friends and family on the holidays.
---
6. Reusable Straws
Yes, there is such a thing as customer collapsible reusable straws. With so many communities now banning the use of plastic straws, why not take advantage by providing customers with a type of straw that is reusable?
Reusable straws are made from stainless steel and are easy to clean. They can also be collapsed and placed in a customized case with your brand logo. You can also purchase them in silicone which roll up in a small travel case. They are even available in keychain cases for easy carry.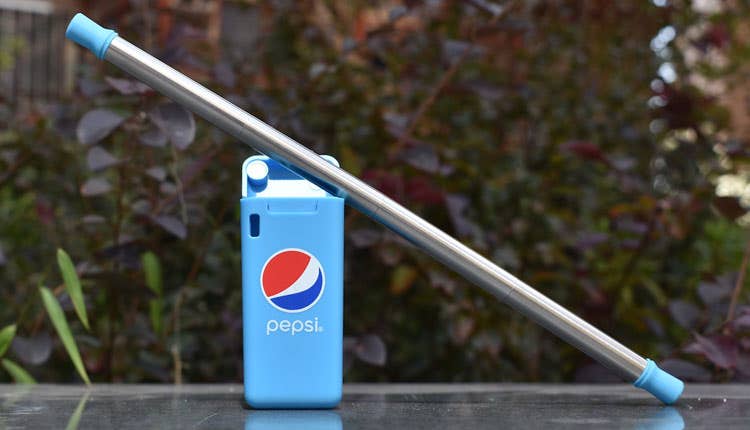 ---
7. Wine Glasses and Accessories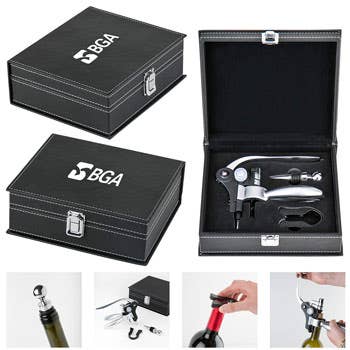 Wine glasses and wine accessories make the perfect gift for just about any occasion. Even people who don't drink will still likely display a wine glass in their cabinets or on their kitchen counters for décor.
We have many styles of glasses to choose from including regular wine glasses, stemless drinkware, flutes, carafes, and decanters. Two of the most usable gifts include wine bottle openers and wine stoppers, two things people never seem to have when its time to break out a bottle of wine.
For the wine connoisseur, there are wine gift sets which can include openers, stoppers, wine totes, wine and cheese boards, and wine aerators.
---
8. Specialty Custom Drinkware
To enjoy the best of all worlds, specialty drinkware is the way to go. This type of drinkware includes combinations of drinkware that are useable by everyone. They include:
Mason Jar Jugs
Shakers & Blenders
Flavor Infusers
Filtering Bottles
Glasses Within Tumblers
Snacker Tumblers
Storage Bottles
BPA Free Bottles
The great thing about specialty branded drinkware is that it is versatile. Most people who receive these items put them to good use. Those who don't are more likely to pass it on to someone who will (as opposed to throwing it away). You are sure to receive a return on your investment with the different styles of specialty drinkware available.
---
9. Beverage Sleeves
Keep the cold drinks cold and the hot drinks hot with customized beverage sleeves. When you hear the term beverage sleeve, you are likely thinking of the sleeve that your uncle put on his beer can while mowing the lawn. You would be correct, except there are many more styles to choose from than what there were back in the day.
Coffee can now be kept hot with the help of beverage sleeves. They also include bottle sleeves which can be used with just about any specialty drinkware item listed previously. Thaw in a bottle strap and holder and you can give your clients everything they need to remember you when they are enjoying their favorite beverage.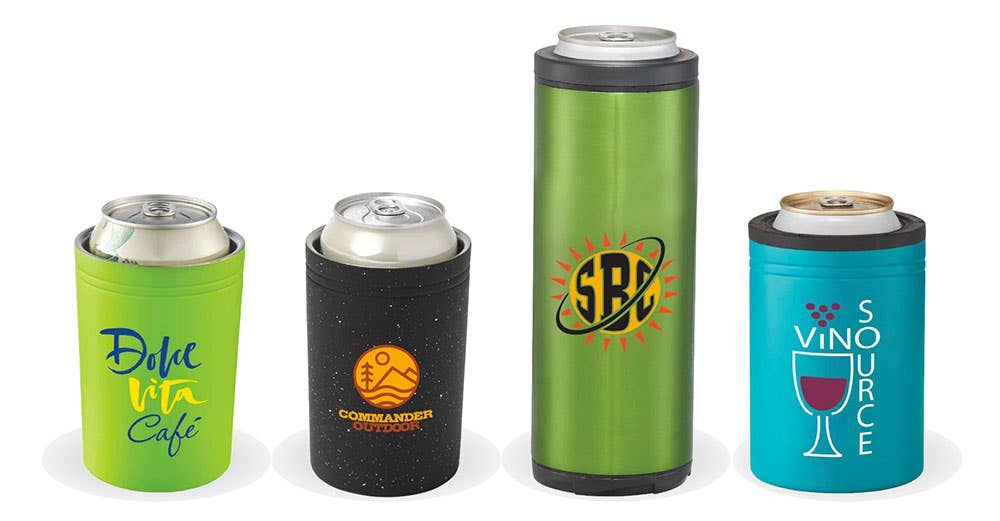 ---
Personalized Drinkware Equals Brand Impressions
Drinkware can get you more brand impressions than just about any other available promotional item. They are kept longer than most and even given away to others when not used by their original recipients. With the wide range of consumers who use personalized drinkware, using them as a gift for your customers will help generate the impressions you need.
Choosing the right custom drinkware item can be confusing given the various styles and brands. However, we have specialists who can direct you to the right item to fit your marketing budget. Give us a call and let's talk about how we can customize your next drinkware order.