How do you choose the best custom hoodie for your next company apparel giveaway? We'll review the hottest looks and softest options so that your employees and clients will never want to take your promotional swag off.
Having Fun With Personalized Crewnecks and Custom Sweatshirts
Custom sweatshirts and crewnecks make for a great all-season alternative to branded hoodies and are formal enough to dress up or chill enough to dress down, making them that the type of wardrobe favorite your clients and employees will be reaching for all the time. 
Cultivate Those Vintage-Chic Vibes
When it comes to promotional apparel trends this year, vintage-inspired vintage looks are all the rage. These retro-chic looks are going to appeal particularly to a younger, hipper Millennial or younger type audience, so they are a great pick for anybody who is looking for a smart way to keep their branded image fresh while still keeping it comfortable and cozy.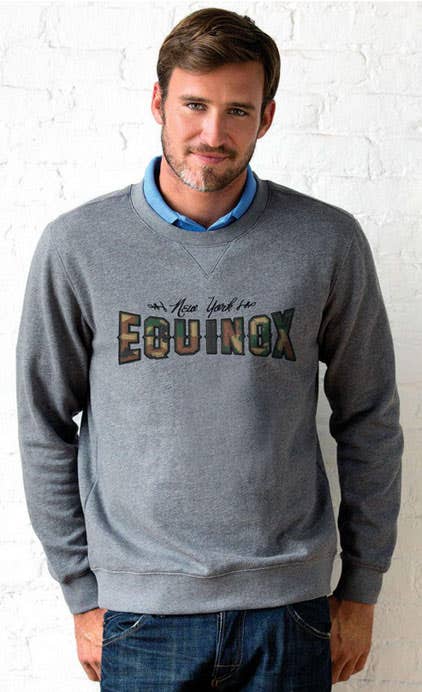 Take, for example, this trendy Adult Vintage Zen Crewneck Sweatshirt. The acid-washed fabric comes alive in your choice of Cement, Black Smoke or Twisted Black color picks, harkening back to a retro-inspired Seinfeld nineties dad look that lends itself perfectly to the athleisure gear trend that is currently taking the world by storm, as does this super-fun Unisex Reversible B-Side Vintage French Terry Crewneck.
Meanwhile, this Alternative Washed Terry makes a subtle statement in your choice of four warm, neutral tones to give off a soft taste of throwback style while still keeping it classic. Of course, comfort is king and this luxuriously soft and super versatile 100% cotton crewneck feels so good that your clients and employees will never want to take it off.
Or how about having a chance to feel like a varsity senior again without actually having to relive it? This New Era® Ladies Tri-Blend Fleece Varsity Crew is the answer to your prayers. This classic custom crewneck cashes in the vintage sport-inspired gear trend without actually feeling like a blast from the past. Featuring a label-free comfort technology and two handsome black silicone print stripes on either arm to perfectly offset your one-of-a-kind screen printed or embossed logo design over a cool throwback-inspired choice of three eye-catching heather palette color picks.
---
Looking Smart and Sustainable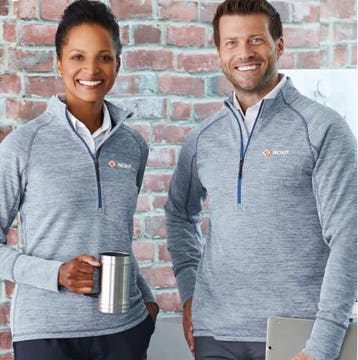 Speaking of trends, eco-consciousness is here to stay, and more and more people are willing to shell out for brands who are truly committed to making a difference. Indeed, recent research by the Advertising Speciality Institute has already uncovered that 42% of consumers have a more positive impression of brands that align themselves with eco-friendly products, and those numbers can only be expected to increase in the years to come.
With that in mind, you can't go wrong with sustainable fashion-forward picks like this Hanes® – EcoSmart® Crewneck Sweatshirt made with a 5% polyester blend recycled from plastic bottle waste. Meanwhile, this Unisex Ulitmate Crewneck Shirt is more than just a classic statement piece that can work with almost any type of look, but it is also made from recycled polyester blend fabric.
Of course, when it comes to keeping it green, going for biodegradable picks like cotton fabric is also a savvy choice. This is not to mention the fact that cotton is super comfortable and breathable, meaning that your employees and clients are sure to notice the gesture. This Unisex Classic Crew Sweatshirt feels just as soft as it looks with a fabric blend of 71% combed cotton.
---
Timeless Looks Meets Modern Convenience
Everybody loves a classic custom sweatshirt, and if you are looking for a great way to speak to an all-ages crowd or a more mature audience by dishing out timeless comfort and versatile wearability that never goes out of style, we have you covered, both literally and figuratively.
What says casual chic more than the classic relaxed vibes of a french crewneck? This JERZEES® Snow Heather French Terry Raglan Crew. This stylish cotton/polyester blend European cut crew neck comes with six stylish color picks to perfectly offset your branded logo design while you are totally free to tailor all the size and placement options to really nail the right look.
Meanwhile, this Men's Spandex Thermal Crewneck T-Shirt means that your clients and employees can still enjoy the ultimate in comfort without having to sweat it, whether in the boardroom or chilling out at a backyard barbecue. Lightweight fabrics are in, and this trendy cut looks great on almost any body type, not to mention that it comes in a full range of sizing options that you can really nail down the perfect fit.
However, anybody wanting to keep the more traditional custom sweatshirts look while still ditching out on the perspiration won't want to miss out on this Gildan DryBlend Crewneck Sweatshirt in your choice of nine trendy color picks to really help you nail the right look. Featuring thoughtful extras like moisture-wicking properties and double-needle stitching, these branded sweatshirts are the type of high-quality gift that anybody would appreciate.
However, for those who really want the opportunity to create a look all their own while still cashing in on a beloved classic cut won't want to miss this JERZEES® – NuBlend® Crewneck Sweatshirt. It features top-of-the-line patented NuBlend® pill-resistant fleece fabric technology that ensures that you can enjoy the ultimate smooth canvas to create a seamless screen printed or embossed logo design that will really pop. Even better, you get a chance from an unbeatable selection of 20 eye-catching color picks to really set your message off in style.
---
Maxing Out on Comfort and Style With the Best Branded Hoodies
Branded hoodies might be a go-to when it comes to mobilizing a great way to get your brand name noticed, but it is all for good reason. This promotional apparel classic is the type of thing that everybody loves to sport, and with casual wear becoming increasingly appropriate even in corporate environments, custom hoodies are more versatile and trendy than ever.
Zippered Looks for Carefree Versatility
Zippered branded hoodies allow for versatile functionality that allows your clients and employees to easily cool down or show off a look underneath all with just the pull of a zipper. These classic looks are popular with all age categories, particularly Gen X or Millennial audiences, and are the perfect way to really set off your next promotional giveaway event in style.
This 60% cotton blend Men's Heritage Thermal Lined Full-Zip Hooded Sweatshirt comes in three classic color picks and features high-quality touches like reinforced bartacks at stress points to ensure that your clients and employees will be rocking your cool screen-printed and embroidered logo design for a long, long time. It makes the perfect complement to products like this uber-soft 80% cotton Women's Garment Dyed Ringspun Hooded Full-Zip Sweatshirt that comes in your choice of five chic color picks to really offset your branded logo design and do it right.
Of course, those wanting to keep it eco-conscious won't want to sleep on this recycled polyester blend Women's Eco-Jersey Full-Zip Cool Down Hoodie featuring a streamlined cut and a cool fit that is perfect for chilling at home or keeping it cool at the office.
Meanwhile, these Heat Last Women's Fleece Tech Hooded Full-Zip Sweatshirt is the type of custom hoodies that let you lock in warmth and comfort without having to worry about carrying around any extra weight.
---
Keeping It Cute With Hooded Sweatshirts
Who doesn't love custom hoodies? If you are looking for a tried and true way to create a branded promotional swag campaign that really speaks to anybody and lends itself to literally any type of occasion, you have come to the right place.
This COMFORT COLORS® Heavyweight Ring Spun Long Sleeve Hooded Tee combines the airy, breathable feel of a standard t-shirt with the versatile comfort characteristic of custom hoodies to land the type of all-season apparel suitable for almost any season or occasion. Available in 12 fun color picks of your choosing, you have the freedom to truly choose the perfect look to really turn heads.
Meanwhile, this The North Face® Pullover Hoodie provides you with the perfect opportunity to put your name beside one of the top brands in outerwear so you can be sure to land the type of look that your clients and employees will be proud to sport. It matches great with this OGIO ® ENDURANCE Ladies Force Hoodie that looks just as effortlessly cool as it feels.
Of course, comfortable lightweight fabrics are one of the top trends to cash in on this year and this Sport-Tek® PosiCharge® Tri-Blend Wicking Fleece Short Sleeve Hooded Pullover and Sport-Tek® Ladies PosiCharge® Tri-Blend Wicking Fleece Crop Hooded Pullover hit all the bases by mobilizing cutting edge fabric Posi-Charge technology to offer the type of custom hoodies that do it all, offering uber-comfort that wicks moisture and locks in the color of your branded logo design to keep it looking sharp even after multiple washes.
Finally, picks like this Port & Company® Tall Core Fleece Pullover Hooded Sweatshirt make for great budget picks that work for almost any body type. Pair it up with this District® Women's Featherweight French Terry™ Hoodie to create an affordable campaign that everybody will love.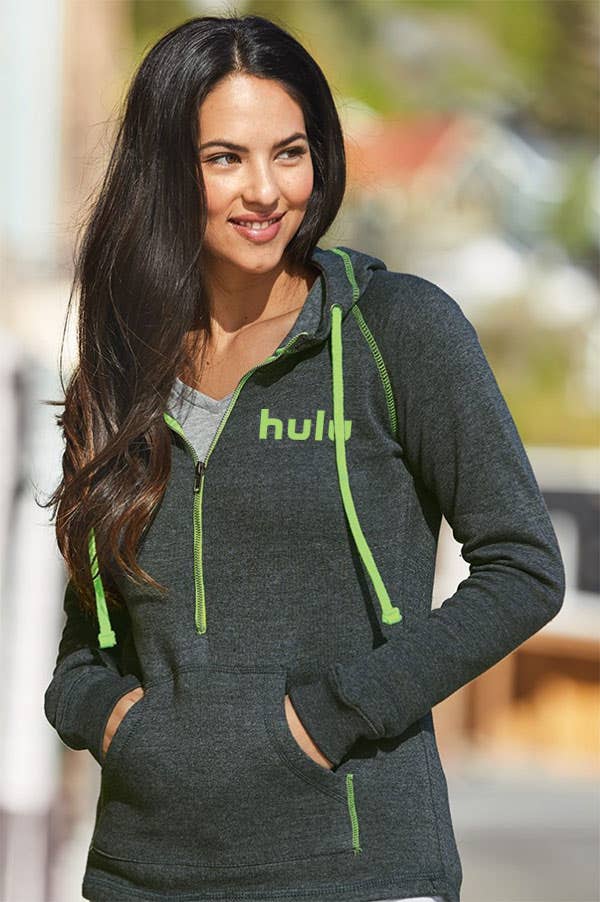 Spice It Up With Fun Cuts and Patterns
Want to zero in on the trendiest looks that will really speak to a younger audience? Try searching out looks that integrate interesting patterns and textures.
An added bonus is that these types of eye-catching touches tend to really turn heads, so you can count on getting your unique label design noticed in all the right ways. Choosing unique picks like this Unisex Camo Hoodie helps ensure that your branded hoodie campaign stands out from the pack while still capitalizing on some of the hottest trends.
Check out, for example, this District® Women's Perfect Tri® Sleeveless Hoodie. It features a funky lightweight sleeveless cut that pairs great with an undershirt or alone for maximum versatility. This super comfy uber-light 50% cotton-based twist on an old classic features thoughtful touches like a tearaway label and comes in five stunning color picks to really help you steal the show. For a similar unisex version, don't miss this Adult Triblend Fleece Hooded Sweatshirt either.
Meanwhile, picks like this Women's Half-Zip Triblend Hooded Pullover Sweatshirt combines a classic steel grey base with neon embellished touches to ensure that your one-one-a-kind custom full color, screen-printed or embroidered label design really pops. Even better, this type of style cashes in on the convenience of zippered branded hoodies with a full front pocket to still keep it cozy so that your clients and employees can really enjoy the best of both worlds.
Wrapping It Up
When it comes to branded hoodies and custom sweatshirts, we have everything that you need to knock your next promotional giveaway, employee gifts or trade show swag campaign out of the park. Come check us out today to find out more.