April 20, 2023
Our Biased Guide to Swag Companies & Vendors, Creativity Matters
A strong marketing campaign is essential to any business. And swag is a key element to effective marketing. It gets your name out there. It promotes a sense of loyalty and reciprocity, both keys to a successful long-term branding strategy. 
Why is Swag an Effective Marketing Strategy?
Swag offers many benefits that will help you grow your business. Here are some to consider:
Raises Brand Awareness
Swag raises brand awareness in more ways than one. If you give a customer a branded item of value, they will use it often. Every time they pick it up, they will be reminded of your company.
The customer may also raise awareness in those around them. For example, if they wear a logo t-shirt in public, others will see it increasing the likelihood that they will become customers as well. Guests in a customer's home may see a branded item and inquire about your company.
Creates Feelings of Reciprocity
When you give people something, they often feel an obligation to give you something in return. If you give customers, or potential customers, a free swag item, they will feel obligated to return the favor by spending money with your company.
It Can Be Used at Events
If you are planning an event, swag is the ultimate gift bag item. It can be used for giveaways, raffles, and more. It is perfect for fundraisers, trade shows, parties, and other business-oriented affairs.
Creates Brand Ambassadors
The more people see your name brand, the more credible your brand will become. If people see your company name on t-shirts and other items, they will be more likely to trust your business and choose you when making buying decisions.
Can Boost Employee Morale
Swag isn't only given out to customers. It can also be given out to employees. You can give it to your workers as a reward for high performance, as an employee of the month gift, or as a welcome gift when they start working for your company.
Employees will appreciate these gifts. They will express their gratitude with increased loyalty and productivity. They may even promote them on their social media pages and become brand ambassadors.
Can Be Used in Social Media Campaigns
If you give out swag often, you can ask those who received it to post pictures of themselves using it or wearing it on their social media pages. Encourage them to use hashtags so you can keep track of posts. You will get even more people participating by offering a grand prize to everyone who posts.
A swag-based social media campaign is effective because it will get your name out there. It will get people excited about your product, and it may even go viral. 
Swag Statistics
Not sure if swag is right for you? Here are some stats to consider:
99% of people say they are willing to go out of their way to get a promotional product
60% of consumers keep promotional products for at least two years
53% of people use a promotional product at least once a week
85% of people say have done business with a company that has given them a promotional item
72% of consumers say the quality of the item impacts the brand's reputation
60% of people say they would enter sweepstakes or raffle to win a promotional product
60% of people say that will look up a brand online after receiving their promotional items
70% of consumers say a promotional product makes their brand interactions more memorable
44% of companies see an increase in marketing effectiveness when swag is used in social media
59% of employees who receive swag from their employer have a more favorable impression of their workplace
What Makes iPromo Stand Out
There are several companies that offer swag items, but iPromo provides a variety of items and services that allow us to stand out from the competition.
Ease
Curated products & solutions to simplify purchasing and managing your swag
Satisfaction
Expert service, price guarantees, and reliable on-time delivery
Confidence
Globally-sourced products curated by knowledgeable experts
Our curated collections of promotional items include:
Tech: Technology products are something everyone needs and they tend to get used often. They are typically placed around the home to boost brand awareness. We offer a variety of tech swag including power banks, wireless chargers, Bluetooth trackers, earbuds, computer accessories, USB drives, and more.
Drinkware: Our drinkware includes everything from coffee mugs people use every morning to water bottles and tumblers that offer high visibility at the gym or the office.
Bags: Bags come in handy for travel and at the grocery store. Our selection includes tote bags, backpacks, laptop bags, duffel bags, and more.
Apparel: Apparel is likely to be the most visible way to promote your brand. We have a wide selection of high-quality t-shirts, hoodies, socks, hats, sunglasses, and more.
Office: Office items are ideal for giving to your employees to boost morale. They will also make your workspace look more professional. We offer everything from writing pads, to gift baskets to business card holders, as well as a variety of corporate gifts.
Trade Shows: Planning on setting up a booth at a trade show sometime soon? We have everything you need including reusable tote badges, badge reels, stress balls, lanyards, and swag bags.
Outdoors: If your business caters to outdoor enthusiasts, your customers will appreciate swag items like coolers, chairs, golf balls, towels, games, and activities. 
Our products are high quality as evidenced by our wide selection of reputable retail brands. These include:
Apple
Converse
Nike
The North Face
Igloo
YETI
Sony
Vans
Under Armour
Shop all retail brands
We Make Finding the Right Swag Items Easy
iPromo has a lot of items available. But we make finding the items that are right for you easy thanks to the navigation tools on our website.
You can shop by occasions such as anniversaries, holidays, new hires, wellness retreats, employee appreciation, and more. Or chose a theme like best sellers, eco-friendly, made in the USA, and even Pantone Color of the Year. You can also choose your items based on price, industry, and retail brand.
iPromo Solutions
iPromo stands out for our wide variety of promotional products from reputable brands. But we also go above and beyond to provide our customers with solutions that make swag a more convenient option. These include the following:
Drop Shipping
Ordering swag is not always an easy process. You must order the items and pick them up or wait for them to be shipped. Both of these options present inconveniences.
iPromo offers convenient drop shipping services that ship swag items directly to your business. No more waiting for delivery, no more spending time and money picking up your swag. We will have your products for you as soon as they are ready.
Custom Packaging
Custom packing is an ideal option if you are planning on sending a corporate gift to a client or employee. It's an easy 1-2-3 process and your items will look great.
Start by choosing your package. We have a blank package, half wrap, and full wrap options. Then pick out your crinkle paper color.
Select the items you want to fill your swag box with.
Include add-ons such as a personalized note, a secondary shipping box, and drop shipping.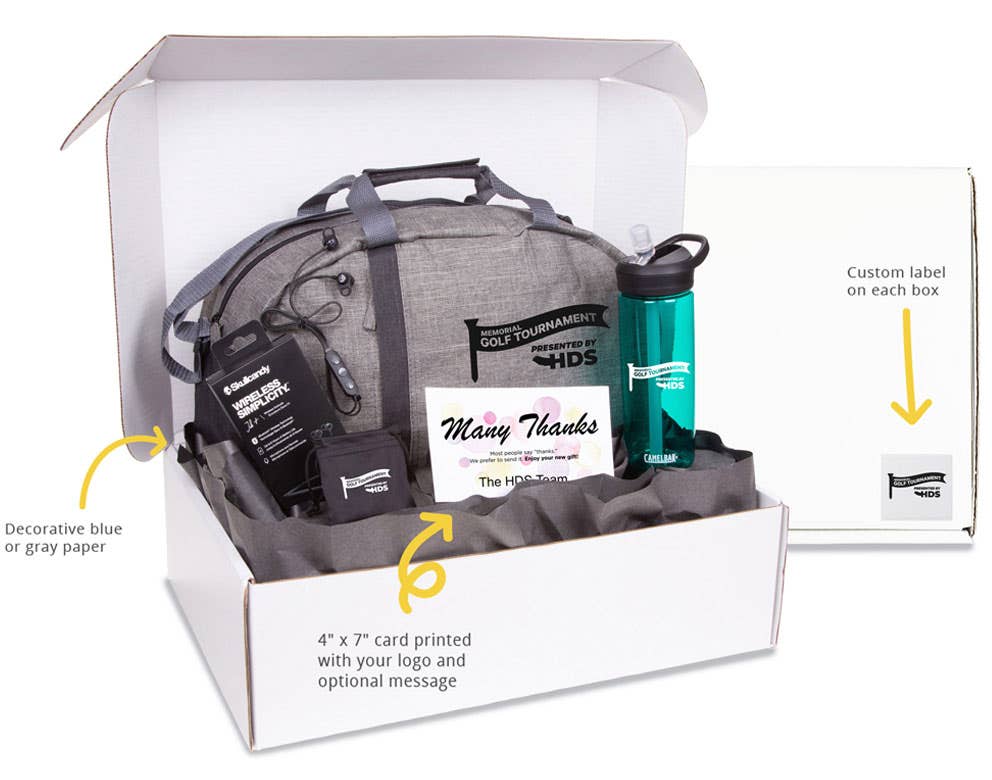 Company Stores
We will help you simplify your branded apparel, promotional products, and gift sourcing with a custom company store. We will help you select and stock your store with unique swag items your customers and partners will love.
We provide a variety of customer store options including:
Redemption Store: With this option, users will be given a unique code to redeem their items. Financial transactions are not permitted.
Pop-Up Store: Your pop-up store will exclusively sell branded merchandise. It's ideal for employees.
Company Store: This is the best long-term solution to showcase your branded merchandise for your employees.
Our swag stores offer several benefits to our clients. These include:
Curated Branded Products: All items are hand selected to ensure they are in line with your brand image. All products are branded with your logo and pre-approved for ordering.
Seamless Production and Delivery: Your branded merchandise will be set up and connected to our fulfillment system for fast production and delivery.
Real-Time Reporting: Users have access to their accounts for real-time reporting, logo management, and product personalization. Our stores are mobile-friendly, and customizable and offer permission for all users.
Eco-Friendly: Thanks to our partnership with Ecologi, 200 trees will be planted for every Redemption Store account opened. 
Swag Cloud
Swag can be hard to manage. We make it easy with a Swag Cloud service that takes care of storage, inventory tracking, and distribution. Here's how it works:
Storage: Short on storage space? We'll store your swag at one of our facilities making it accessible through the cloud.
Swag Portal: Use your swag portal to track, manage, and ship your products.
Global Shipping: Your stored merch can be shipped to one or more locations across the country within 24 hours.
Eco-Friendly: 200 trees will be planted for every Swag account opened. What's more, we eliminate waste by shipping your unused swag back to your SwagCloud so it can be gifted again or donated to charity.
Swag is a great way to make your brand stand out. iPromo is a recommended swag provider thanks to our high-quality products, our wide range of goods, and our convenient solutions. Let us know how we can help you take your business to the next level.