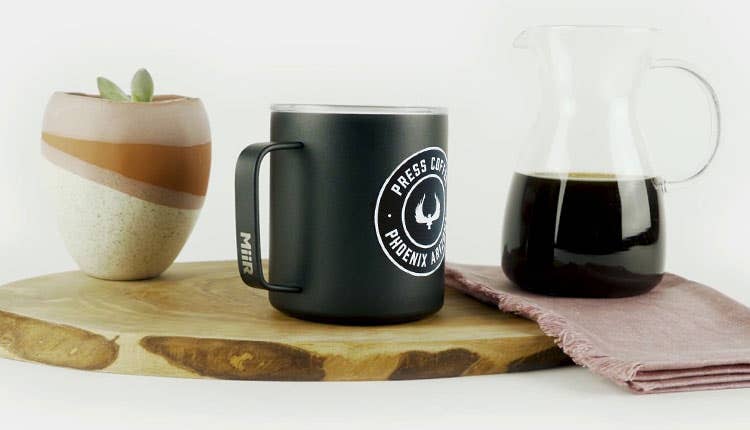 Custom campfire mugs have become one of the hottest promotional drinkware items. While originally used mainly during camping trips, these styles of mugs have become the go-to coffee or hot chocolate mug no matter the location. Using promotional campfire mugs will ensure your recipients have a fun and lasting impression of your brand every time they enjoy their hot drink of choice, wherever they are.
Whether they're heading into the office or heading out to the woods for a campfire, this mug makes for an excellent companion. This 100% stainless steel mug will hold up to years of use and makes for a long-lasting promotional item that will carry your logo for years to come. The internal copper lining will keep any beverage at a comfortable temperature for a long time. It comes with a limited lifetime warranty from Otterbox and has a sweat-resistant design. Your clients will adore this mug, and while they do, they'll be giving your brand tons of impressions!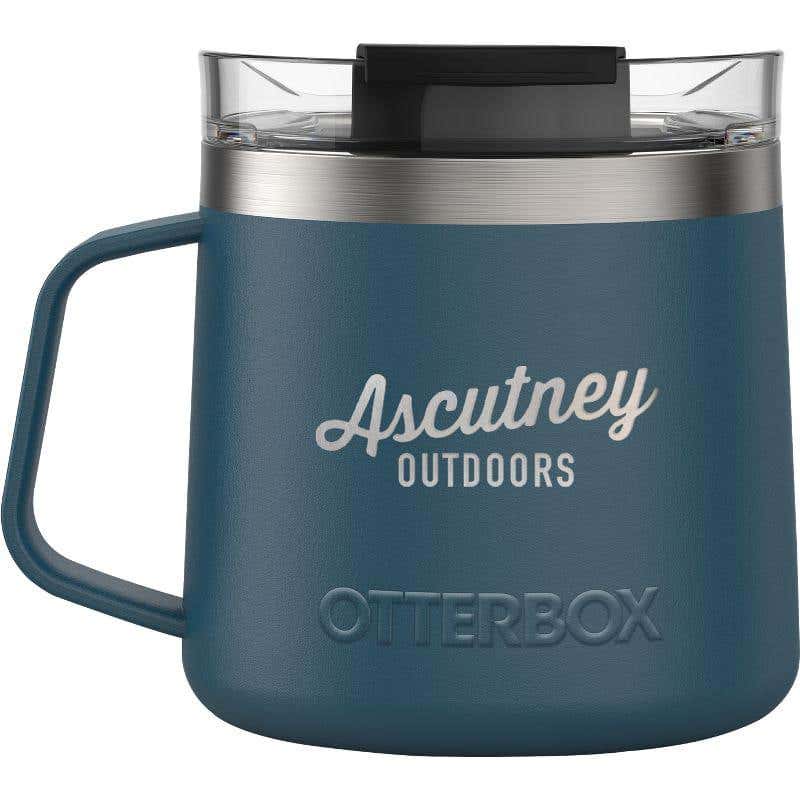 This mug features a double stainless steel wall construction with copper insulation that ensures beverages stay cold for at least 24 hours and hot for at least 8. It comes with an on-trend durable powder coating, so your clients can drink in style. This mug will be used on-the-go for years to come. It's an excellent opportunity for your brand to be side by side with one of the most respected in the drinkware industry. 
This beautiful speckled mug will be seeing use for years to come, thanks to the excellent durable design. This mug is great for the office or the weekend camping trip. It also has excellent space for logos, so you'll be sure to have eyes on your branding the whole time that this mug is in use against the great accent colors available on these mugs.
This is the perfect holiday item for your employees or clients. This smores package has everything people will need for a yummy campfire treat. Build your brand image for a reasonable investment and let your branding be associated with cozy nights around the campfire in the house on those cold winter nights. This package includes a vintage camping mug for that nostalgic feeling your clients will love. It also contains all of the components of s'mores, graham crackers, chocolate, and marshmallows. Recipients will love making some fun memories, and your logo will be present the whole time!.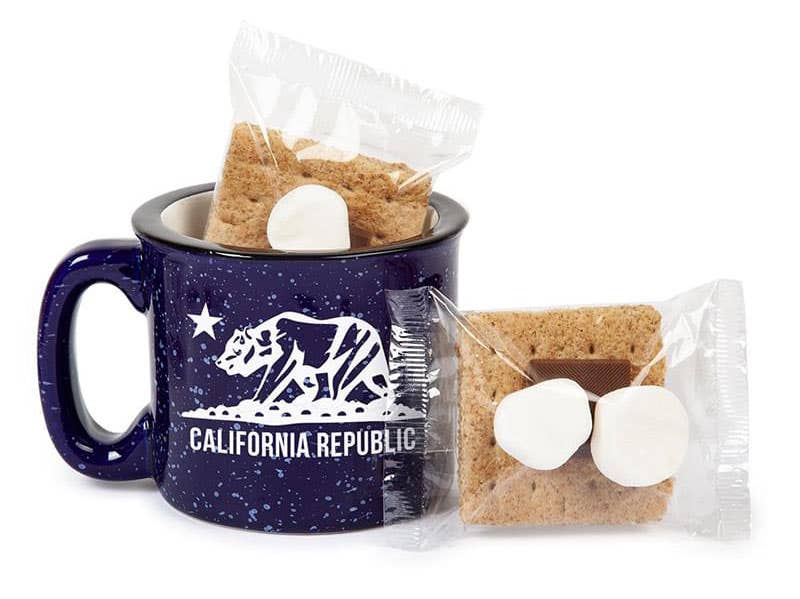 This legendary mug, courtesy of Stanley, comes in at a hefty 12 oz.  This means your clients or employees will be able to enjoy a large beverage around the campfire without having to get up constantly. It's made of stainless steel, has double walls and has vacuum insulation.  It's dishwasher safe and lasts for up to 1.5 hours hot, 3 hours cold, and 15 hours iced. That means anyone can finish their beverage at a casual pace without losing the desired temperature. Your logo will look great after being laser engraved in a 2" x 2" area. Let this mug make you plenty of memorable impressions on a daily basis with this versatile mug.
This cup brings back memories of grandpa's camp cup for many of us. It can be a way to make new camping memories for your clients and customers, all while toting your logo. This double-walled cup is good for up to 12 hours of hot and 24 hours of cold. This cup has a high-grade stainless steel interior that will prevent any flavor transfer. The cup also comes with a Give Code that enables the owner to experience the story behind their purchase. This is one of the best custom campfire mugs around and makes for an excellent promotional item or corporate gift.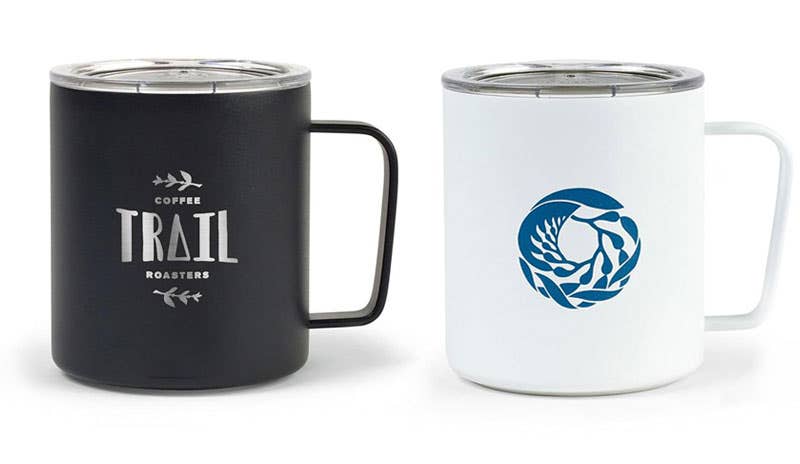 This cup has a beautiful, retro granite design. It's the kind of mug your clients or customers will be happy to have with them on their camping trips. Many nights will be had around the campfire with this durable mug, and your logo will be on display for all of them. This mug looks fantastic is the perfect choice for a promotional item.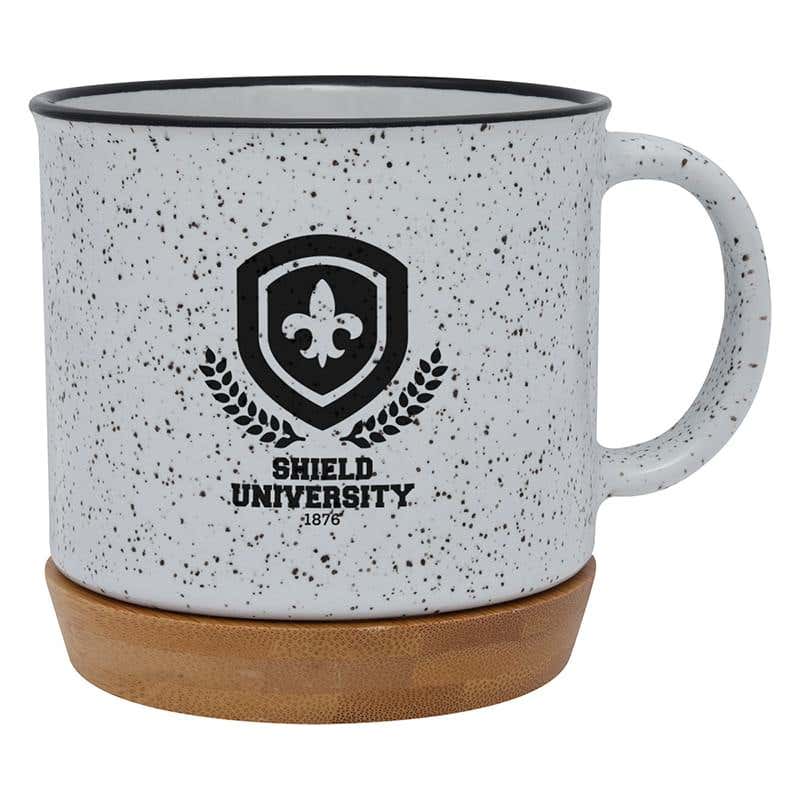 This speckled mug is a campfire classic that comes in a wide variety of colors. Your clients and customers will love these campfire mugs. They're hand wash only, but that won't be a problem because of their elegant design.  Your logo will come to be associated with great looking mug available in many vibrant colors, allowing your brand to be even more visible wherever the mug goes.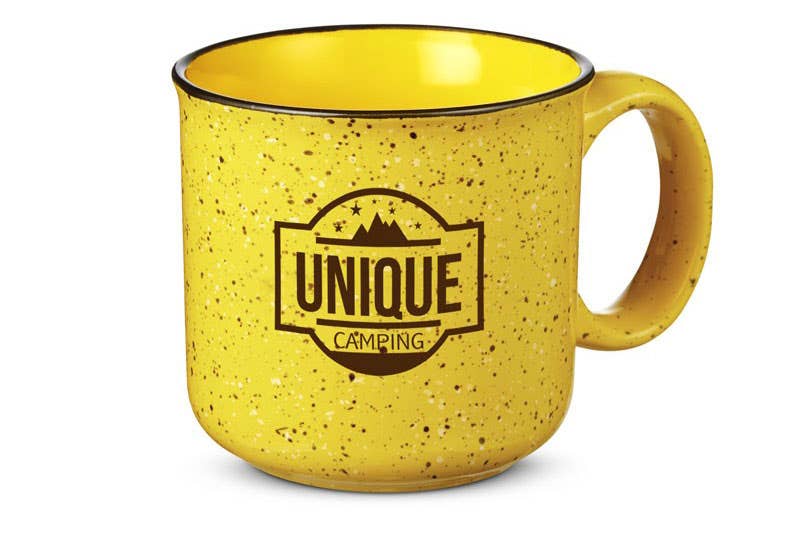 All of these choices are perfect for making sure that your clients and employees have their next go-to favorite mug. These are some of the best custom campfire mugs on the market, and you'll make a great impression when you use them as promotional items or corporate gifts. Visit iPromo today to view our entire selection of campfire and ceramic mugs. If you see anything you like or would like some help, simply chat or request a quick quote and one of our promo specialists will reach out to find the best option for your brand and budget.